OUR PUMP
This pump is a twin of the out-of-pond pump that we are running.  We have about a 6' rise ("head") from the skimmer in the main pond to the waterfall at the upper pond.  This pump delivers about 3600 GPM at a 6' head.
Most people use submersible pumps, which are a little less expensive to buy and easier to plumb.  However, the operating cost of a submersible is drastically higher:
Annual electric cost*    This out-of-pond pump (1/6 HP)              $127
Similar submersible pump (1/2 HP)         $428
*based on 7-month season, 10c per KWH
WINTER AERATION
We have a small area of the pond which is about 4-1/2' deep.  In the fall we move the water lilies down there, and that is where the goldfish congregate.
We float this apparatus over the deep spot to keep a hole free of ice to provide oxygen for the goldfish.  The red cable is the shortest piece of heat cable from the plumbing department of Fleet Farm, and draws 50 watts.  The bubbler is just a small aquarium unit.
The whole thing hangs through a hole in a piece of Styrofoam sheet and is covered with a big plastic pot.  It is so effective that I have to be careful to not step too close when checking on it, or I have broken through the ice.
SUBMERSIBLE PUMP
This submersible pump setup is what we use for draining and cleaning the pond in the spring.  We actually use two at the same time, one like a "fire hose" to stir up the muck, while the other pumps it out.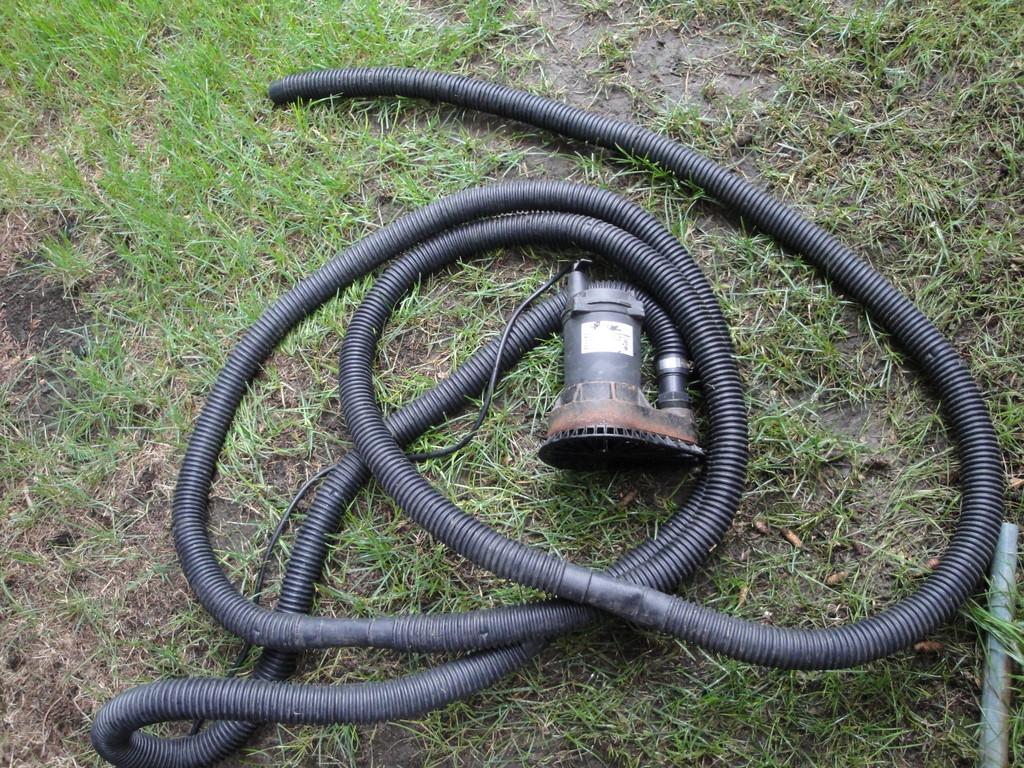 POND NETS
We found that nets wore out quickly from rubbing on the rocks, until I put a piece of plastic tubing around the rim. You can make a great net for seining algae or small fish by replacing the netting on a standard fish net with fine material called "chiffon" from a fabric store.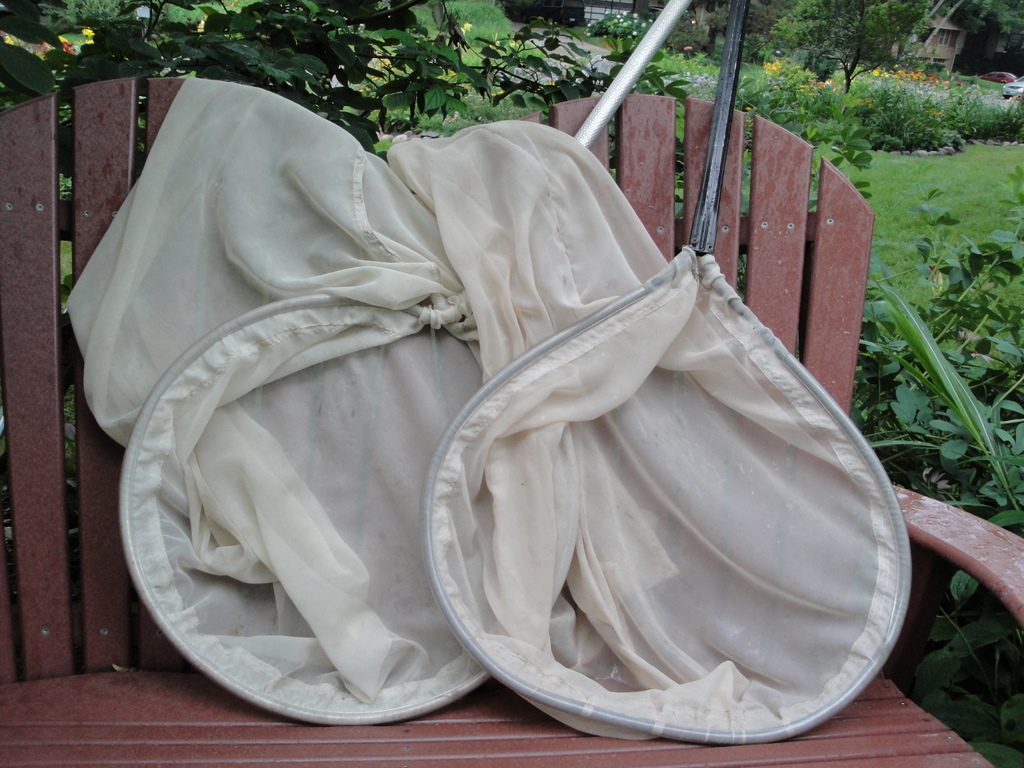 Products I like:
I primarily order from Webb's Water Garden on line. I usually have orders over $99, or I combine with a friend to get free shipping!
Microbe-lift PL and/ or Microbe-lift HC. I've used these products in the Spring after I've cleaned the pond, and need to reestablish the bacteria population.
Microbe-Lift Sludge Away. This product in the Spring will help decay the organic material in rock bottom ponds.
Microbe-Lift Algaway 5.4 I especially use this product after fertilizing my lilies to help decrease algae growth. Algaway 5.4 seems to work better for me than the competitor, PondCare-Algae Fix.
Microbe-Lift Mosquito Control
Tip sheet I made up for the tour:
Start pond in mid-April.
First dose of Microbe-lift PL for the season should be a purge dose, double of what you regularly will add weekly thereafter until the beginning of June, if all is looking good.
If you have a rock bottom, a dose of Microbe-lift Sludge Away is especially  helpful in the Spring.
Water lilies should be fertilized with 1 tab per gallon of dirt.  Start at the beginning of June and fertilize every 2 weeks until the end of August.
Algaecides may become a must, especially come July.  I prefer Microbe-lift Algaway 5.4.
Always separate a bacteria product from an algaecide product by 3 days.  Otherwise the algaecide will kill part of the bacteria.
After fertilizing water lilies in the heat of the summer, I have found it helpful to apply the Algaway 5.4 to prevent algae bloom from the excess fertilizer in the water.
Don't forget mosquito control. Microbe lift has a liquid product that is effective.
POND FACTS about our pond:
Pond is 43 inches deep in the deepest area, 18 inches in the middle layer, and in the first layer.
The largest pond is 5000 gallons, middle is 300 gallons, and upper 500 gal.
Water lilies like to grow under 18-27 inches of water.
Next time, I would not make a step into the deepest area 33 inches, like it currently is.  I would make the step into the deep area 27 inches, so a platform doesn't have to be put in place each year to raise the step for lily pots.