Spring Break trip to Death Valley.  Why Death Valley???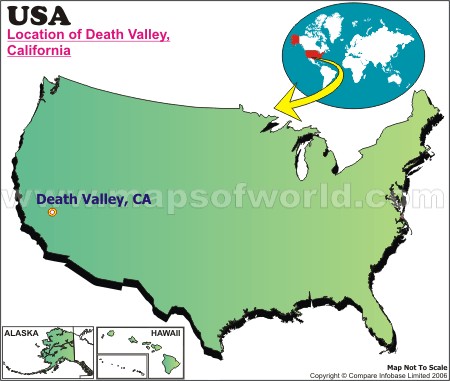 Death Valley is the largest National Park in the lower United States.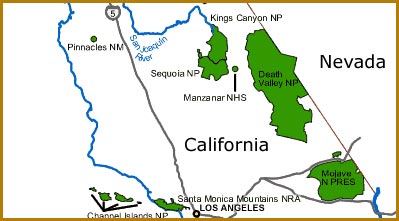 I mapped out on Google maps the different routes we took in the park.  The mountains made it a bit challenging driving to every site of interest, which we didn't. The bubbles are places we did see, and you will see them as you view the pictures.  If you hover over the bubble, the name of the site will pop up.View Death Valley in a larger map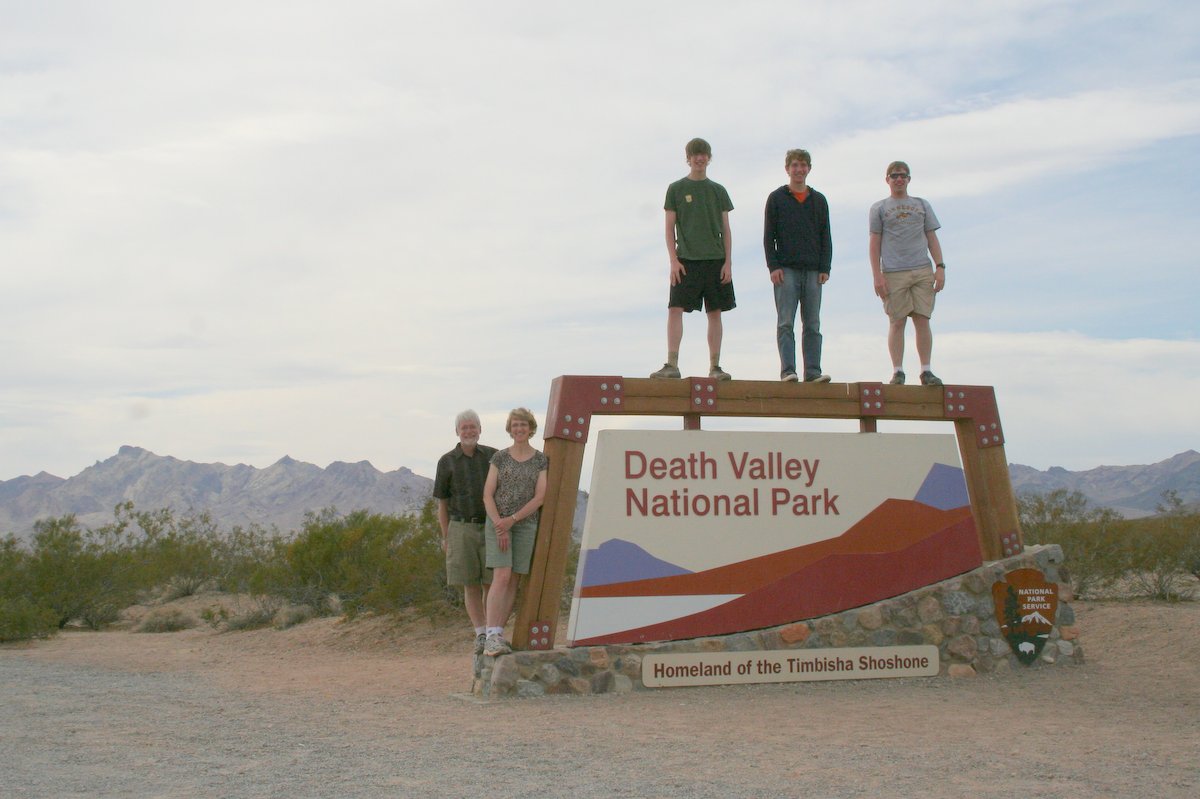 On March 11, 2012 we flew into Las Vegas and the next day drove about 3 hours west to Death Valley National Park.  Our first stop was to this overlook called Dante's View, 5,475 feet elevation, looking down onto the salt flats which are 282 feet below sea level.  It was an amazing site!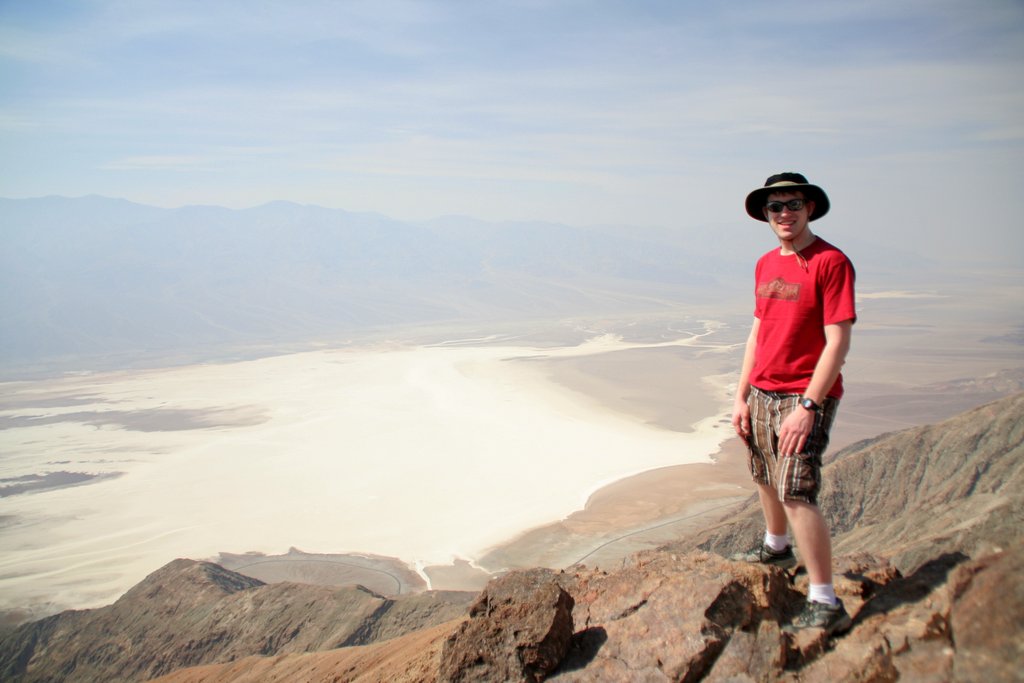 20 Mule Canyon with the sun to our back provided for some creative fun!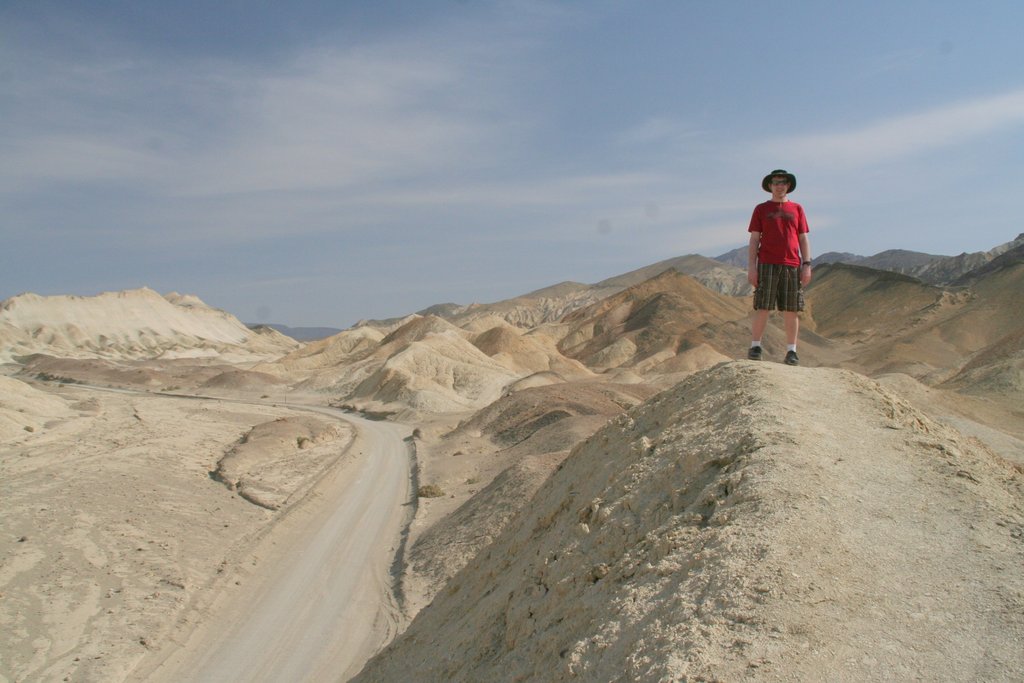 We attempted to spell Husby.  Erik had the hardest job creating the H.  Dad had the easy Y and I lucked out with the U.  David made a fine S and Joe was a B.
Good Job!!!!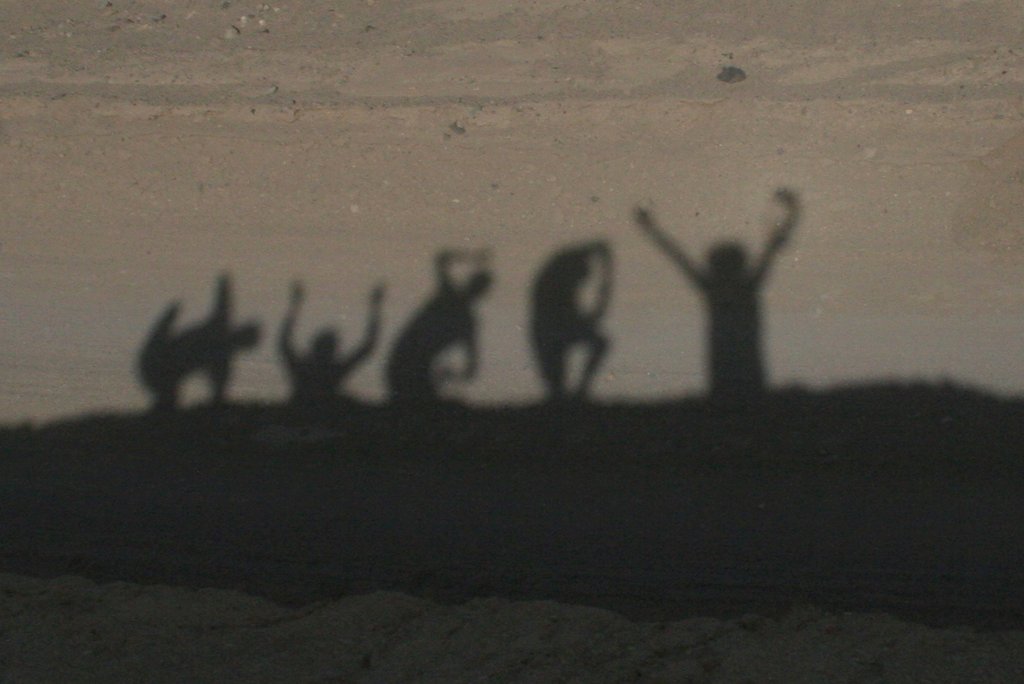 Proof of our existence!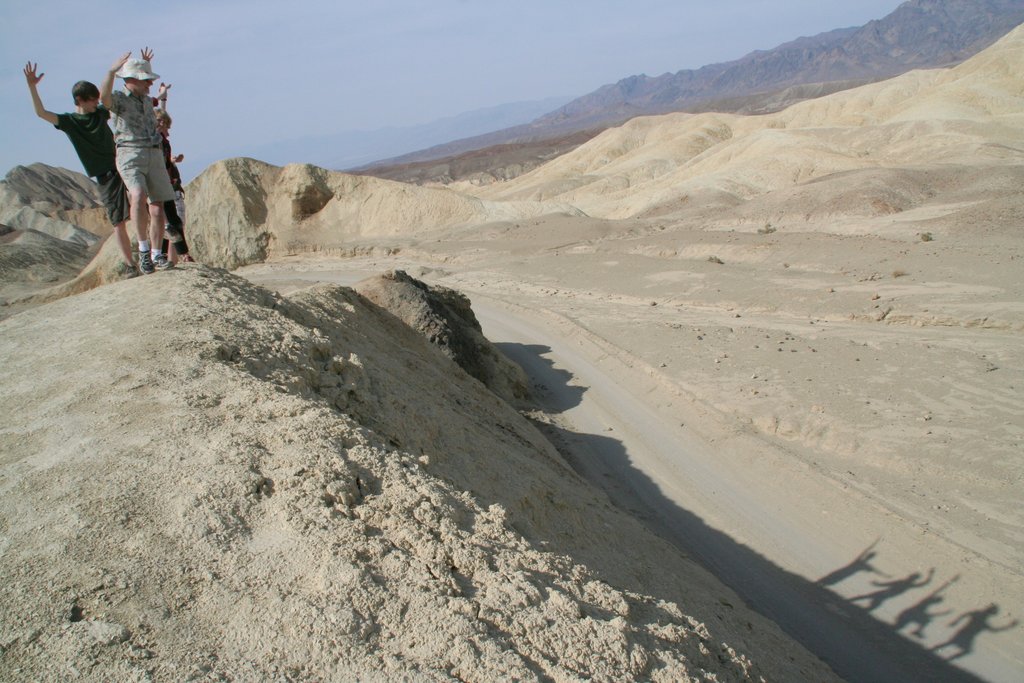 We tried our skills at making ourselves into scary bugs and other shapes.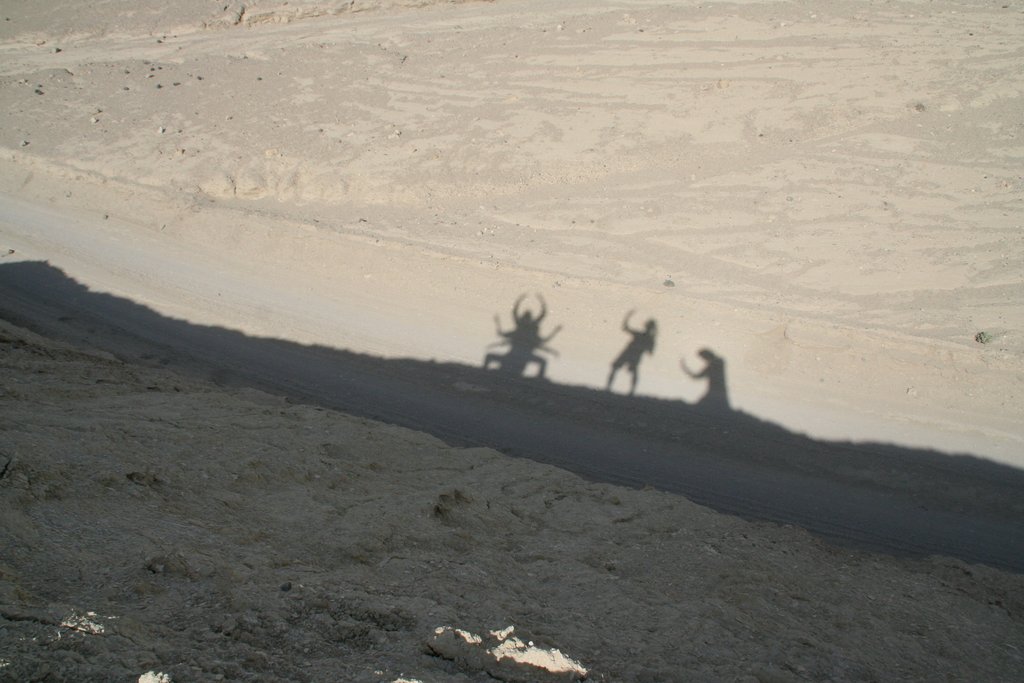 Zabriskie Point was the next stop.  The colors reminded me of the Badlands in South Dakota, but more textured.  This was a panorama view by Joe.


The highest point in the middle of the picture is Zabriski Point.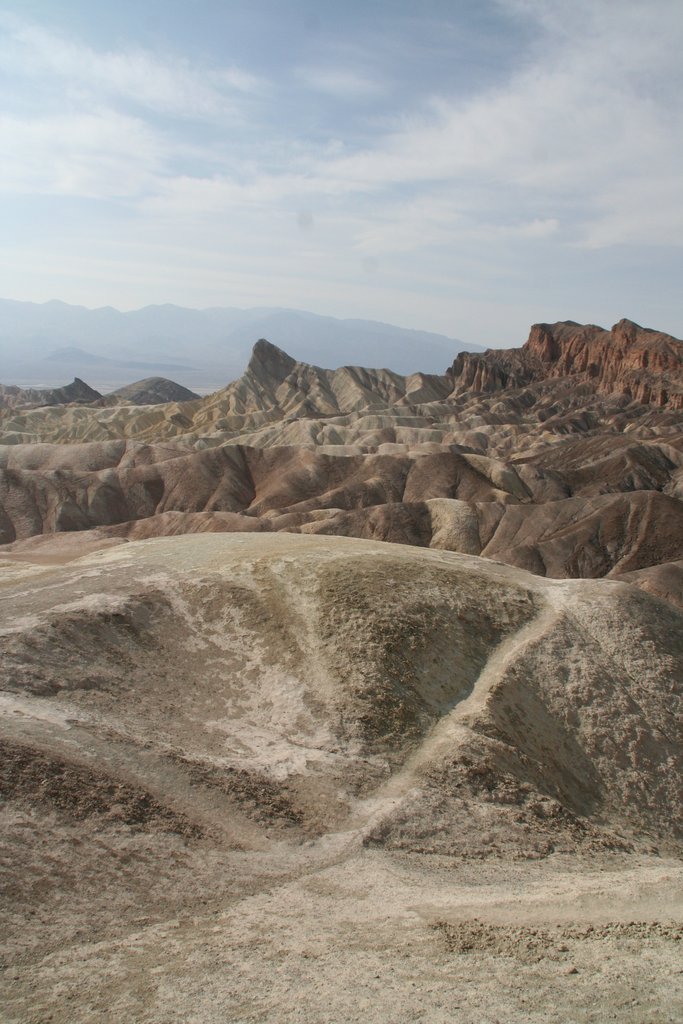 Golden Canyon hike was full of color as well.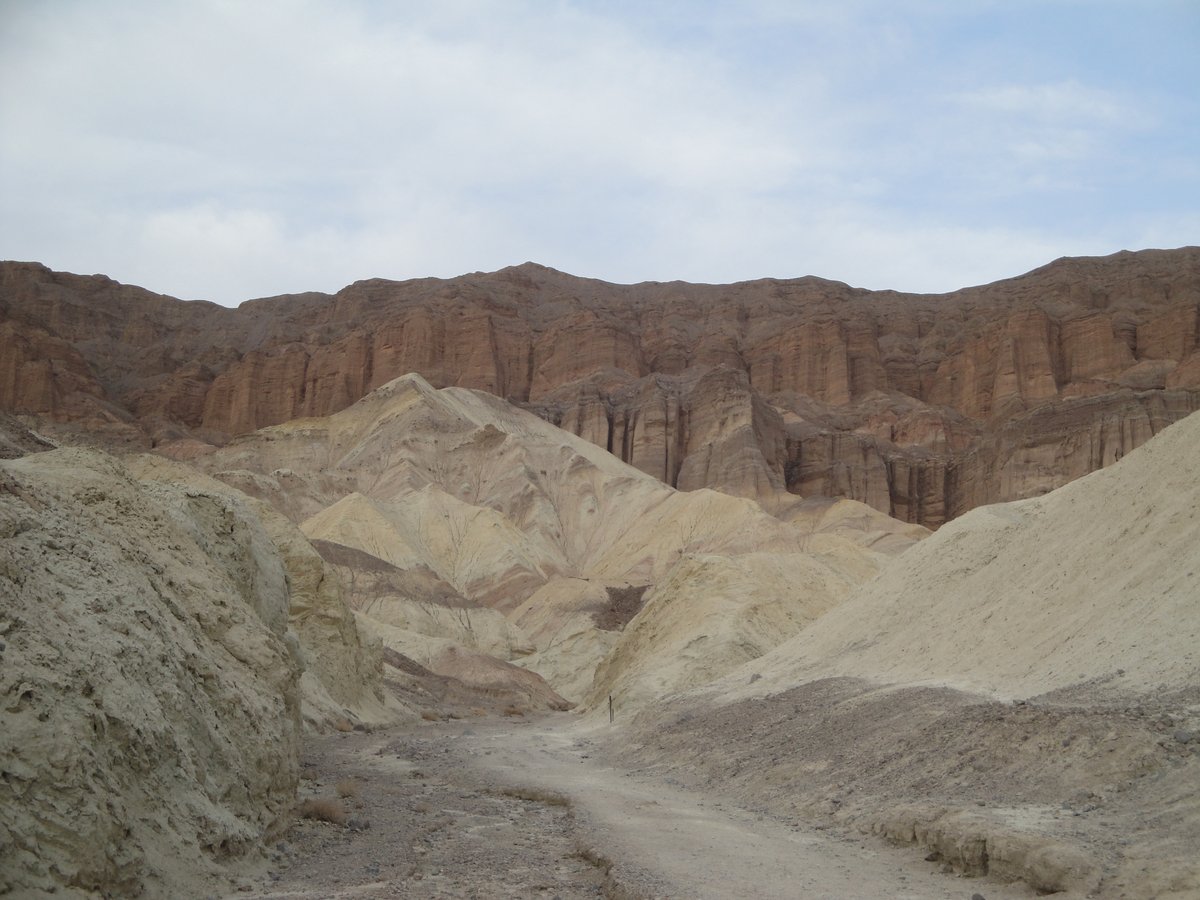 Whatever the kids can climb on, they do!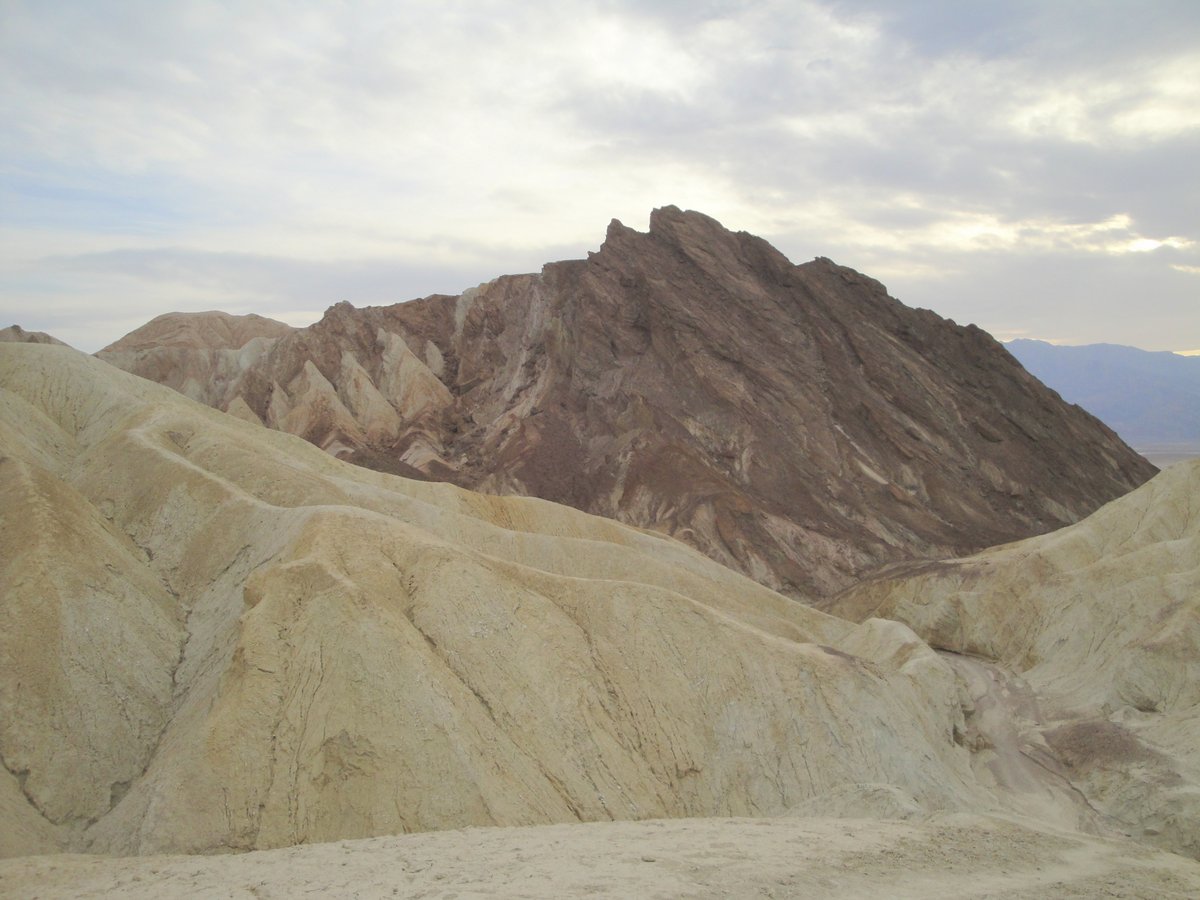 Looks like twisting ribbon.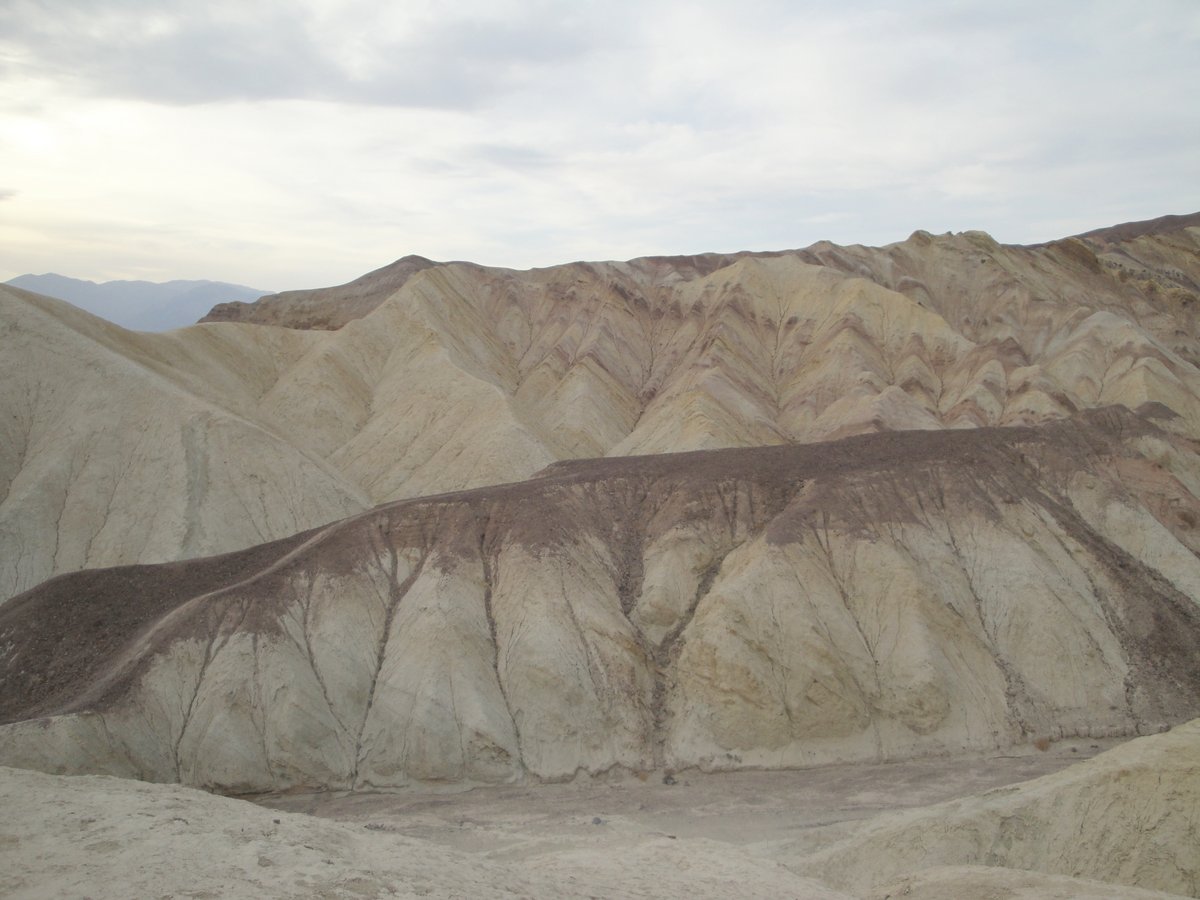 Day 2 required a good breakfast to get us started.  We managed that at Denny's!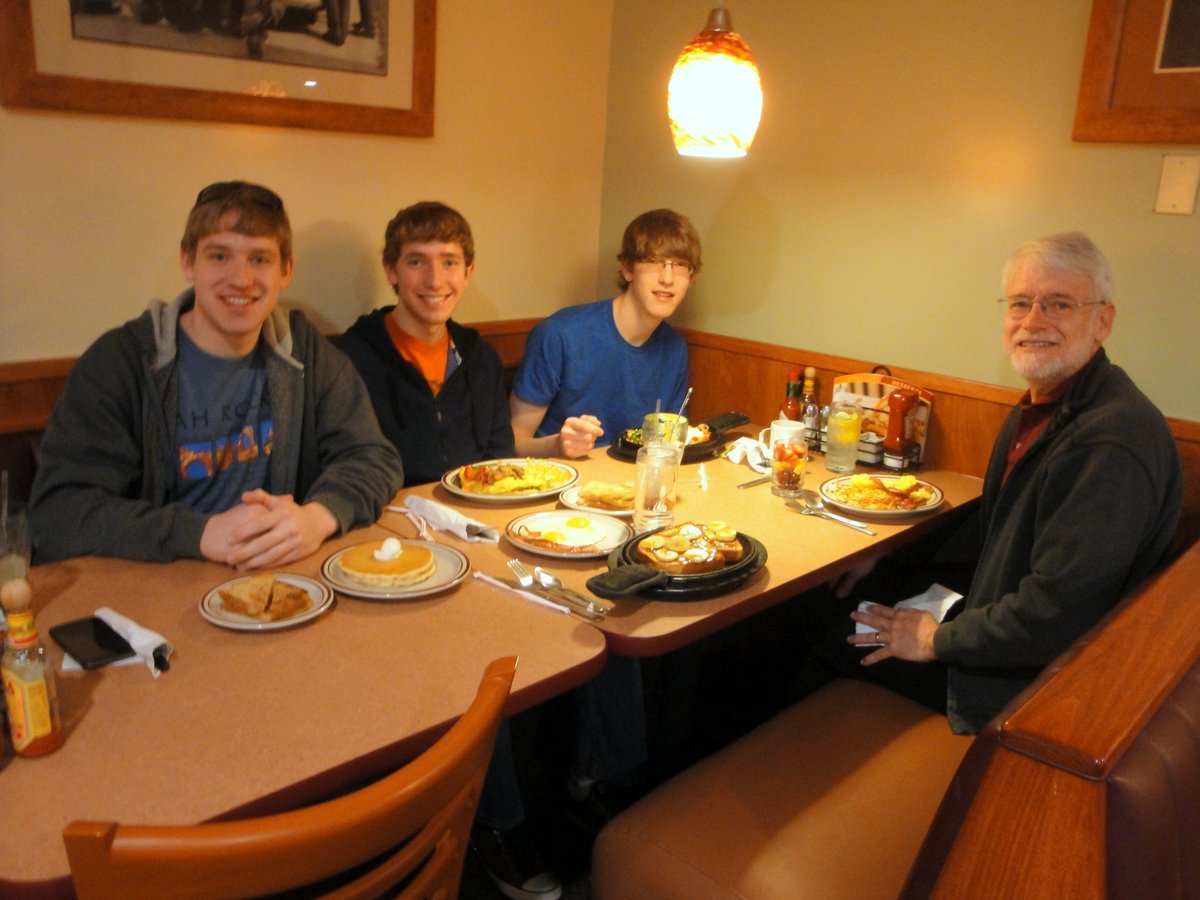 David would need that energy to build his house at abandoned Rhyolite Mine!
First David brings in some essentials.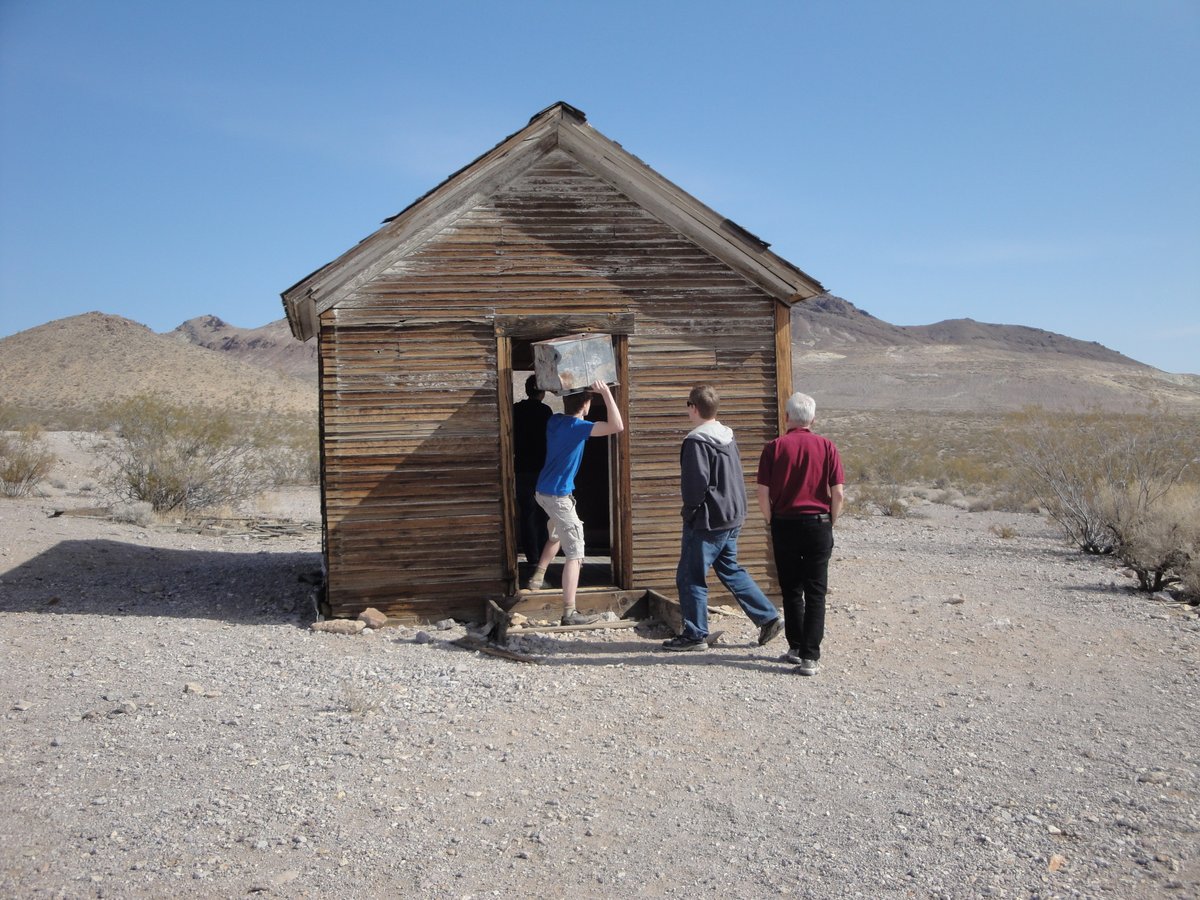 Erik and Joe just laugh!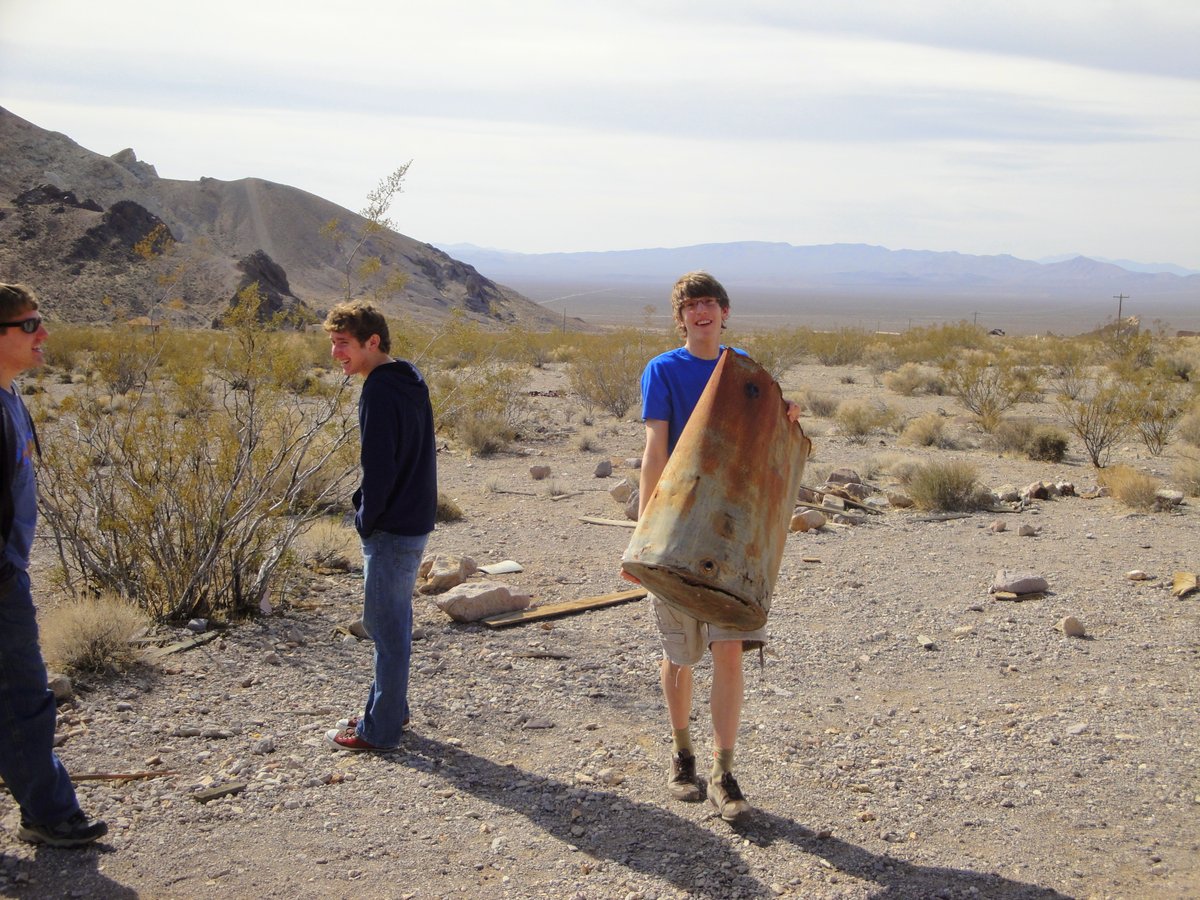 A few things have to go through the window.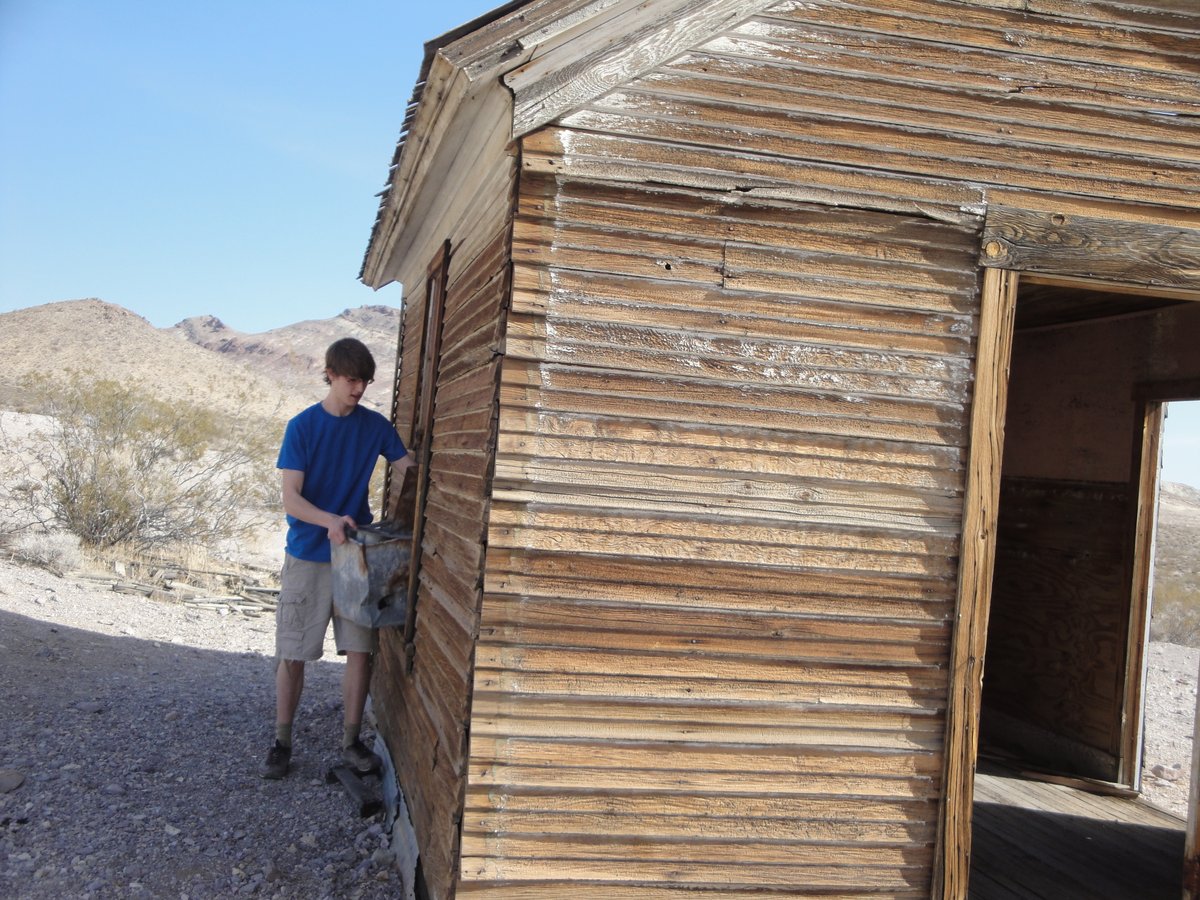 He'll leave some things where they are!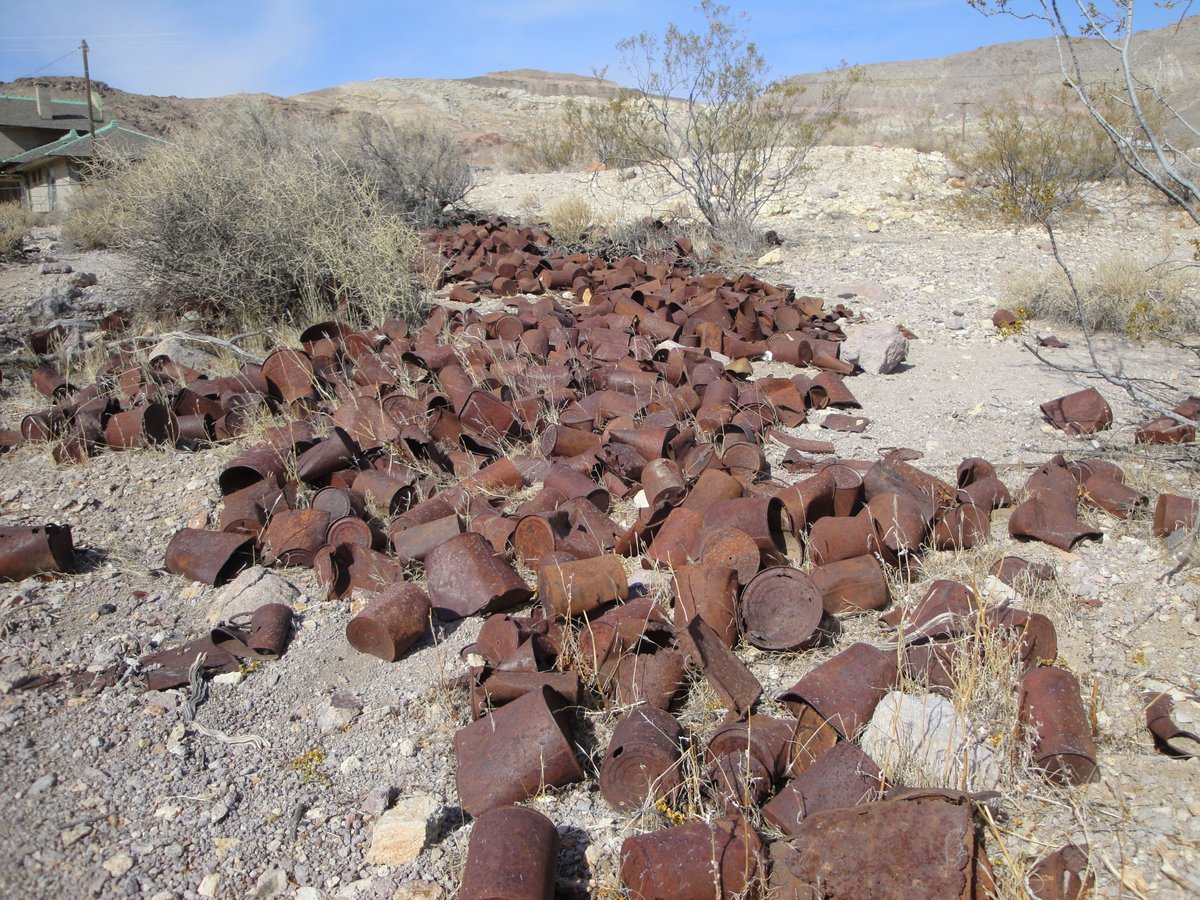 While David gets his house ready, Joe and Erik play frisbee with some rusty metal lids.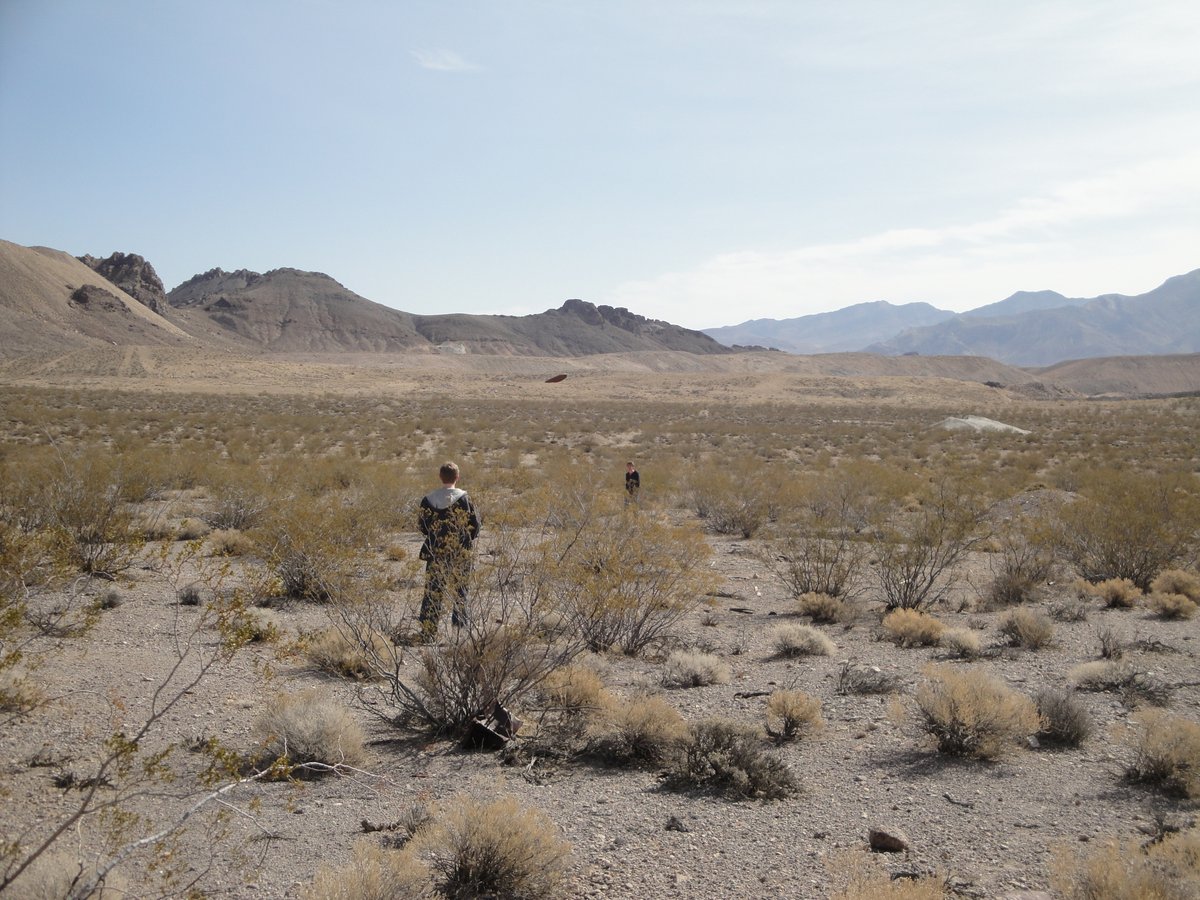 David is still busy.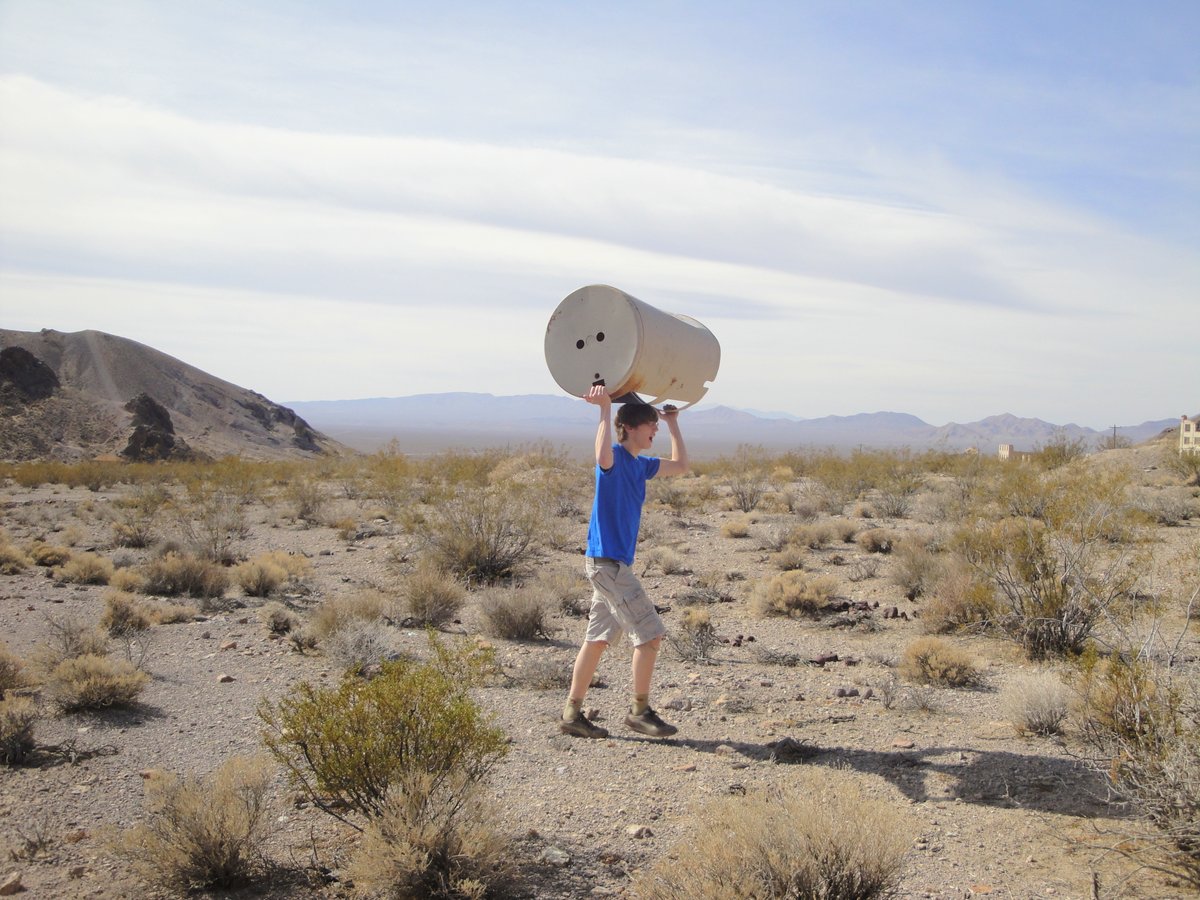 He is ready for an open house!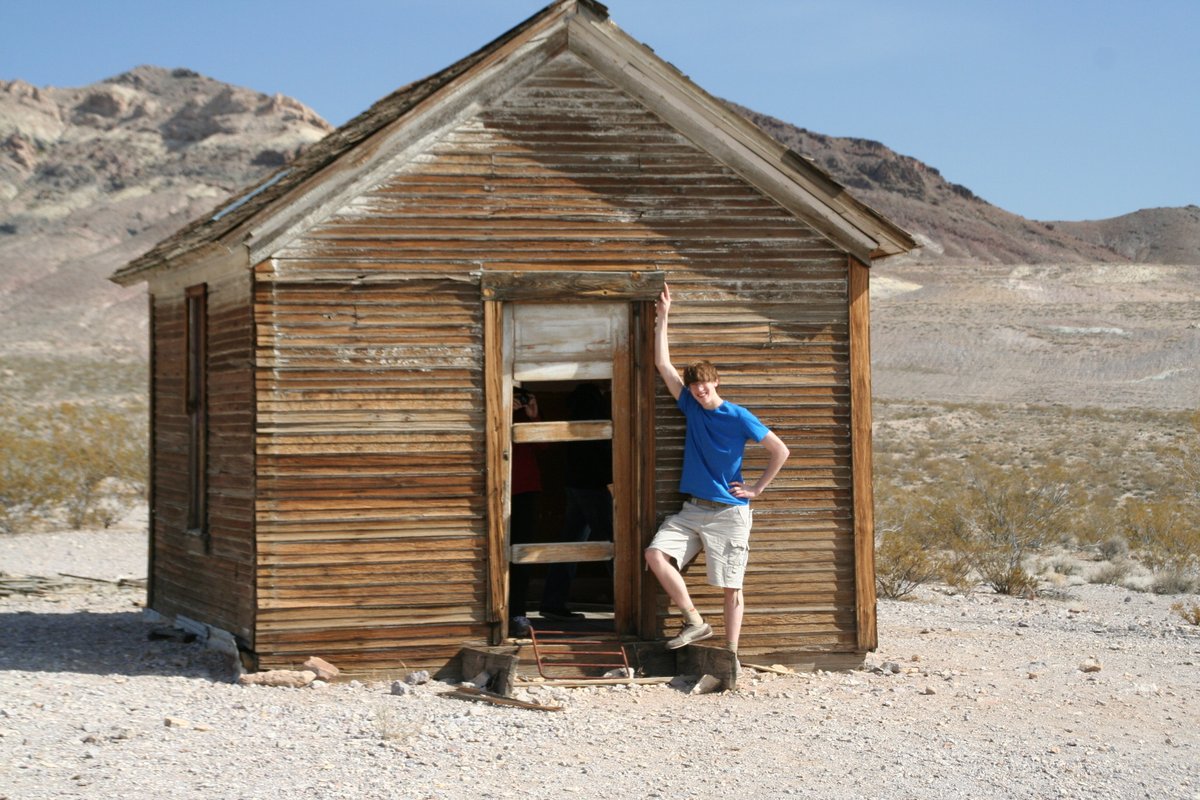 Wait!!!! What are these openings????  Must explore!!!!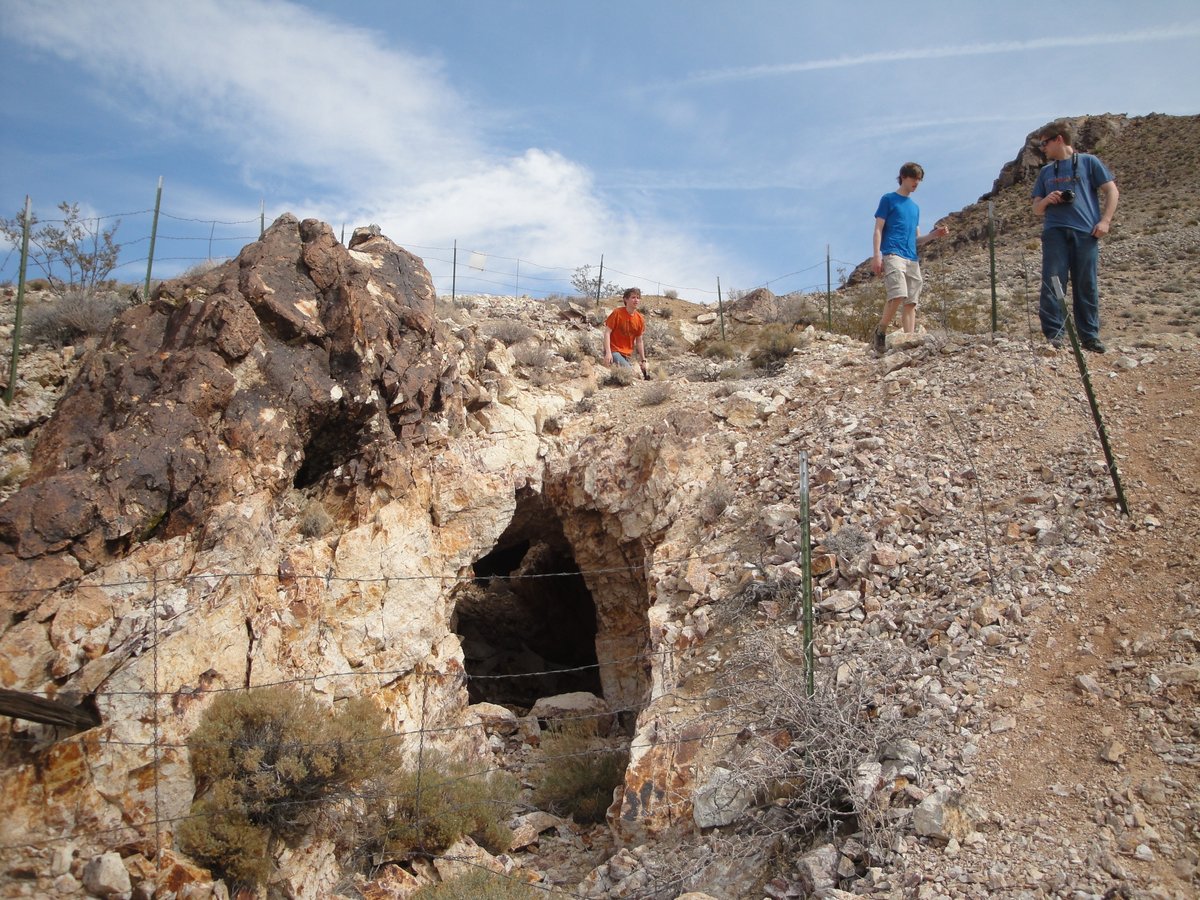 This ghost town we visited, Rhyolite, was not in the park, but it satisfied David and Erik's need to explore.
I guess they can't read!  David and Erik are already in, and Joe follows.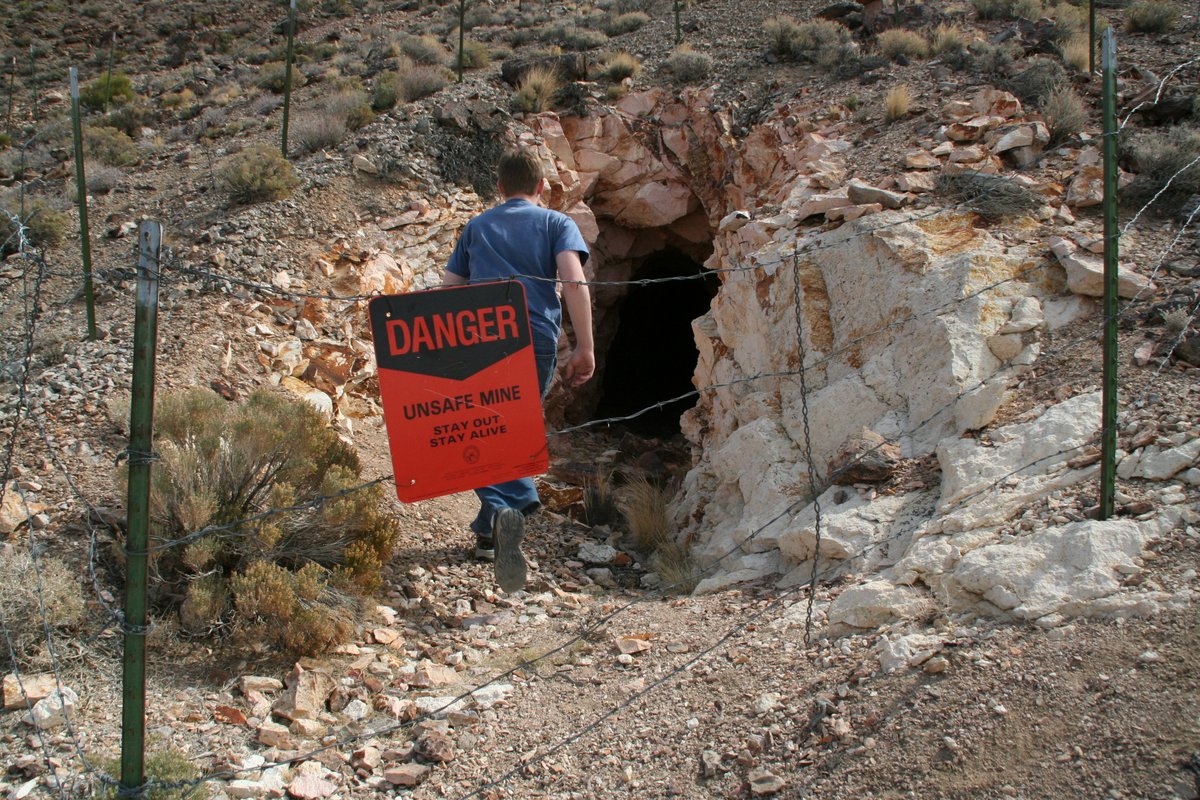 It looks like a mine to me, as I follow suit, but don't get as far.   The boys are long ahead of me.  I turn back, as I need my camera flash to see where to go!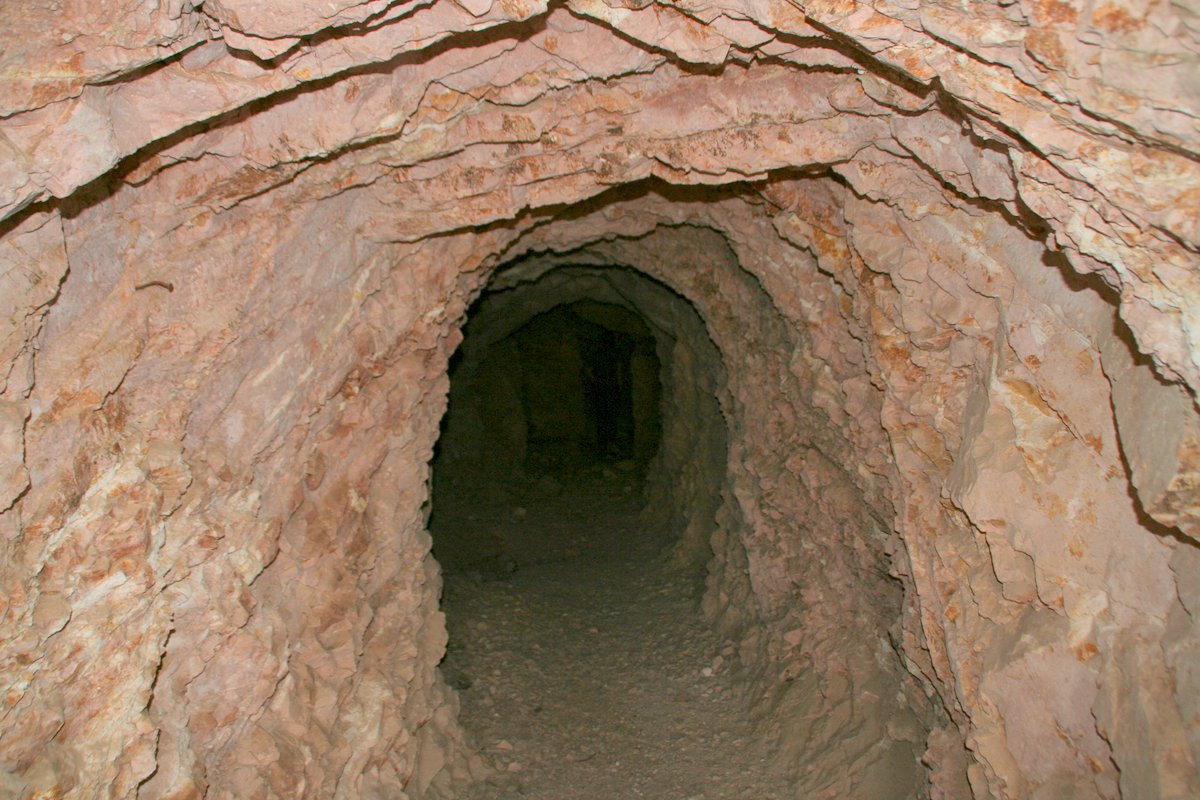 David pops up from the ground!  That isn't where he went in.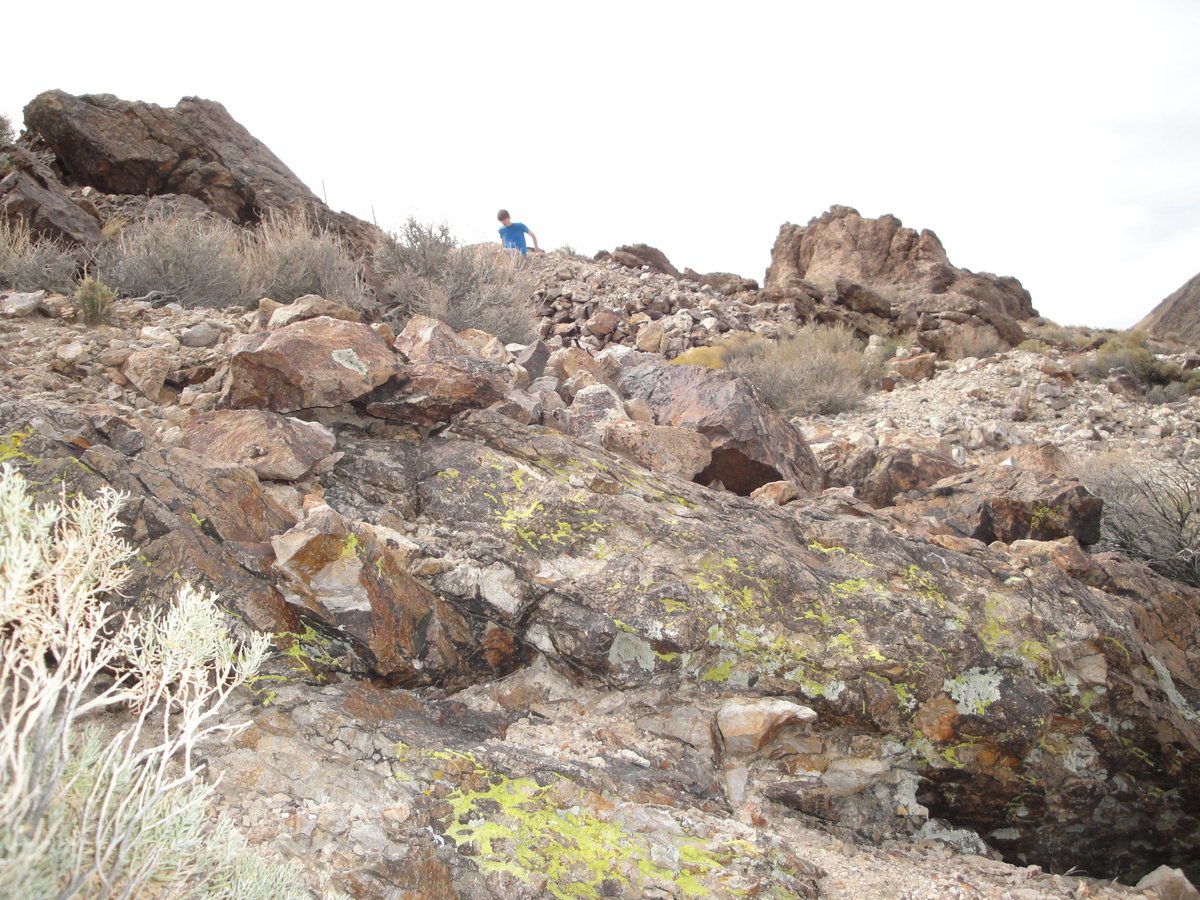 They find another mine entrance.  It is gated, but they don't let that deter them.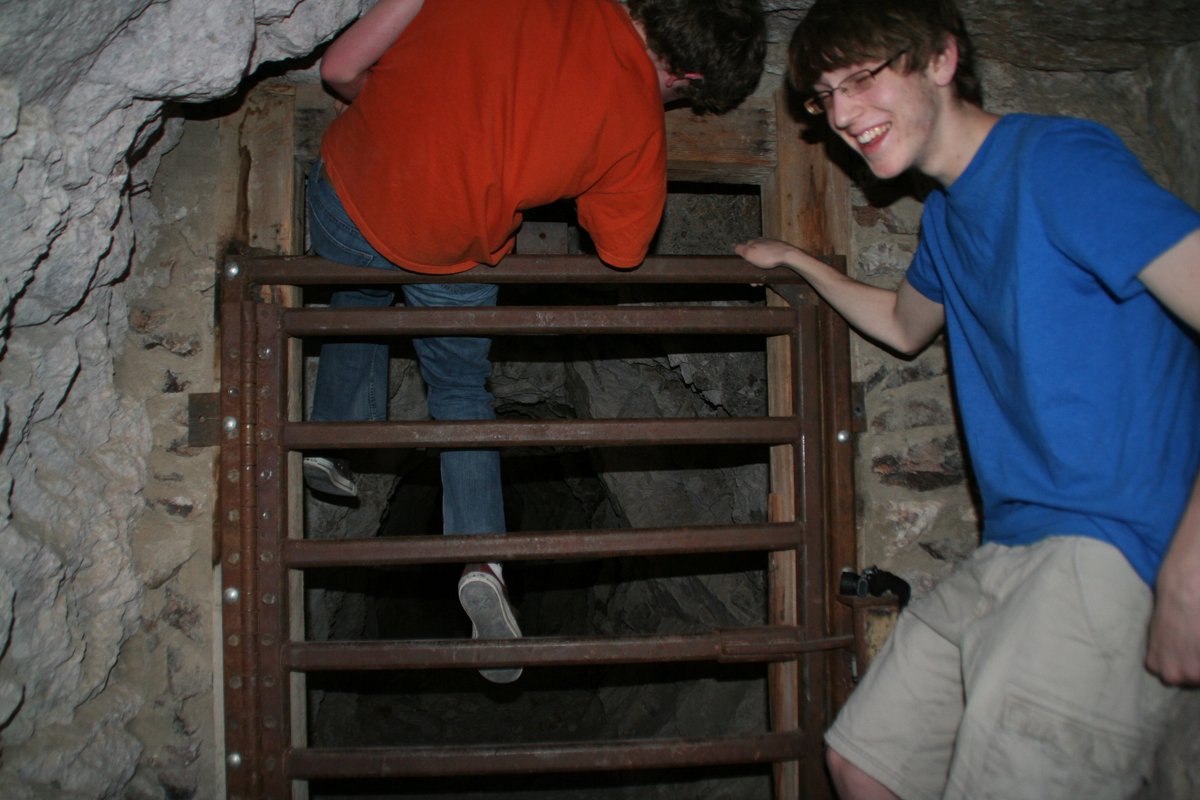 There is a plus to being thin!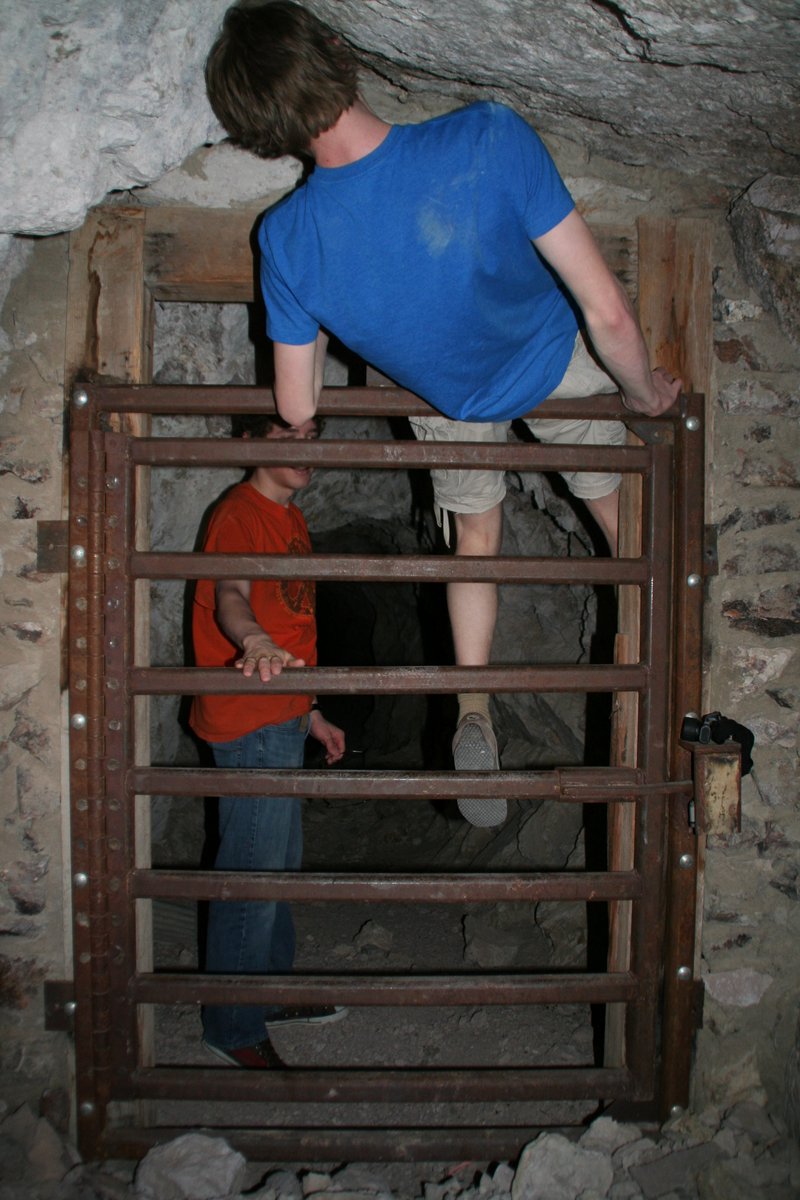 They are safely in???
I send a camera with Erik to show us all the treasure inside!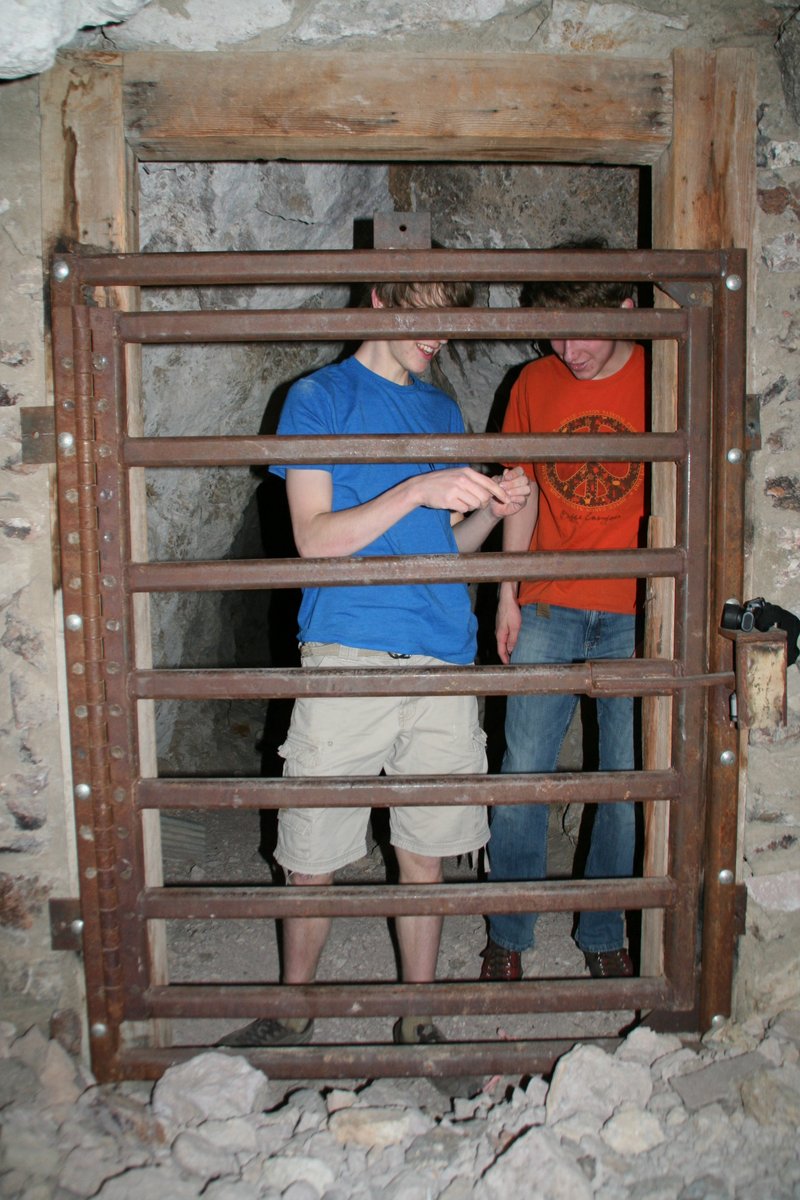 Thrilling.  I guess that's why they call it an abandoned mine.
Joe sits and waits for them to maybe pop up here, but they end up someplace else.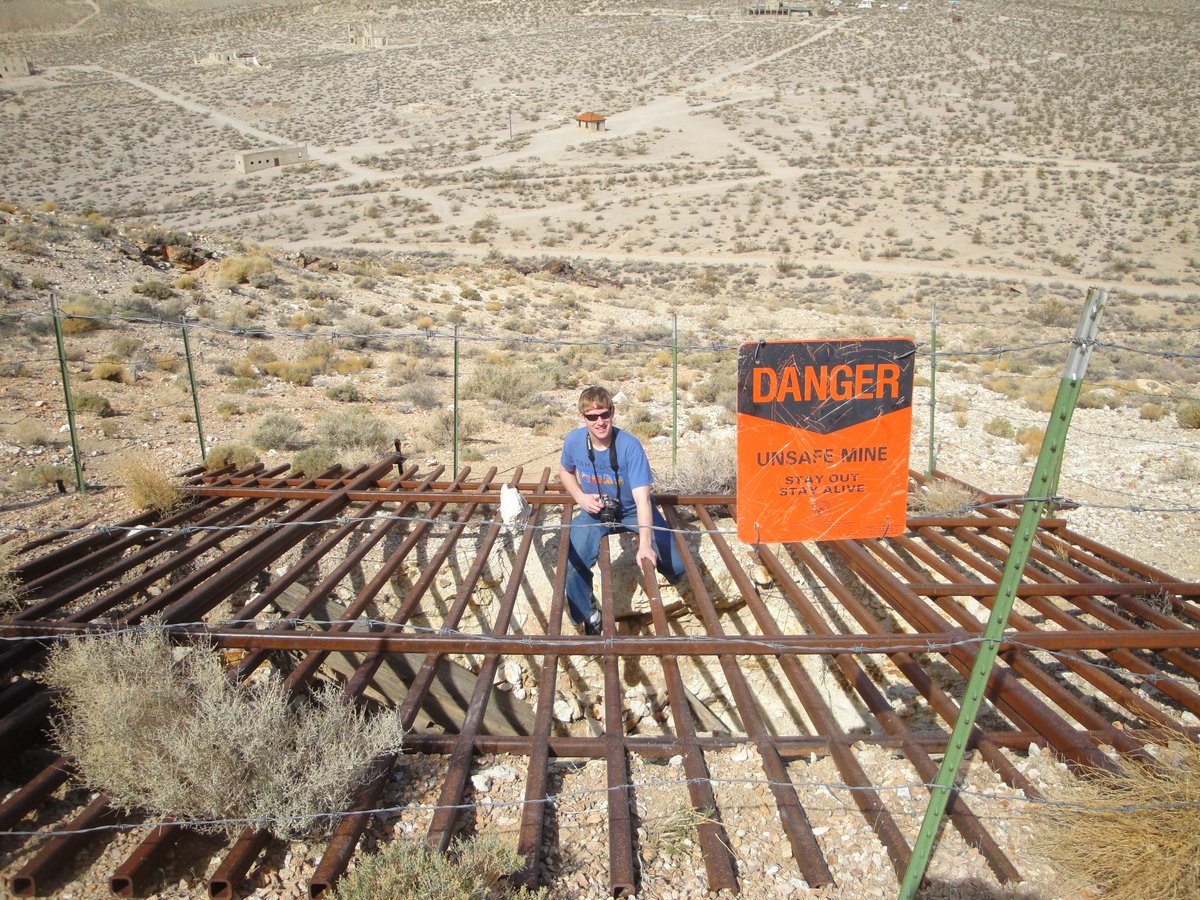 Safely out of the mines and ready to explore more of the ghost town.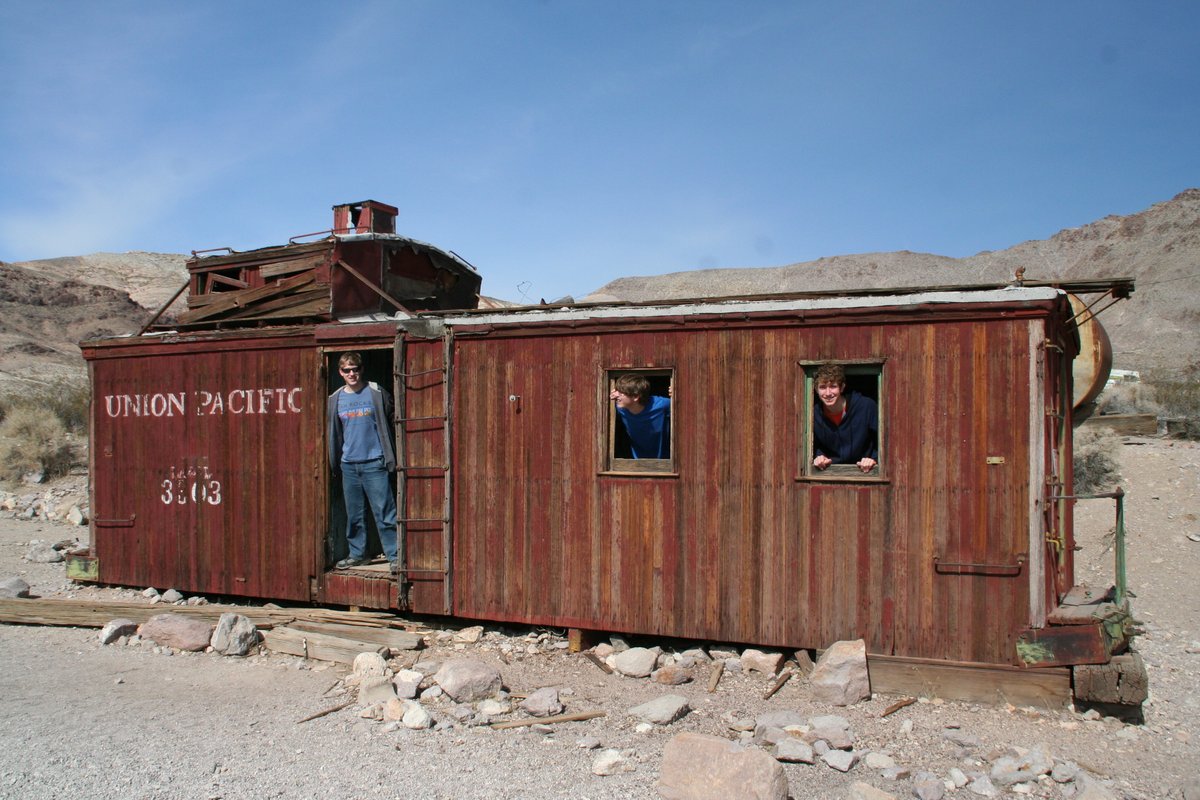 Not sure what a miner with a pic ax has to do with a penguin.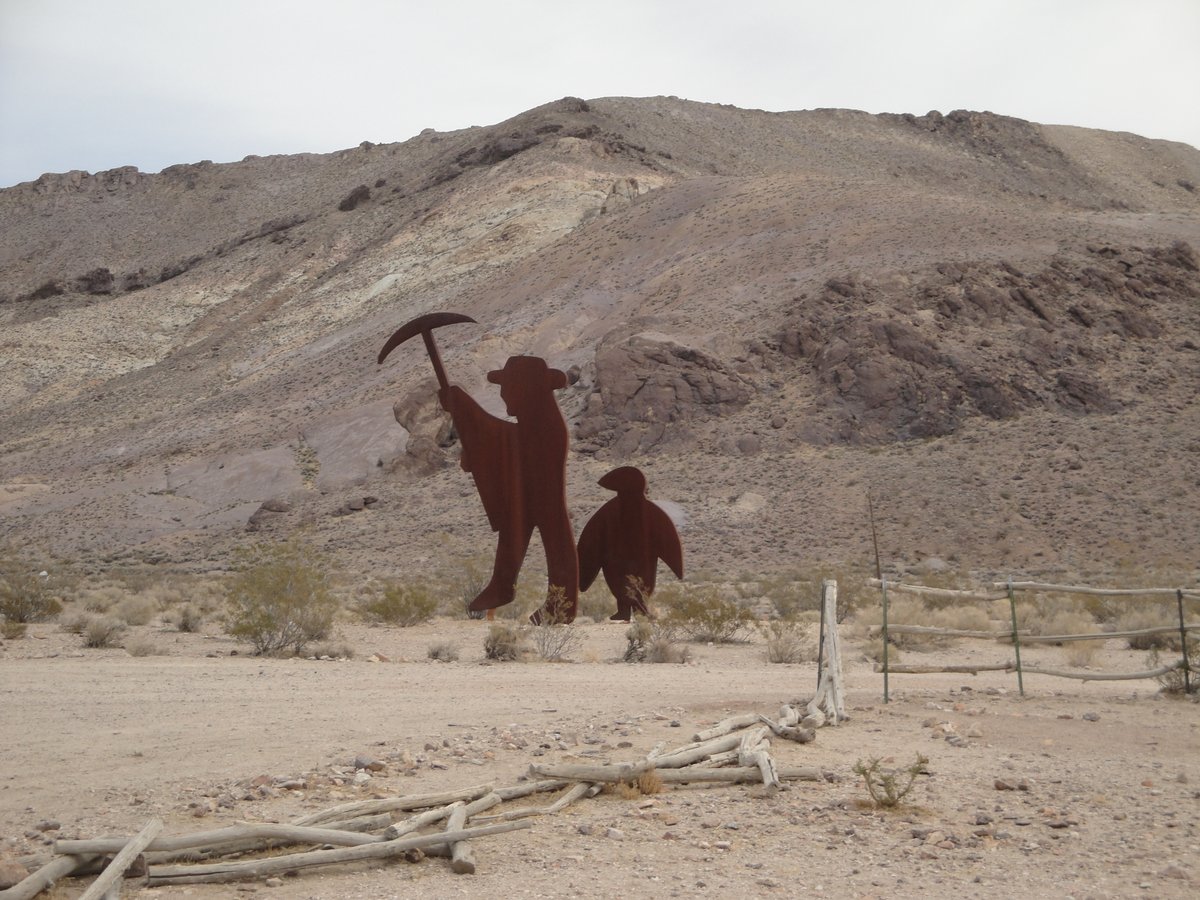 Just as odd is the Lord's Supper display.  They look like ghosts, but this is a ghost town.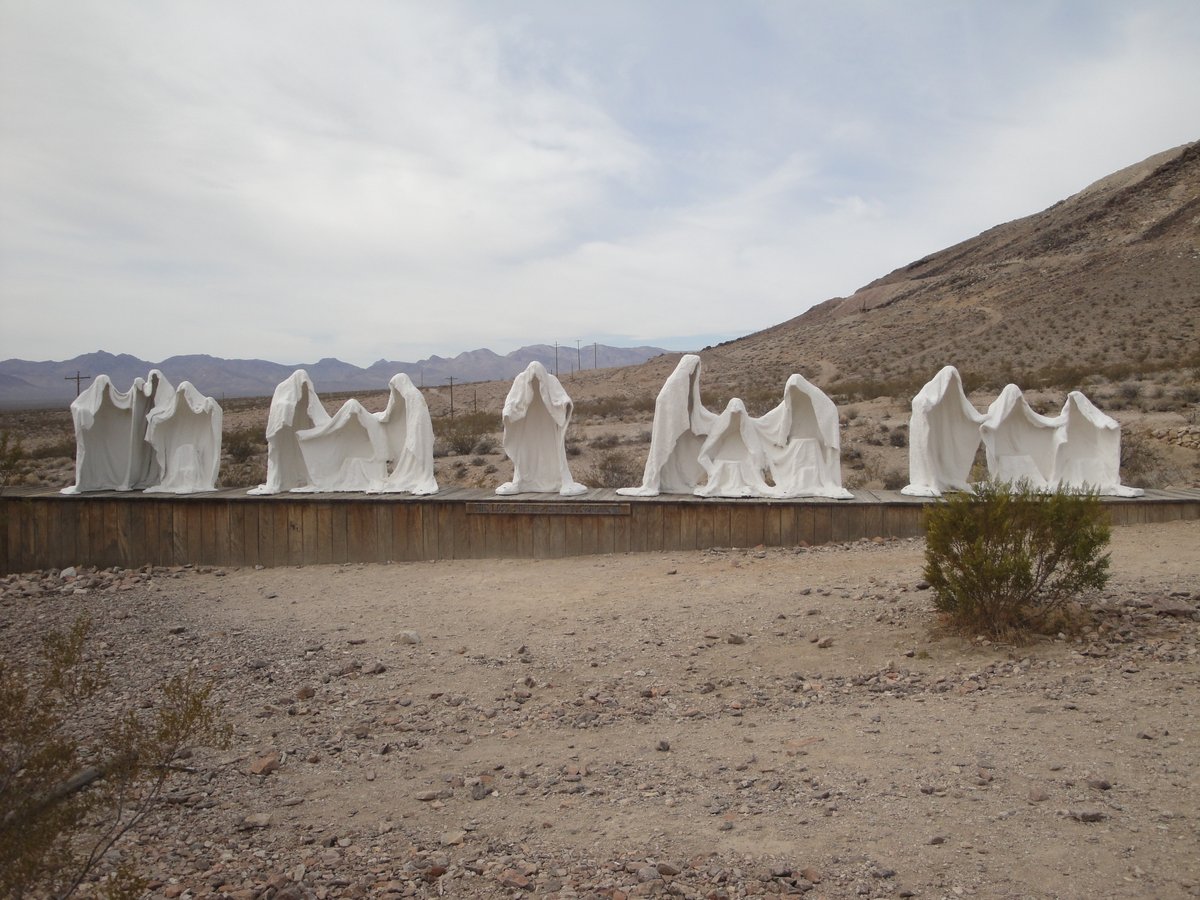 And then there is a creepy bicycle ghost.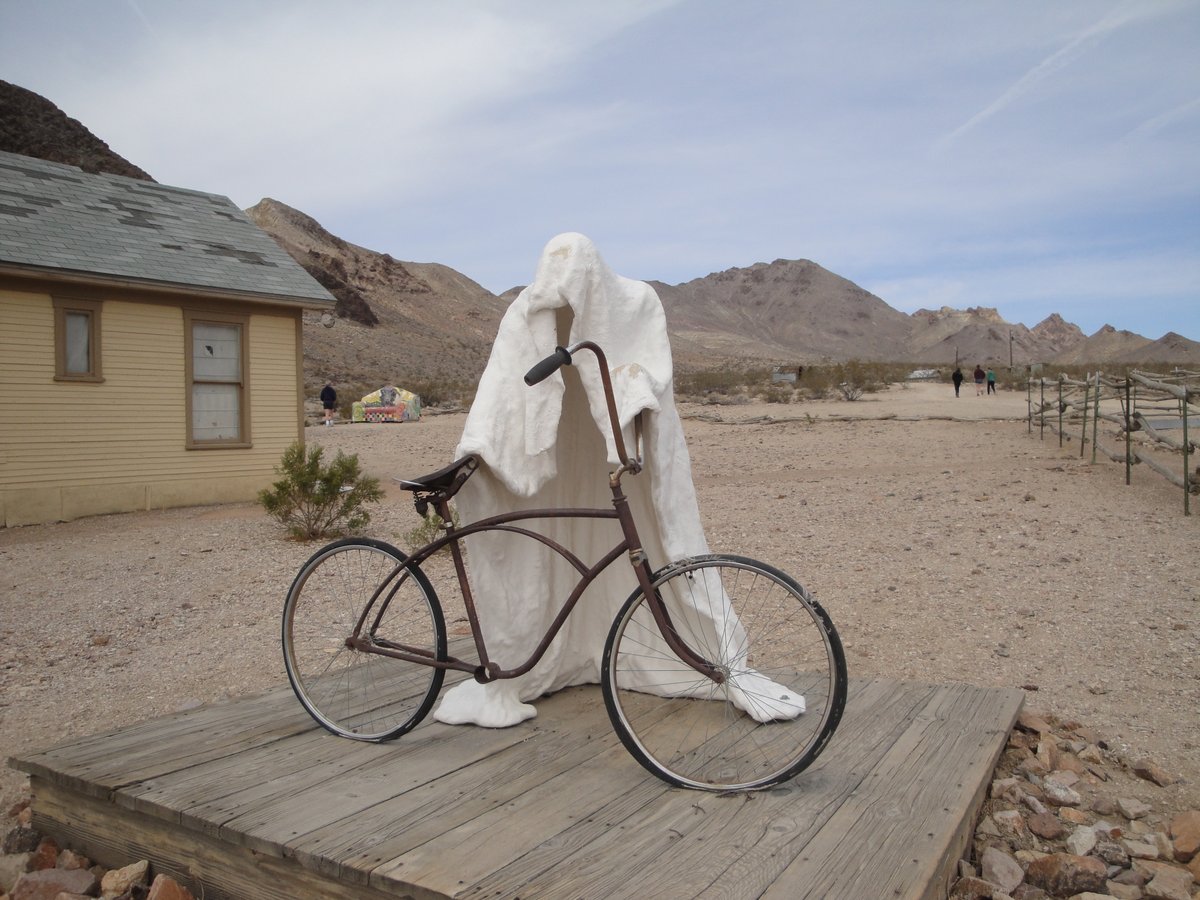 If you drink enough, you too can make a house out of glass bottles.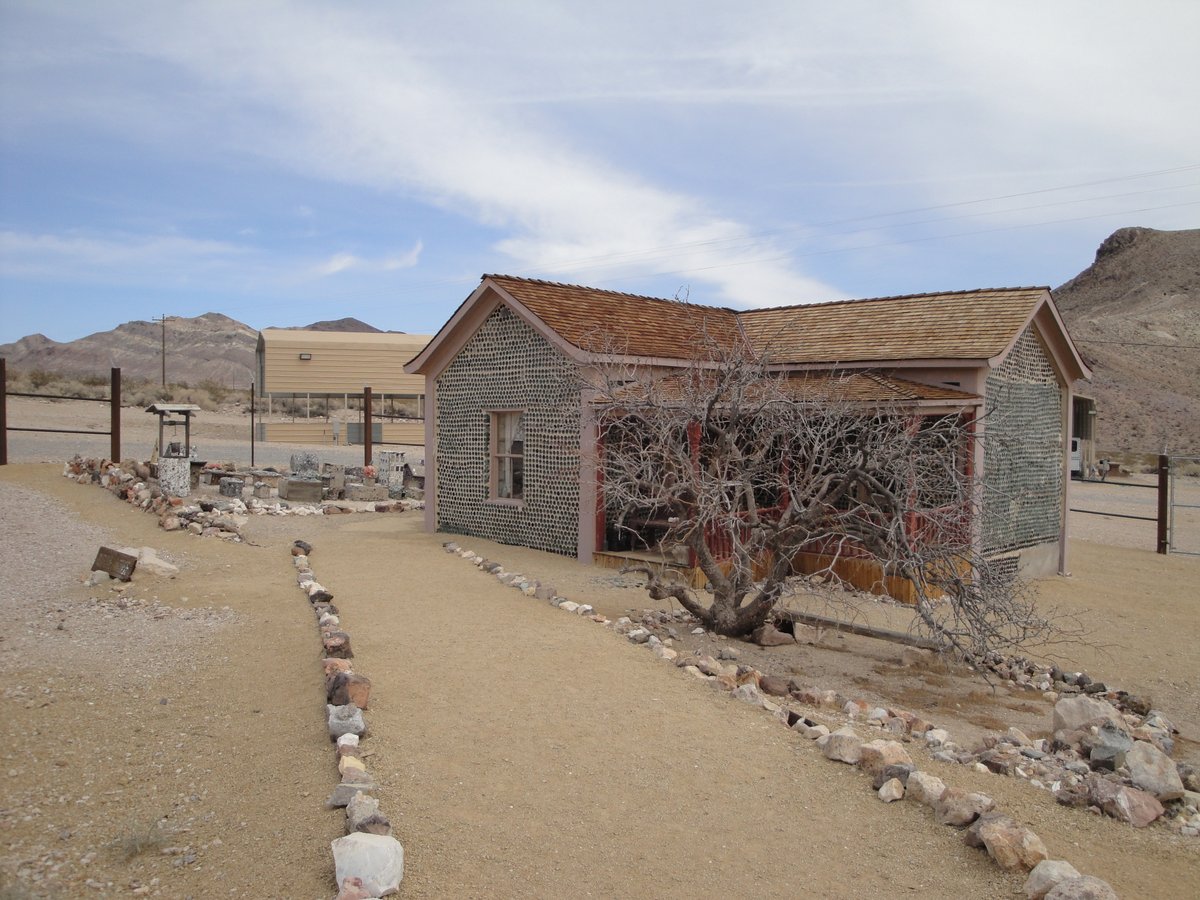 Another alternative to digging pocket holes in the mountain, you just carve it away in steps, like in this photo.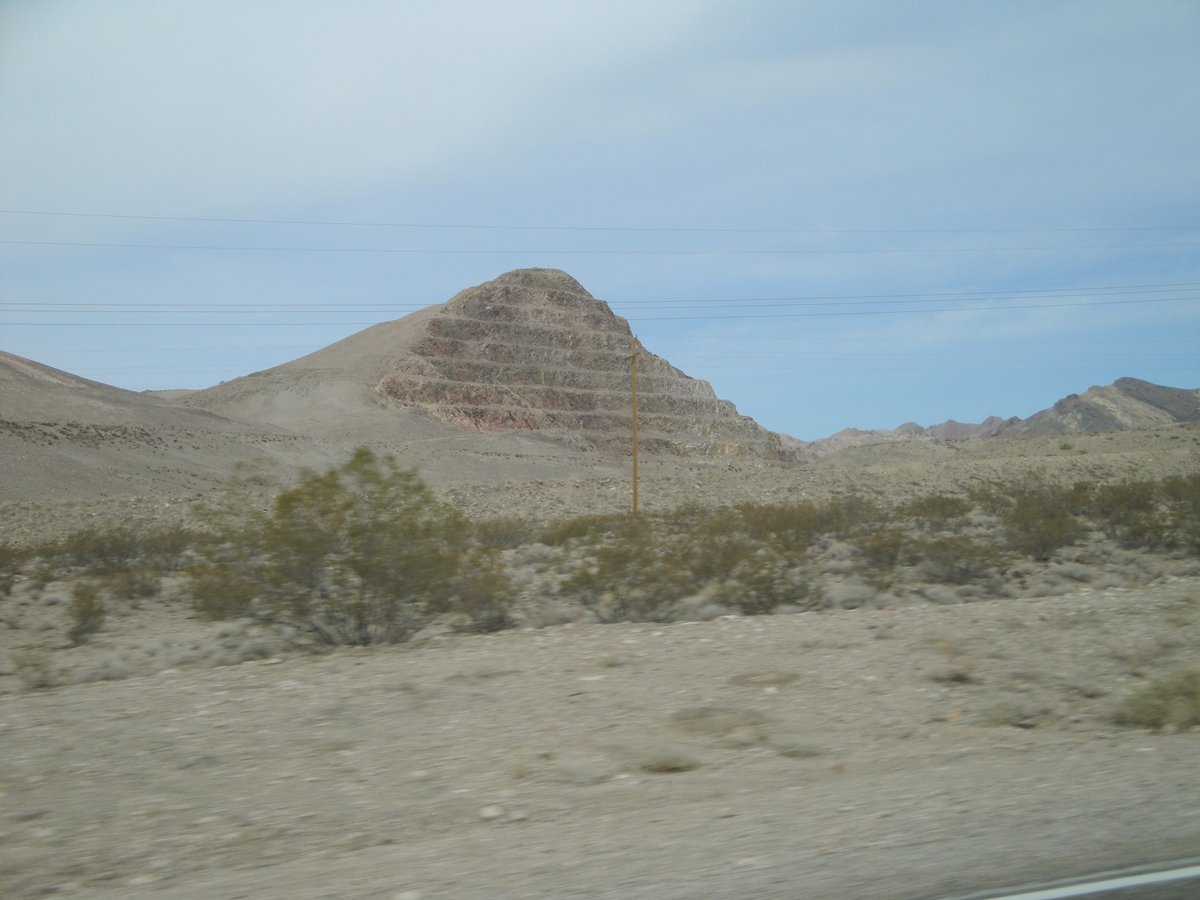 We stop at Bonnie Claire mud flats.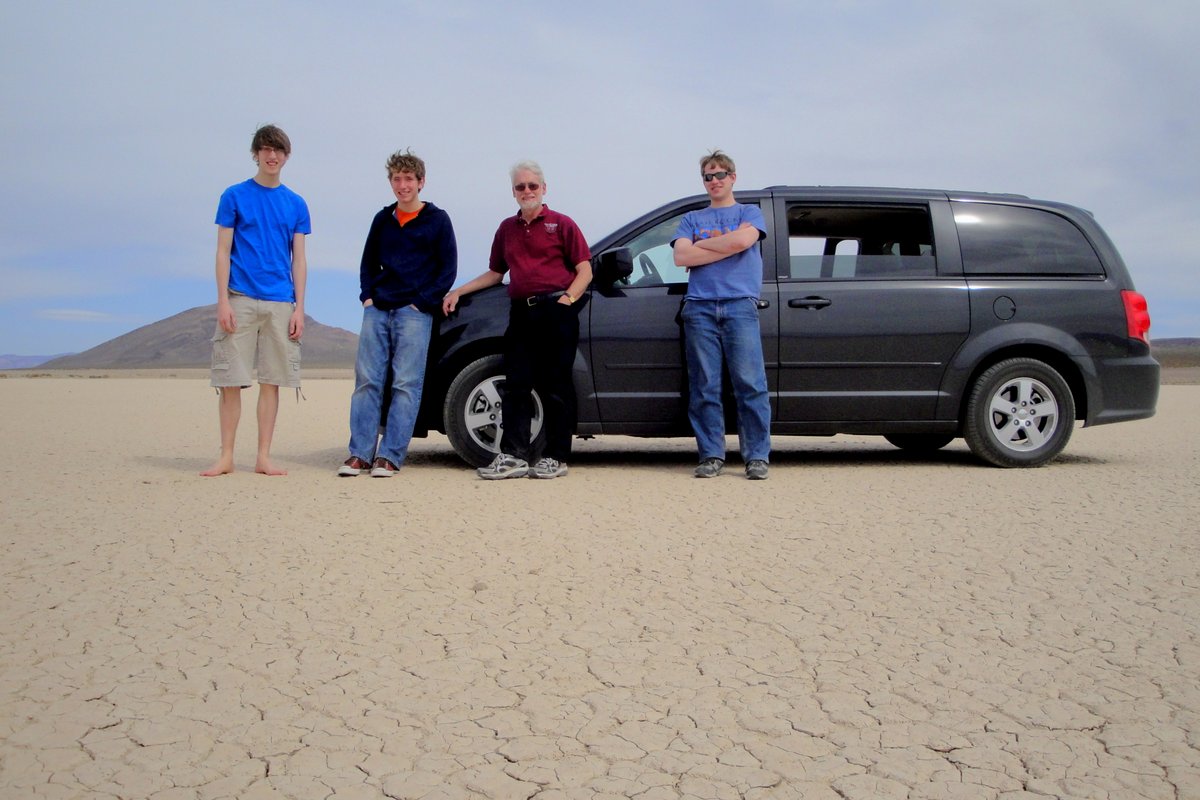 Letting the boys out for a run.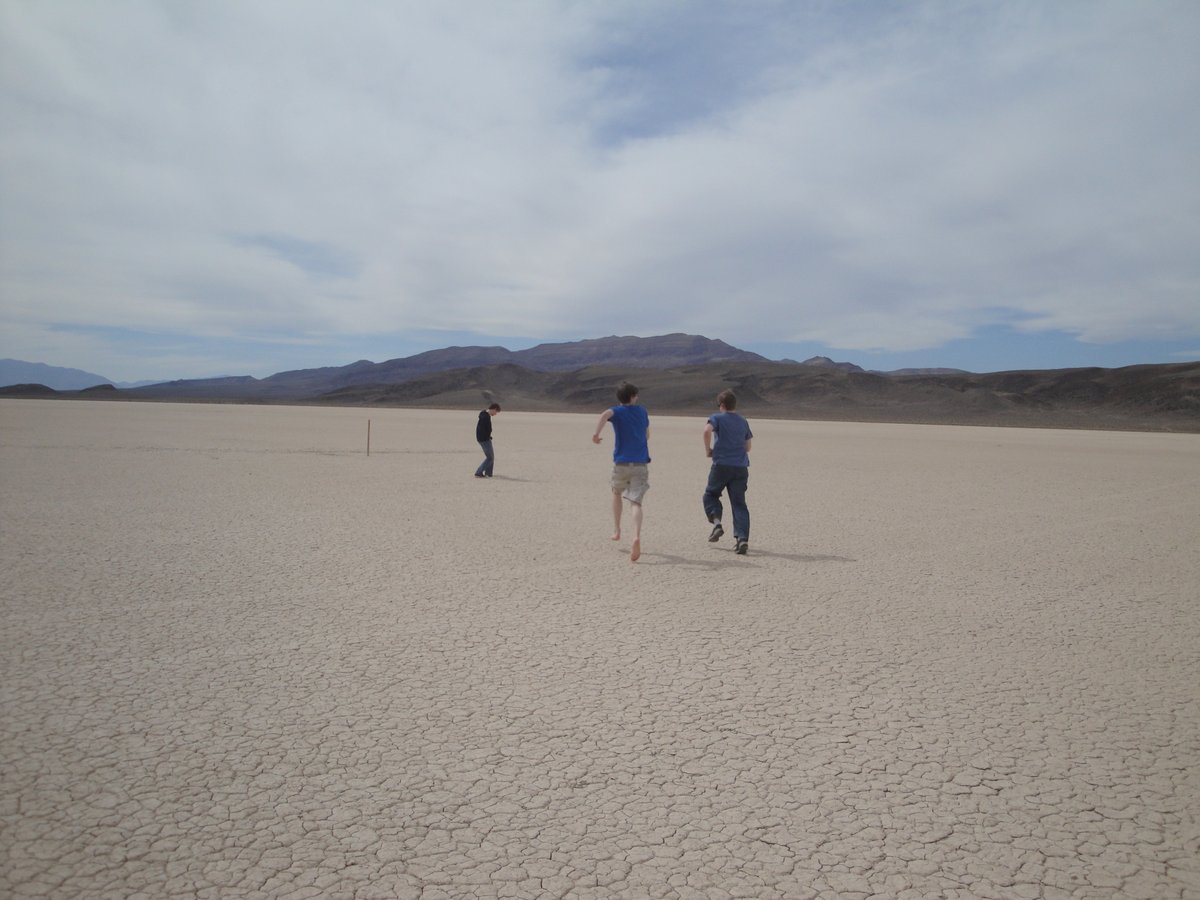 Our next stop was this castle in the desert called Scotty's Castle.  It is an interesting story.  In short, prospector "Death Valley Scotty" claimed this elaborate Spanish-style mansion was built by gold from his fictitious mine.  In reality, it was the 1920's vacation home of his wealthy friends.  Today is is owned by the park and rangers give costumed tours.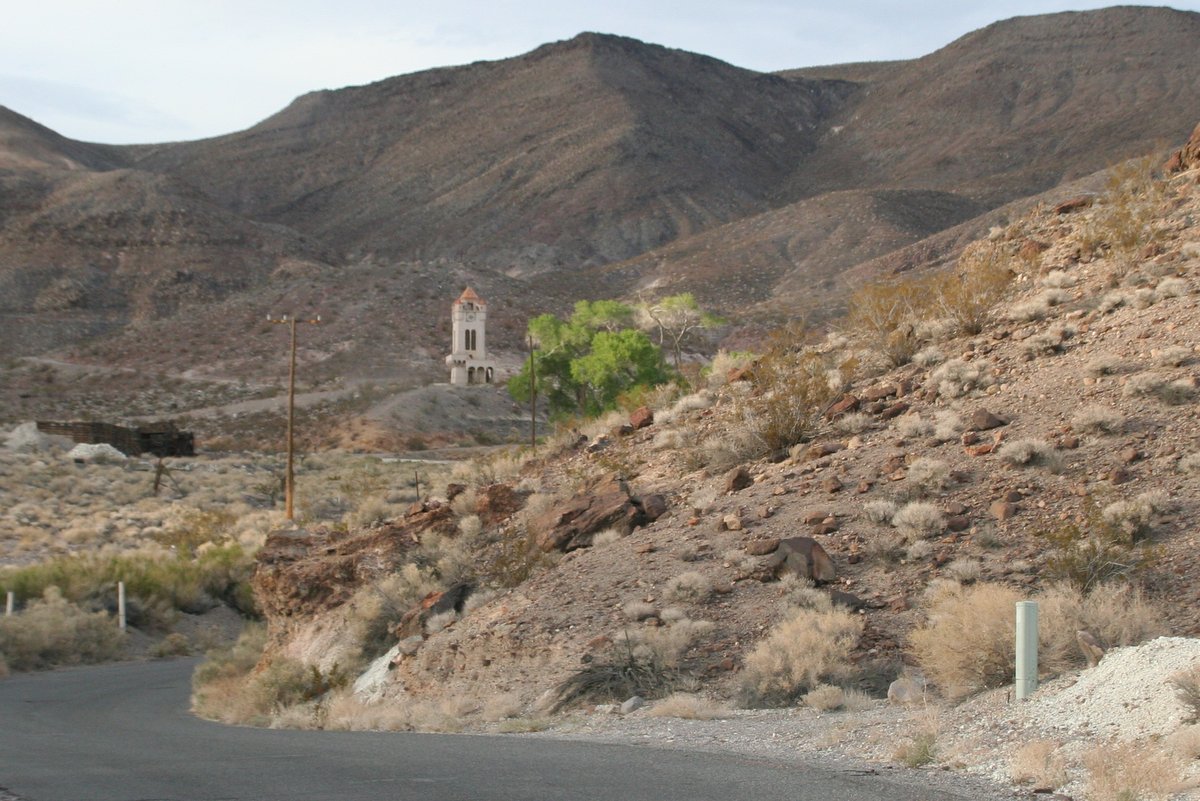 A view from the bell tower area.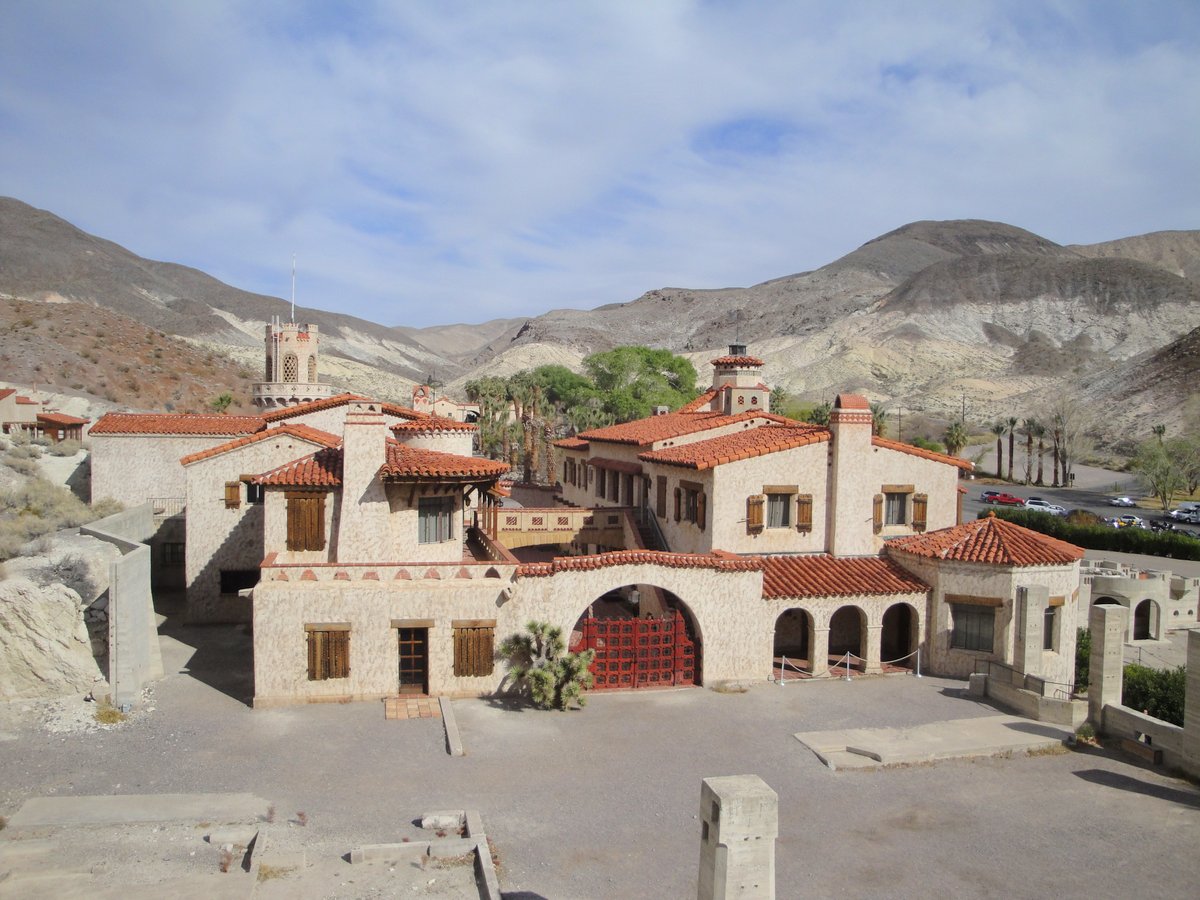 The boys entertained themselves while waiting for the tour.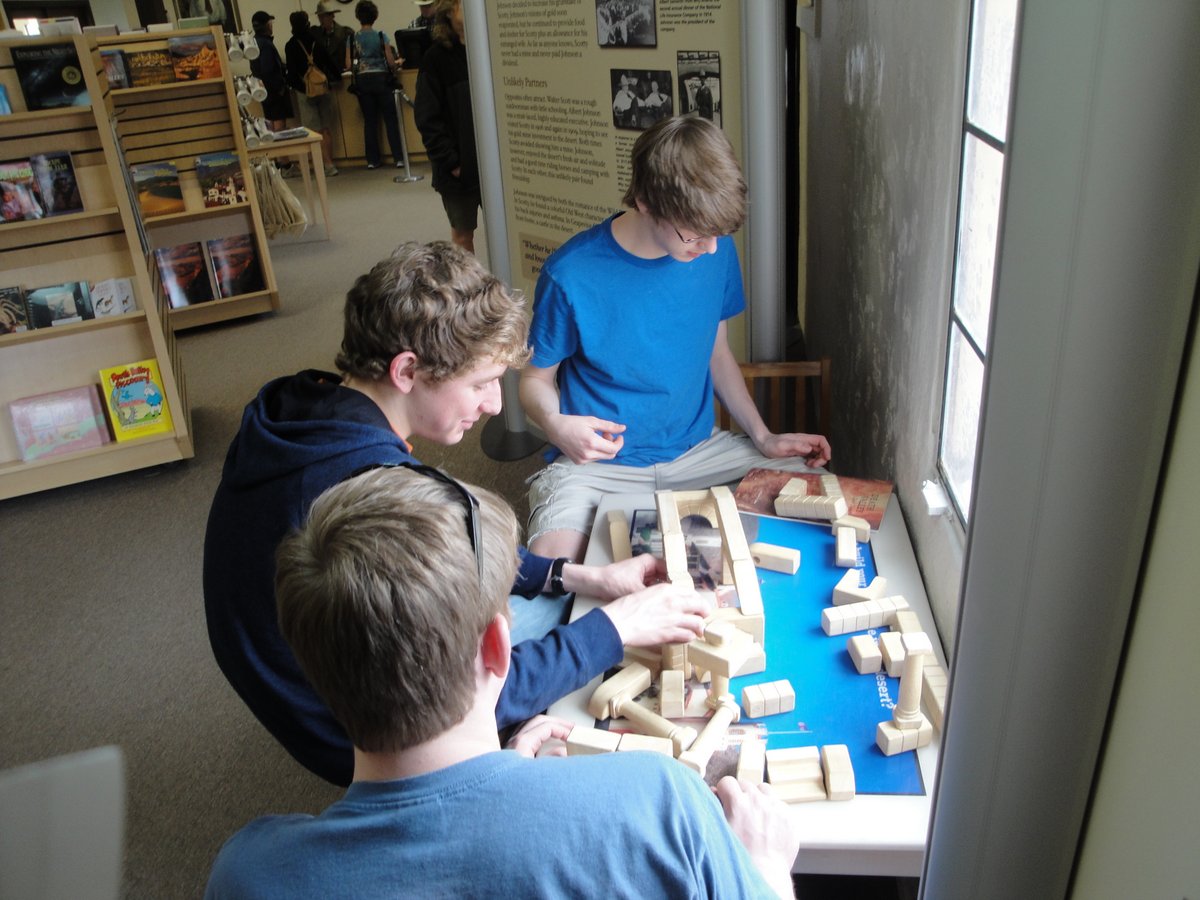 Dad's supervising.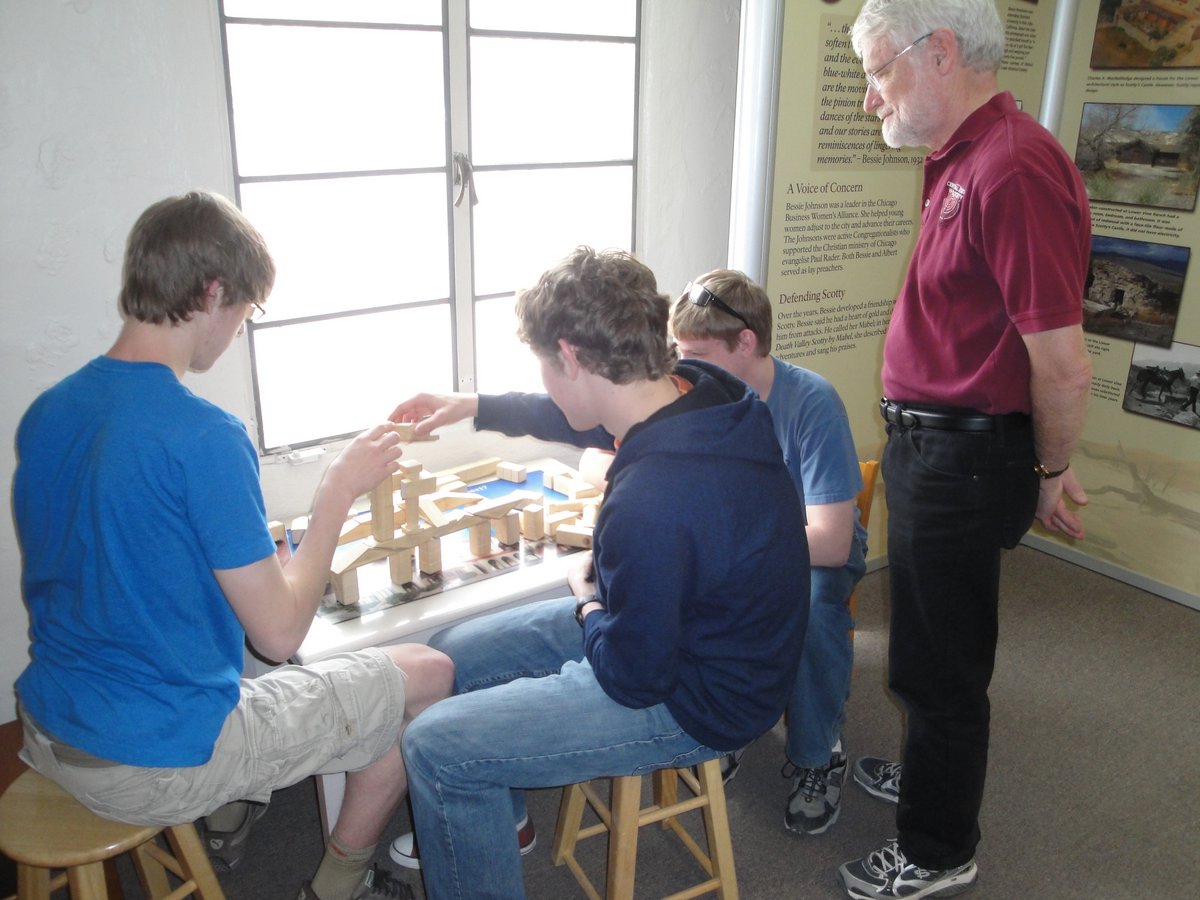 Upstairs in the organ/piano room of the castle.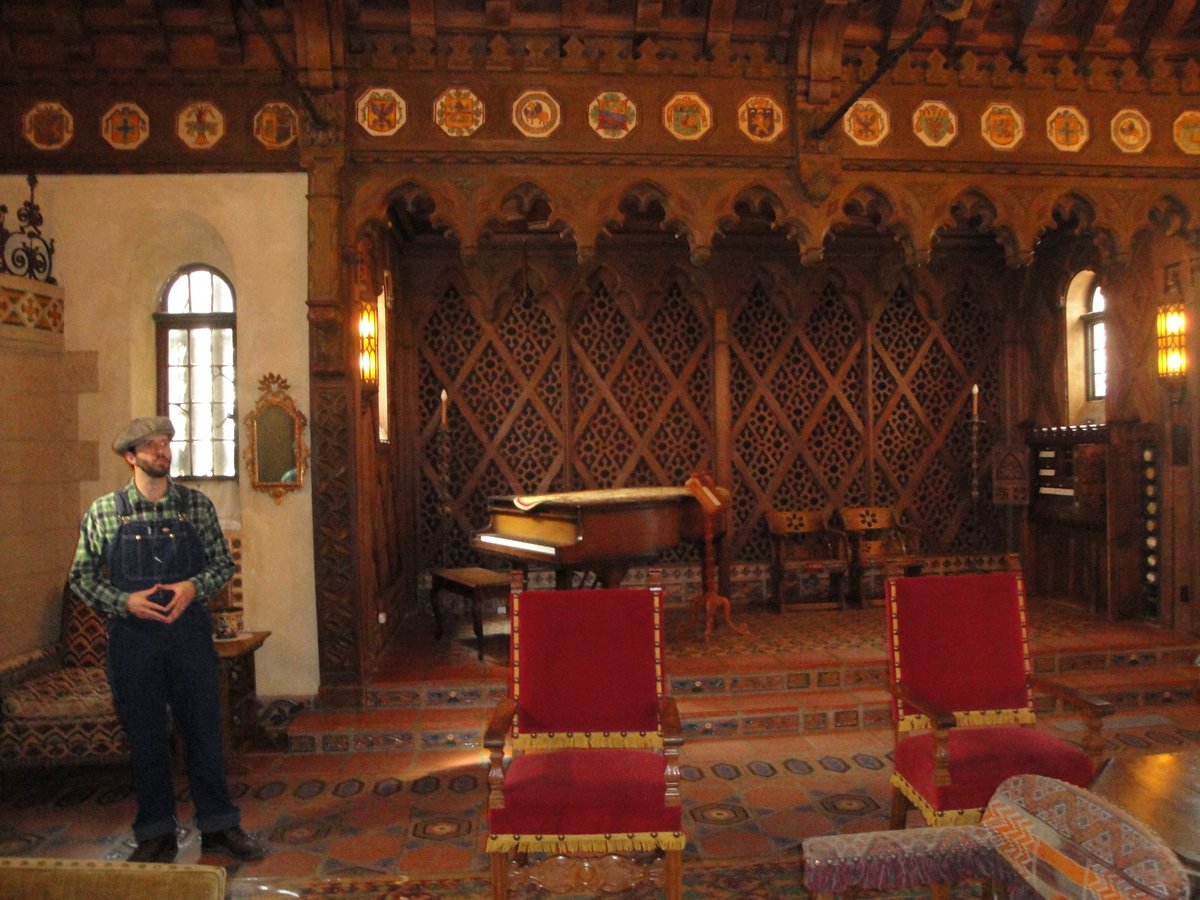 You can always count on David to do the unexpected.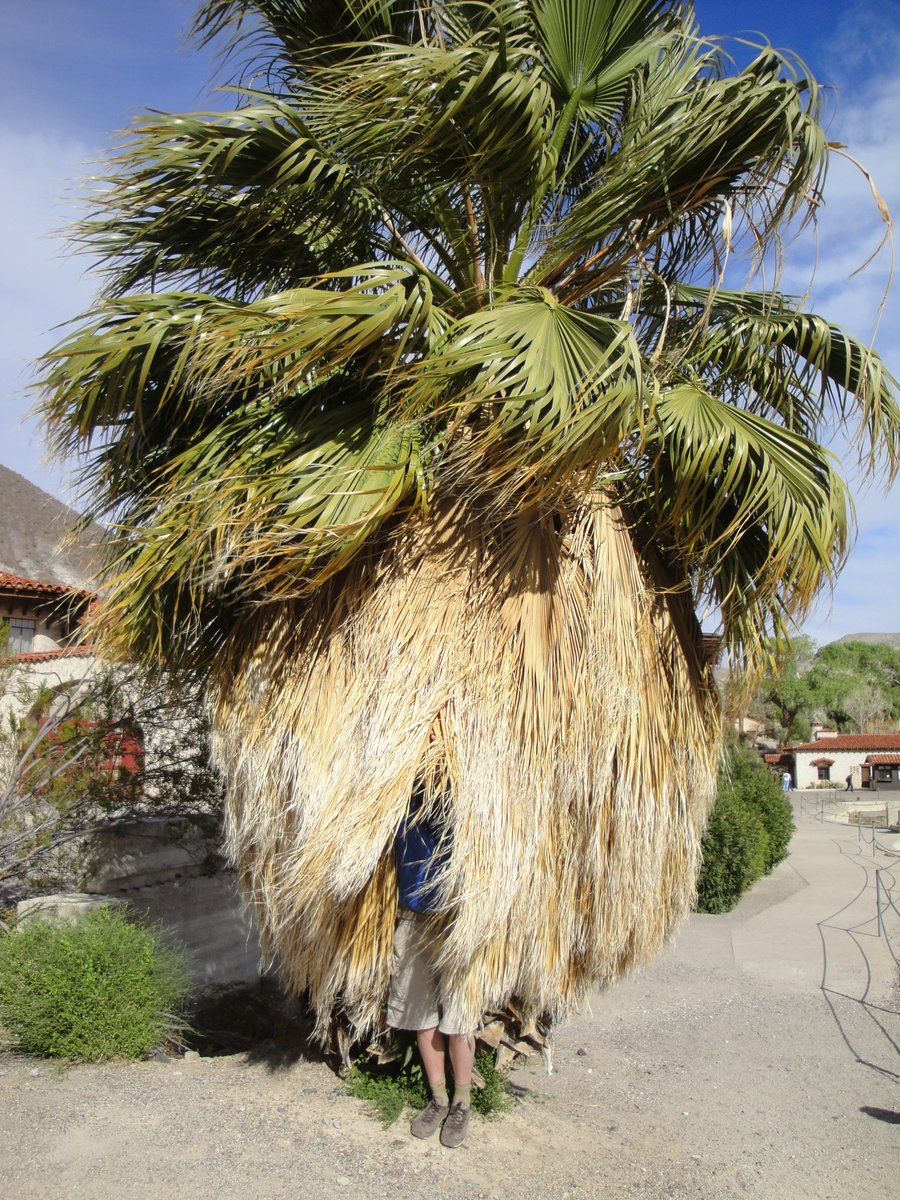 Like this 🙂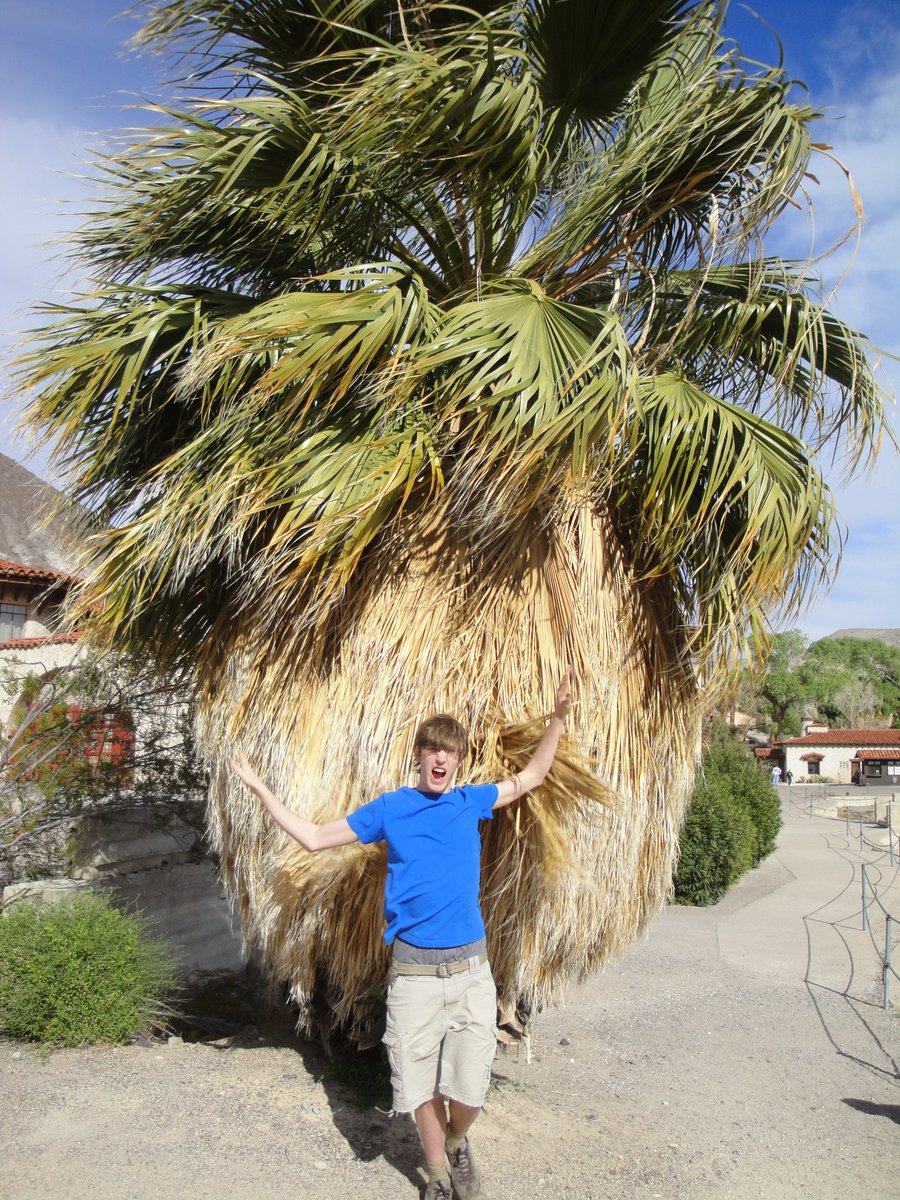 Ubehebe Crater, created just 300 years ago was the result of a violent release of underground steam pressure.  When the cinder and dust settled, this 600 feet deep crater remained.

Just a bit windy this day up at the rim of the crater.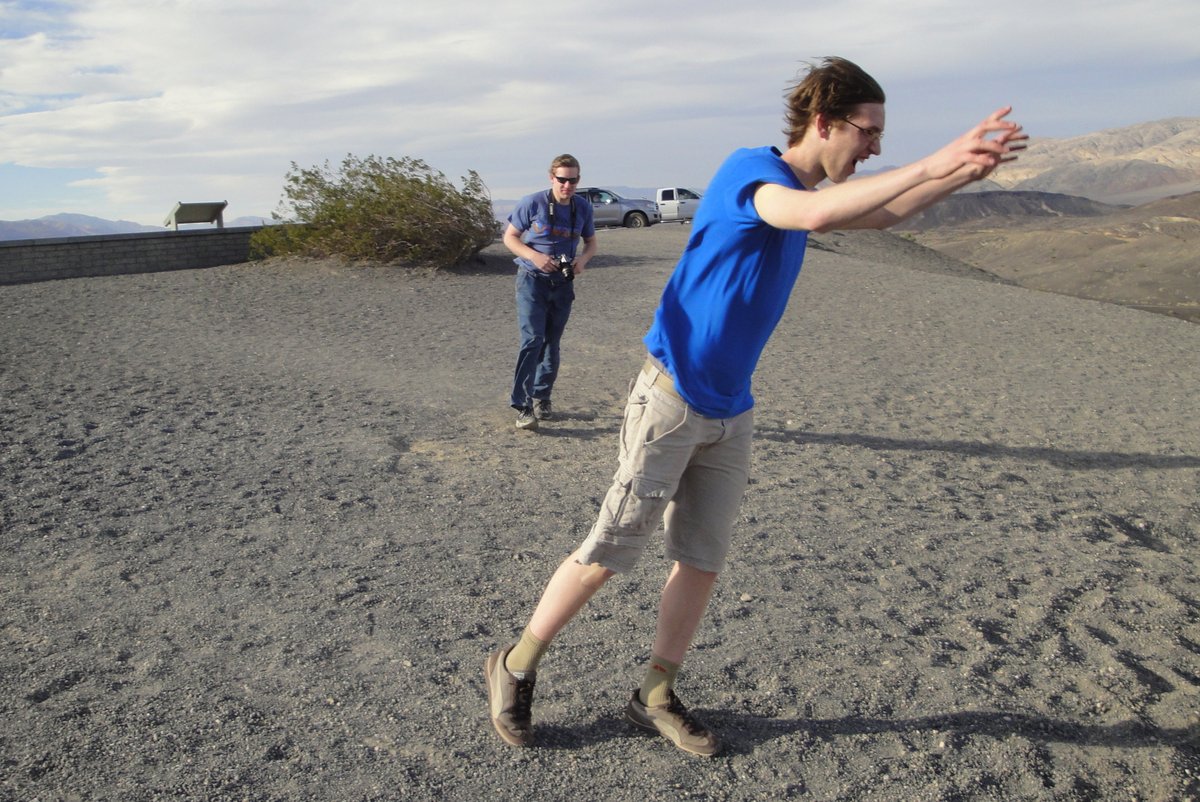 It is getting late in the day, but Father Crowley Vista Point was beautiful.  Nice end to our second day.

Day 3 started with a wonderful view of the Sierra Nevada Mountain Range right from our hotel, with the highest peak in the continental United States, Mount Whitney, in clear view.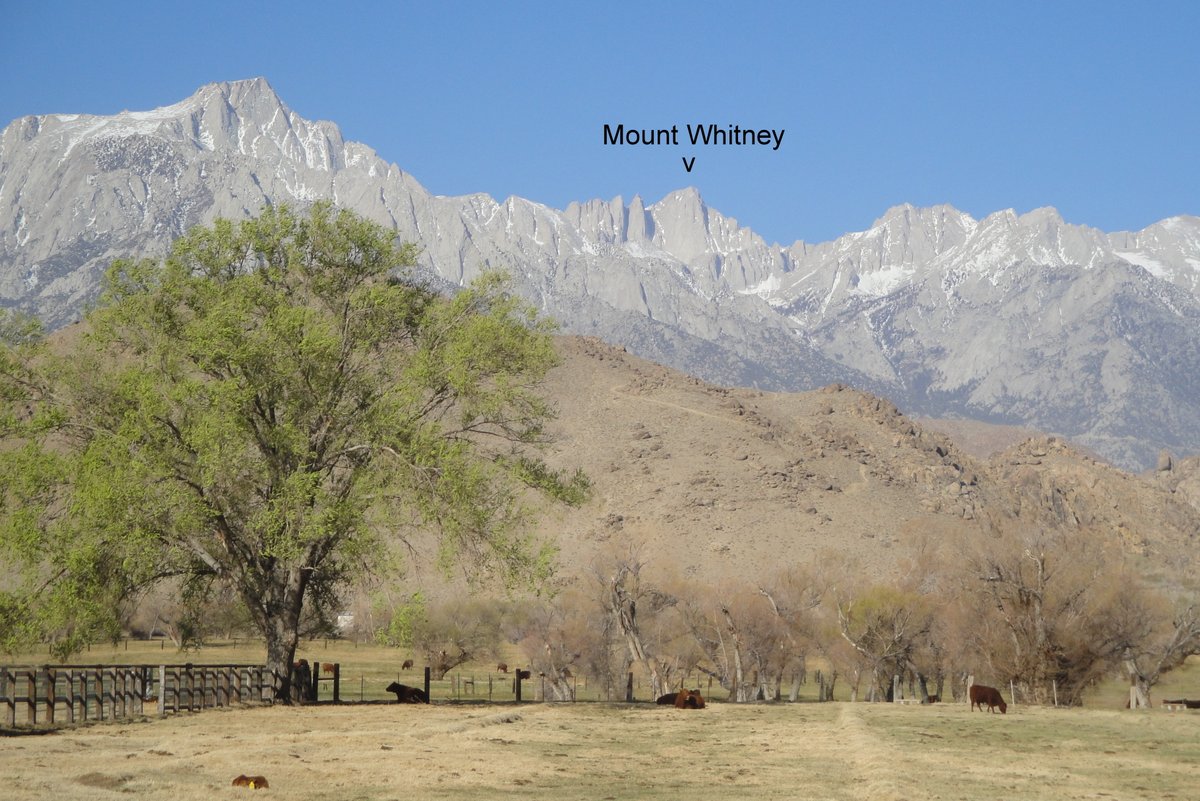 Headed back into the park, and looking back at Mount Whitney.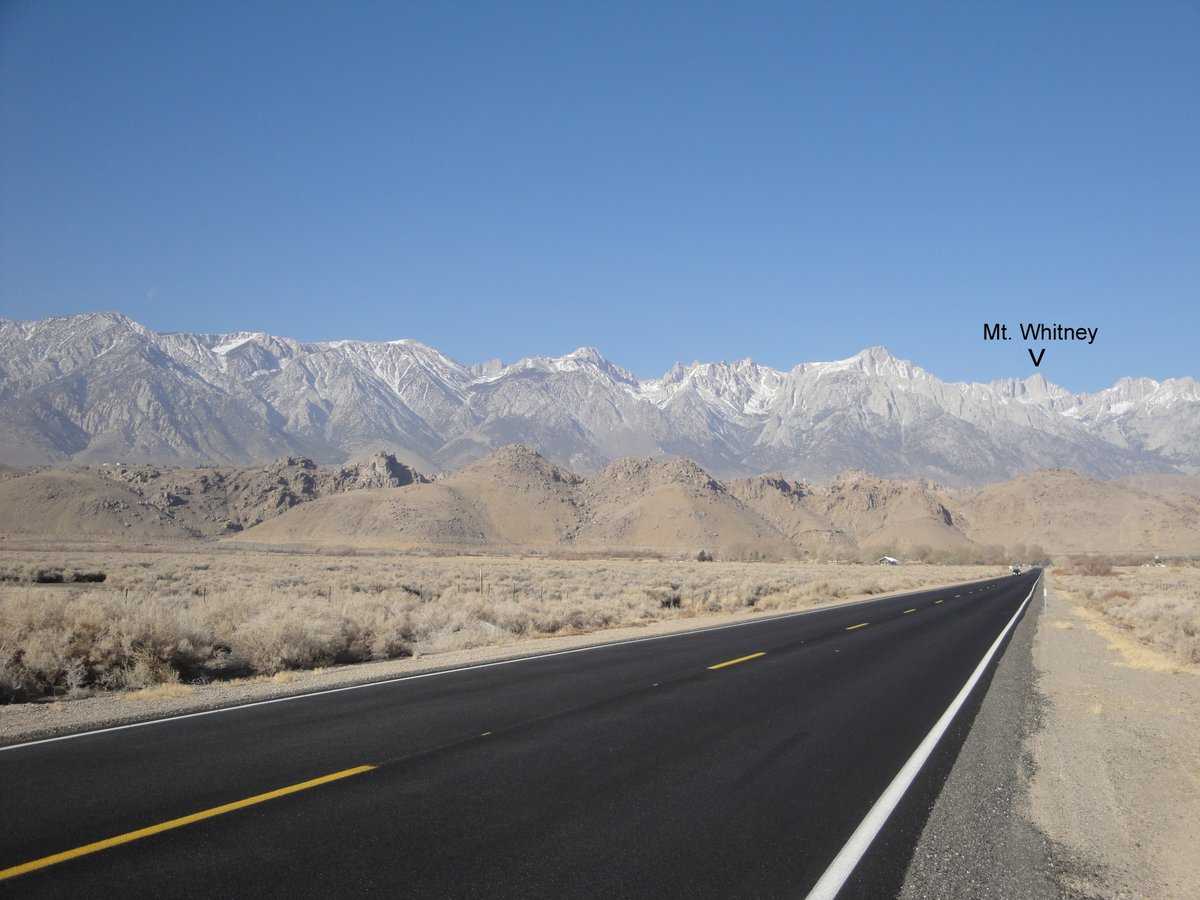 Our next adventure was the Mesquite Flat Sand Dunes.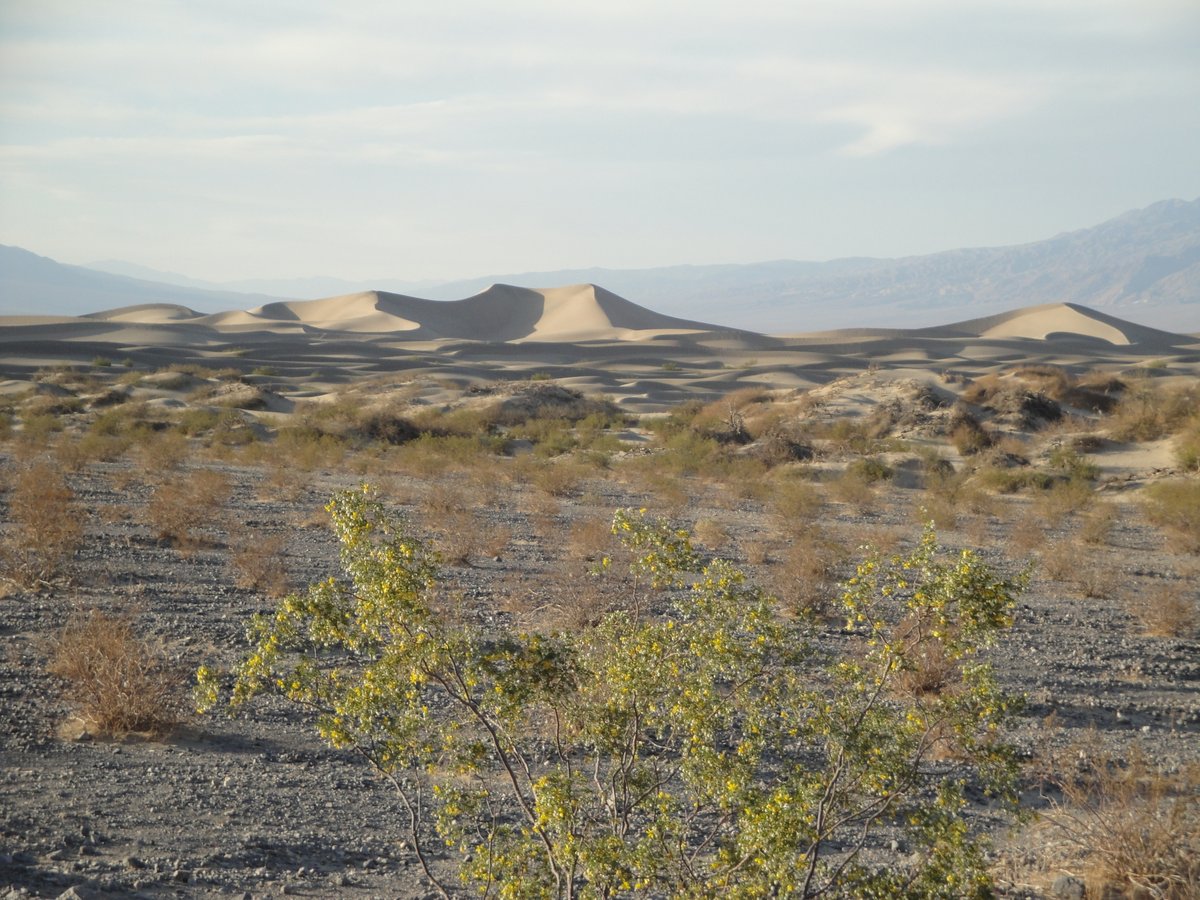 We walked the 2 miles out to the tallest sand dune, which is 100 feet high.  I had sandals on and boy was that sand hot when it touched my toes!!!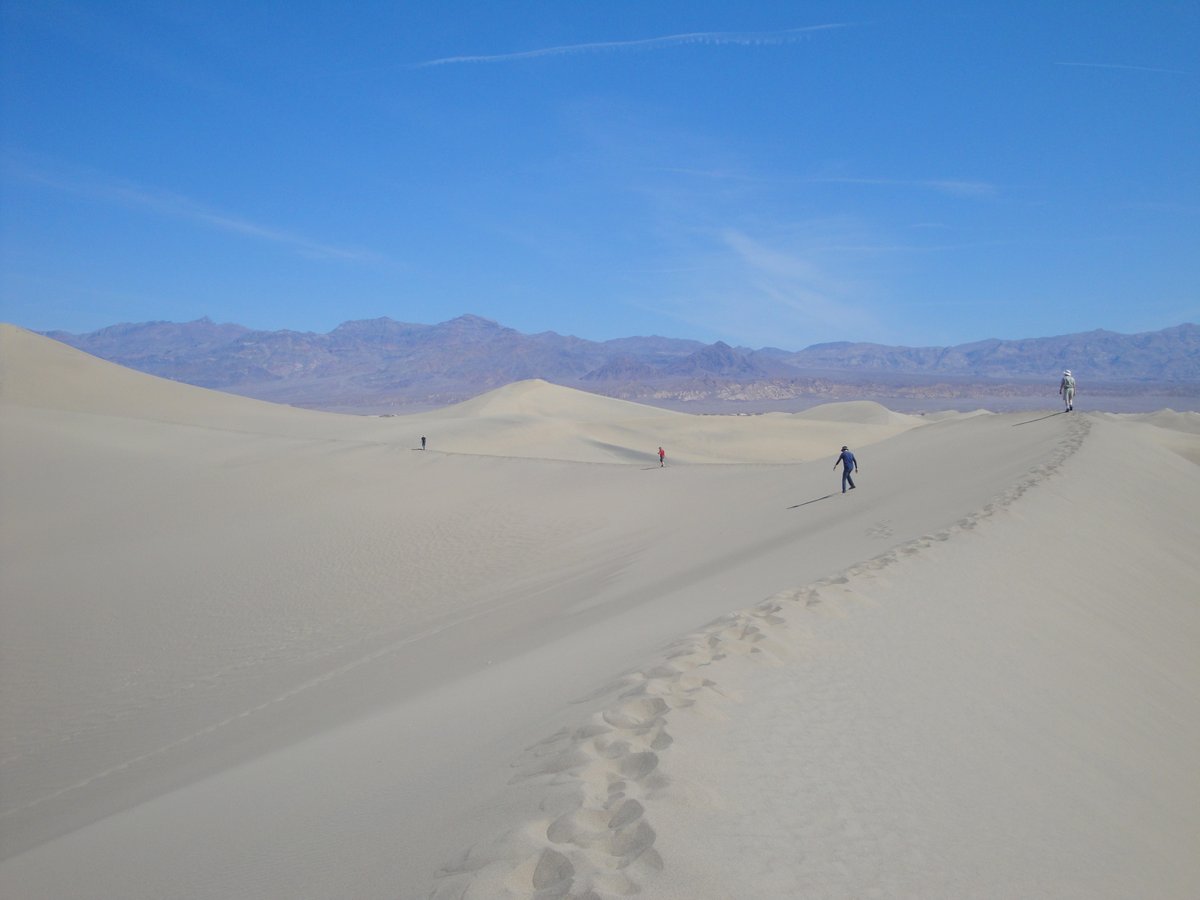 But look at the cute heart shaped marks my sandals made on the sand!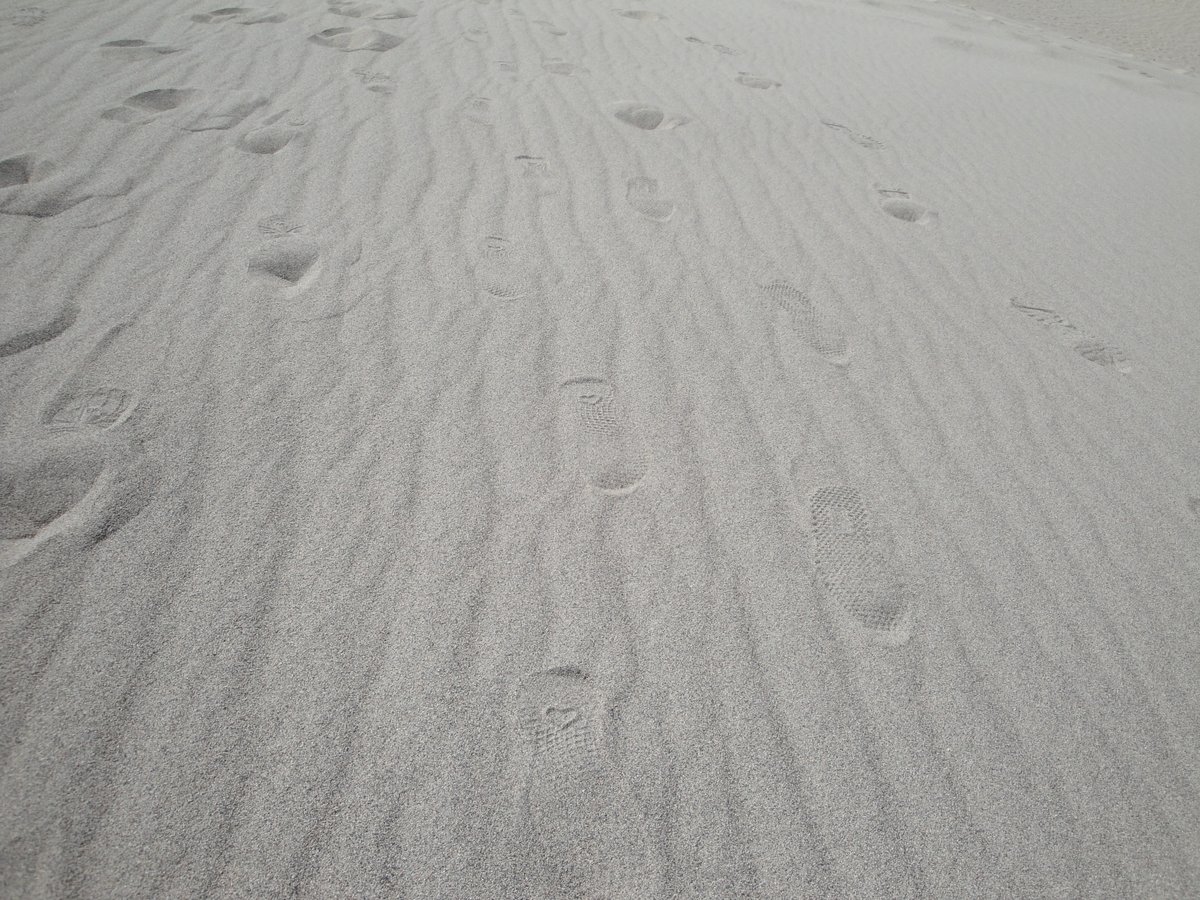 The fun begins at the sand dunes.  David rolls down the dune.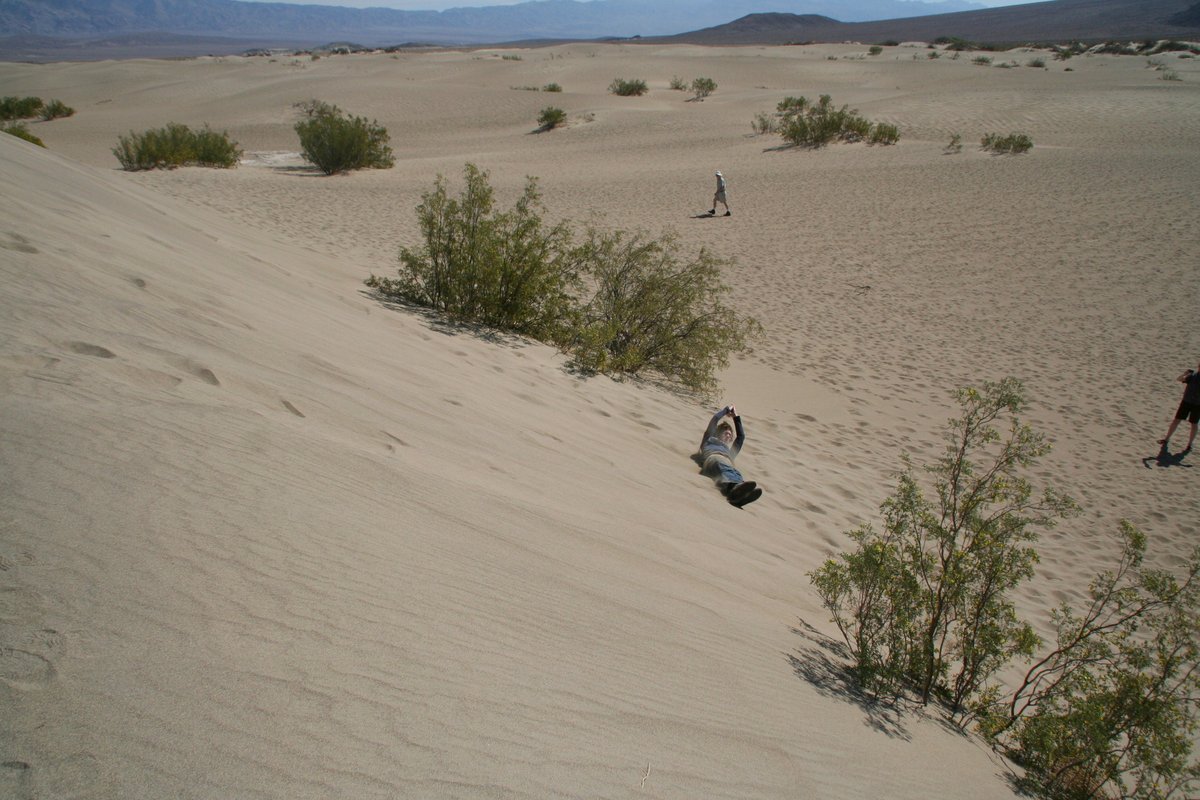 I don't think the ending was quite as enjoyable as he imagined.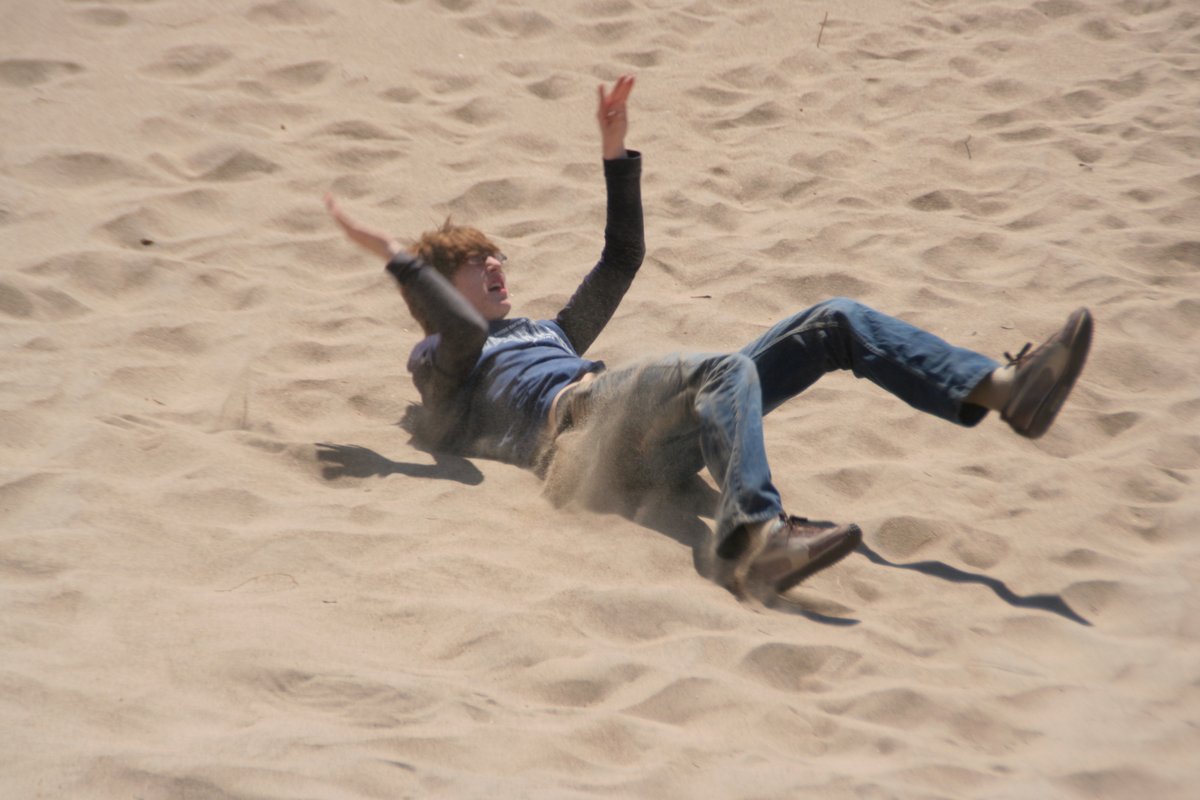 He looks dead, but first, let me capture the pose!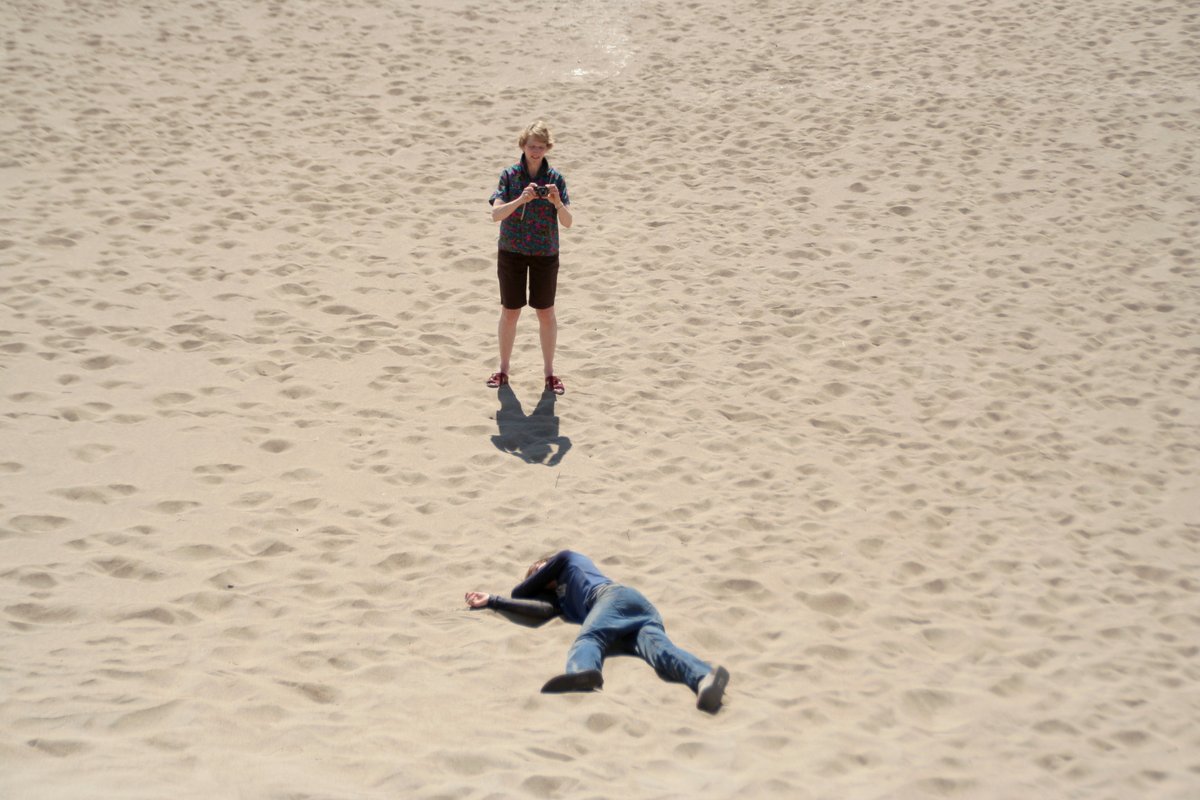 Joe takes pictures from above.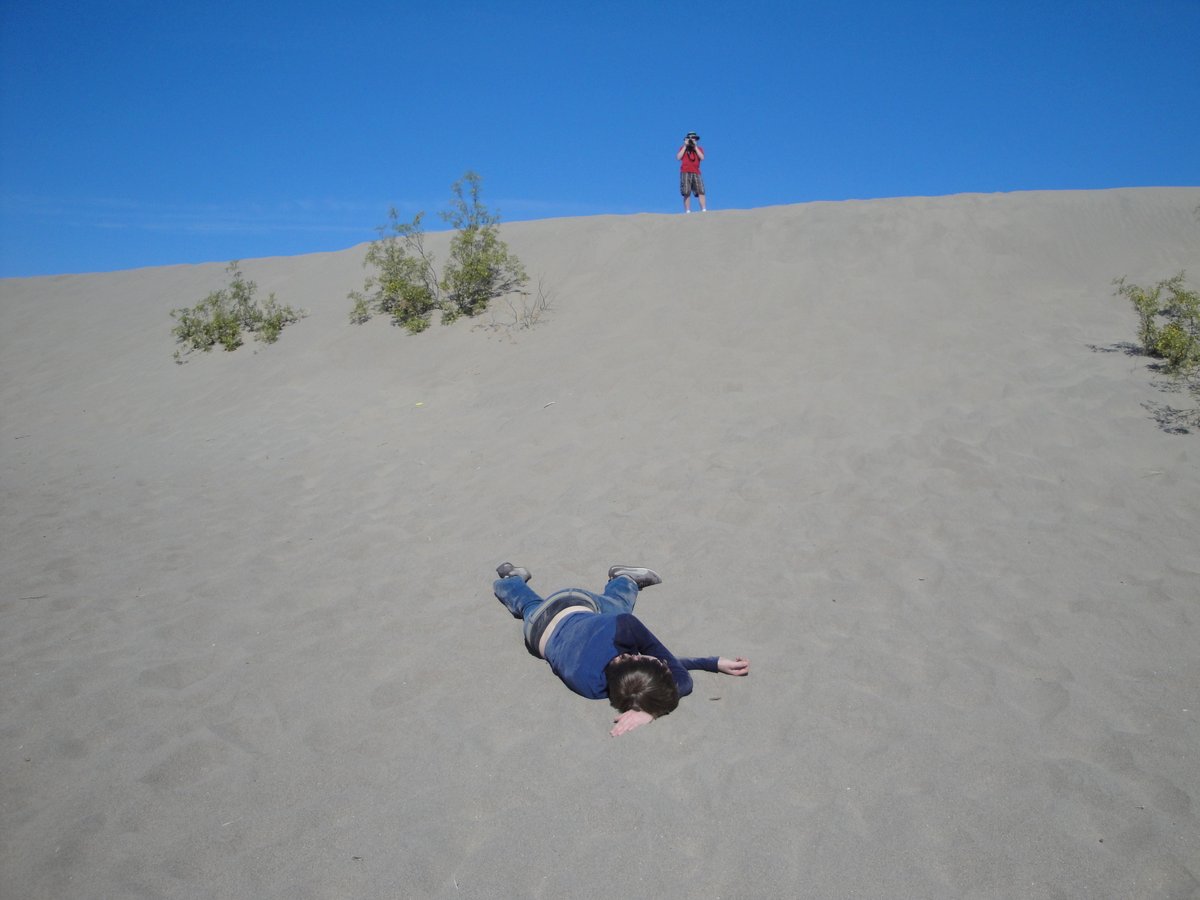 David comes back to life, and flies into the air!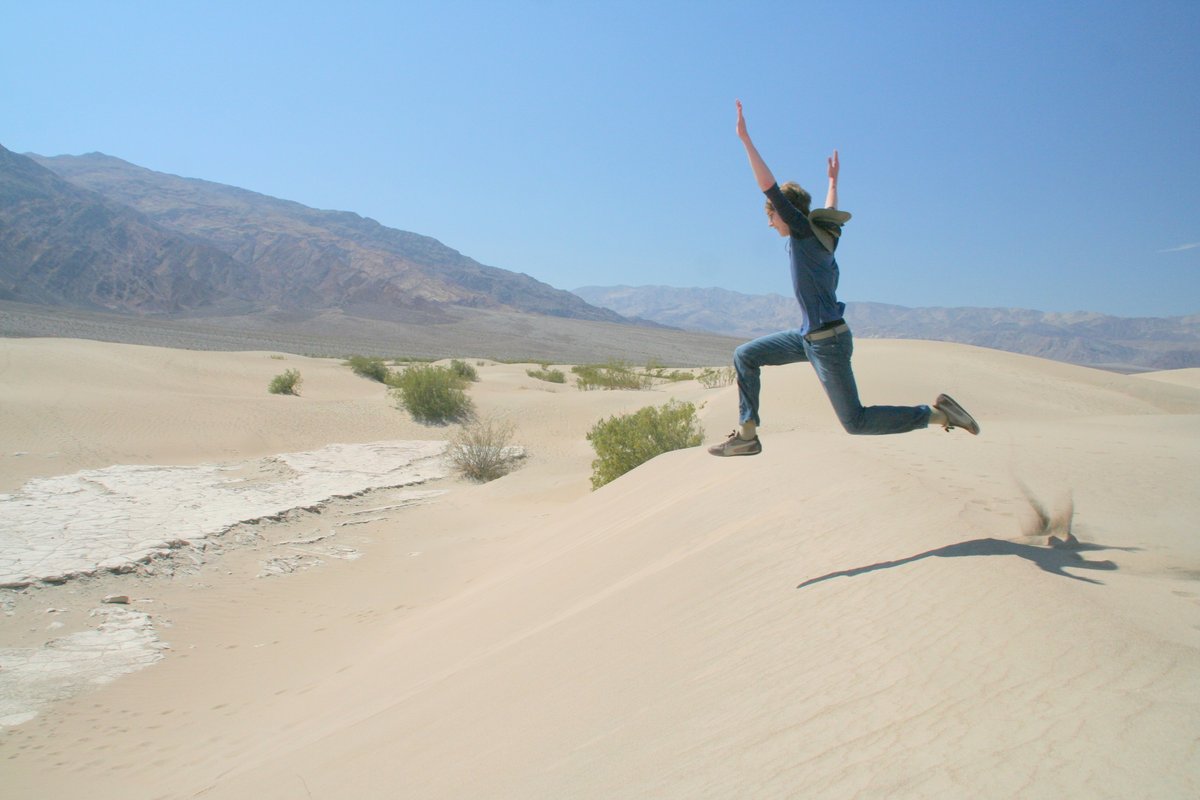 Joe takes his turn running down the dune.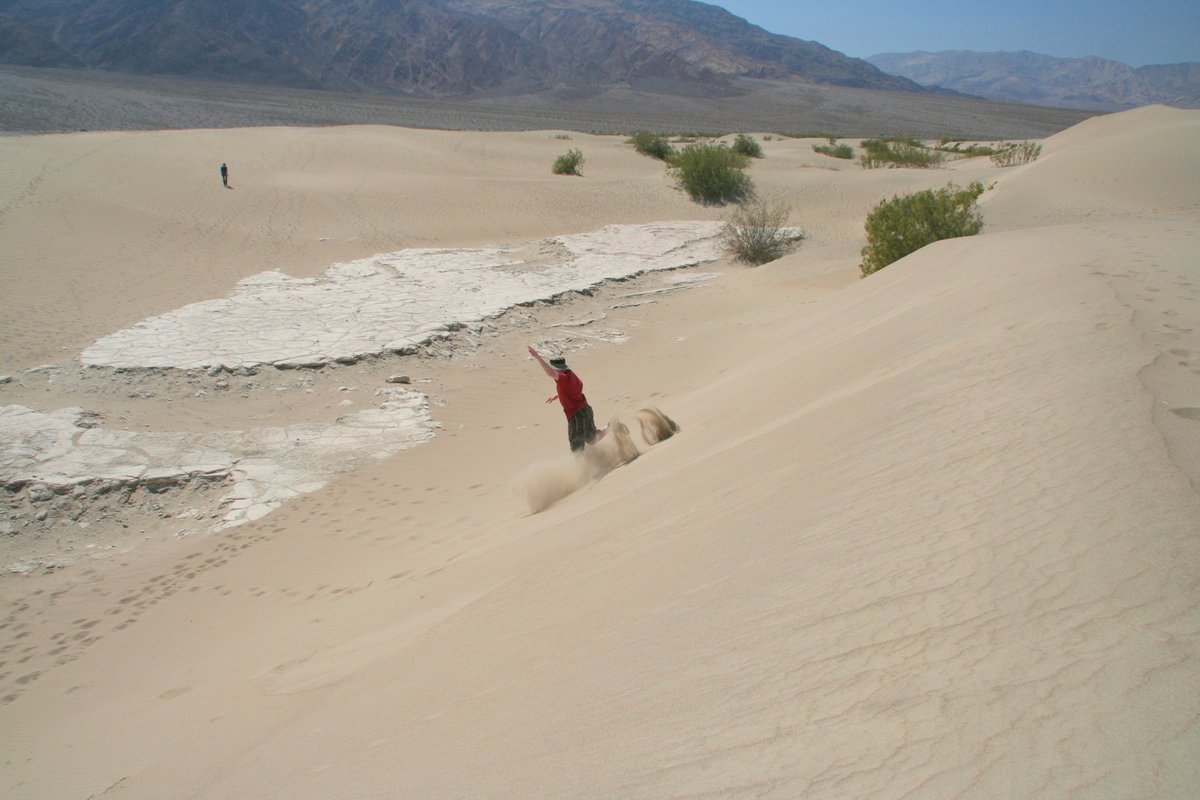 Paul and I just pose.  No stunts for us.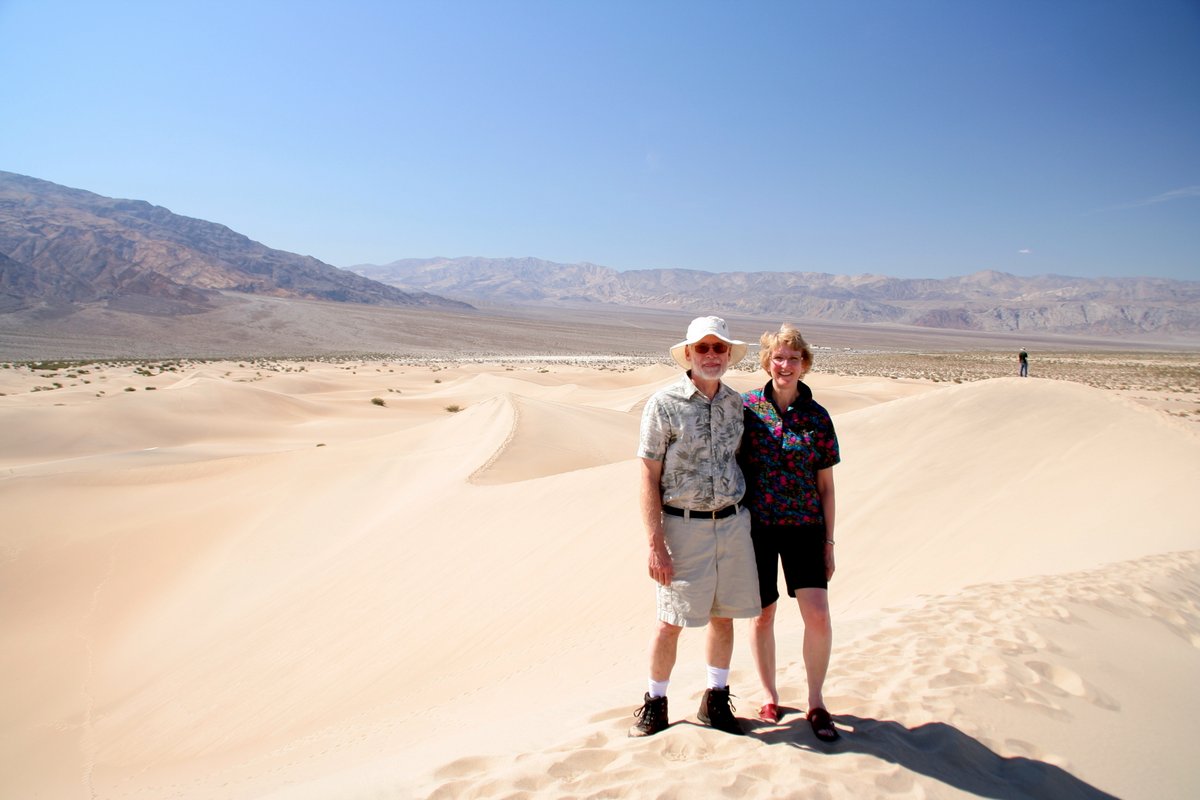 Erik finds this lizard.  Joe zooms in for some cool pictures.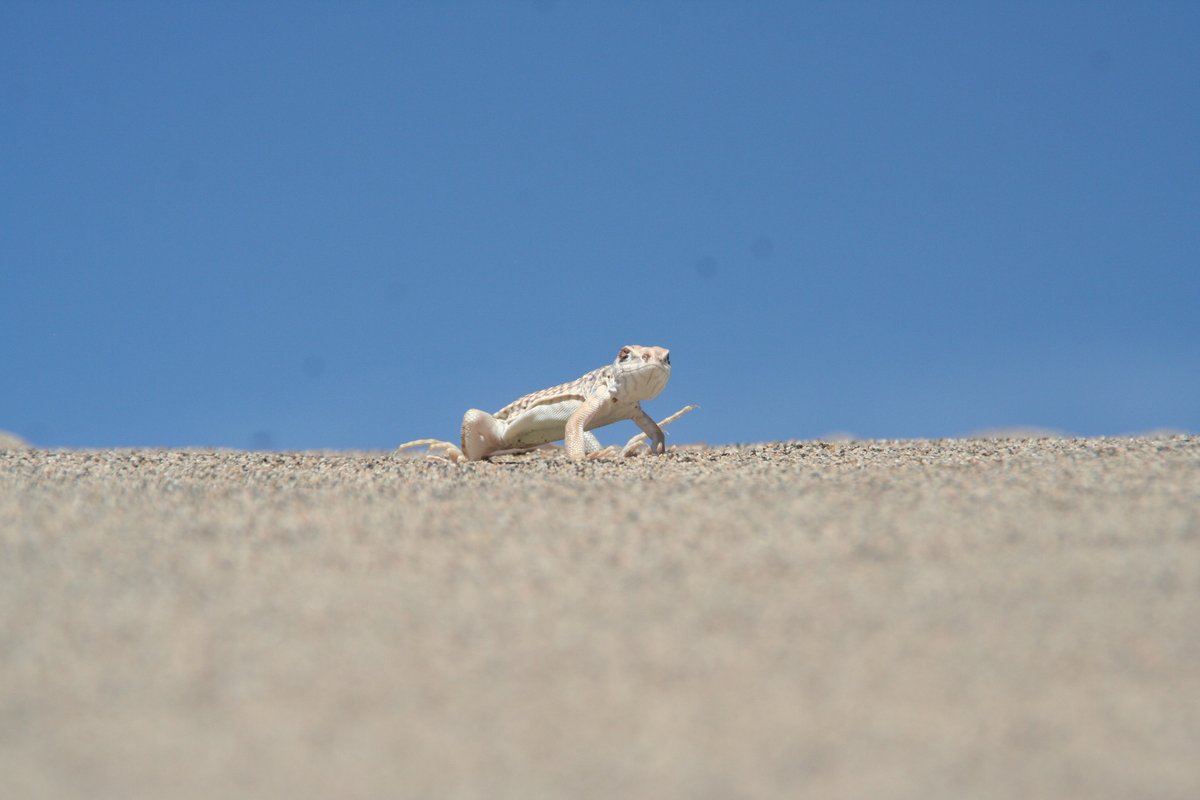 He sure camouflages well with sand.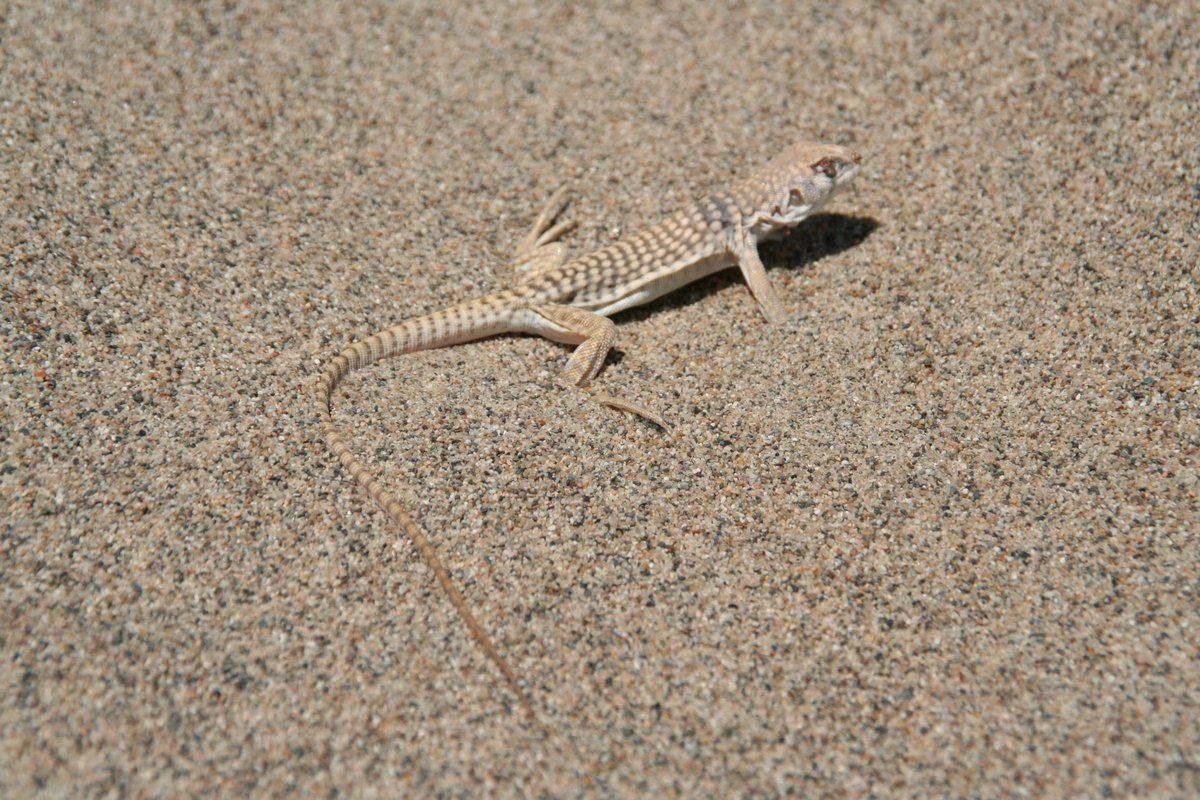 David pets him.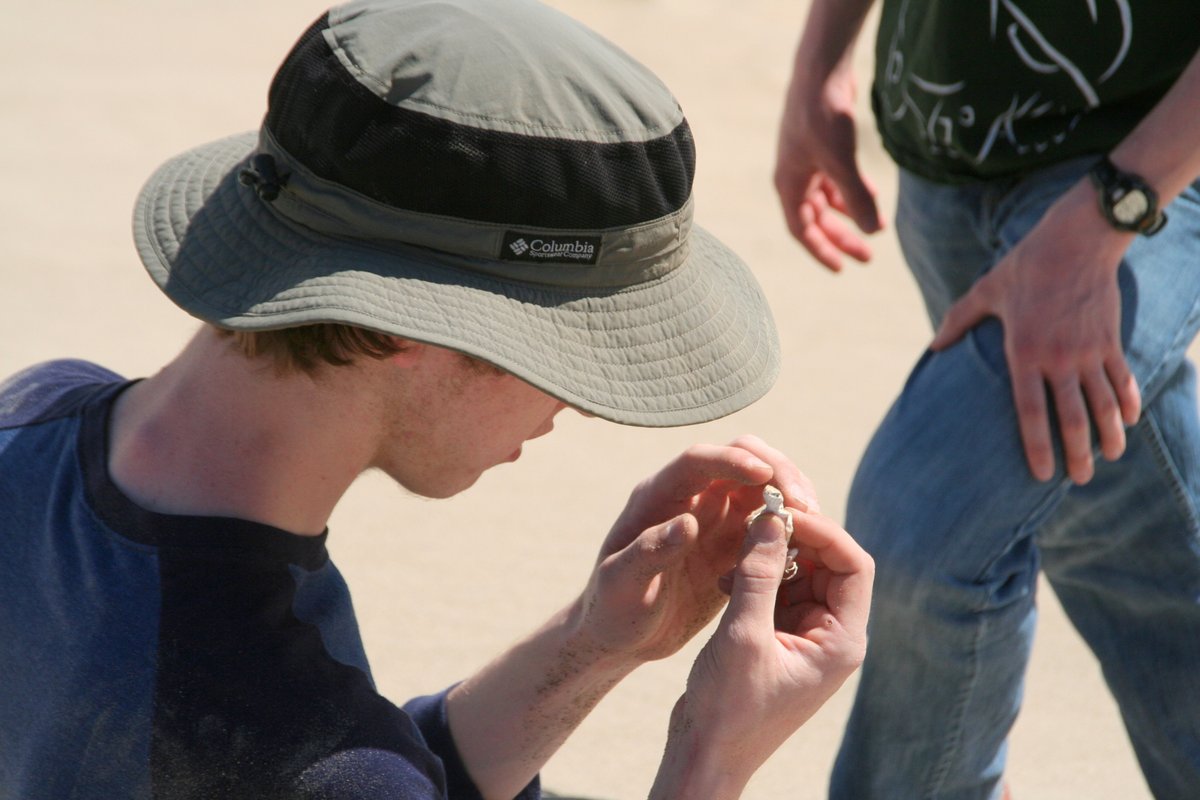 And then tries him on for size.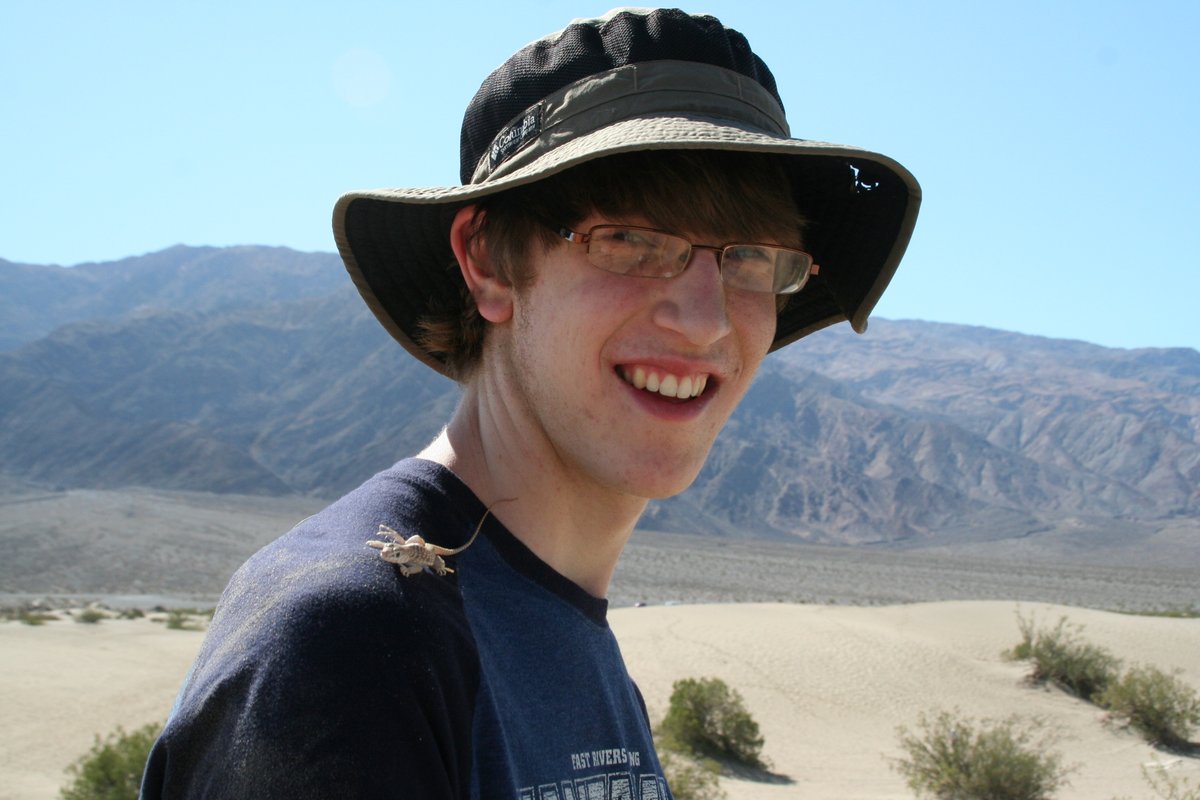 Erik poses with the lizard as well, and then lets him get back to whatever he was doing.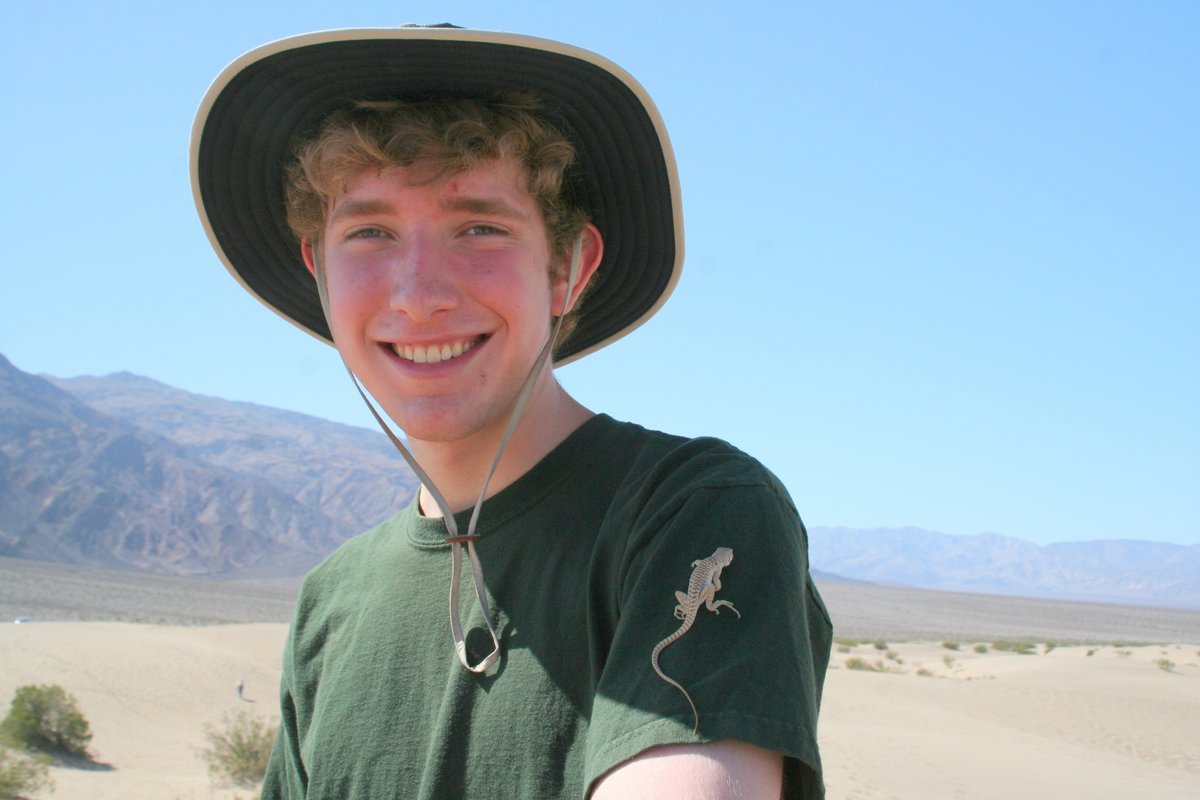 Our next stop was Mosaic Canyon, a polished marble-walled canyon.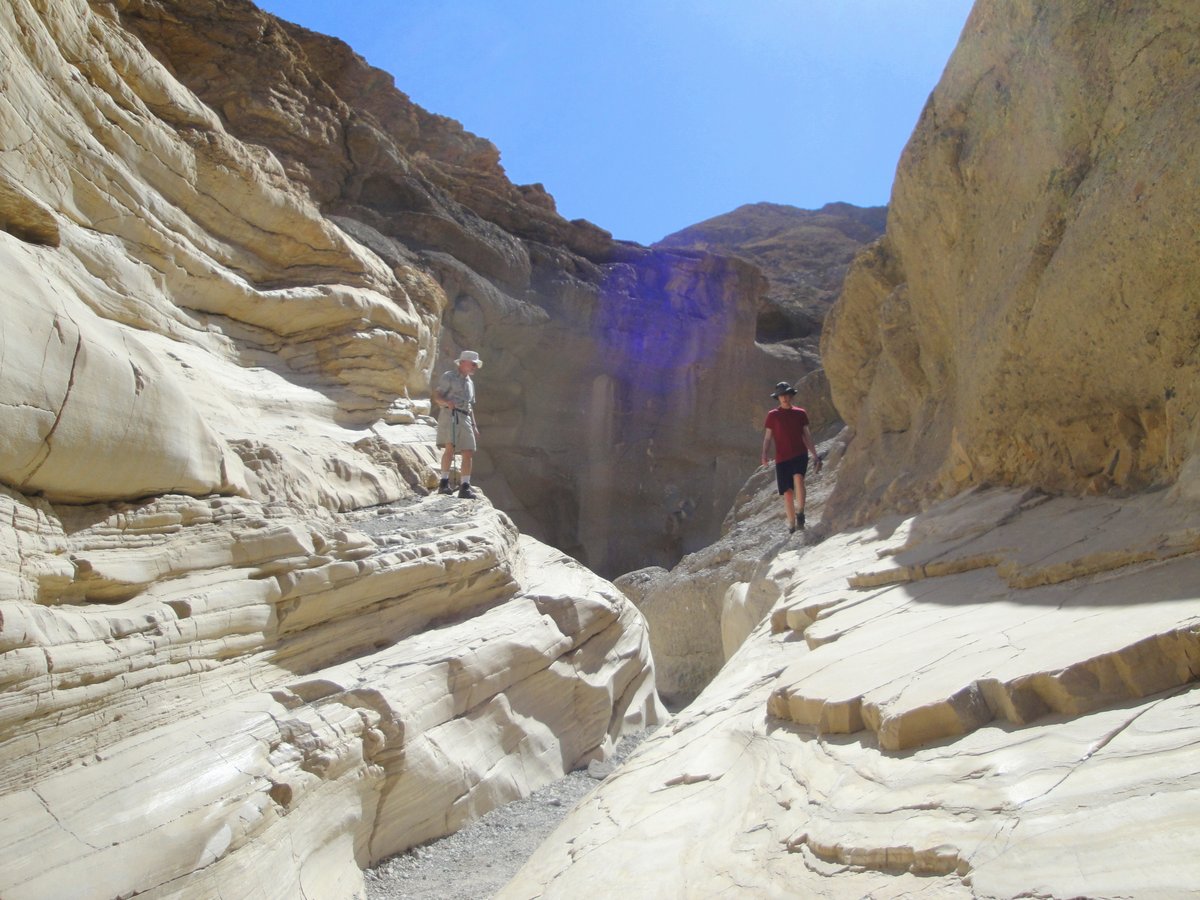 Not so polished when you get in a ways, and get off the beaten track, which we usually do.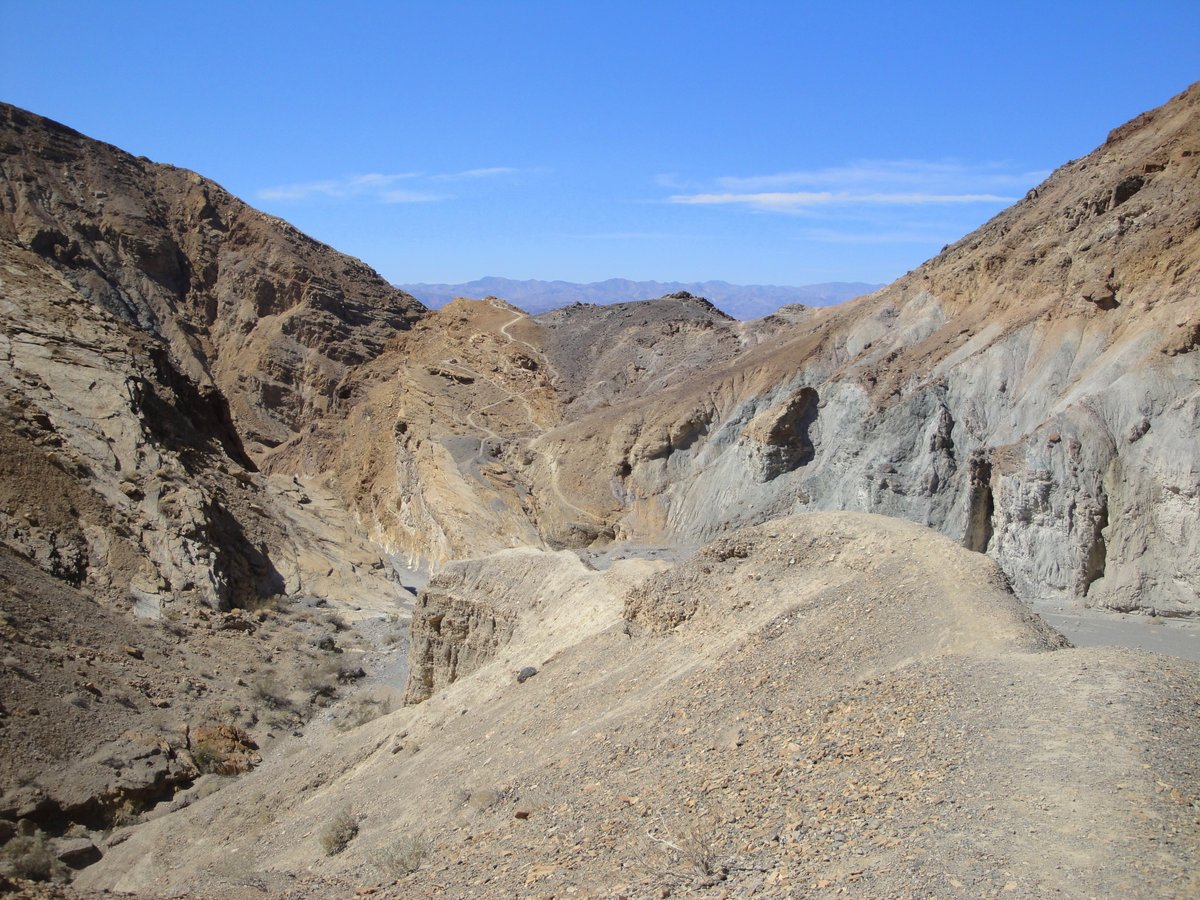 It is amazing what can hang on and live!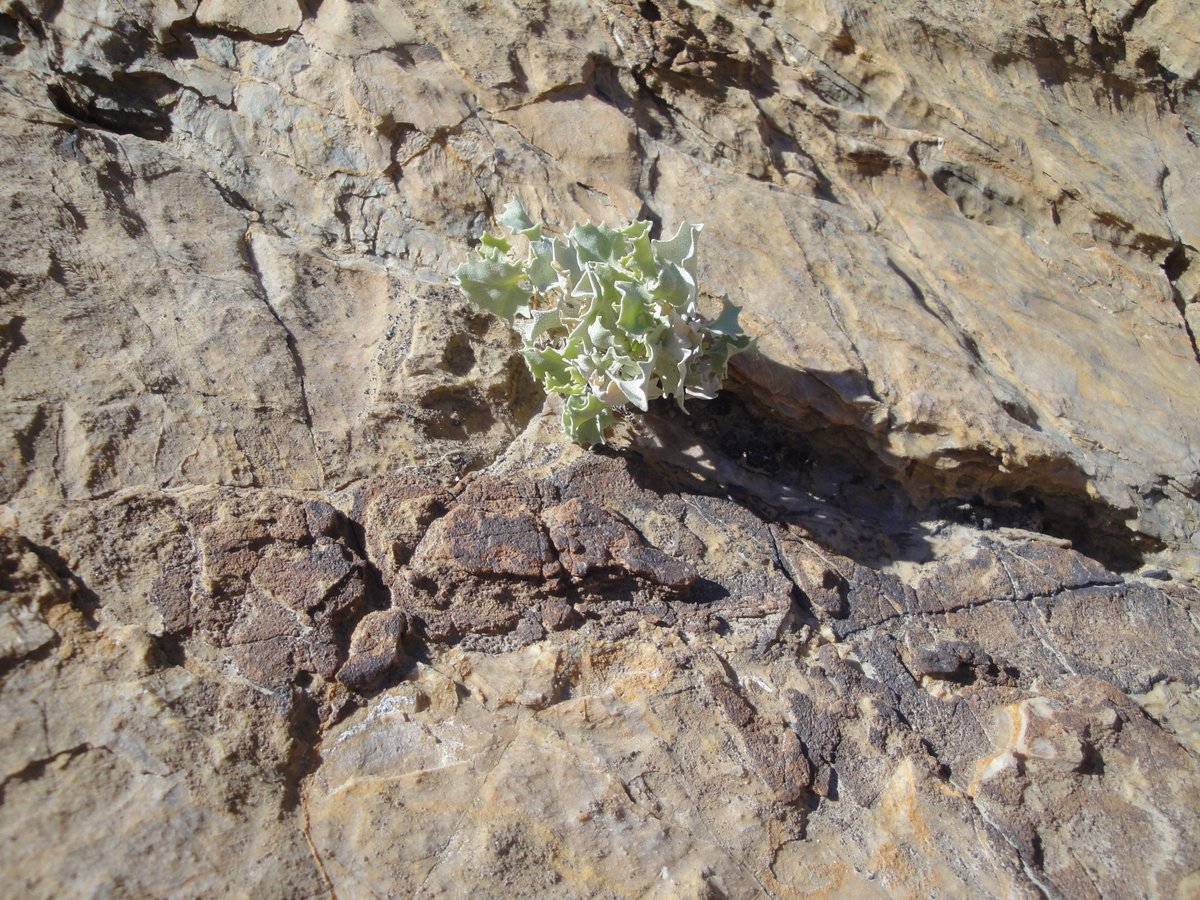 Taking a bit of a rest before we head back out, and of course, off trail as usual.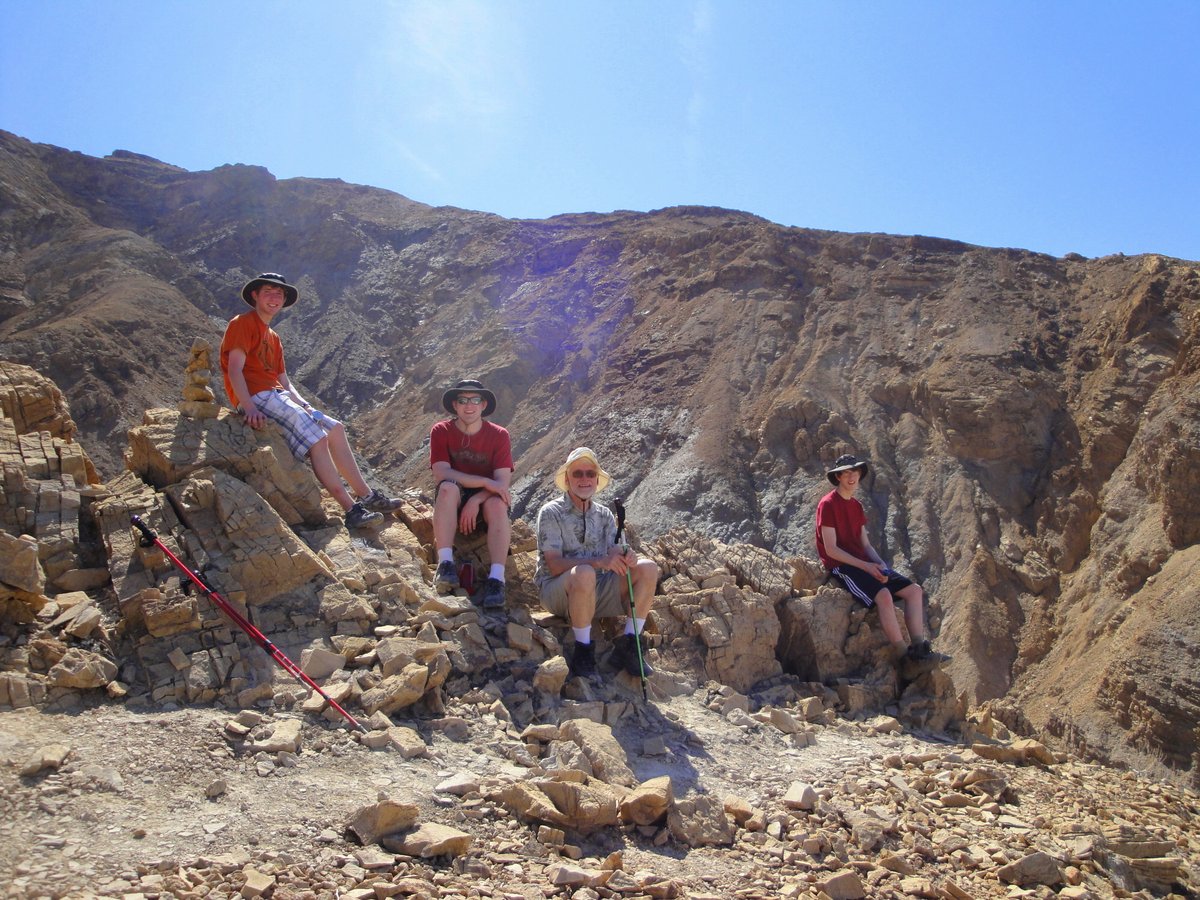 Just when you think there is no water here, we find Salt Creek.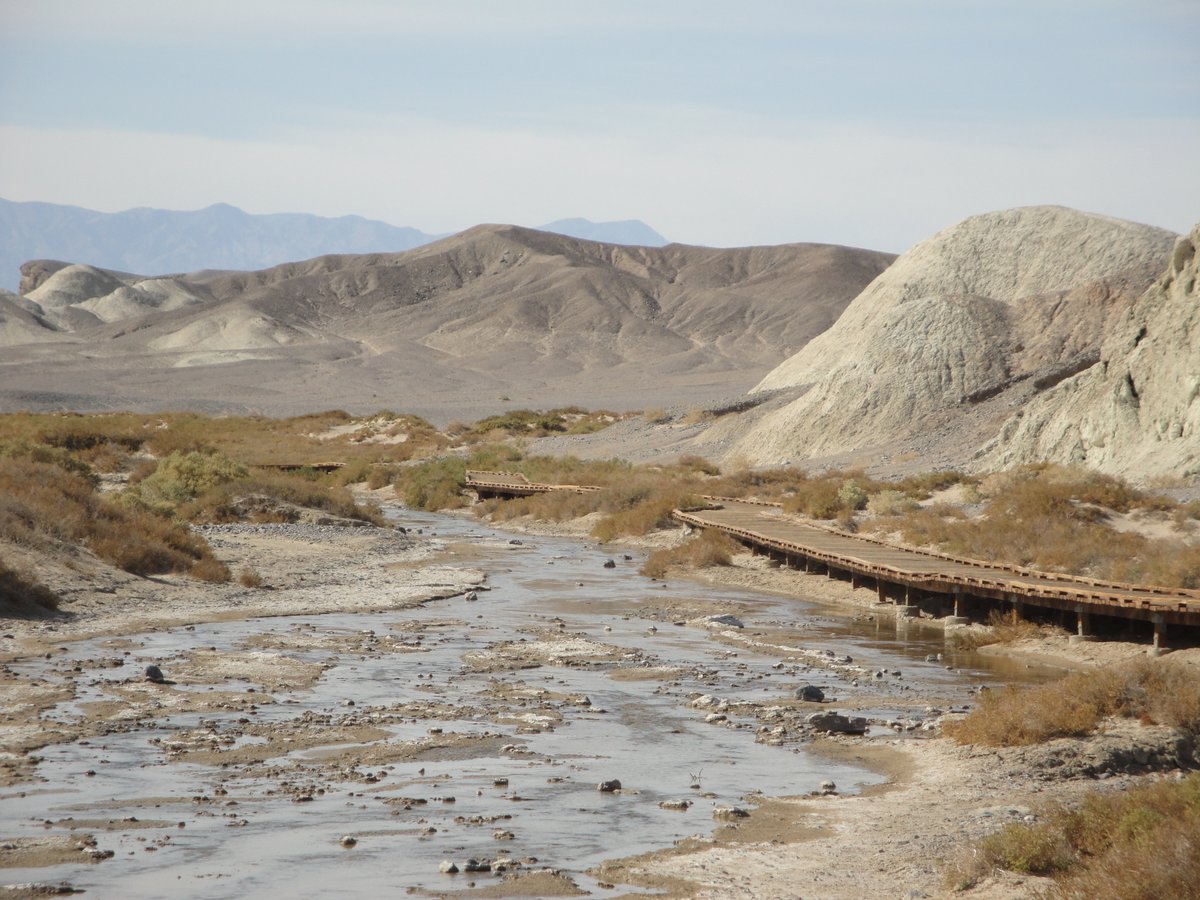 In the creek are rare pupfish.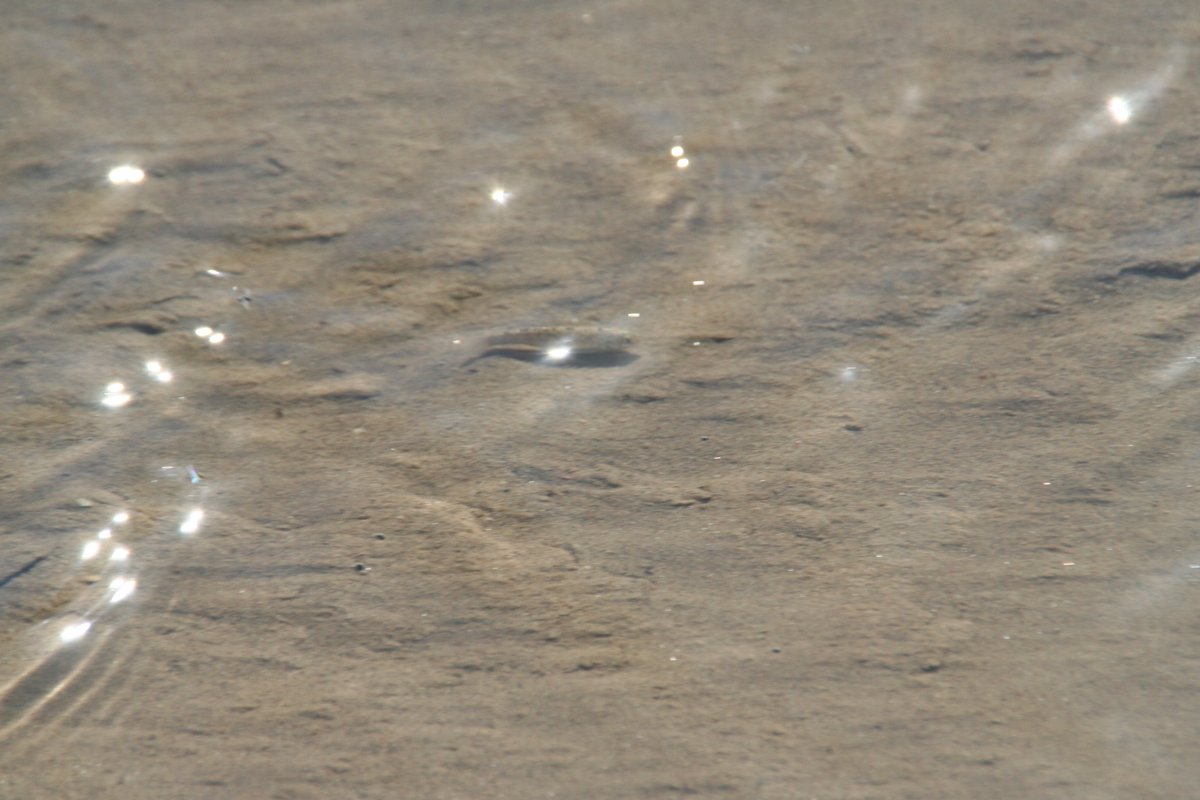 A school of pupfish!  These fish used to live in the huge freshwater lake that filled Death Valley more than 10,000 years ago, but they have since been stranded in water holes throughout the desert.  They only live 1 year.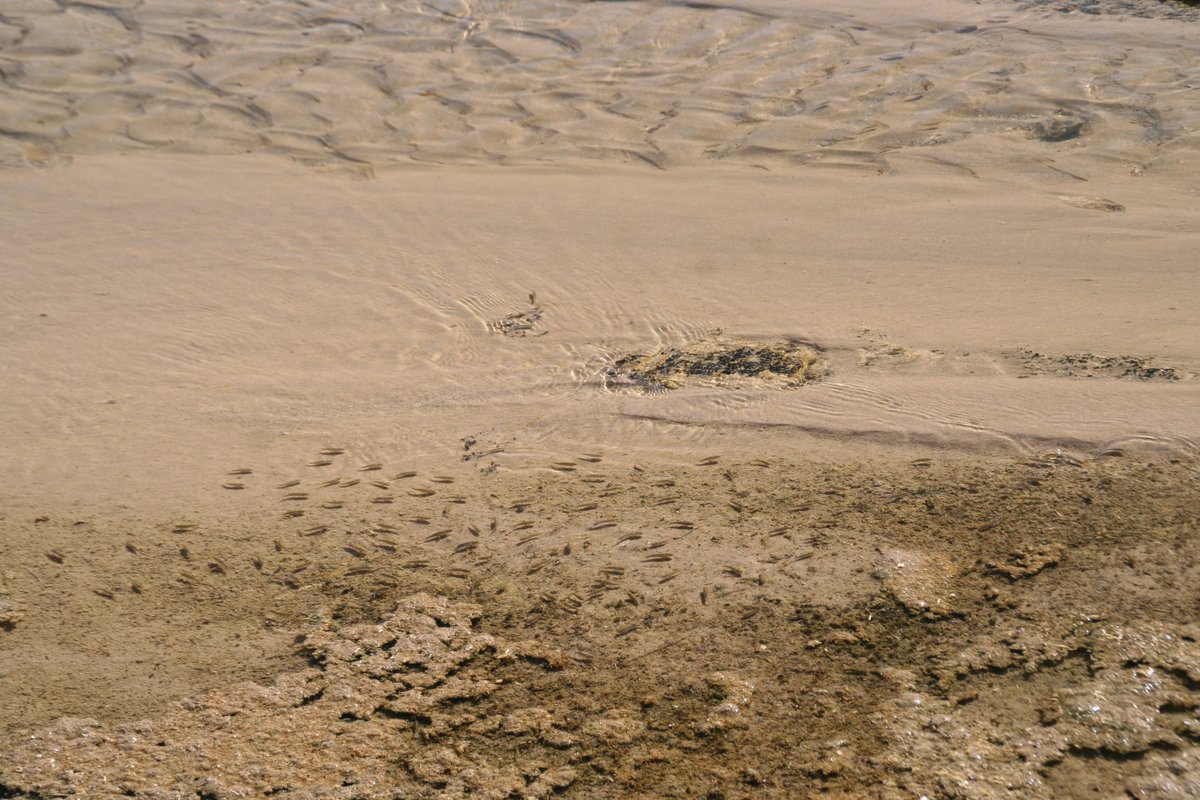 Badwater was our next stop, and the lowest elevation we'll be at this trip.  The water is very salty and when settlers came here, the horses wouldn't drink the water, and it was declared it was bad water, and the name stuck.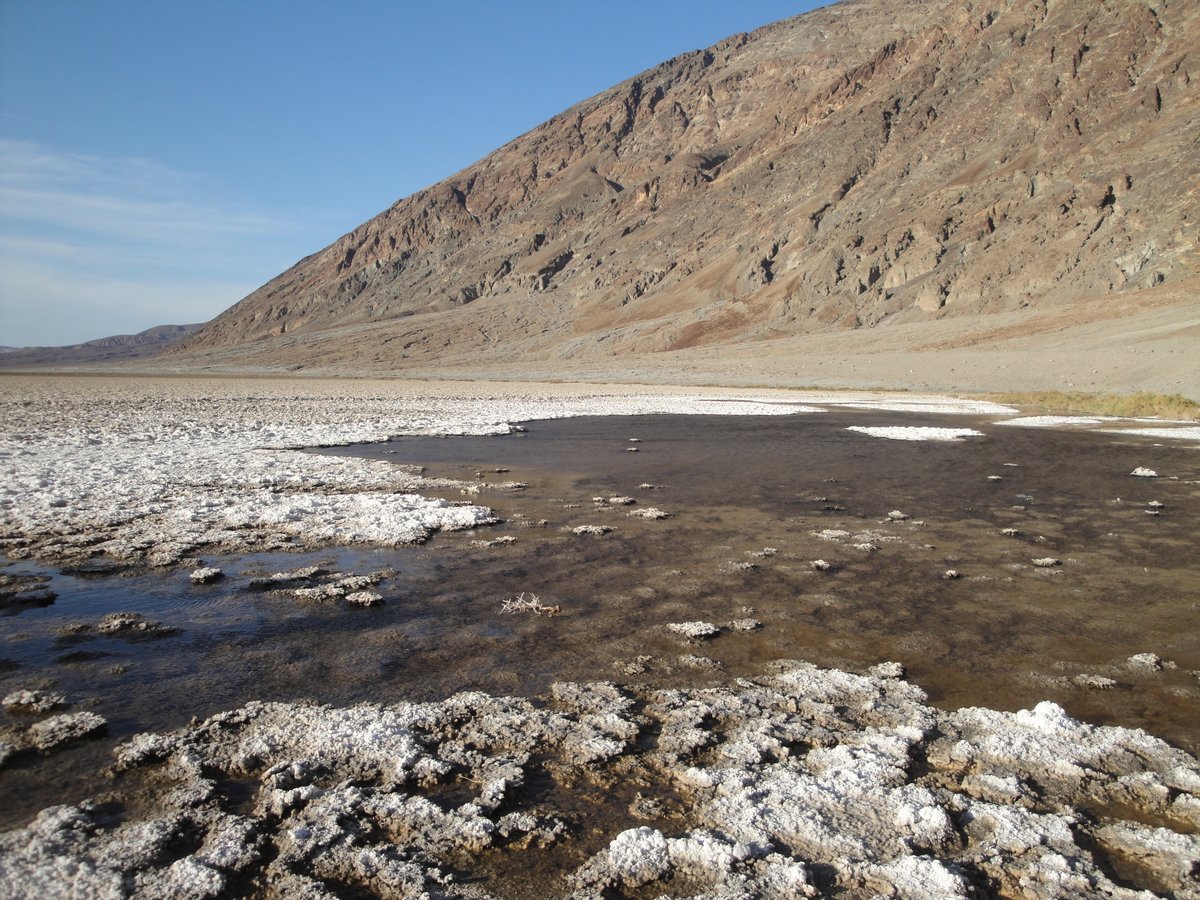 We are now officially at the lowest point in the continental United States.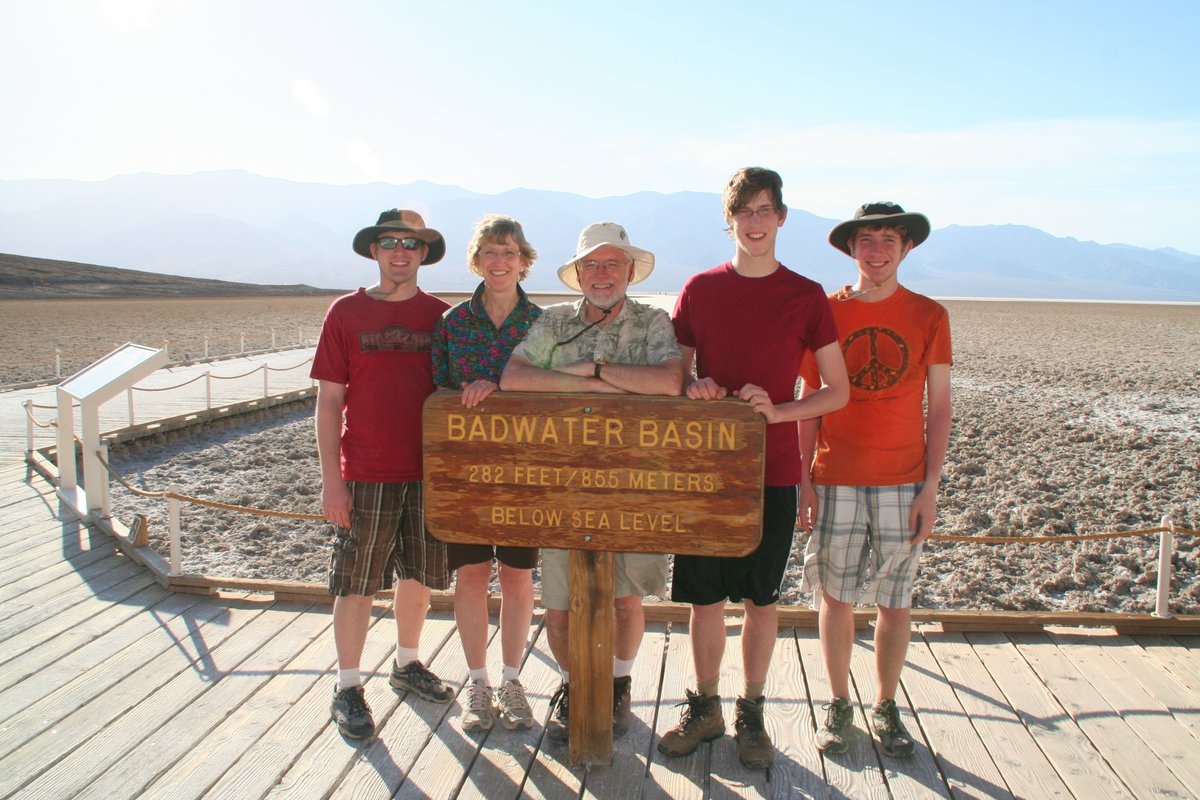 Salt and more salt!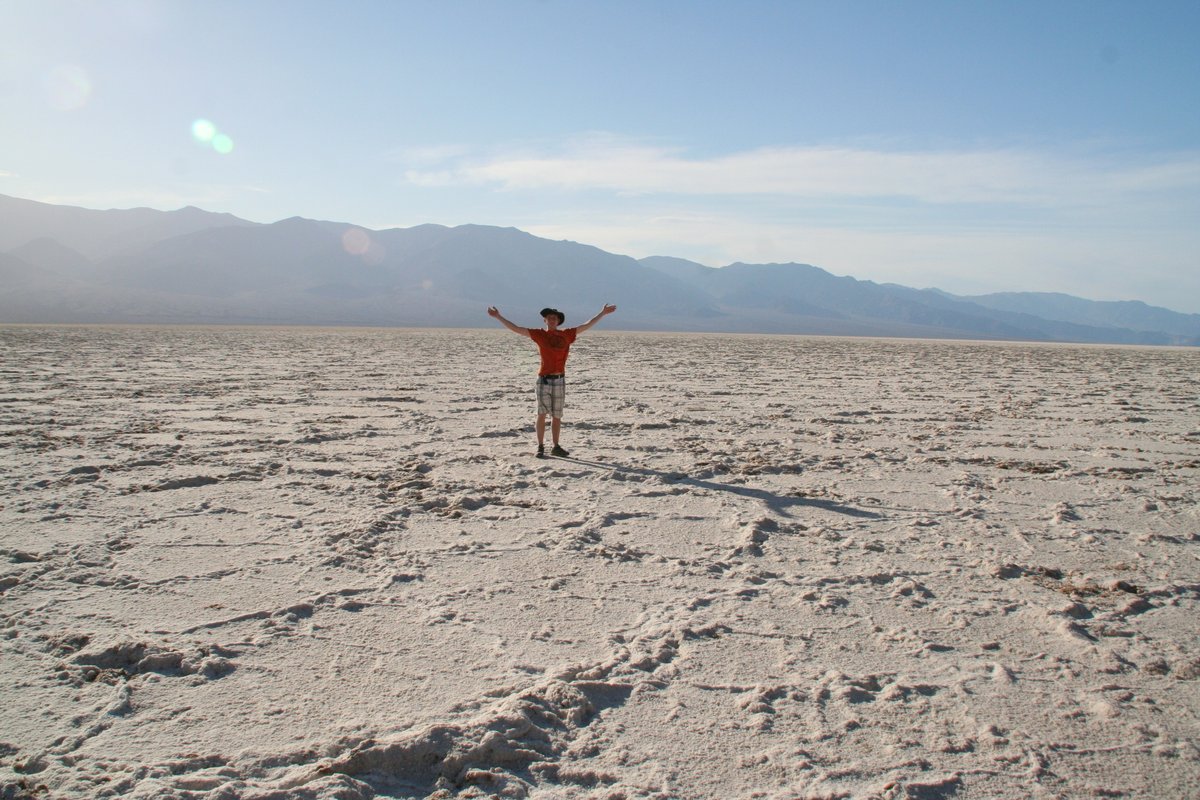 It is another windy day and Erik and Joe have a hat throwing contest to see whose hat can fly furthest.  I think Erik won.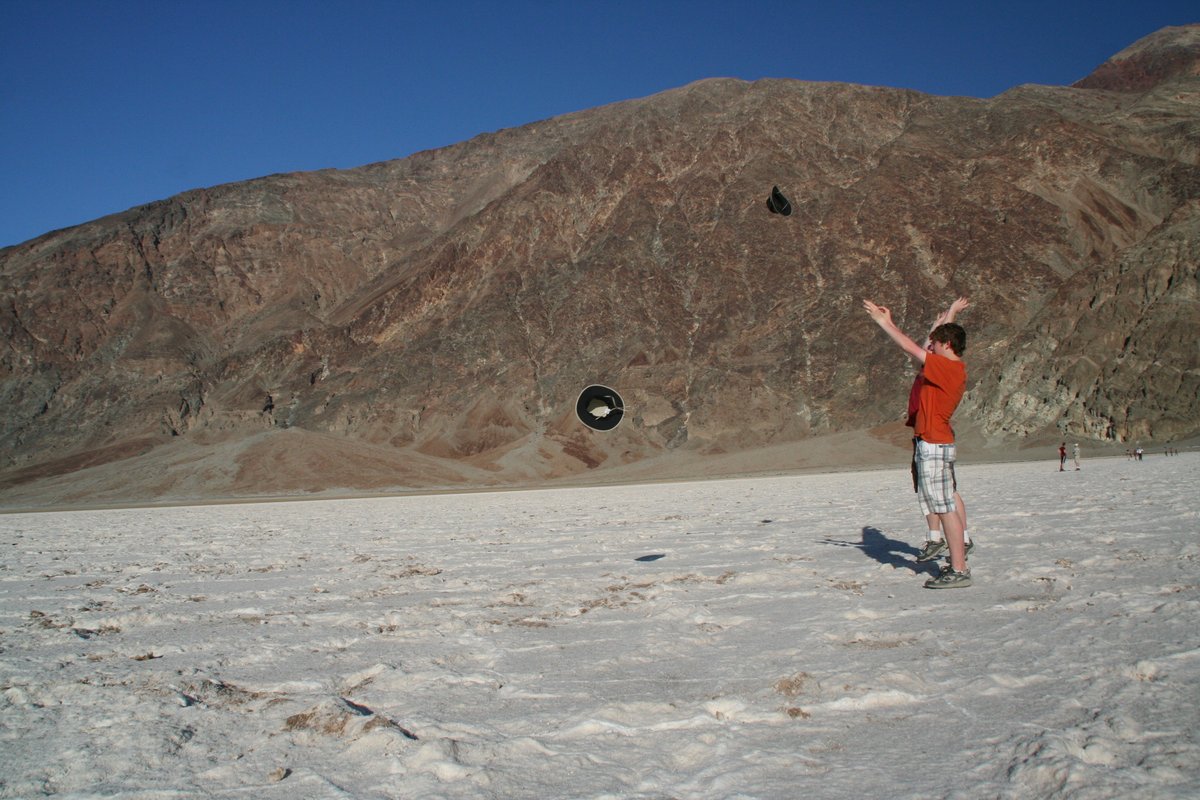 Can't get enough salt?  Go to Devil's Golf Course!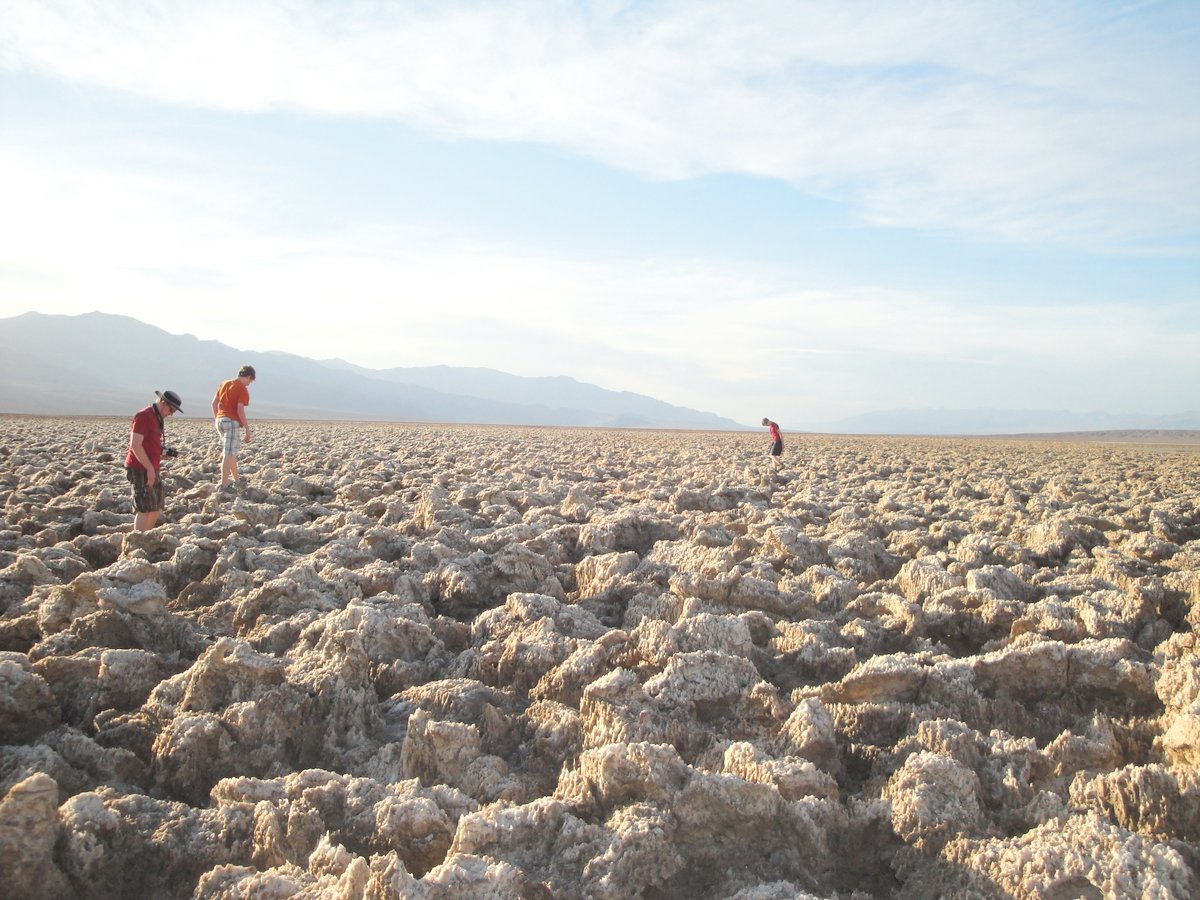 But don't fall.  The salt is very sharp!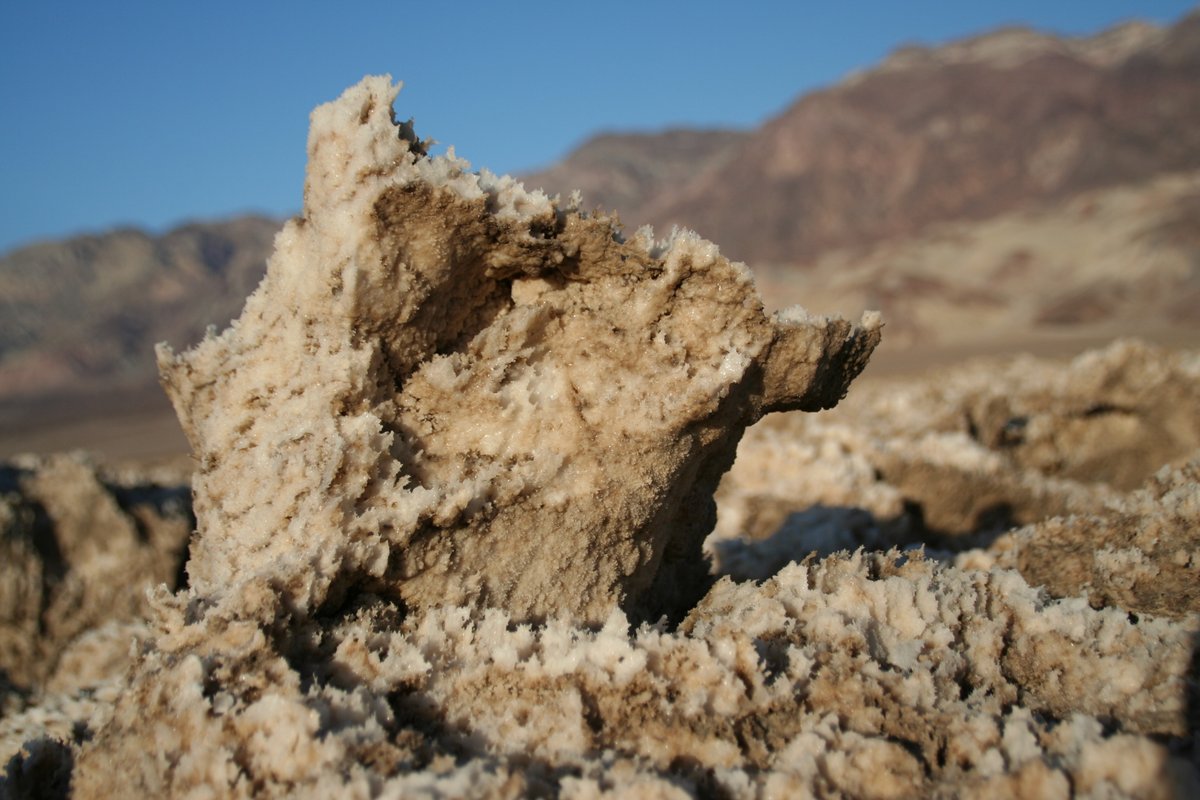 The sun is starting to set, highlighting this beautiful drive along Artist's Palette Drive, one of David's favorites!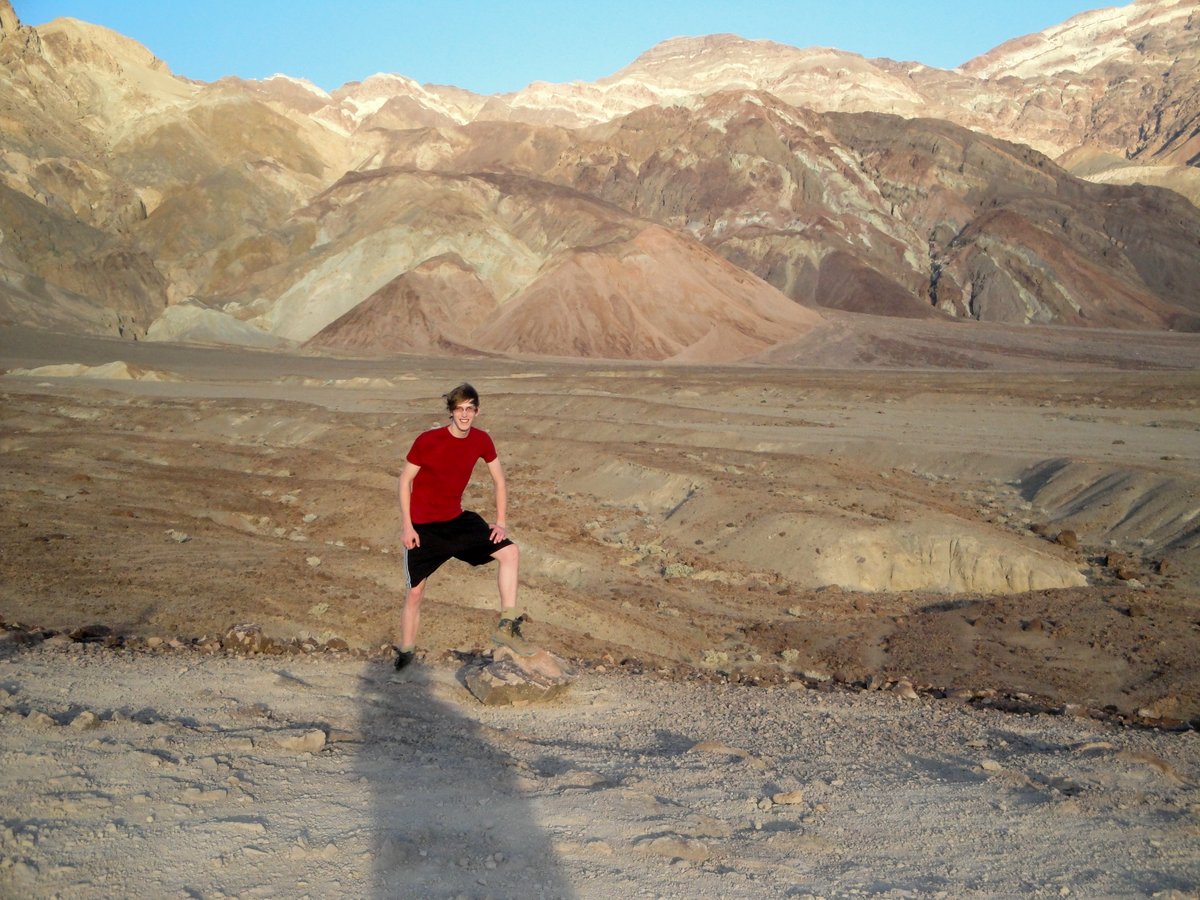 This was just like a palette of color.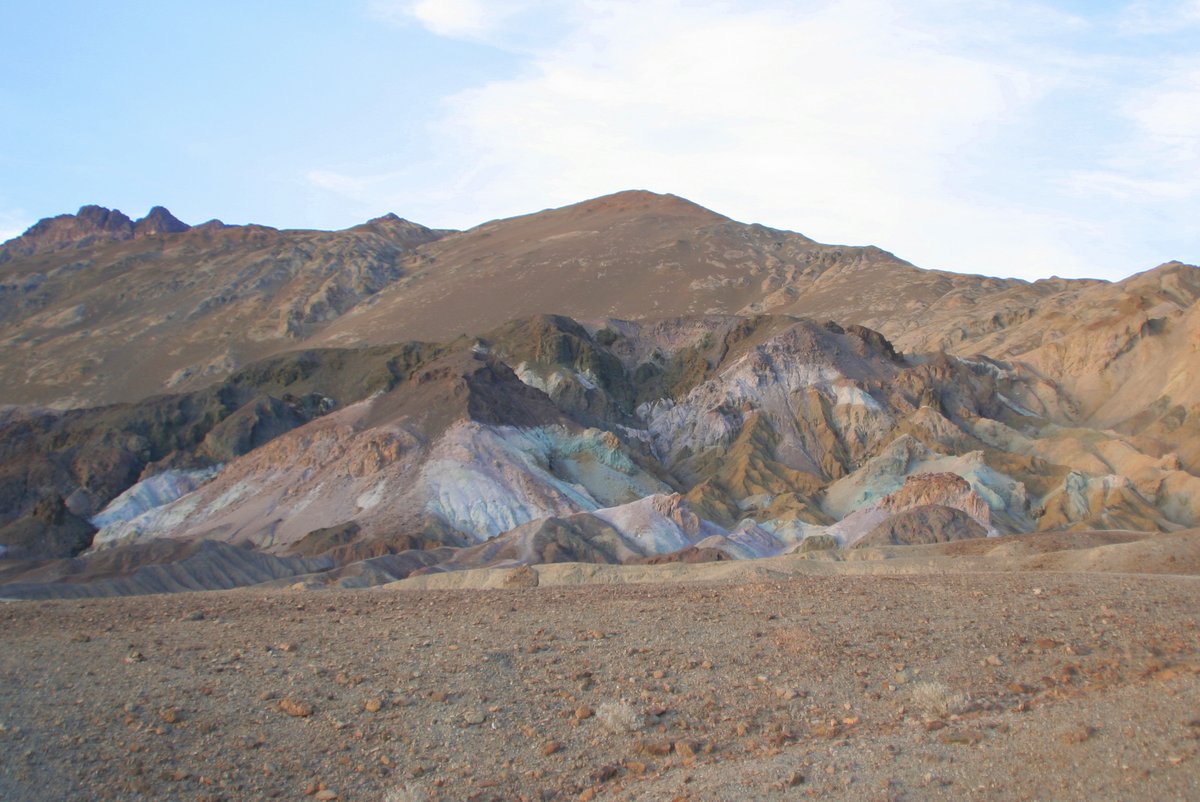 Gorgeous!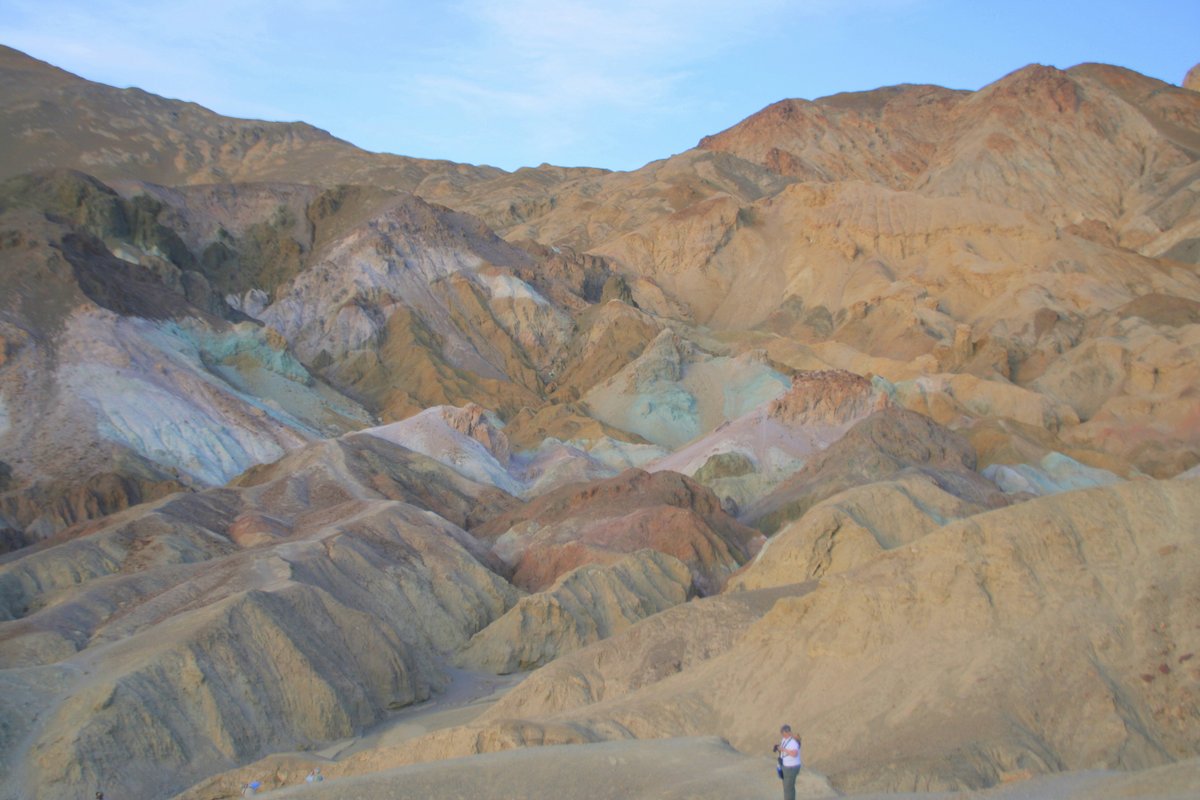 Day 4 and we are off to the races, literally!!!  Paul is now driving a jeep as some of the roads will be a bit dicey.   Teakettle Junction lives up to its name!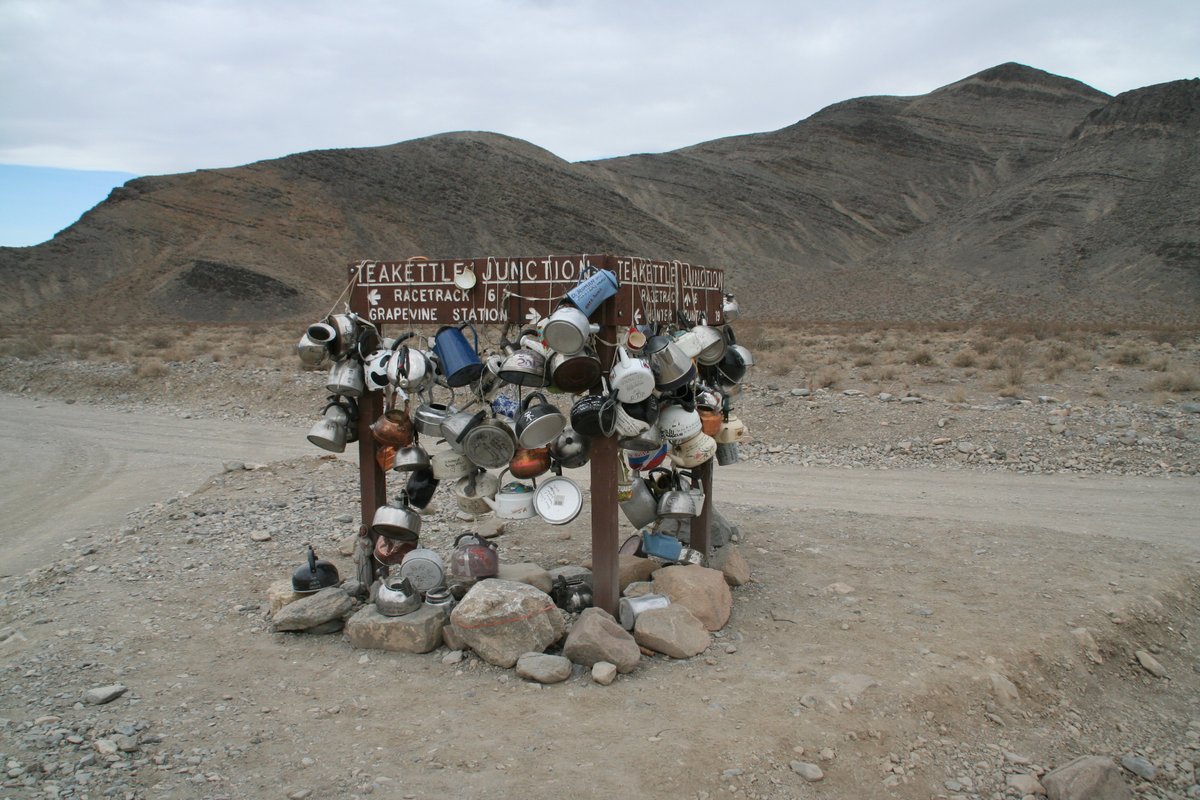 We have now arrived at The Racetrack!!!  These rocks mysteriously slide across the dry lakebed, leaving behind long tracks.  Odd by true!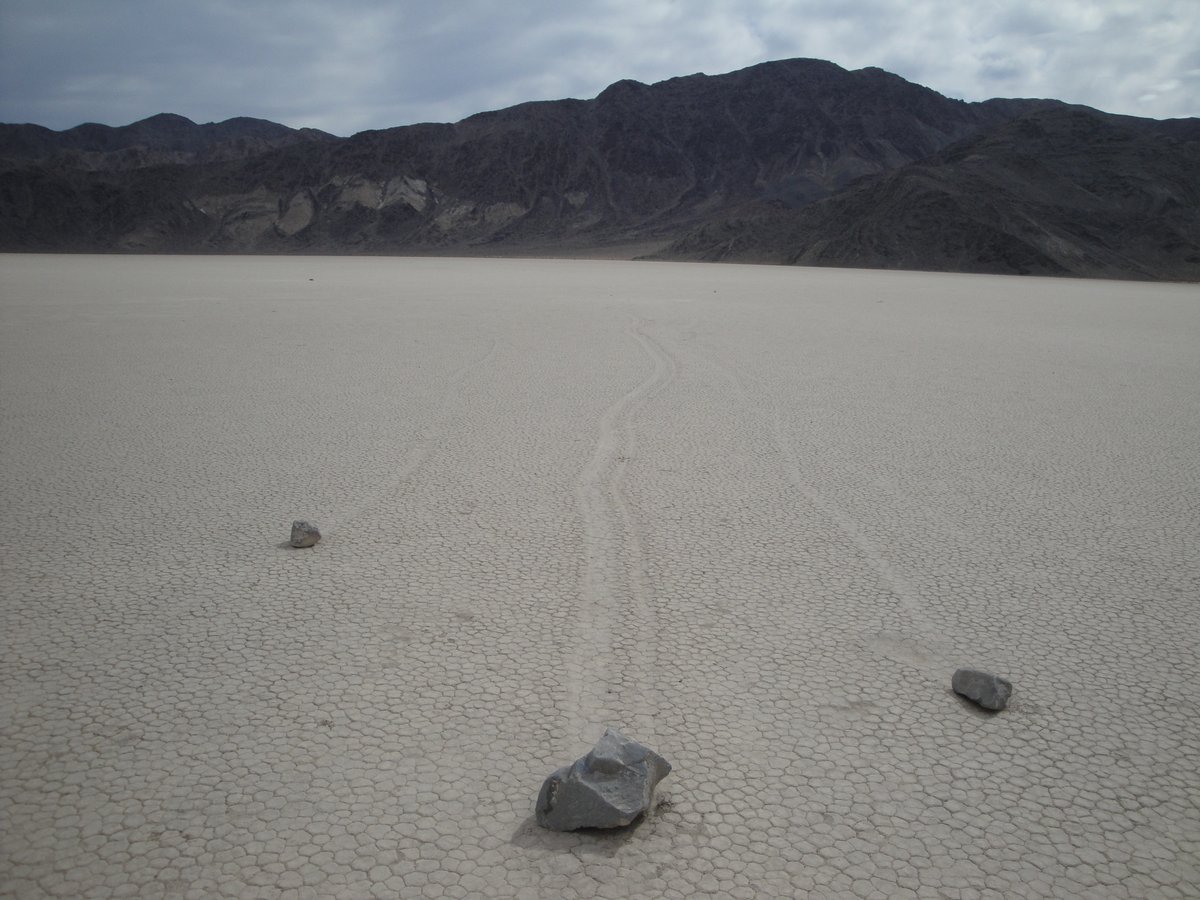 I think Joe will get the photo taken before the rock moves!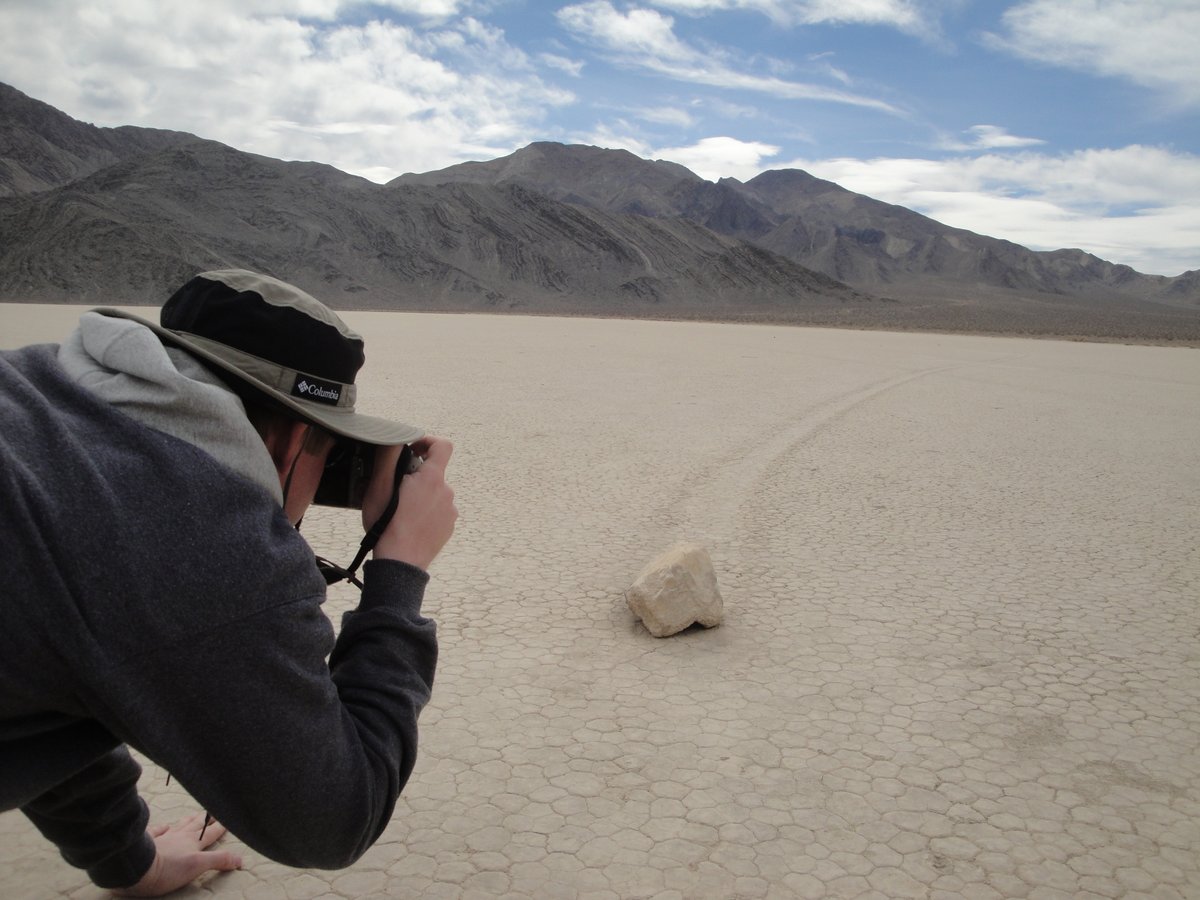 It looks like the three little rocks have paired up for the race.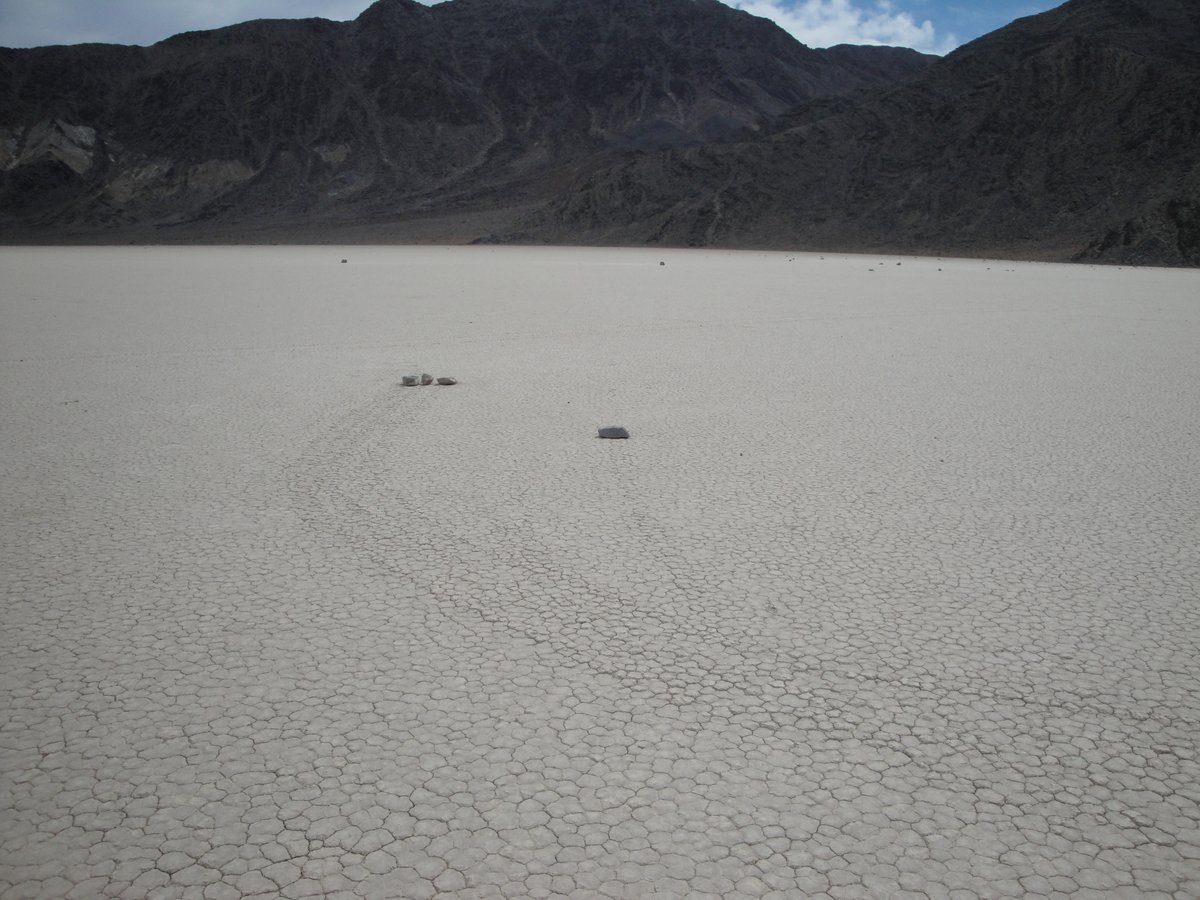 Erik is taking a break and holding the rock down so it doesn't get away!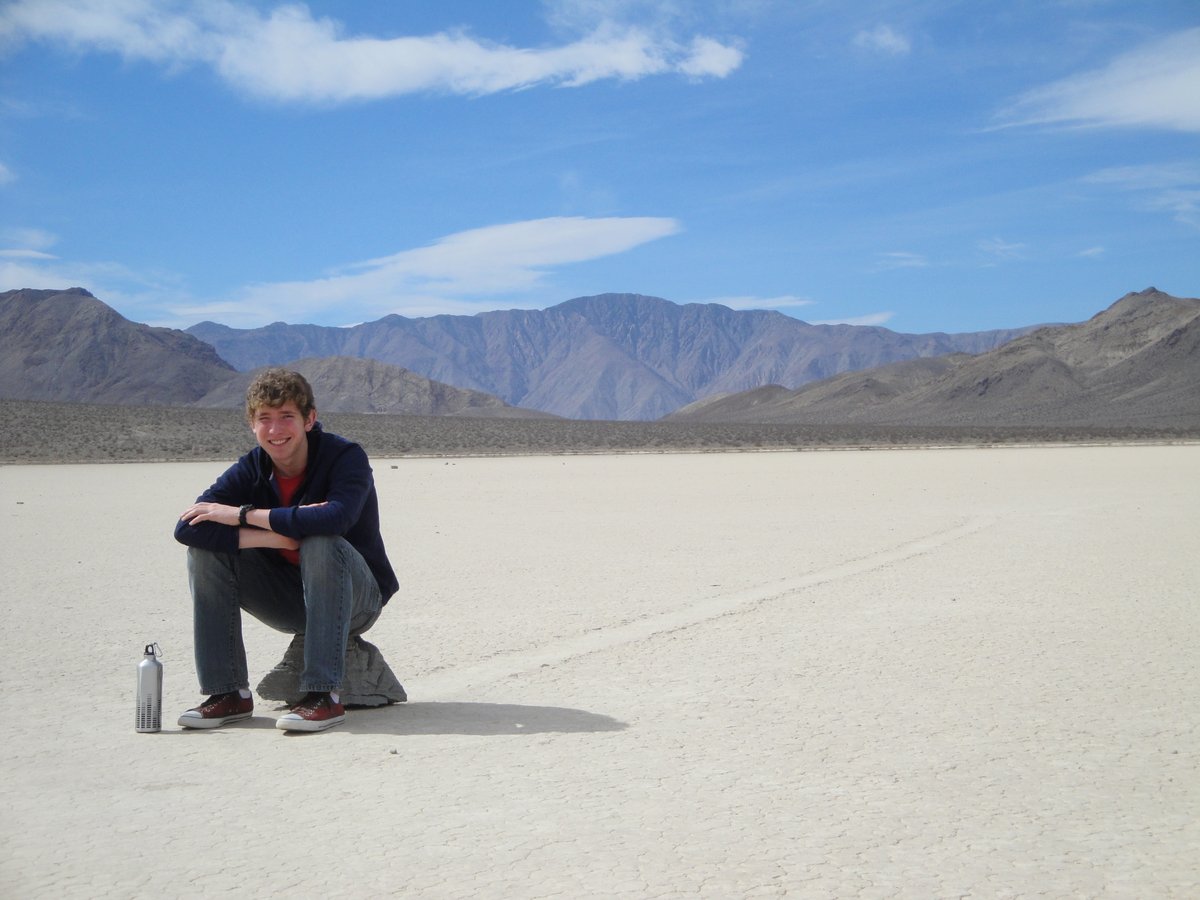 David thinks he know how the tracks are made.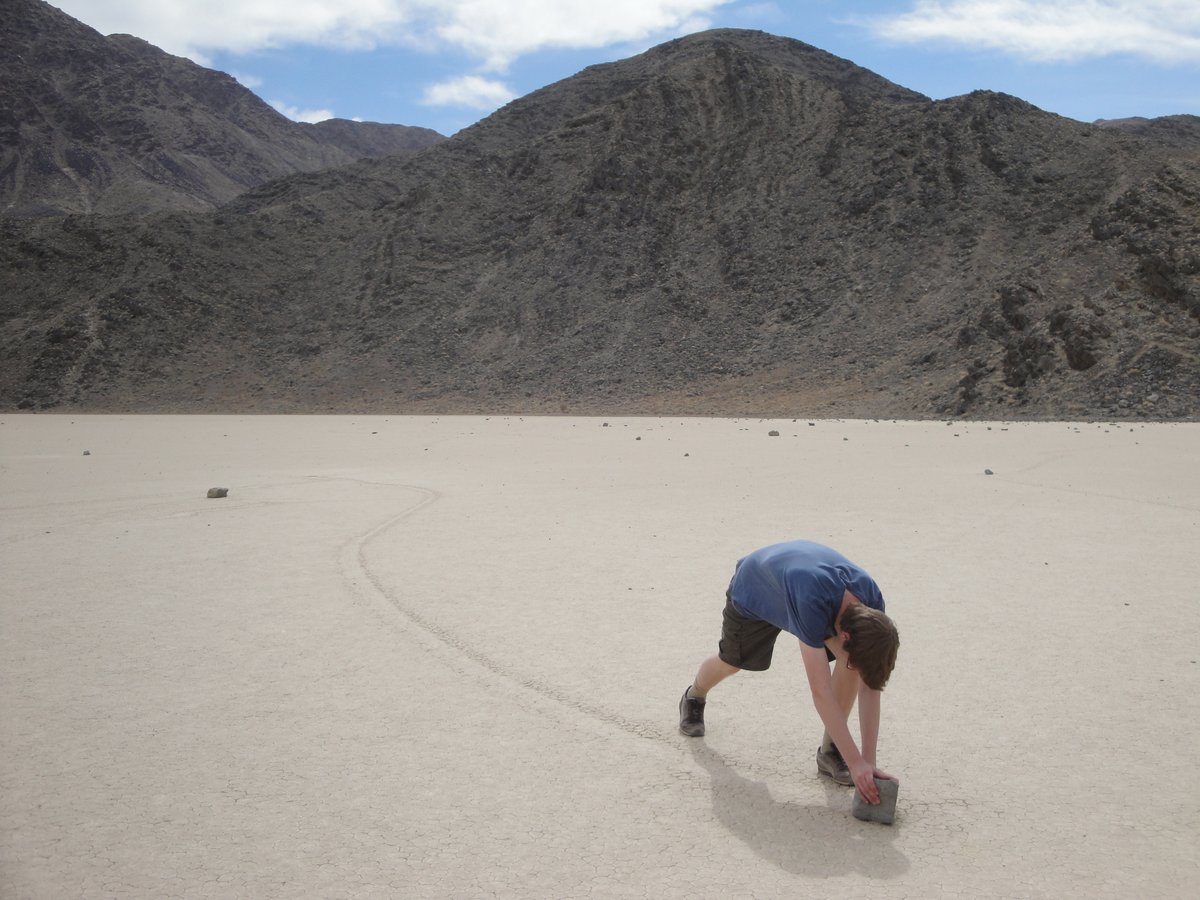 Maybe the rocks are solar powered and can be driven.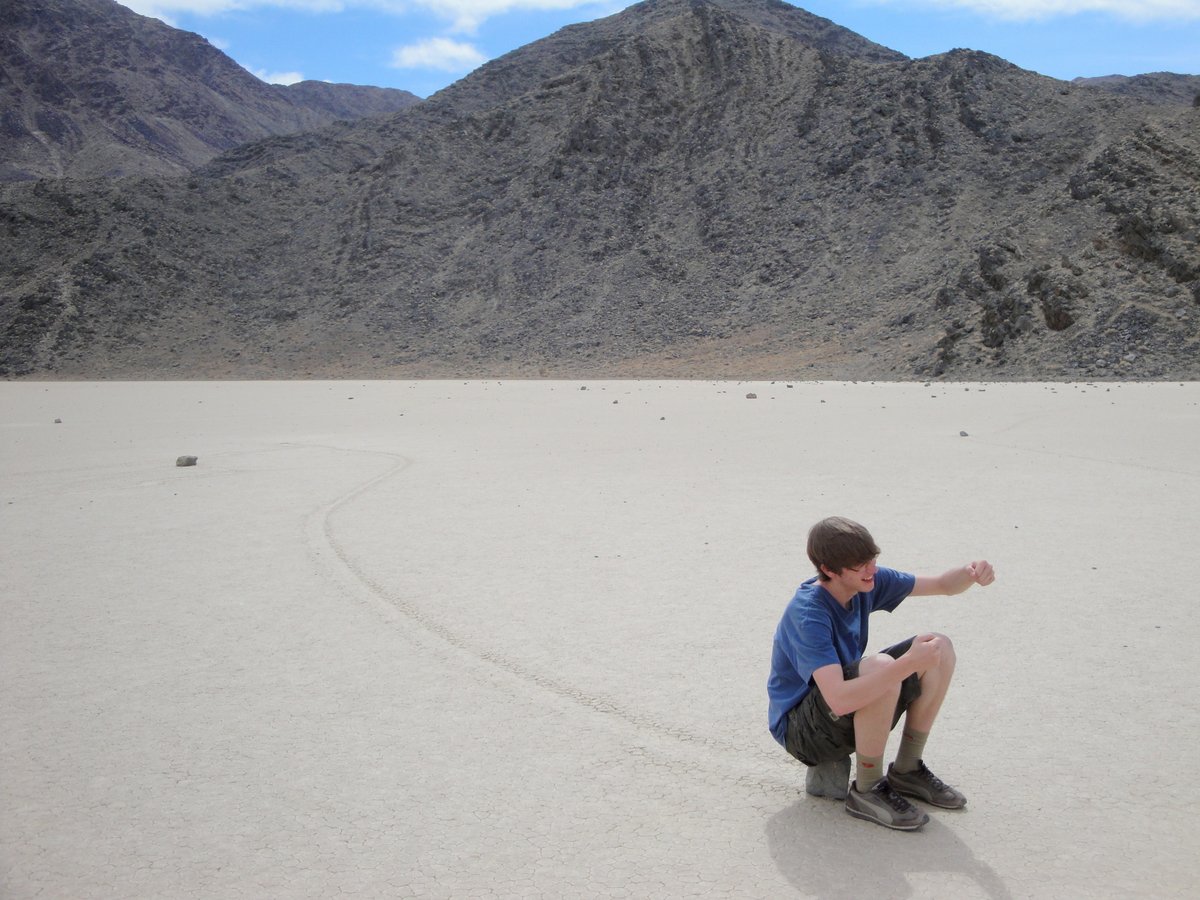 This rock was obviously removed from action 🙁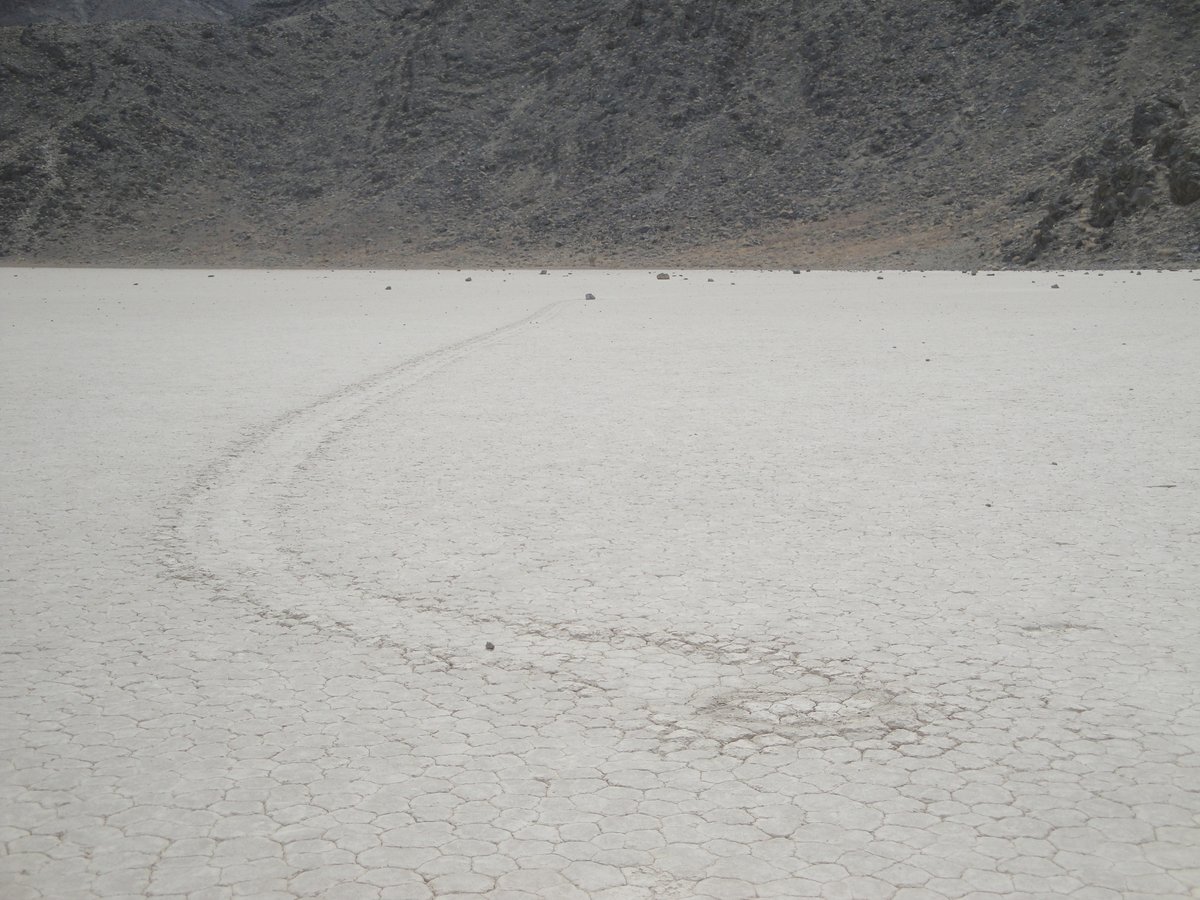 Rocks are literally racing away from the the mountain from where they came.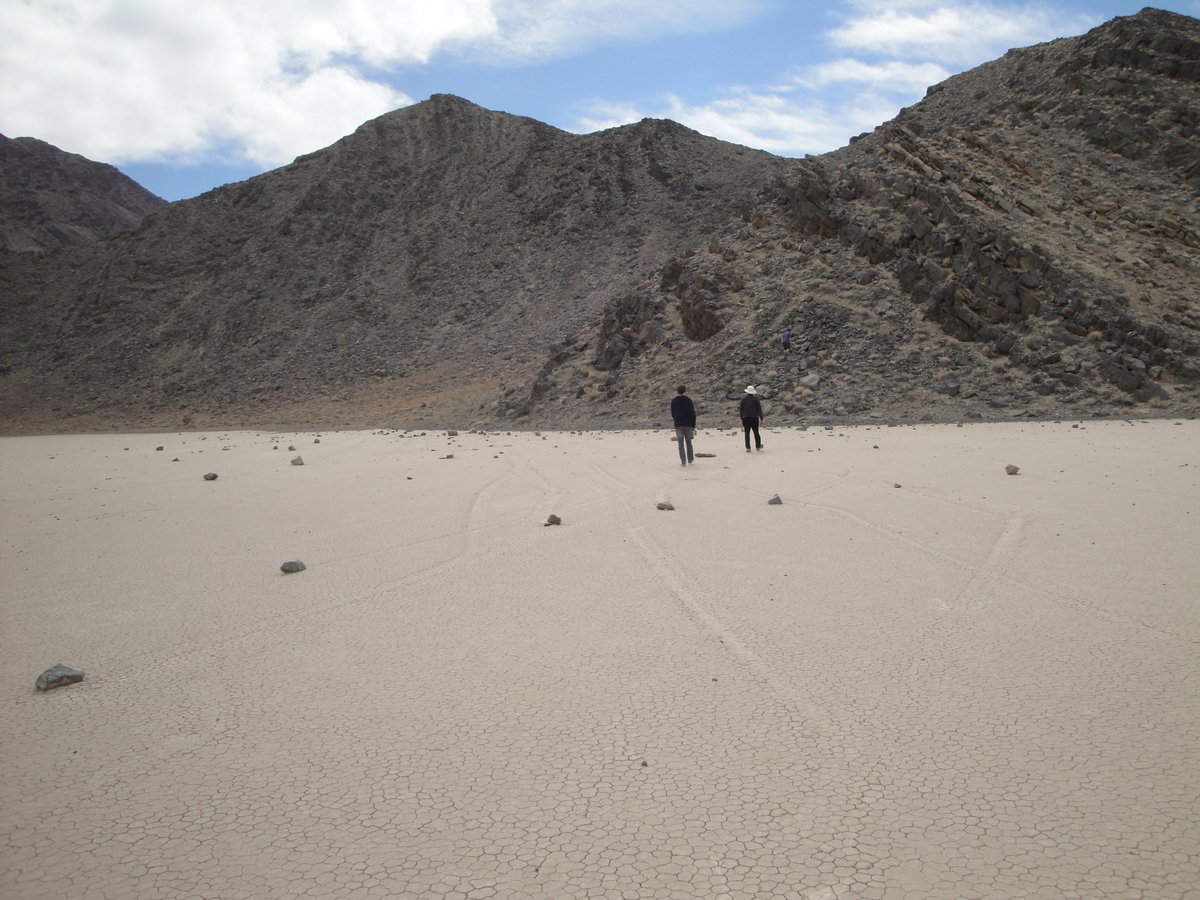 Definitely looks like a racetrack.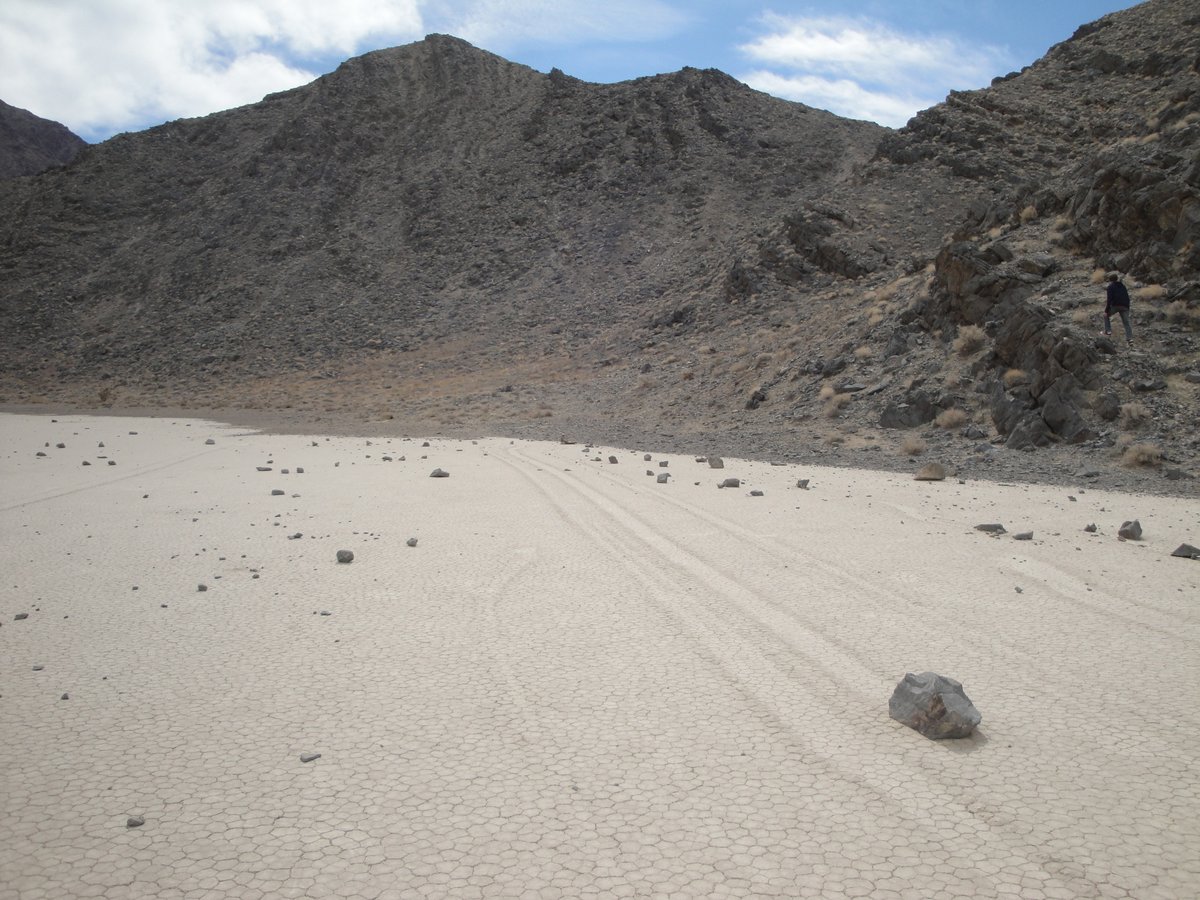 Erik muses at the course some of the rocks make.
Looks like these rocks are on a collision course.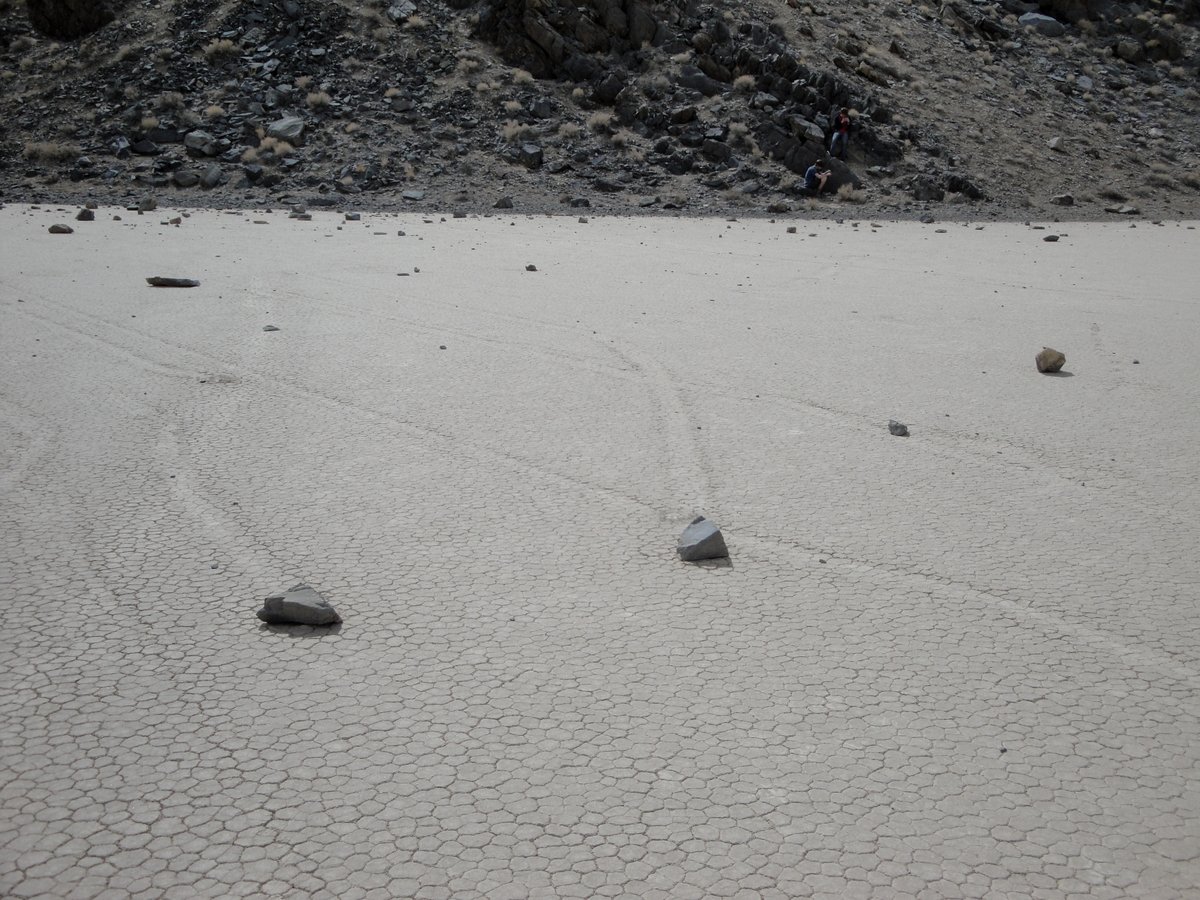 The boys are over by the rocks, adding more players to the field!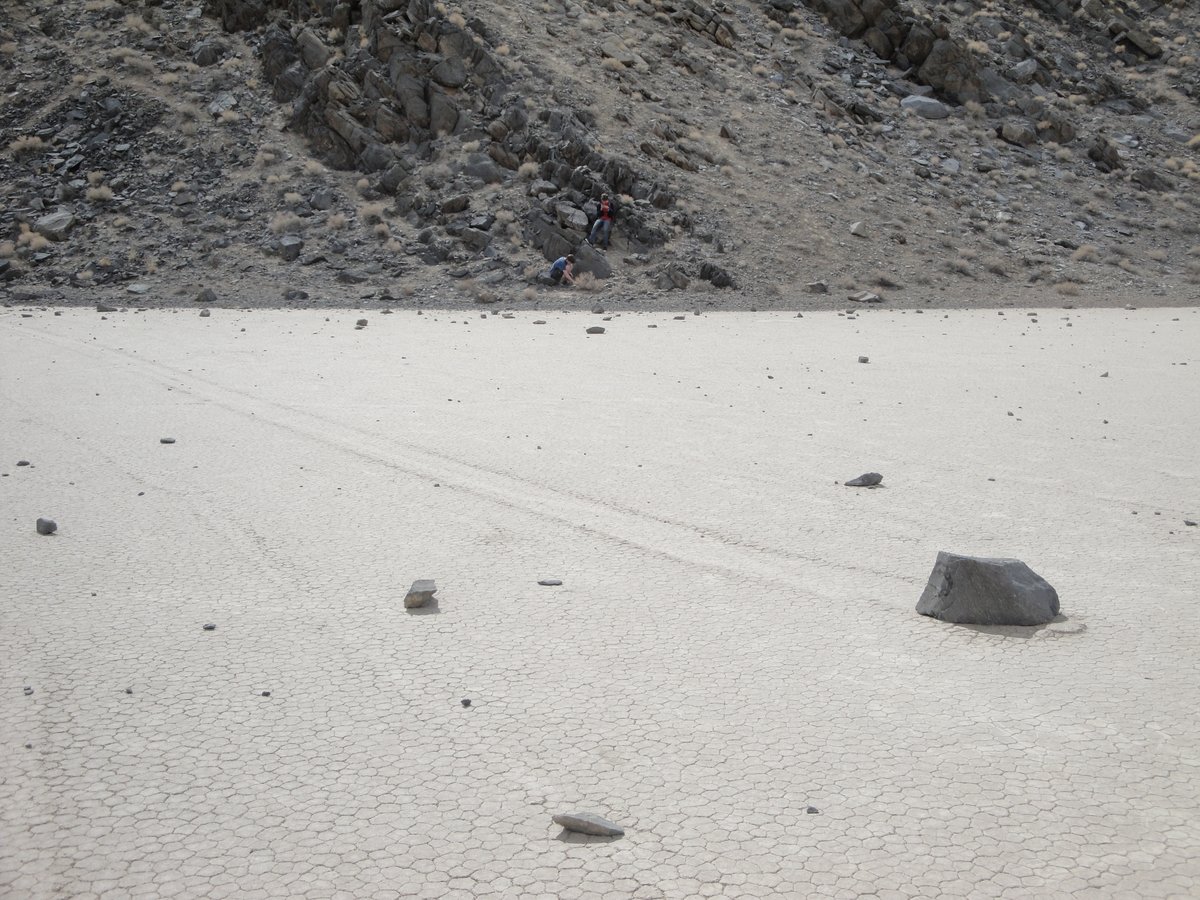 This rock is being lame, copying the same path.
Big rock started sooner, but little rock is catching up.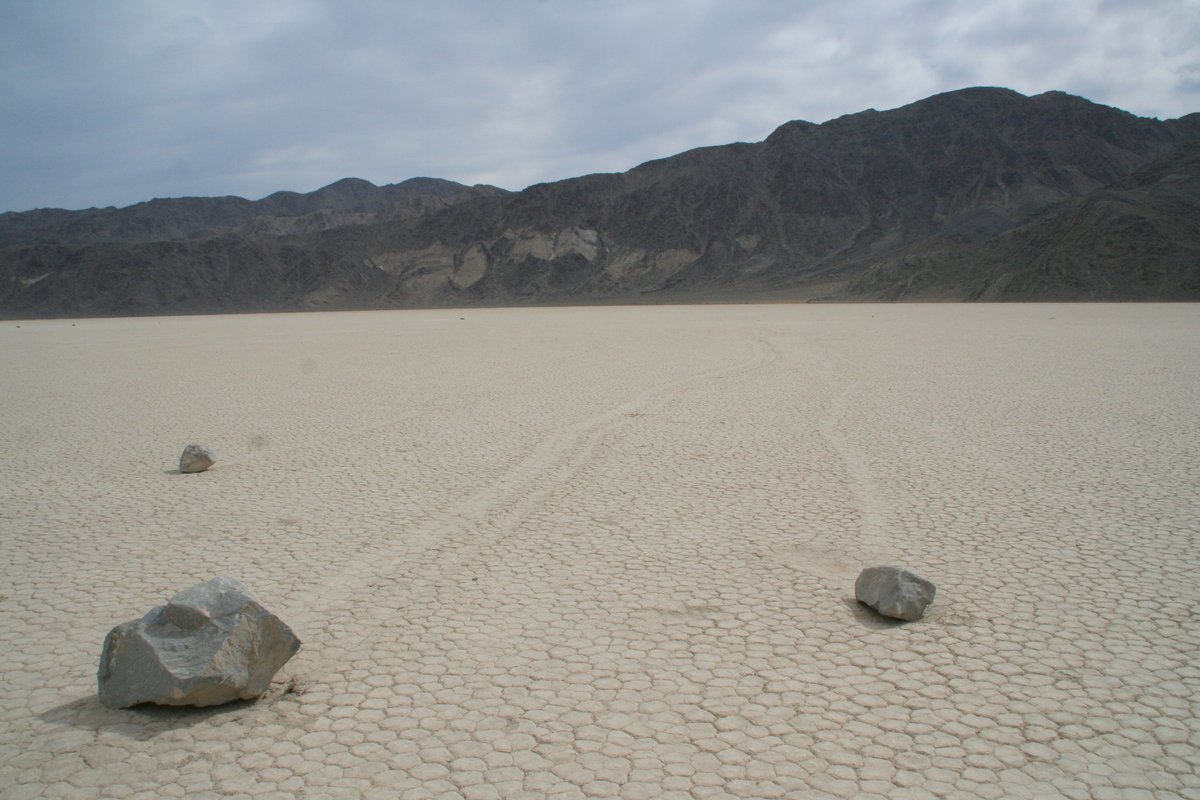 Path curved.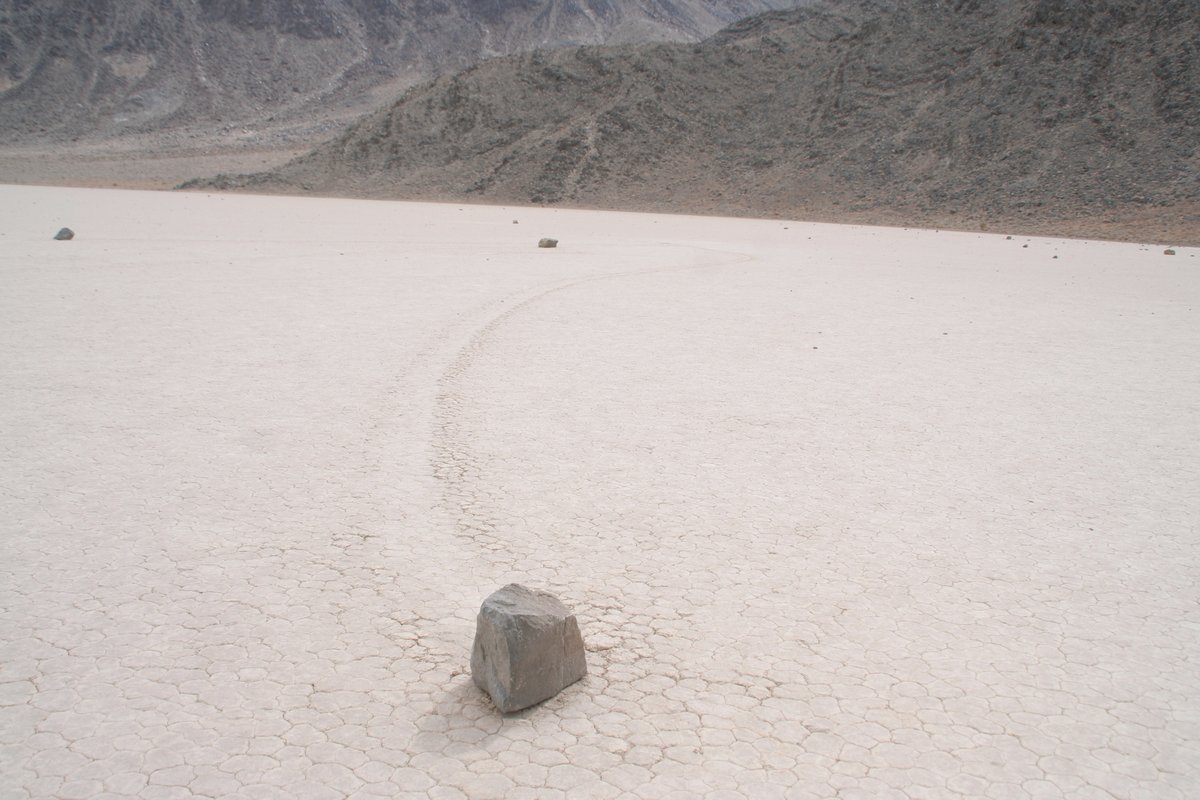 They sure have made some tracks.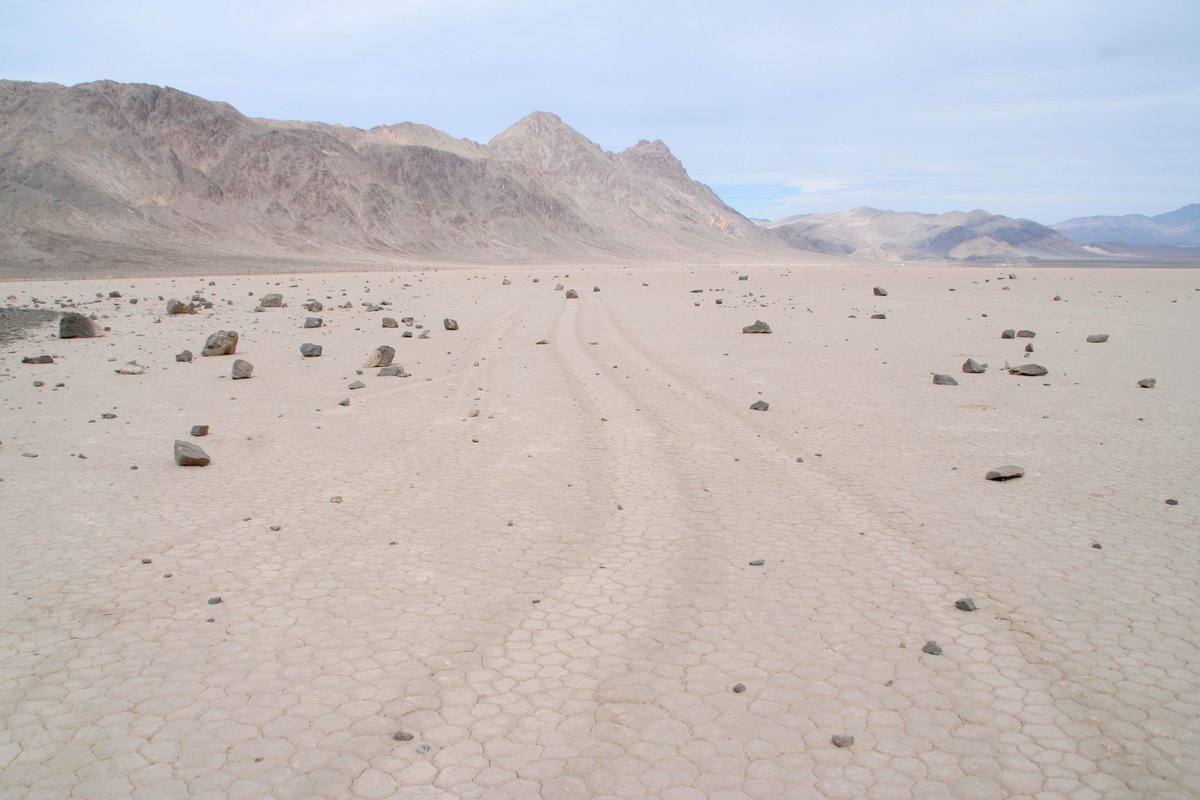 Something important flew over.  I even heard a sonic boom out in the valley.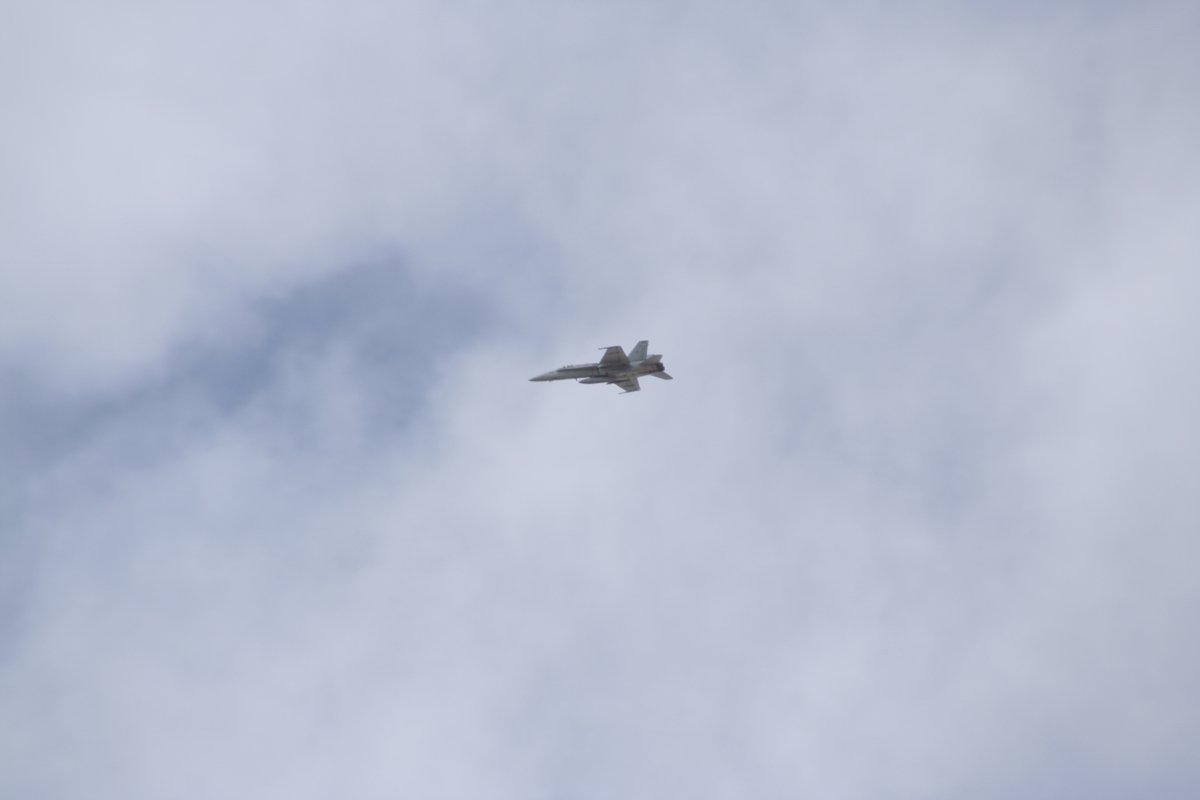 Joe lends his weight to give him a push.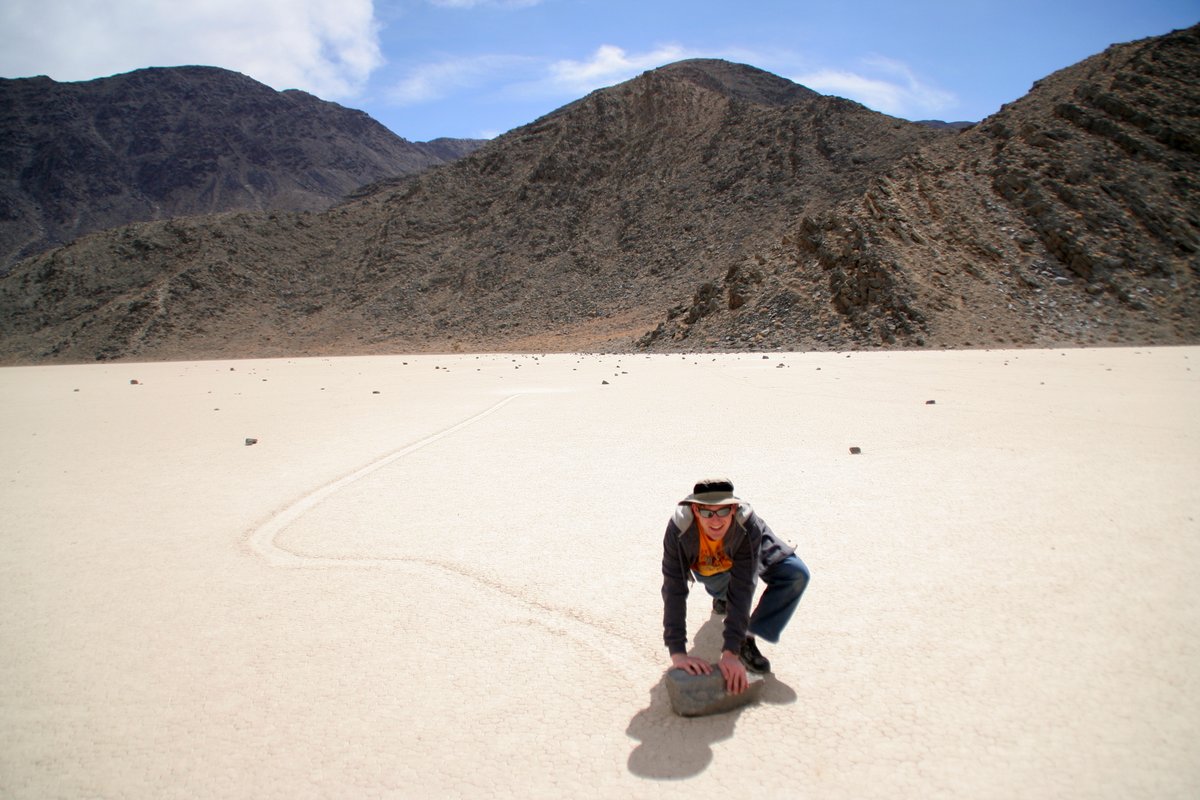 Now that's called changing your mind!!!! like 90 degees!!!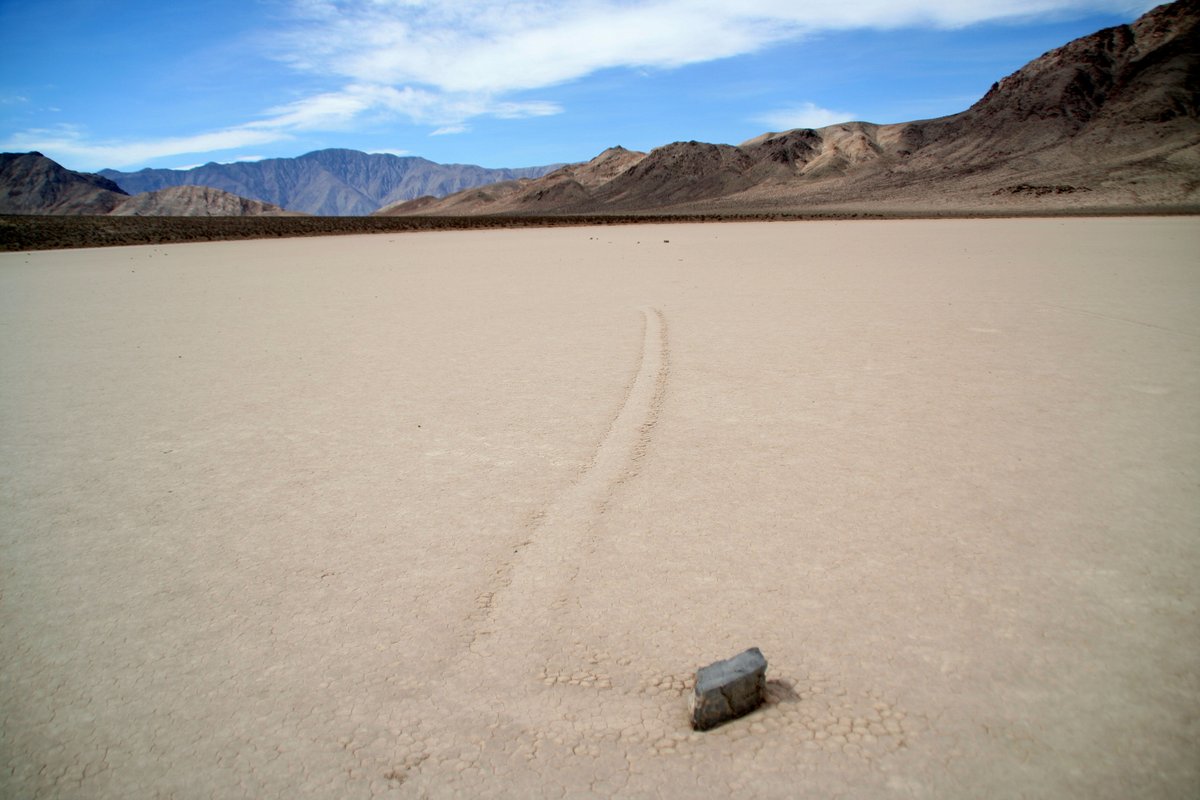 Was it a collision or did they take off in opposite directions?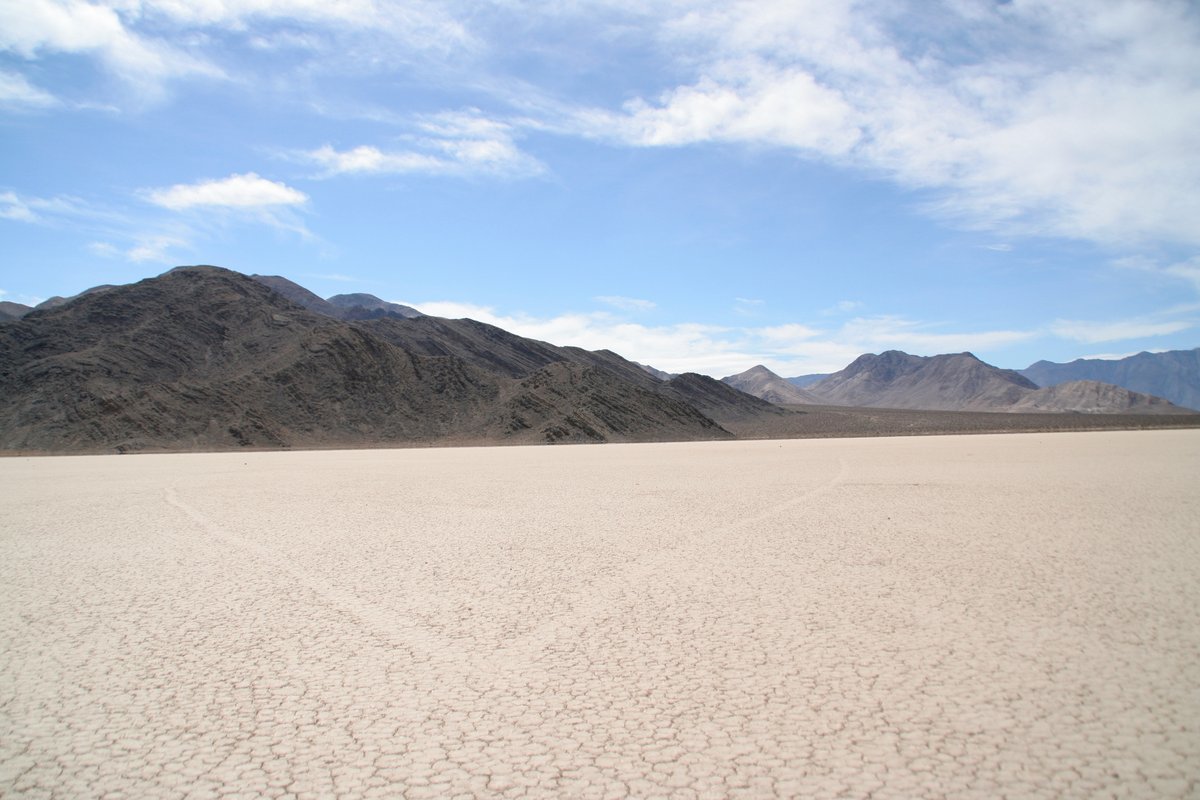 Now that you've seen the racetrack, off in a distance is The Grandstand, the rock formation on the racetrack.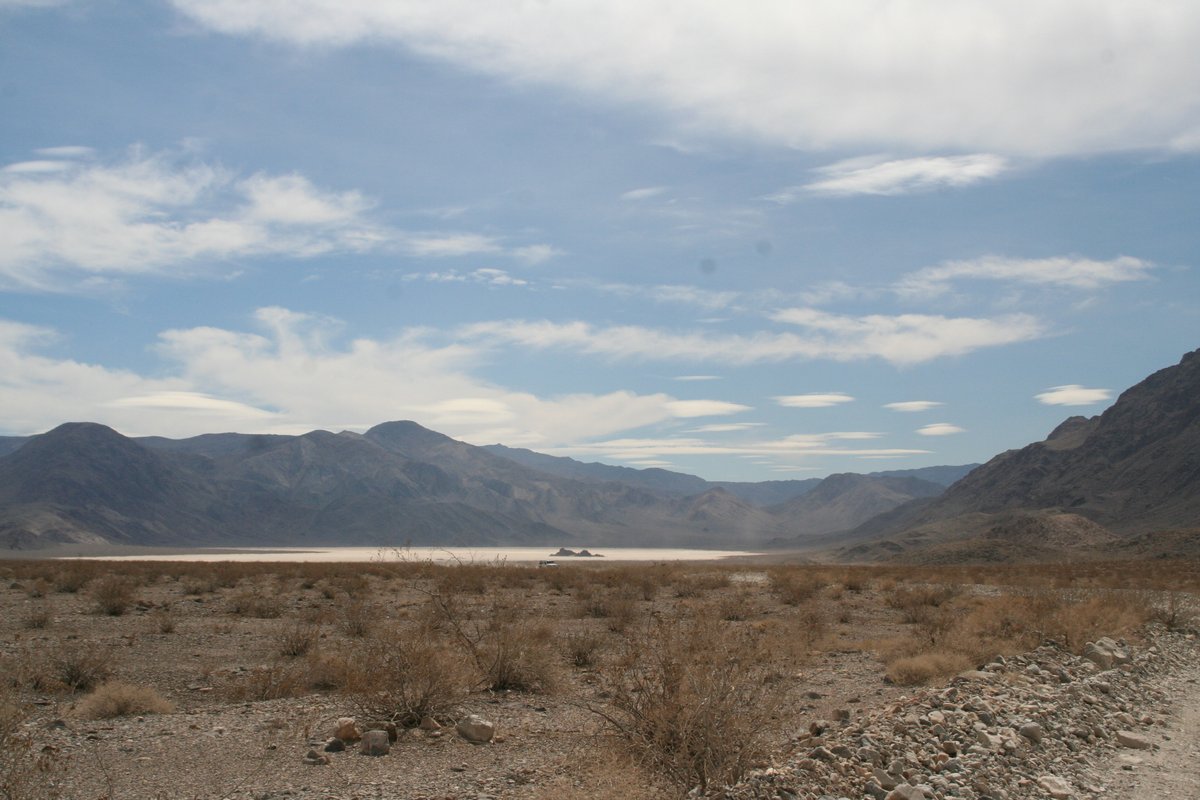 A close up of the Grandstand.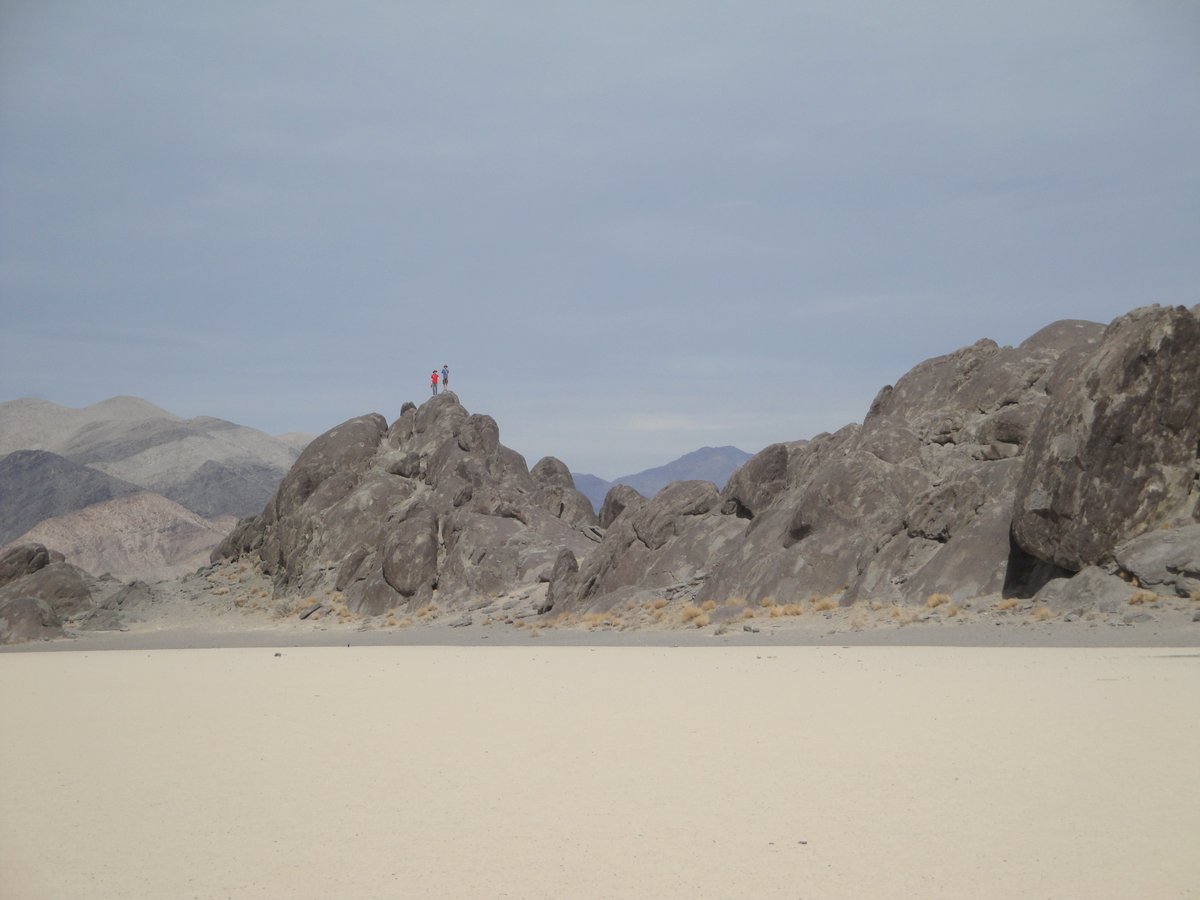 They are off to get the best view of the races!!!  David is first to the top.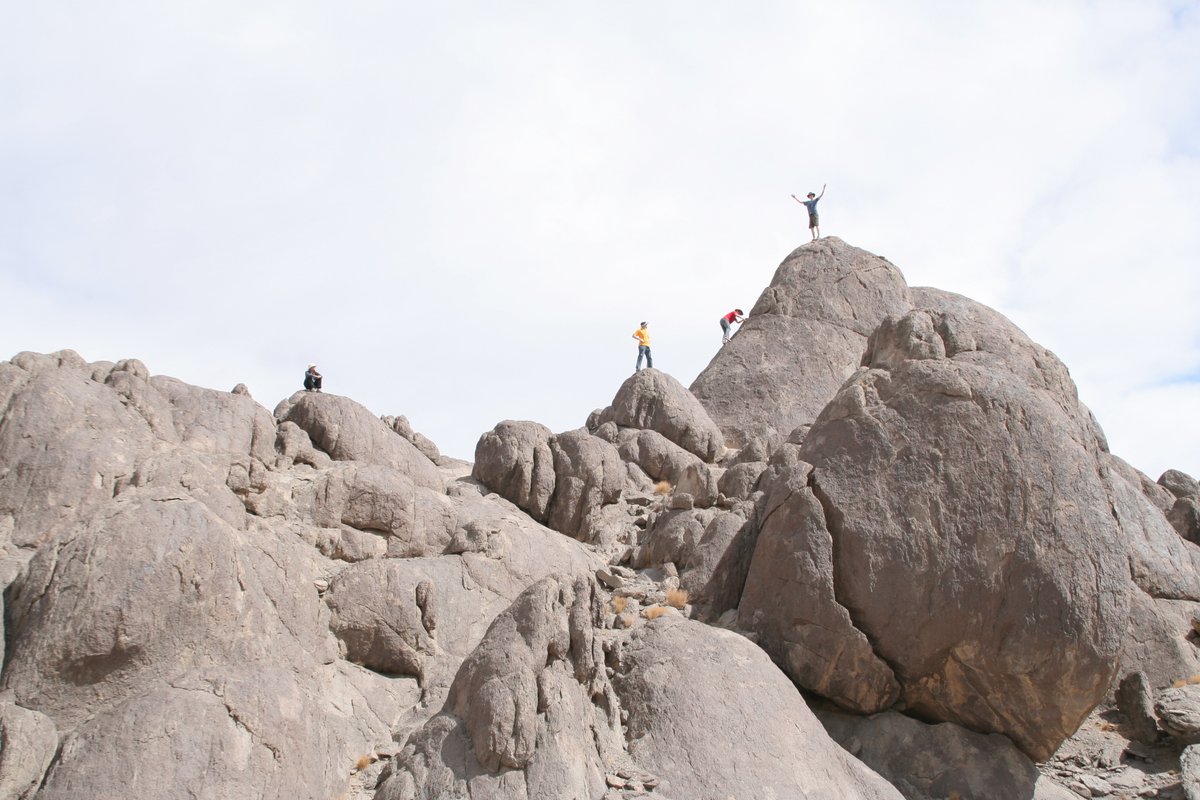 It won't be long until they're all at the top. Dad found a comfortable place too.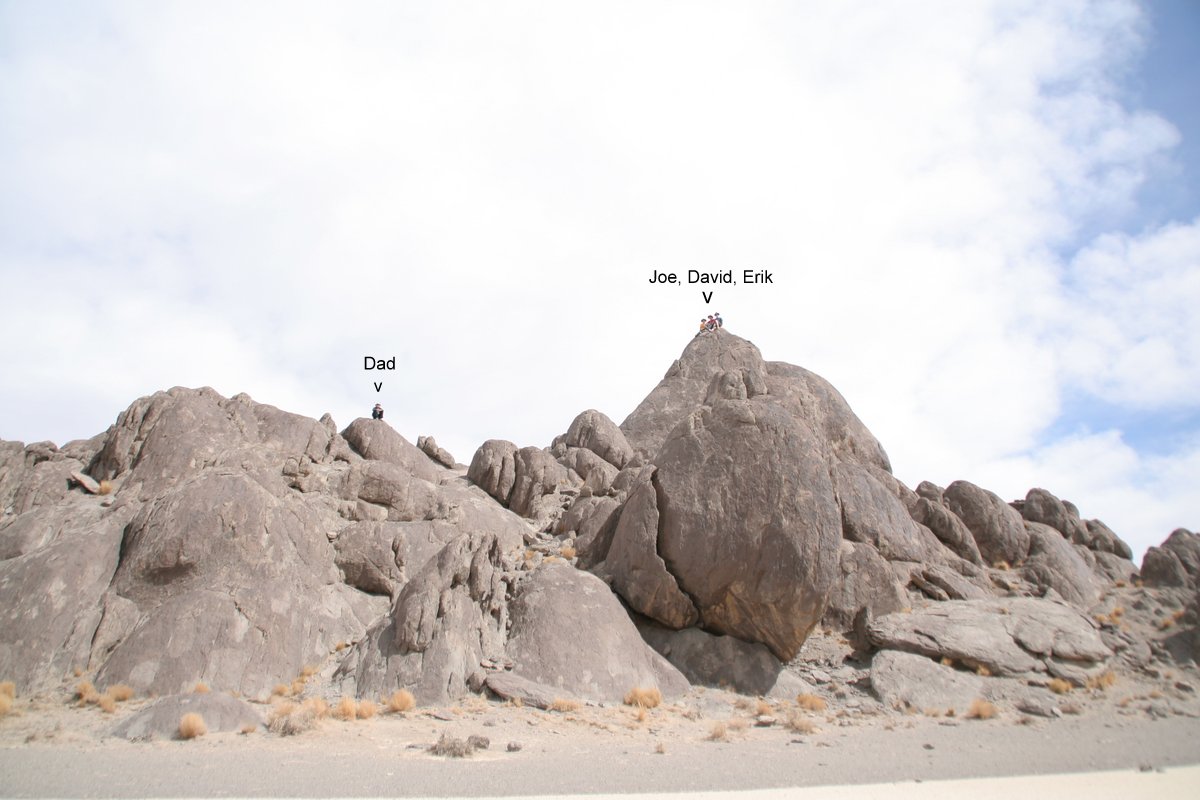 After watching the race, we visited a favorite of David and Erik, a MINE, Lost Burro Mine.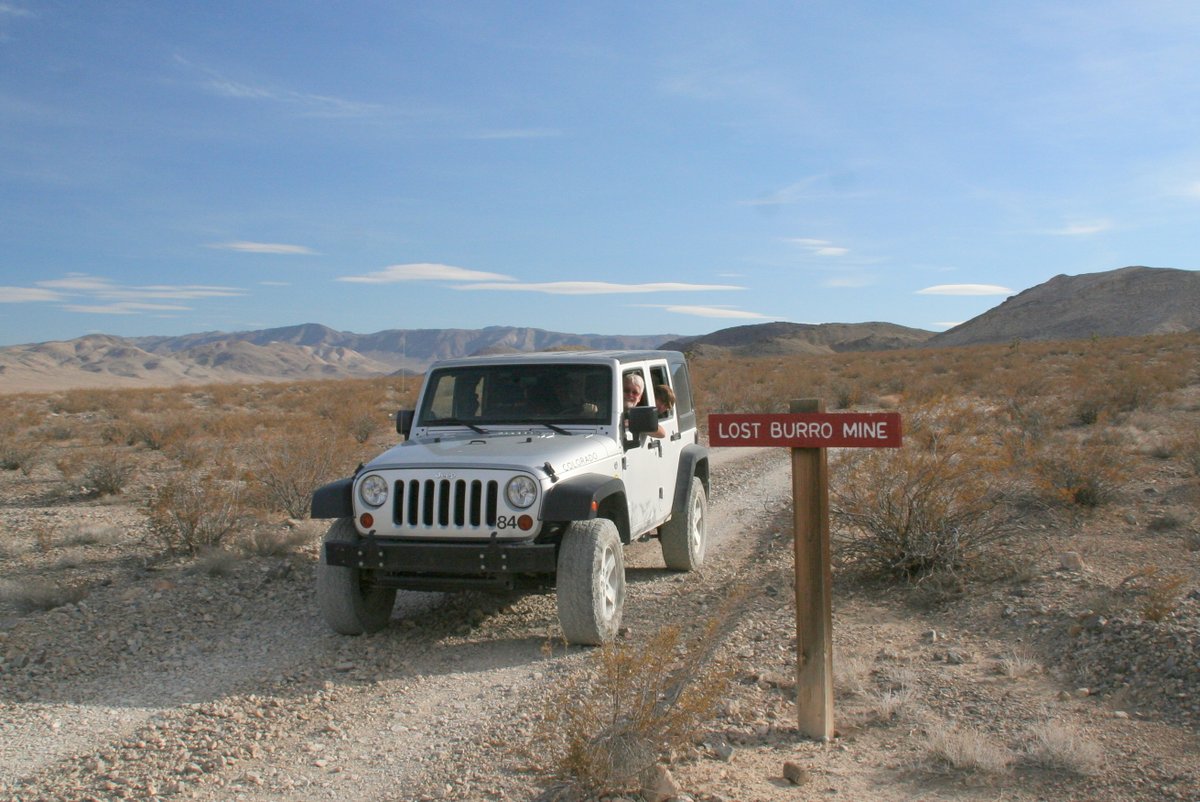 Here's hoping our Jeep doesn't end up looking like this one!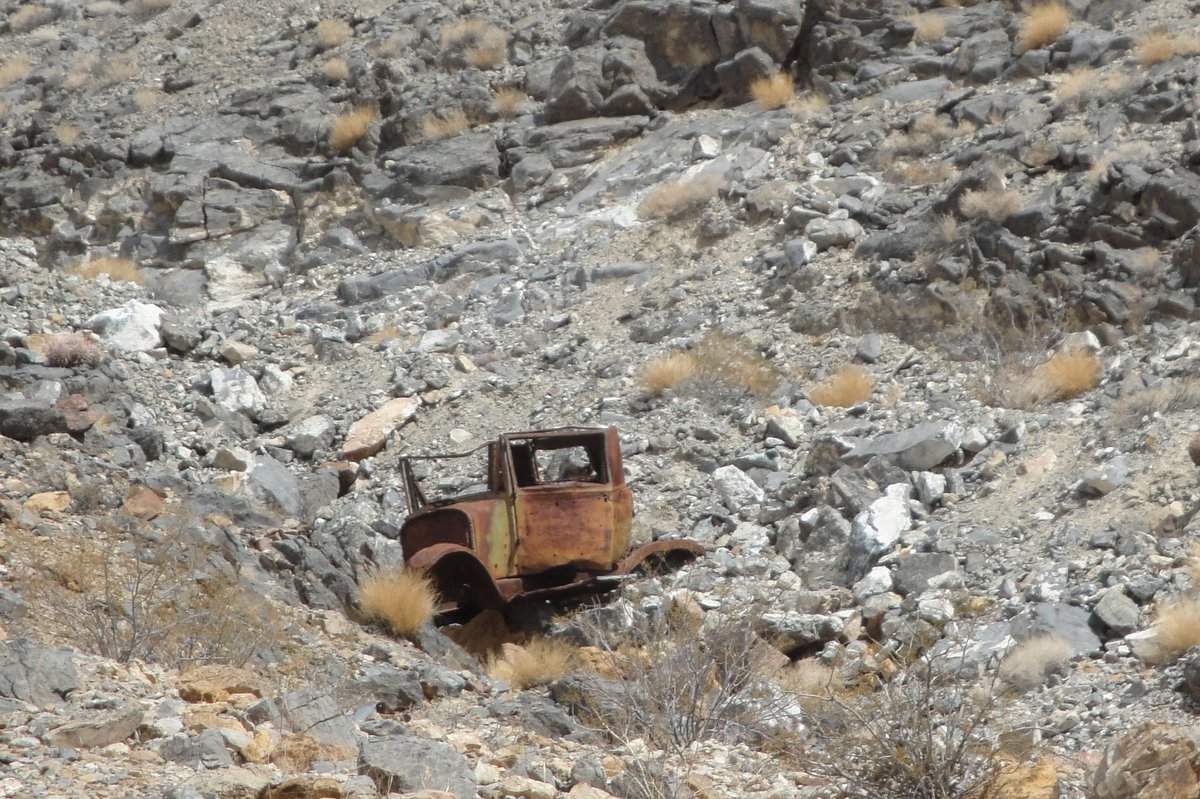 Inside one of the building was some questionable seating and decorating!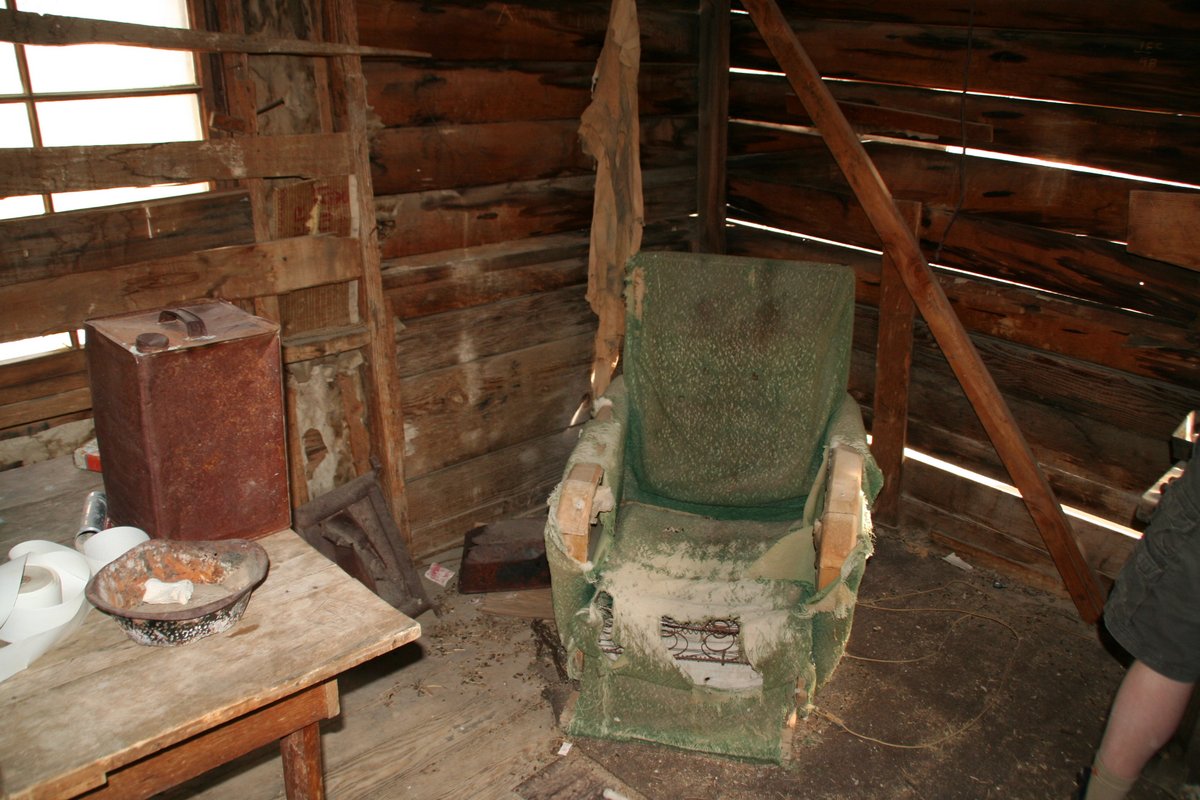 Chunk-O Crayon looks kind of fun!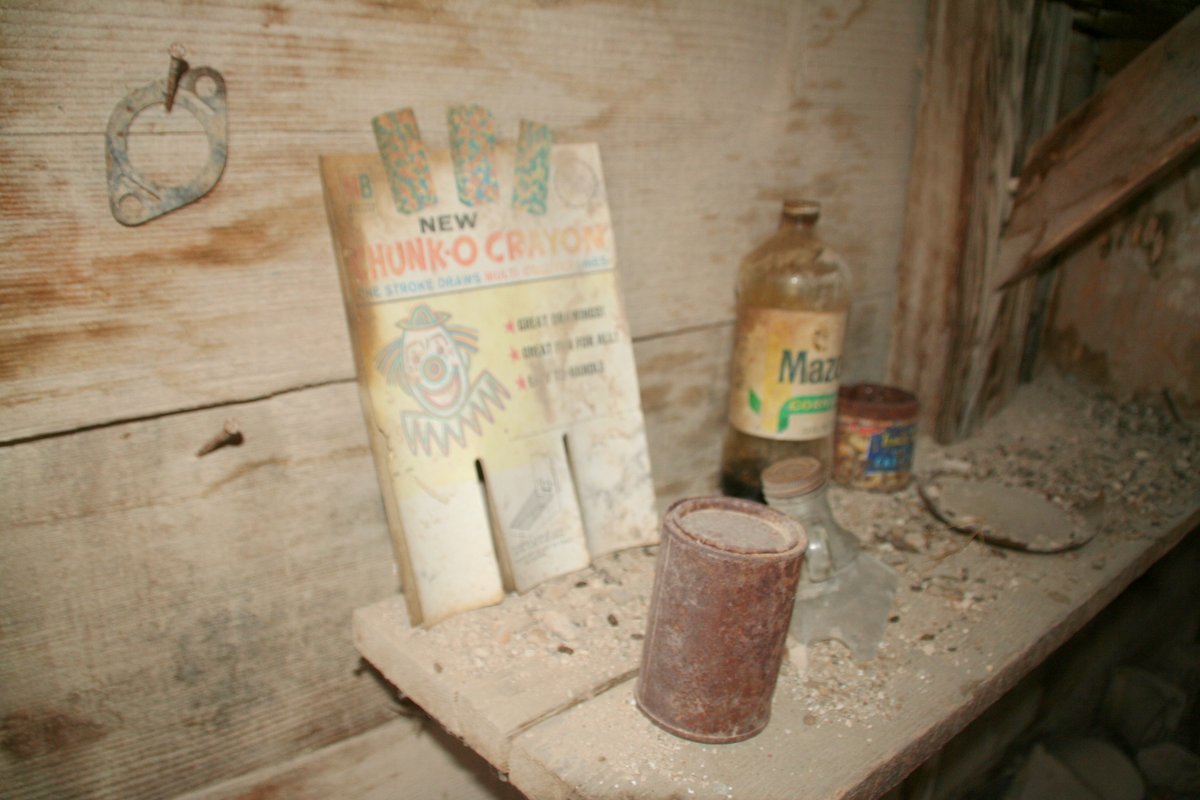 This structure doesn't look too safe either.  Again, maybe that's why they call it an abandoned mine!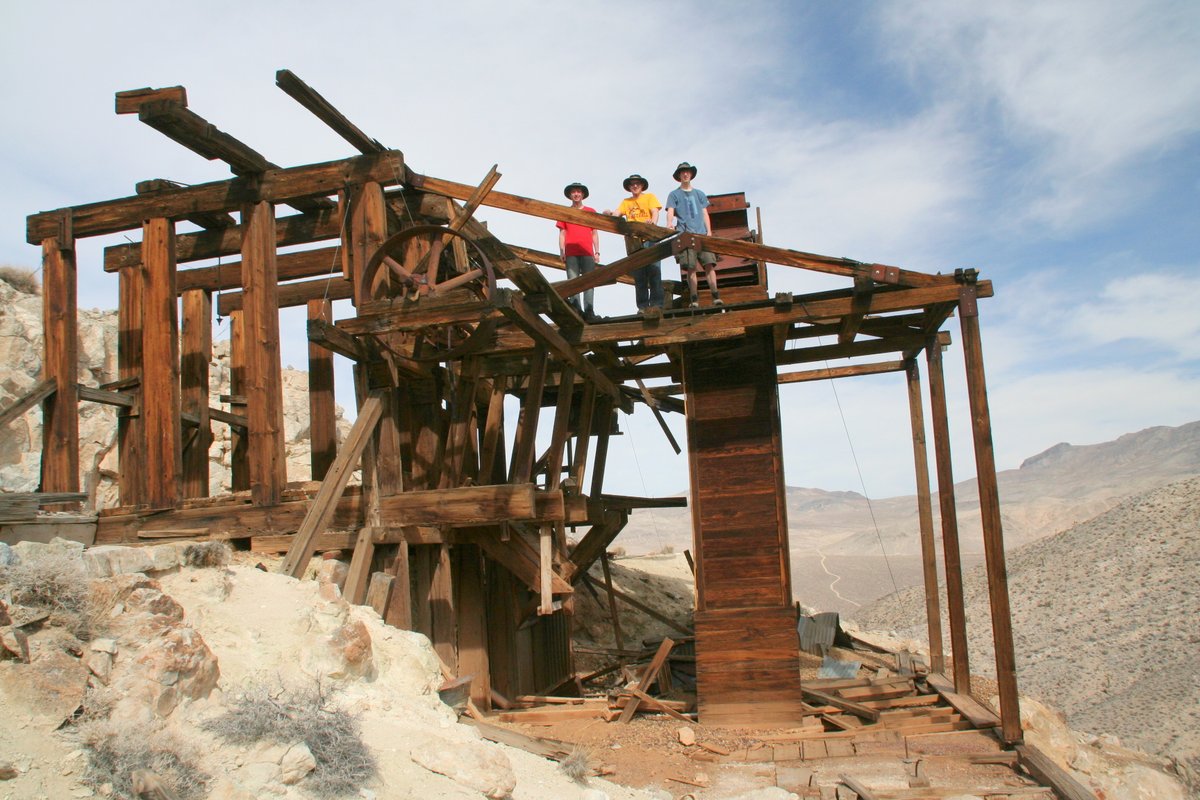 Out house is still standing!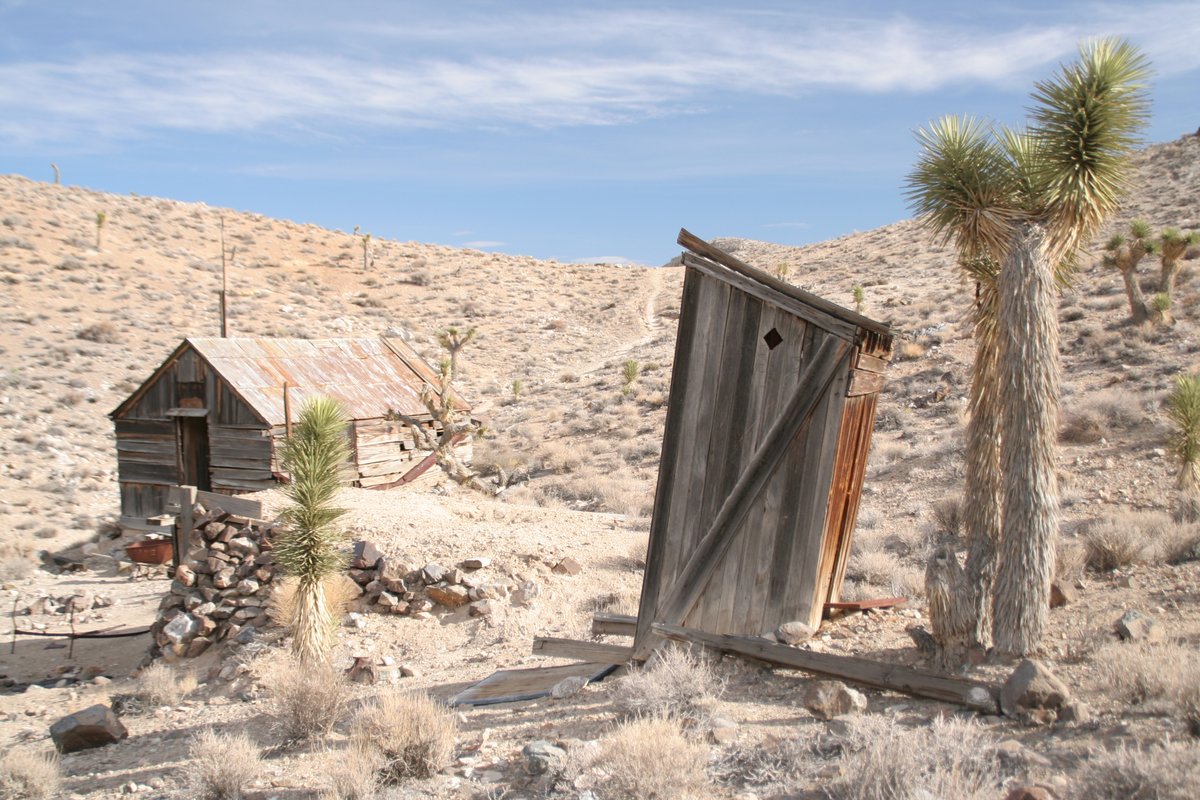 No one can read!!!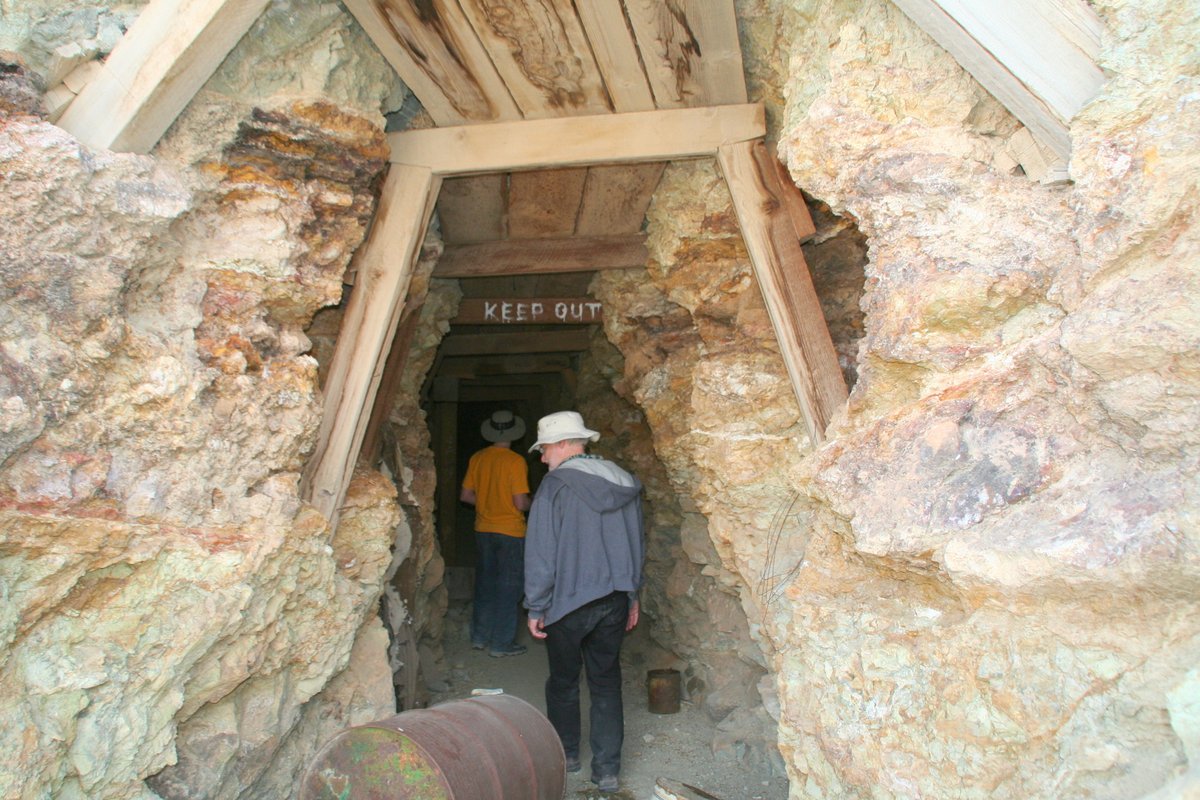 I really don't know what the fascination is with mines.  They all look about the same inside.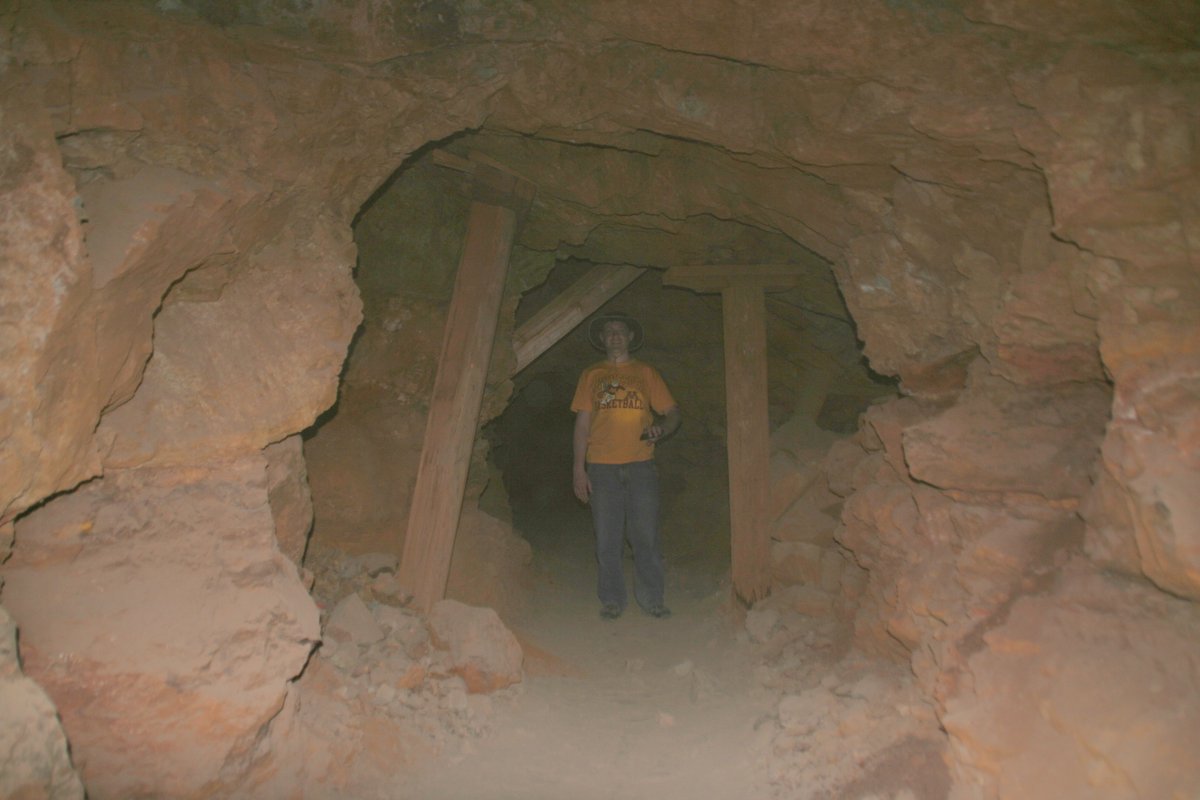 I guess I wouldn't call this the highlight of my trip!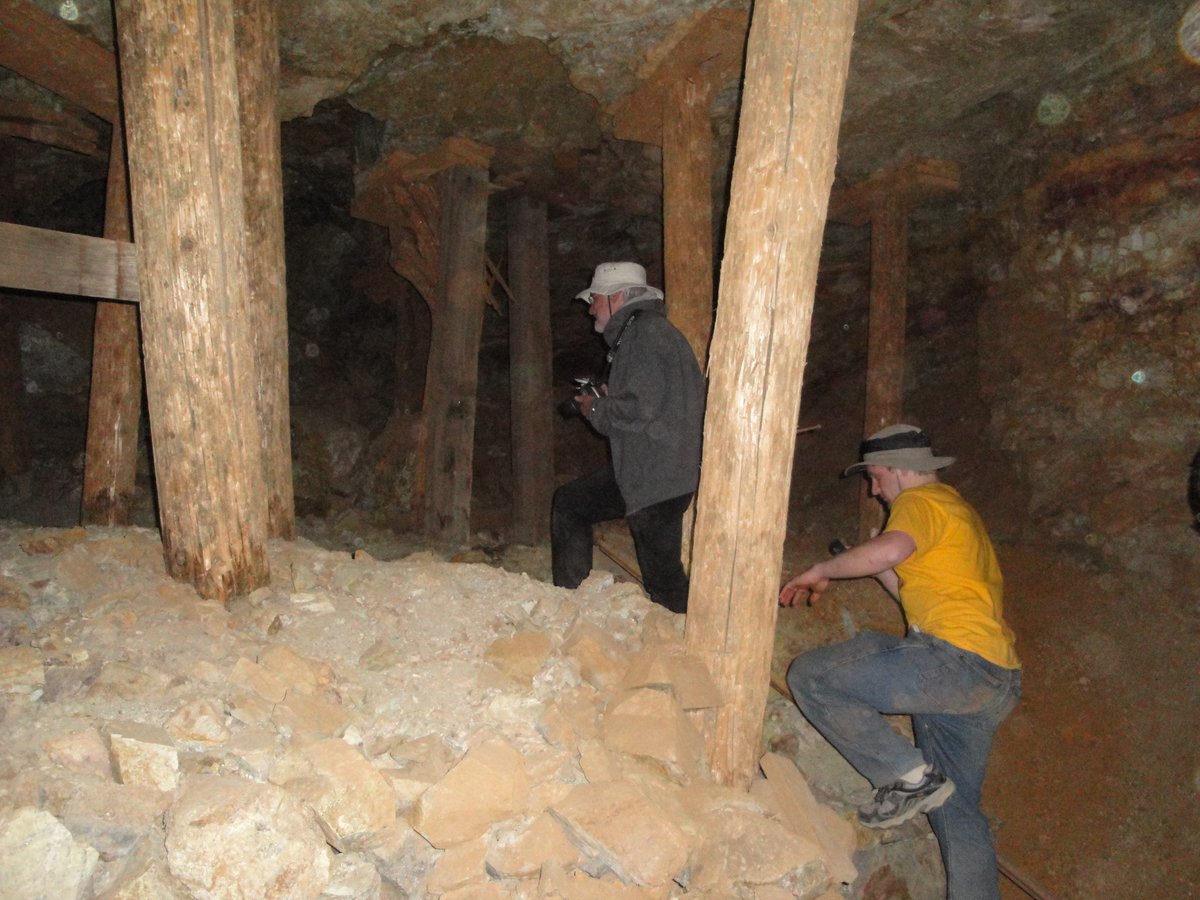 Erik shows me the mine shaft that looks a bit too unsafe to go down, he says!!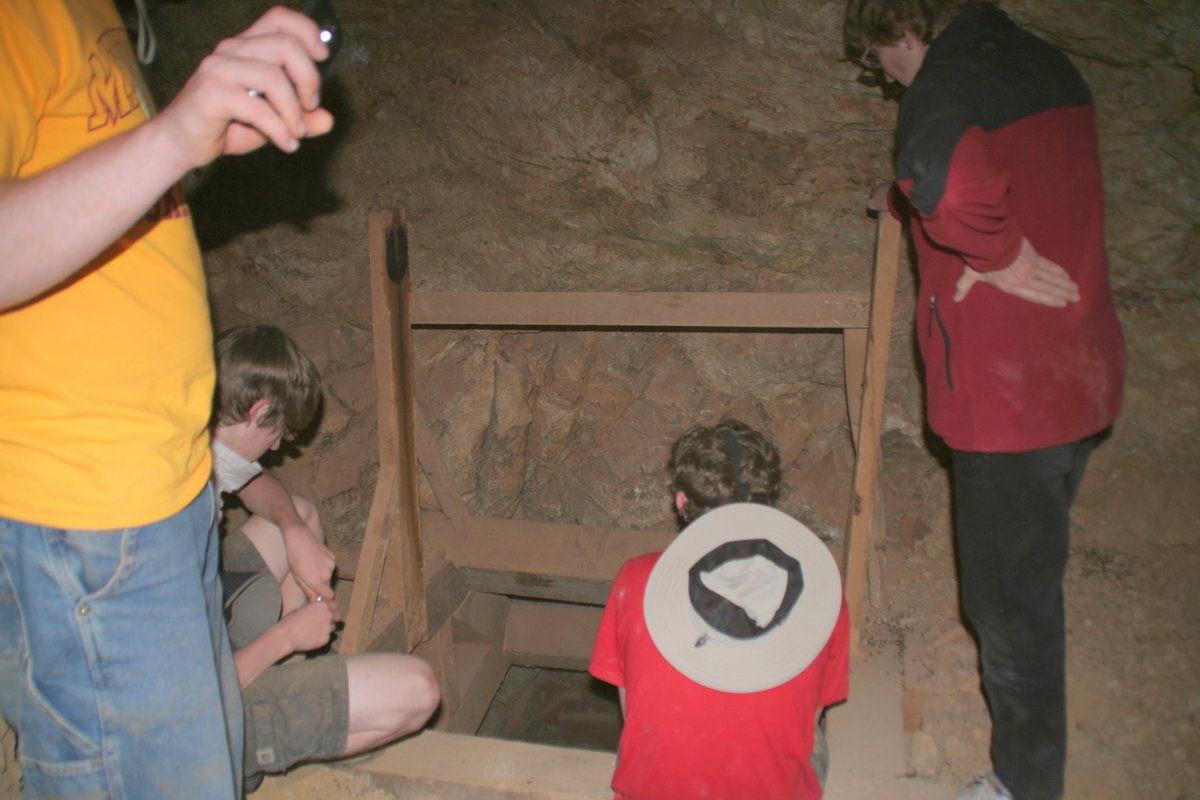 But then he shows me the shaft he did descend into.  He estimates he climbed about about 70 feet down these stellar ladders!  He did say it was a bit scary.  I guess that's the thrill of it.  We didn't have any rope to help get him out, had he fallen.  I guess his guardian angels were present as usual, and tired, as always!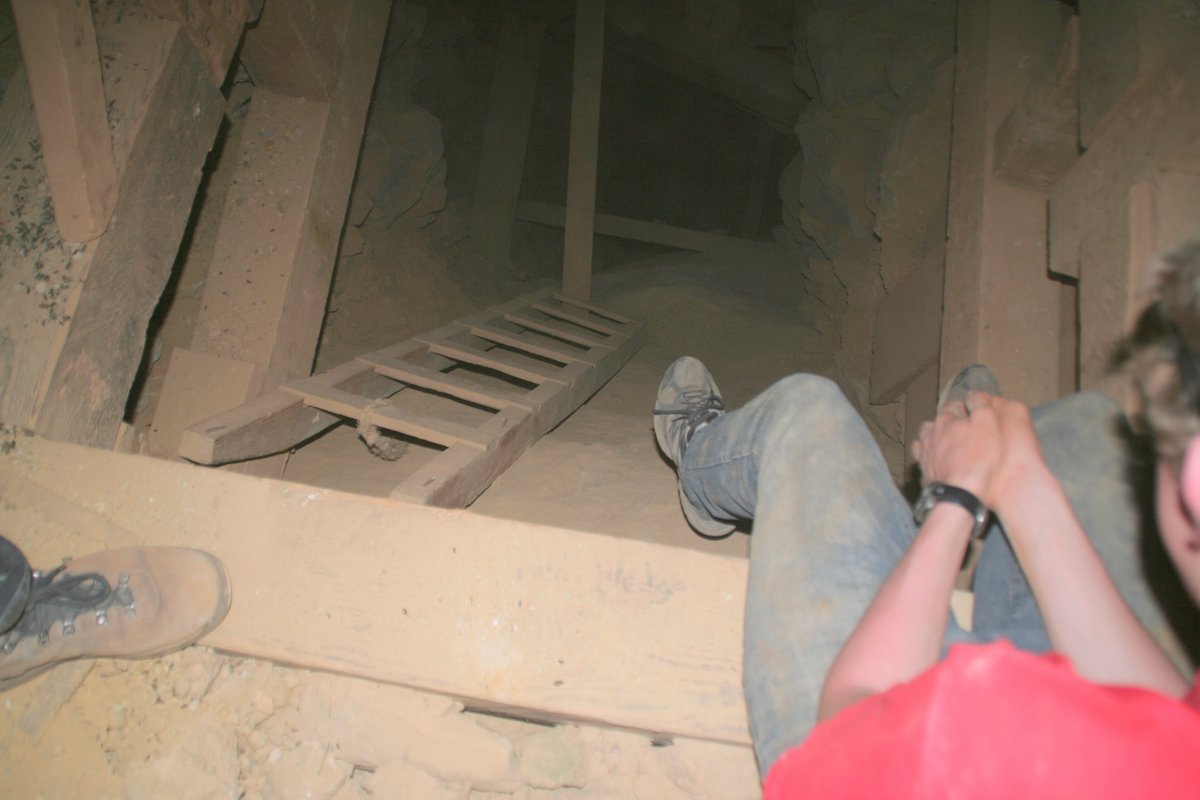 While the boys were exploring, Paul was out photographing the beauty.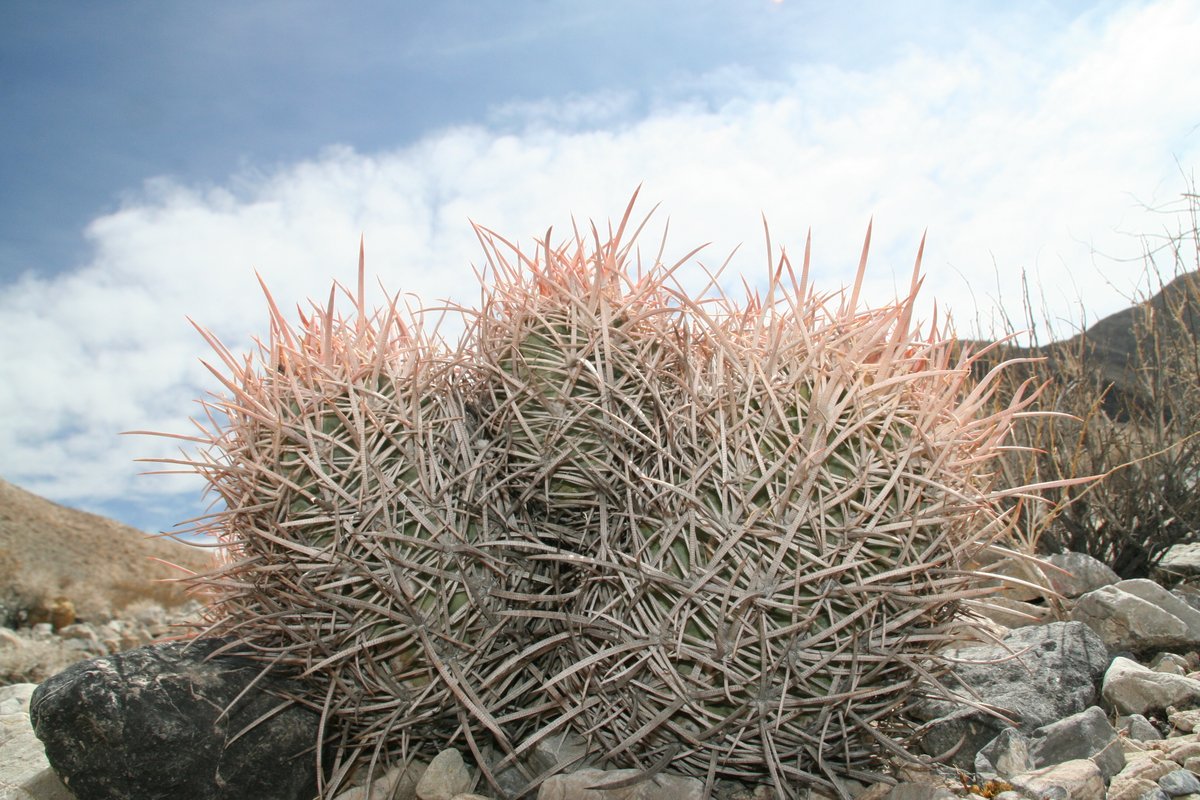 The Racetrack in the background.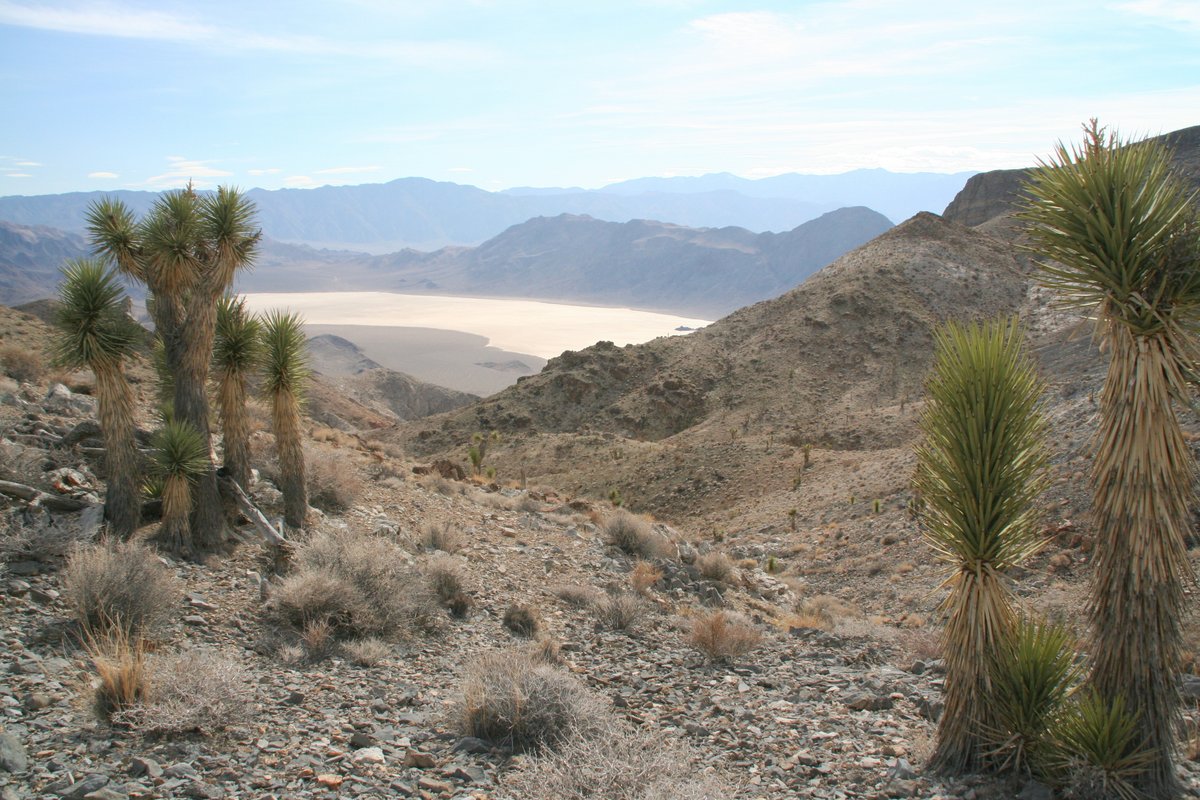 Day 5 and last day with the Jeep 🙁   driving through Titus Canyon.  We took the top off our Jeep to take in the whole feel of the Jeep adventure.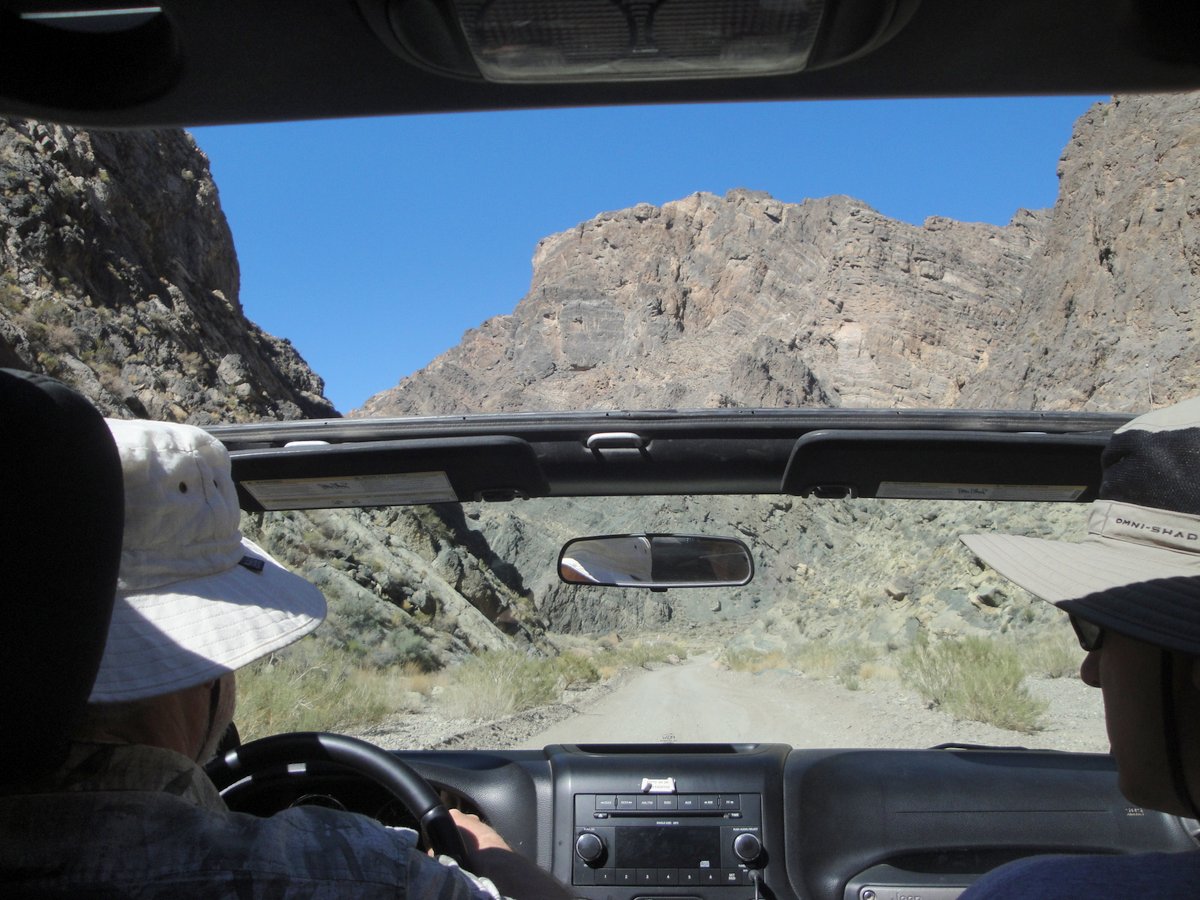 Again, beautiful rock colors.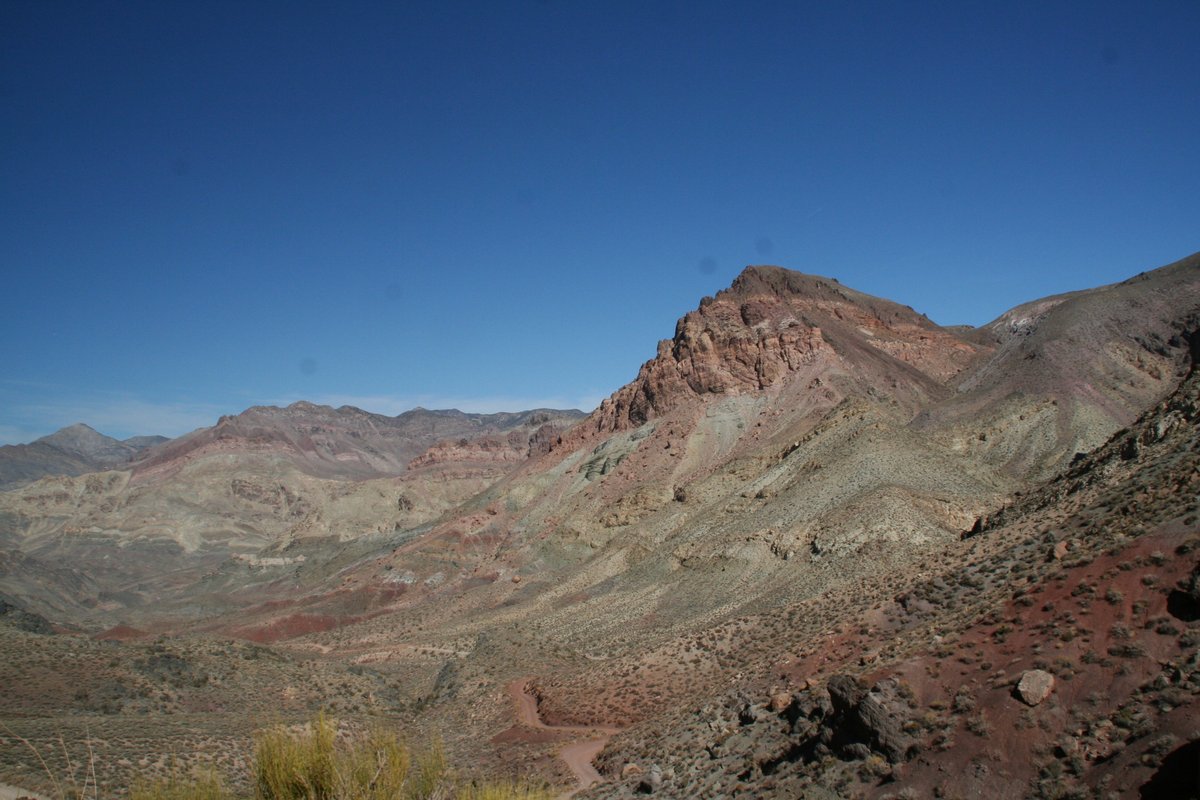 Awesome rock formations.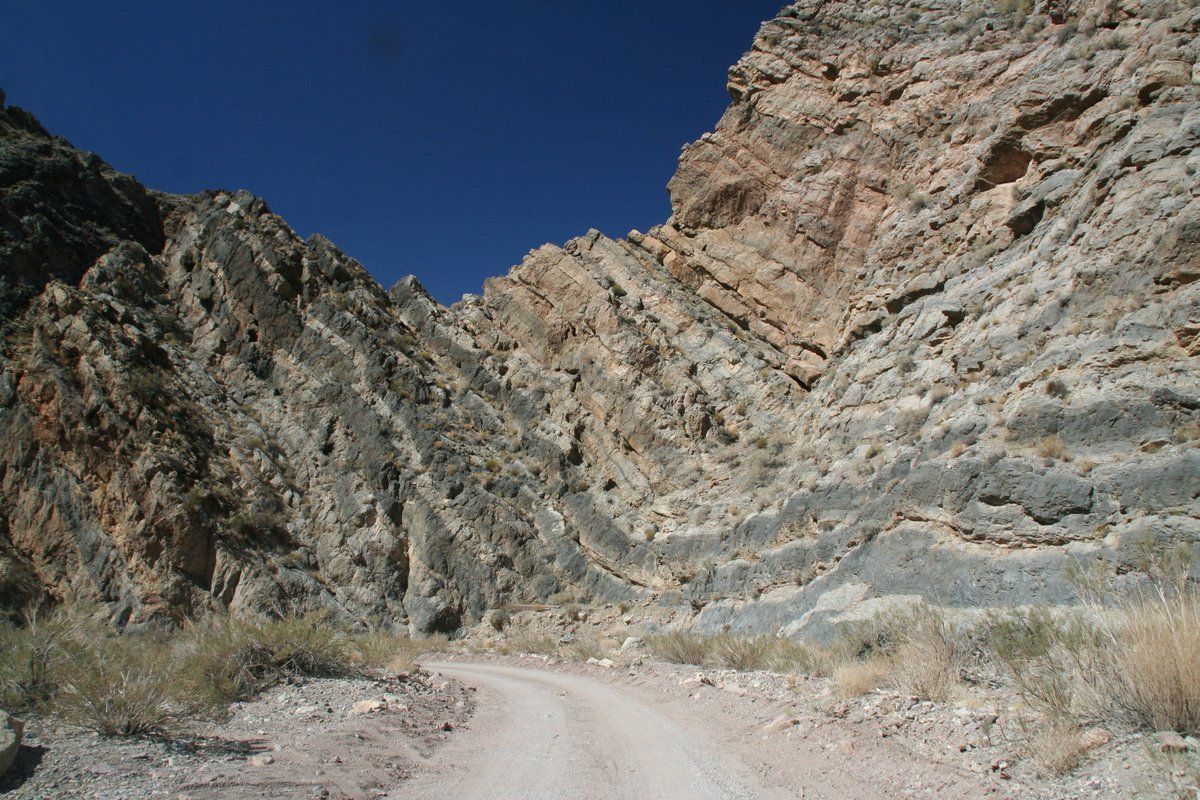 Amazing canyon!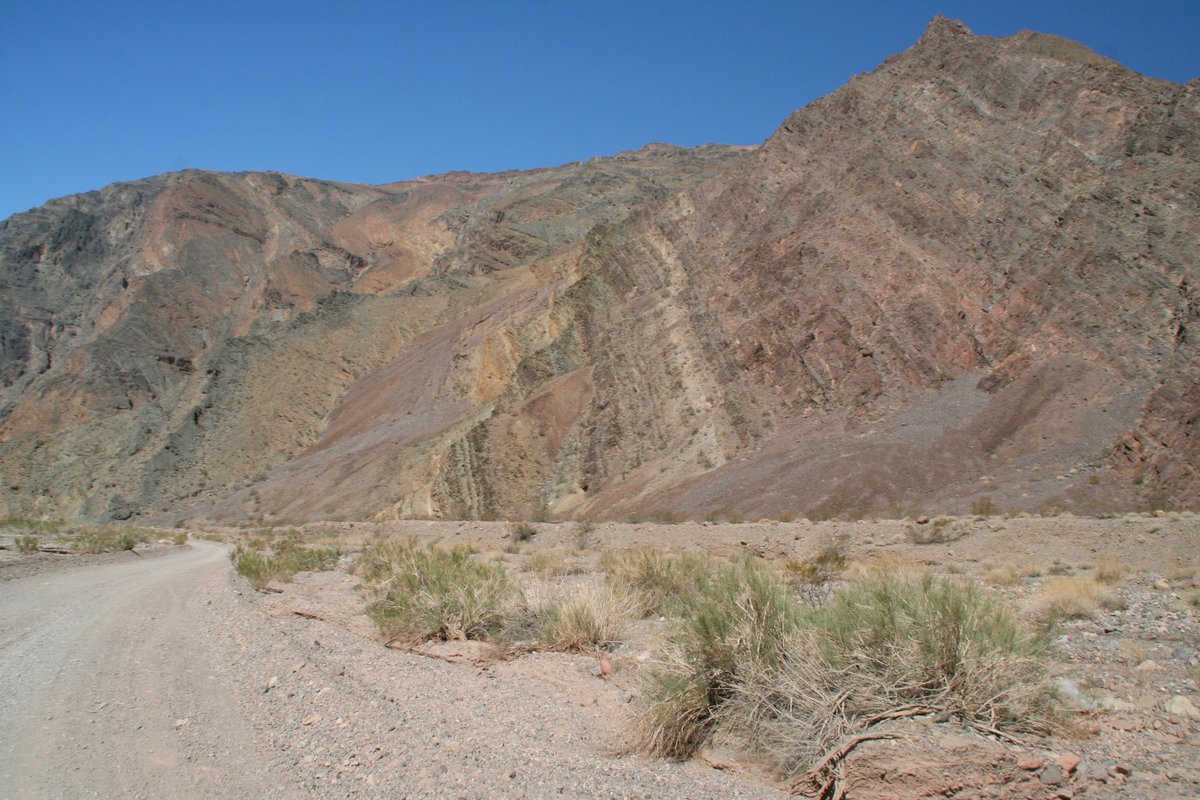 Rock walls on our way out.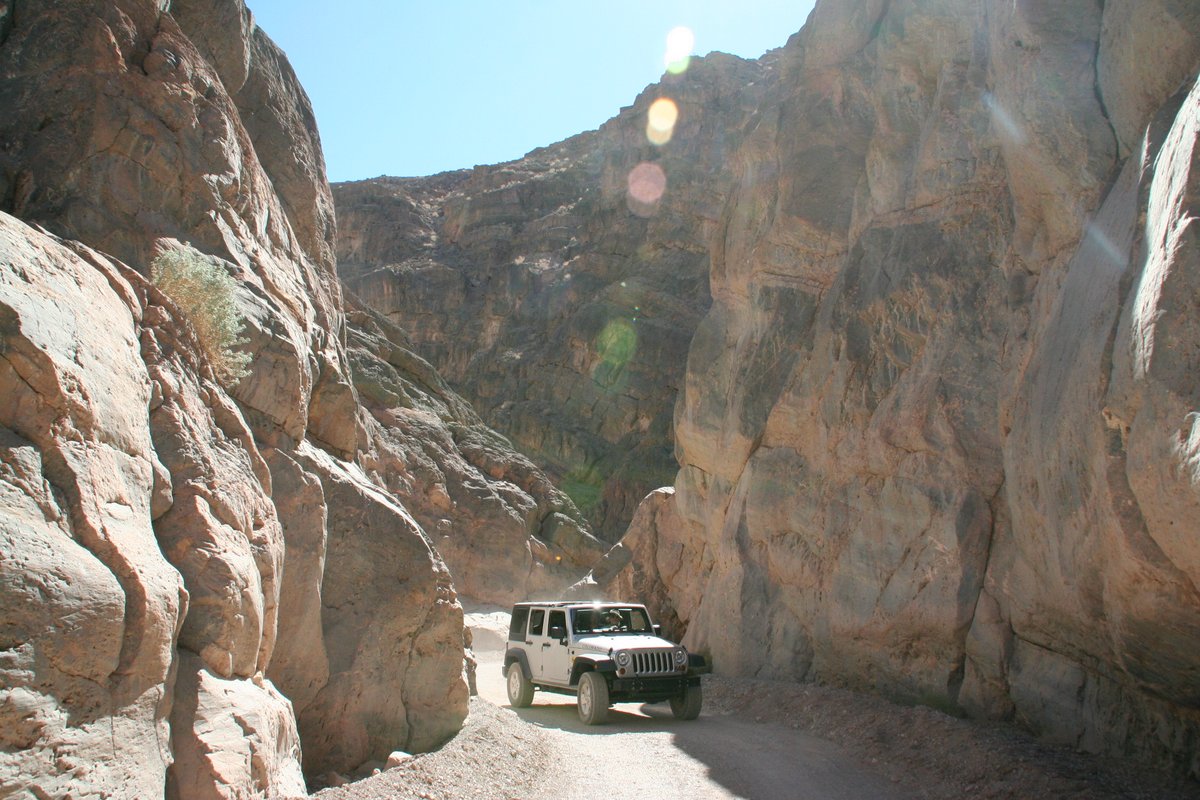 Our real destination for the day was the Eureka Dunes.  You'll have to Google this link to hear the dunes "sing."  They are 700 foot tall dunes. And we ALL made it to the top of them!!!  Erik was first, followed by David, Paul, Joe and MOM!!!!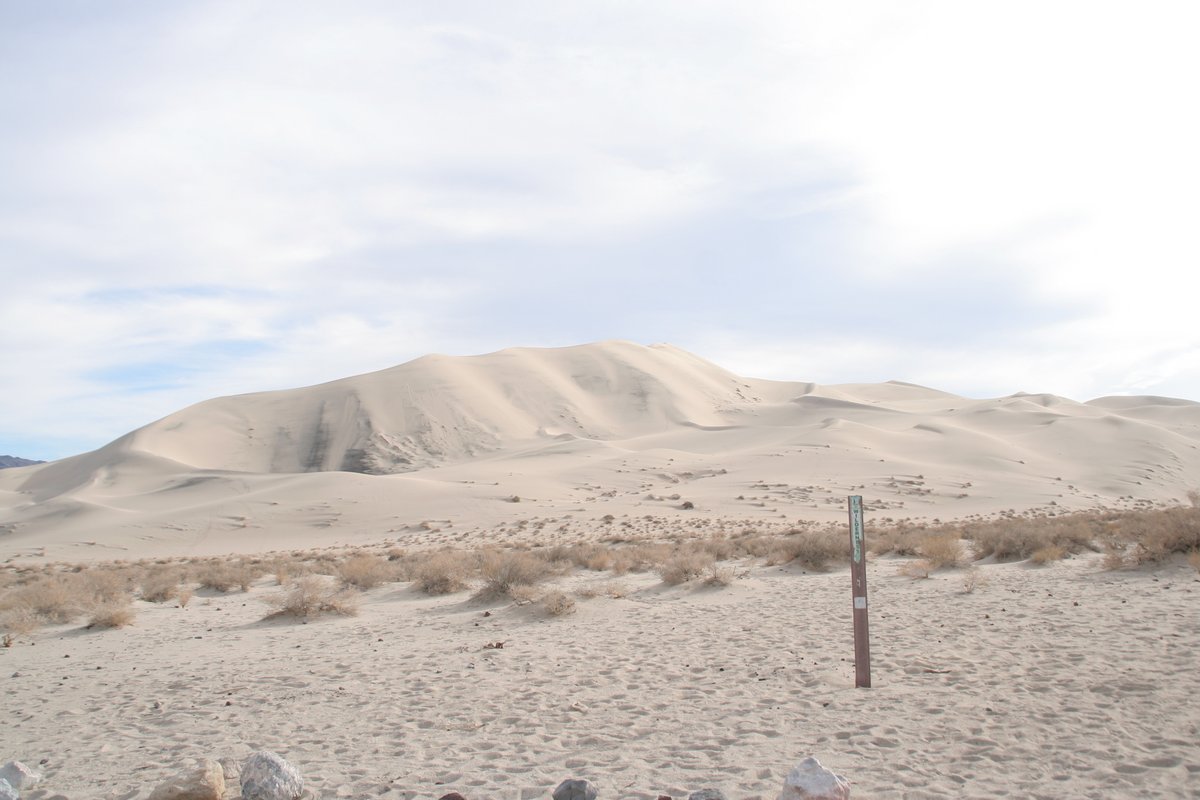 This was the view just partially up the dunes looking down at the valley.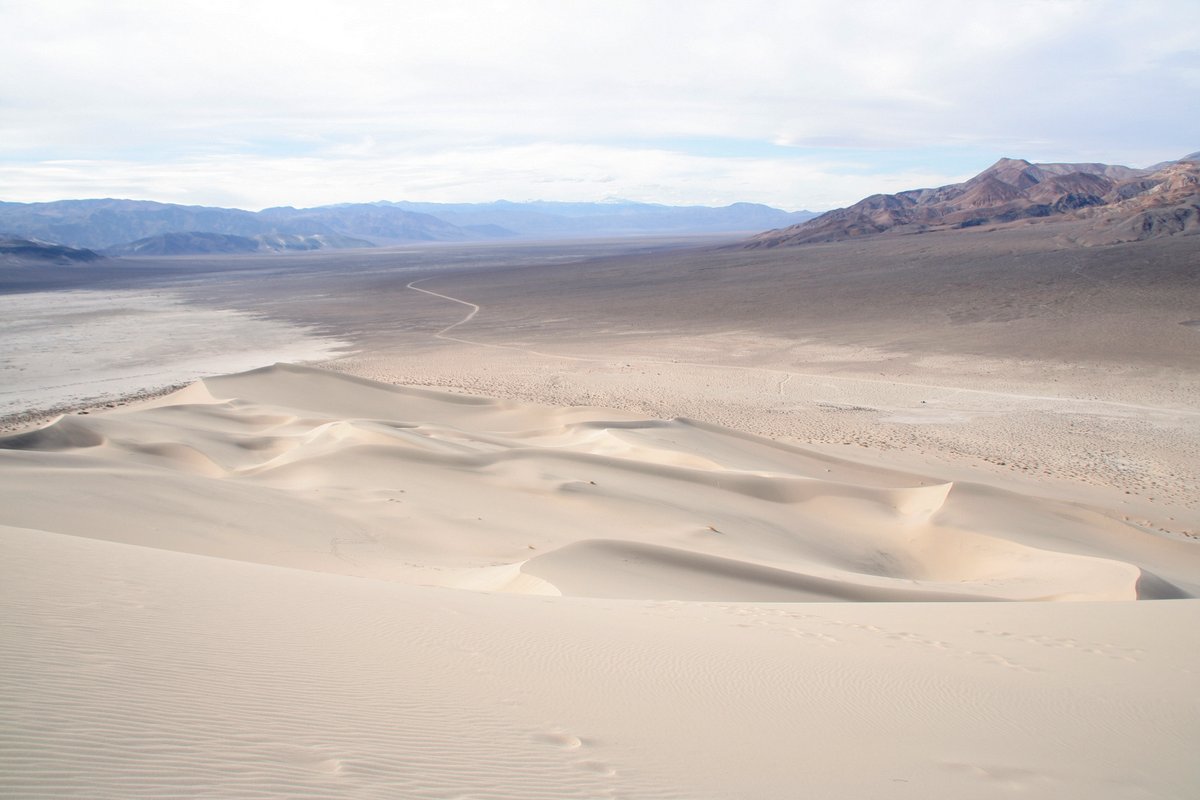 Joe at the top of the dunes!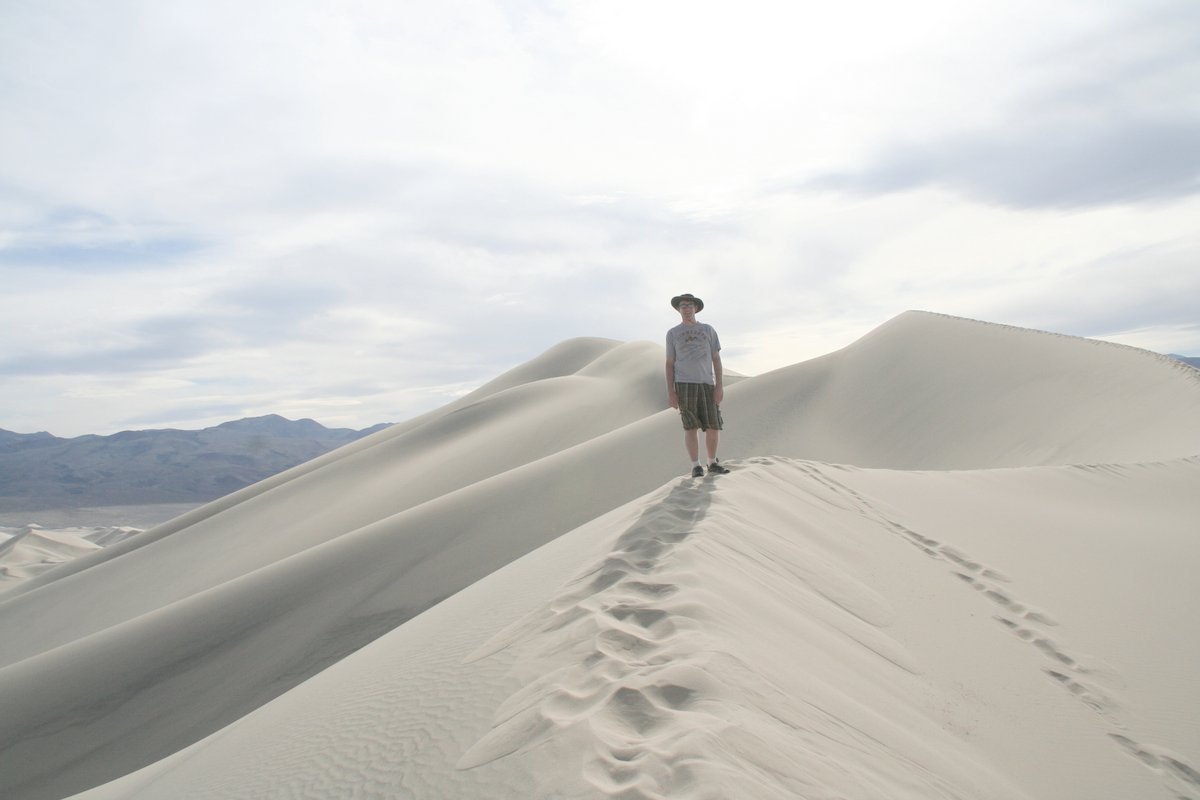 We're on our way back down.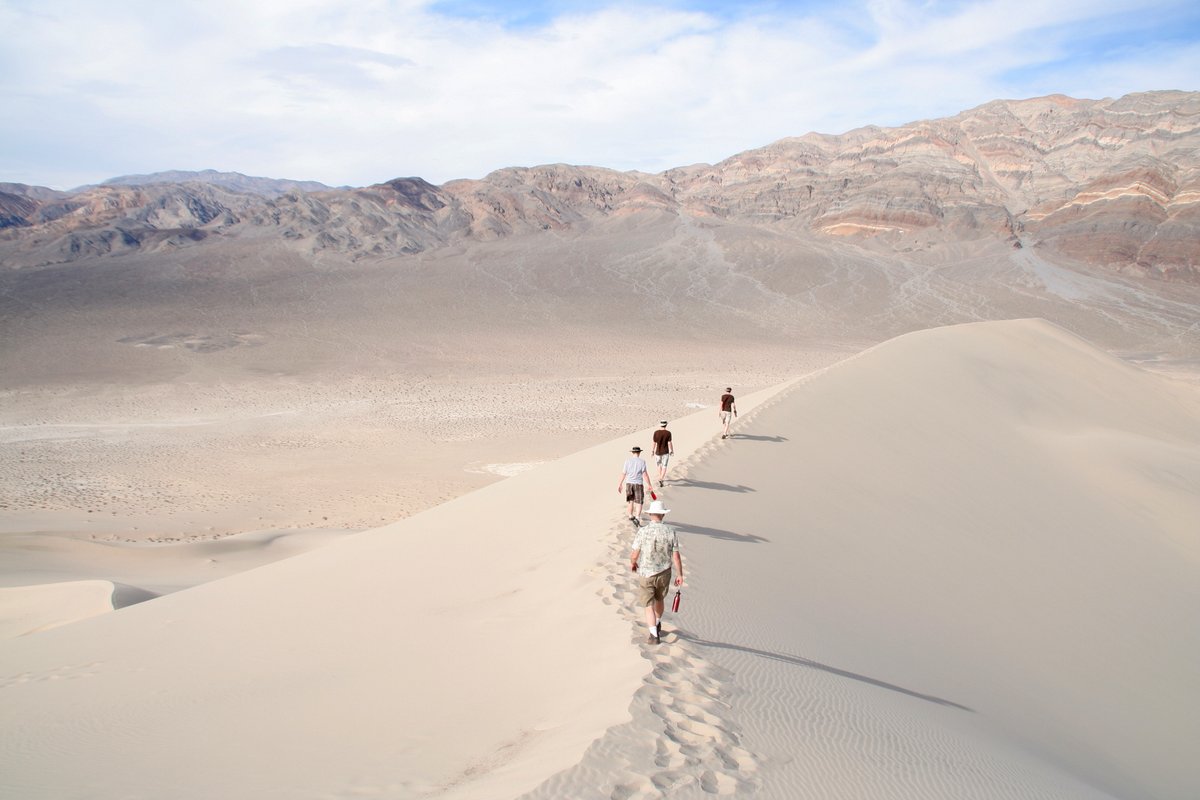 This is where it gets interesting.  As you push the sand around you, you hear a low pitched growling noise.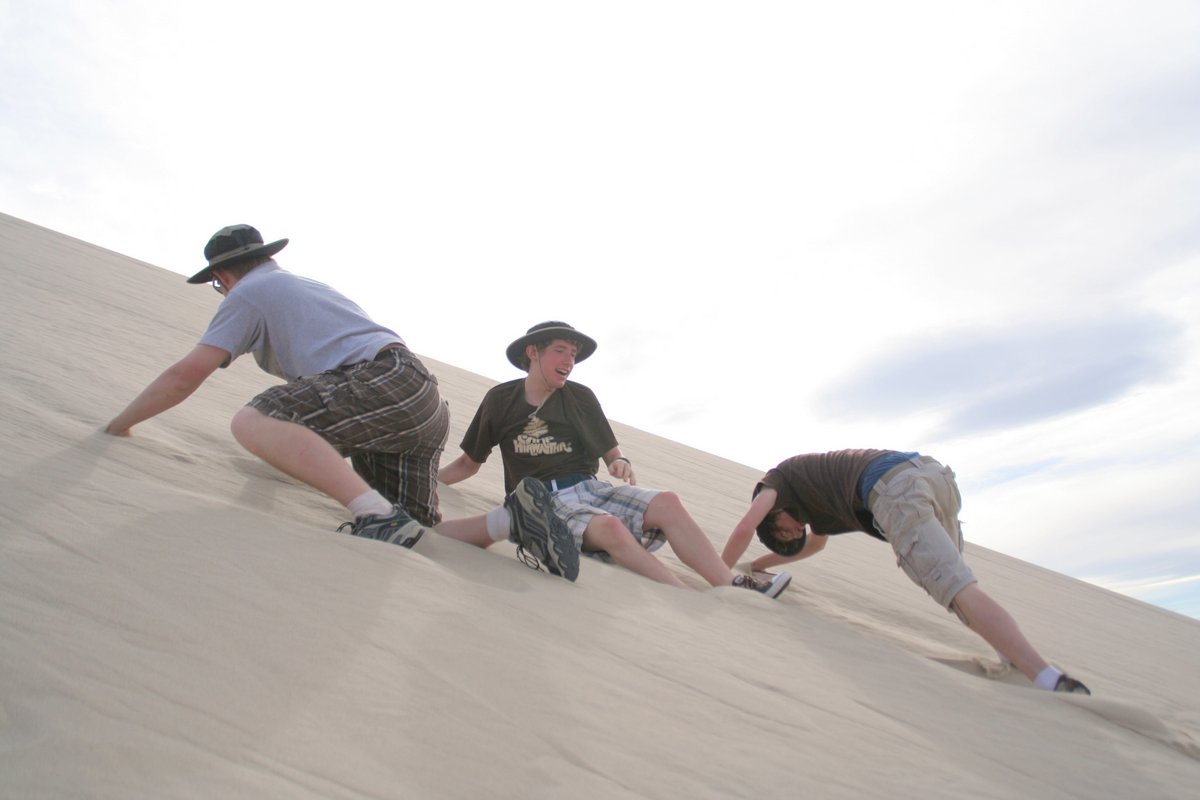 You must listen to the Youtube video, which isn't our family, but could be!  My camera, which has video, was damaged by the blowing dune sand that day, and quit functionoing:(  so no video of us.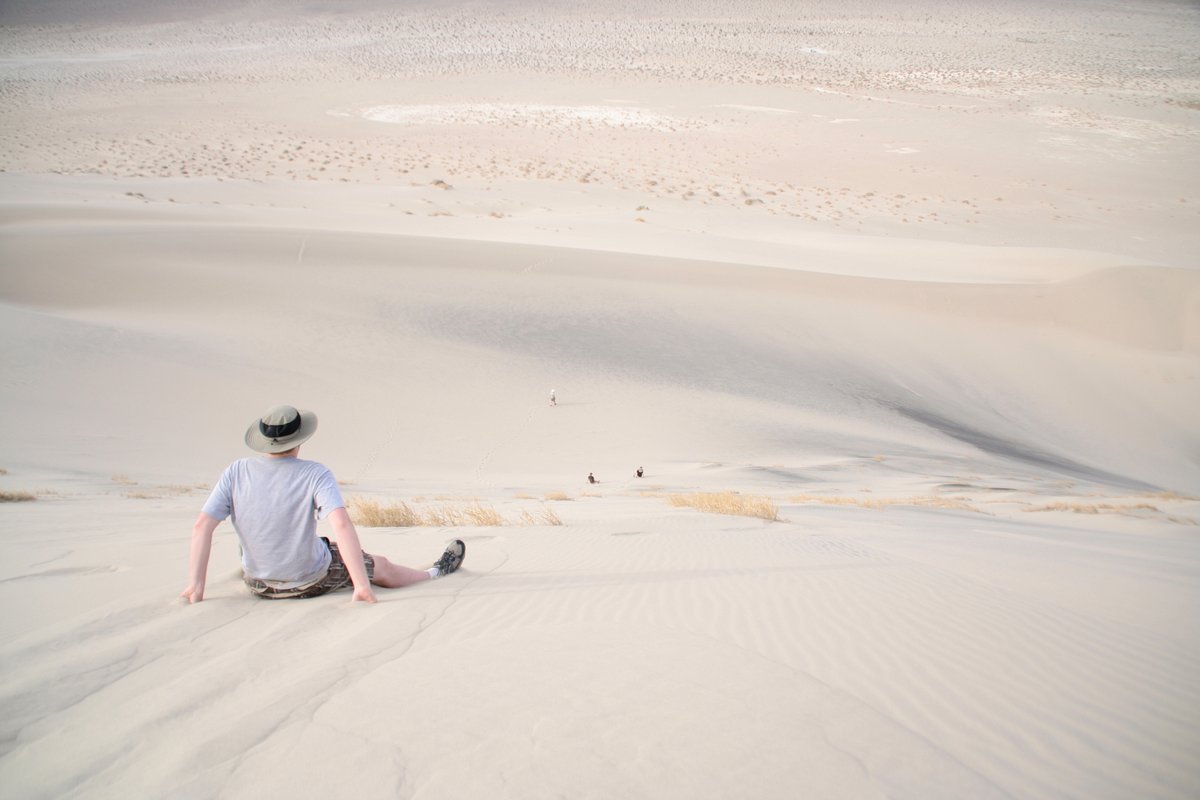 Day 6 and we're enjoying a relaxing morning at Furnace Creek Ranch.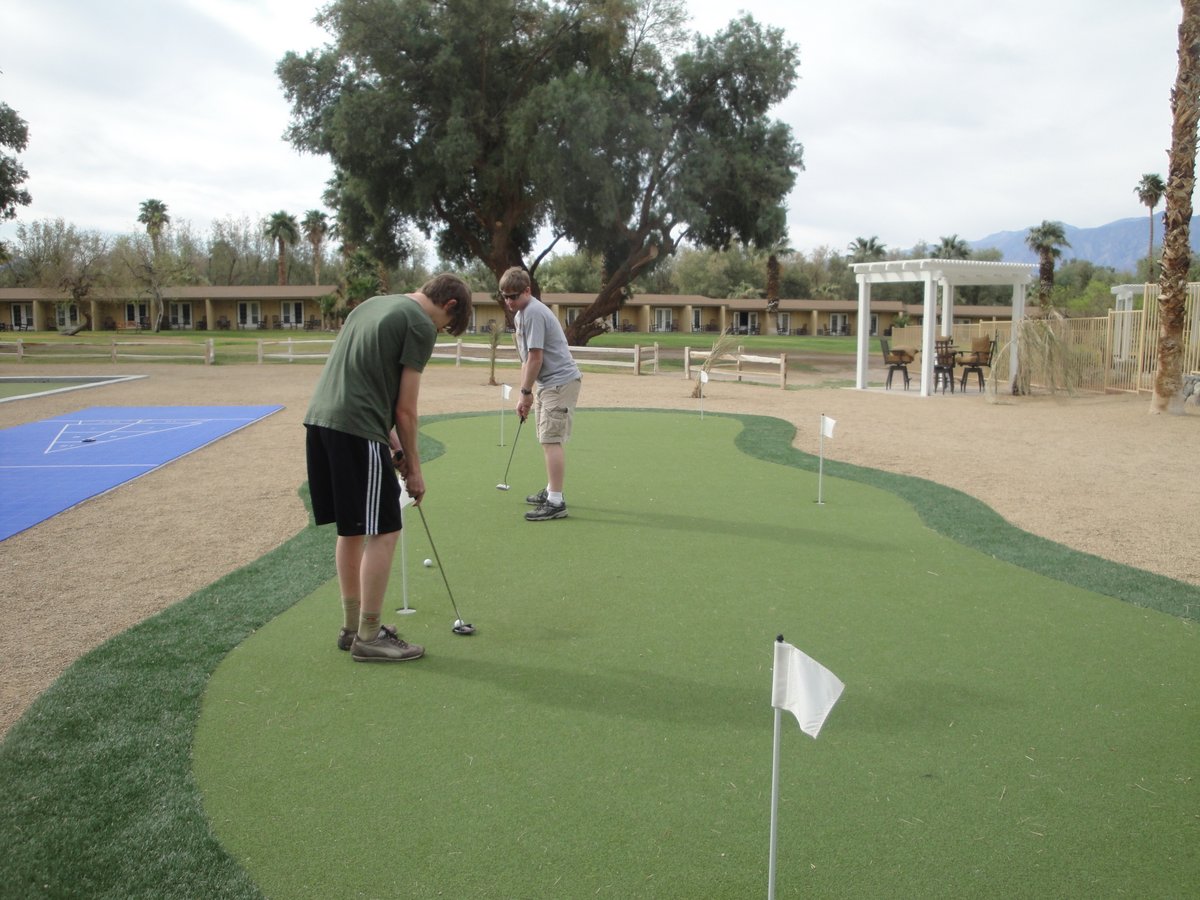 Shuffle board is always in style!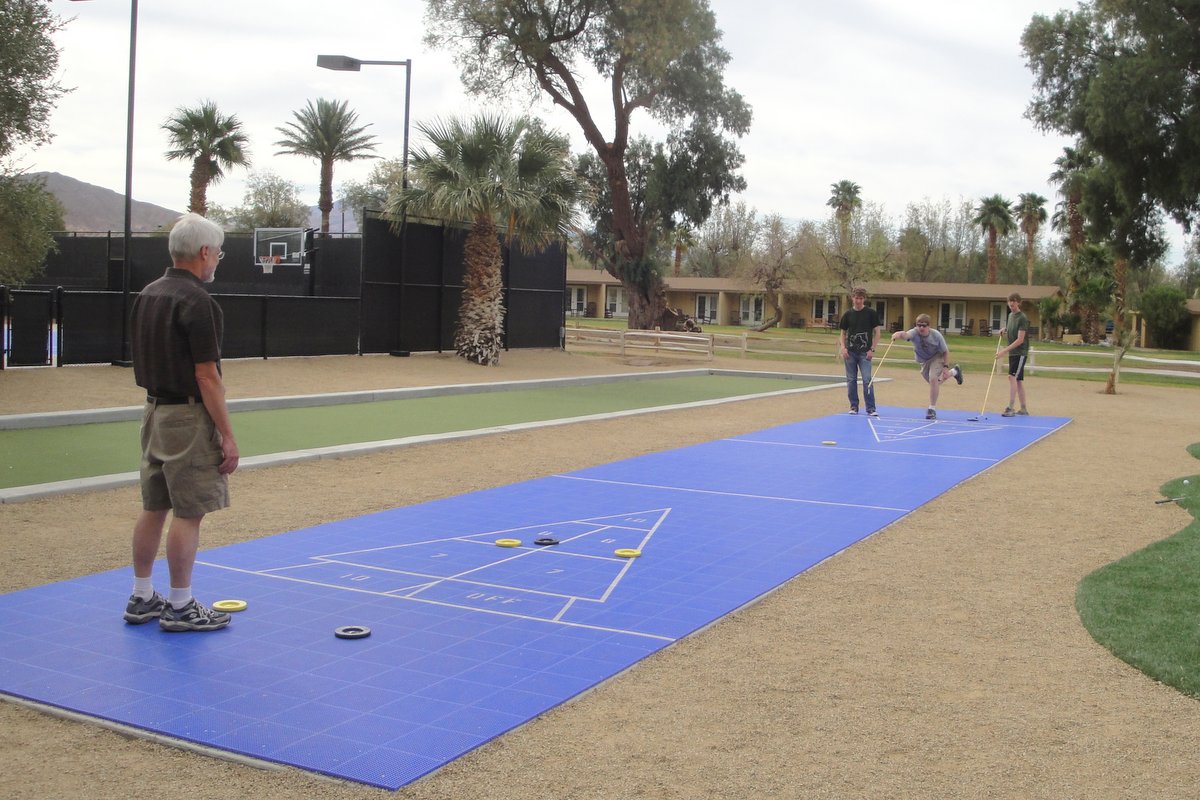 Dad systematically beat each boy one by one!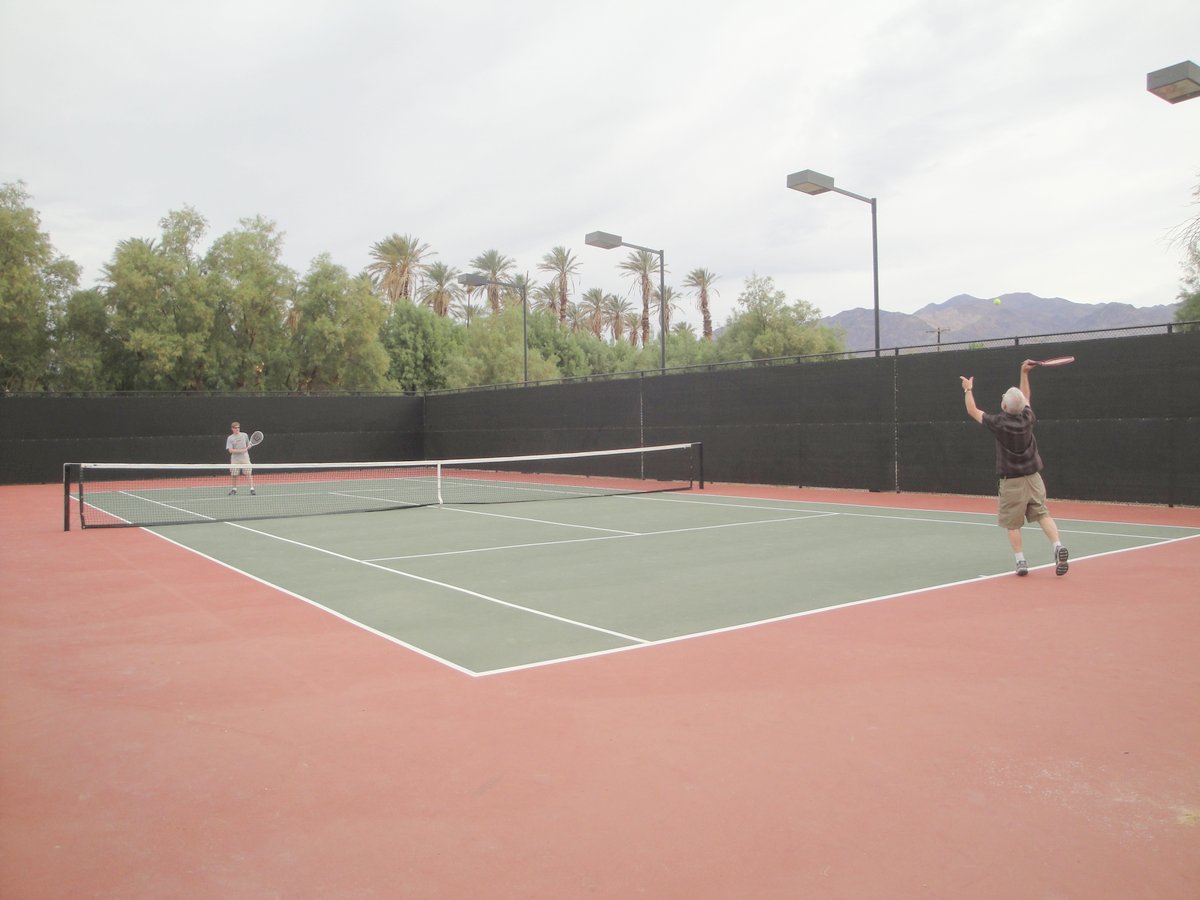 The solar panels at the Ranch.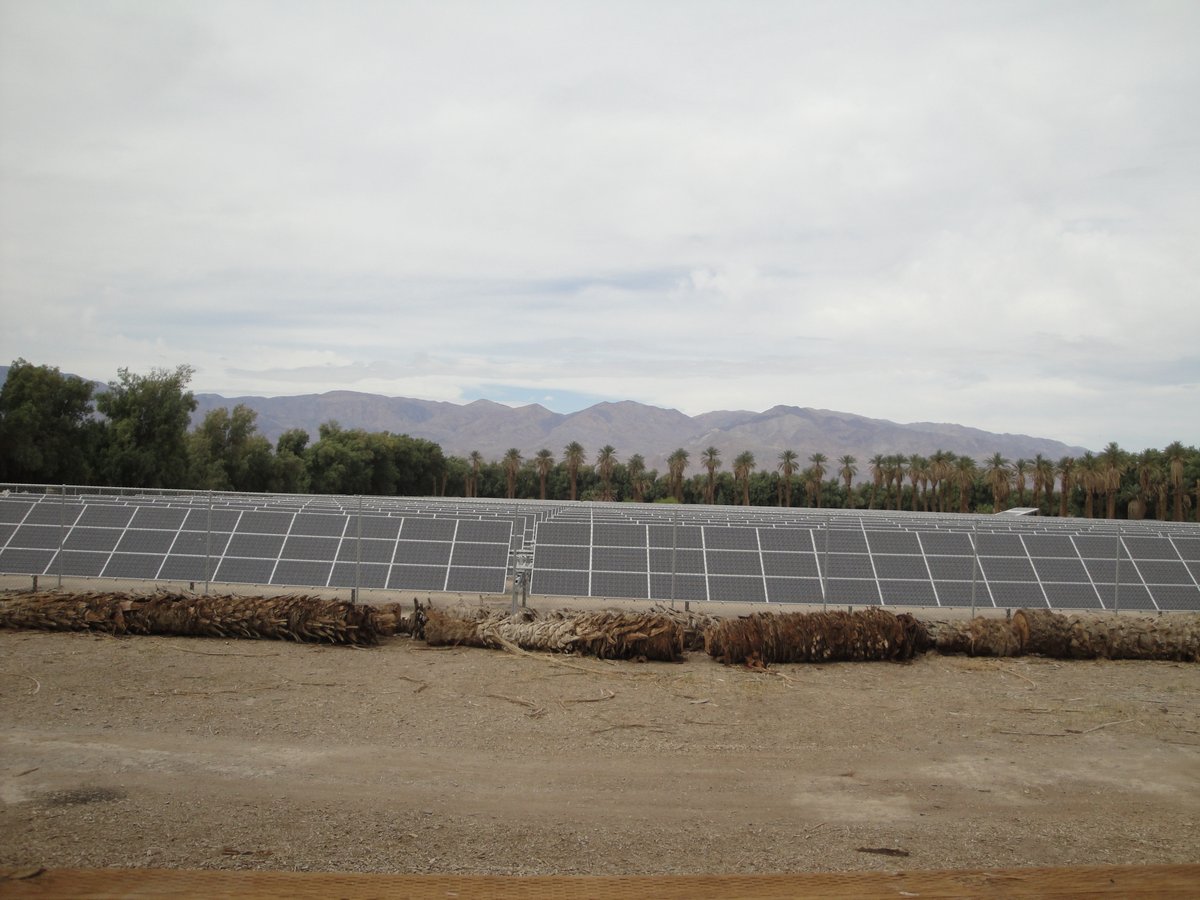 Looks like the end of the trip!
I did manage to find a beautiful bouganivillea to photography!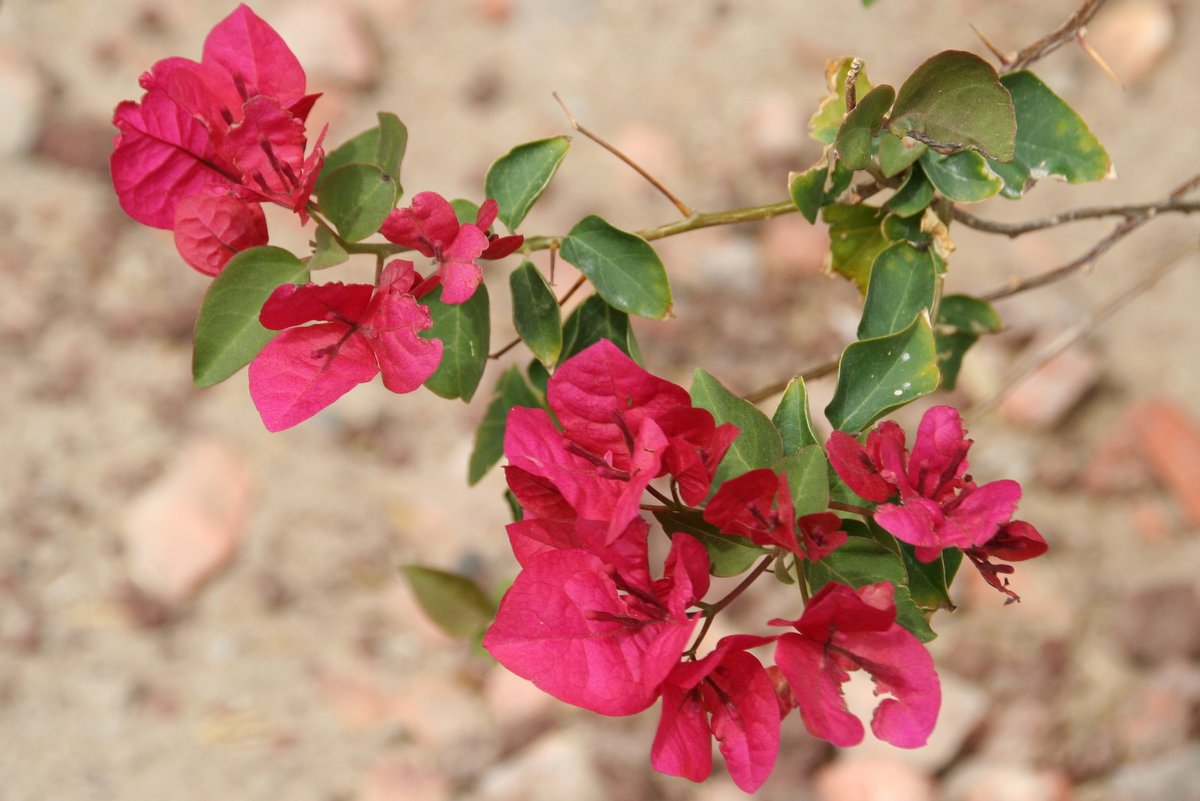 After 6 days in this park, we still didn't see everything, although it was time to become a Junior Ranger AGAIN!!!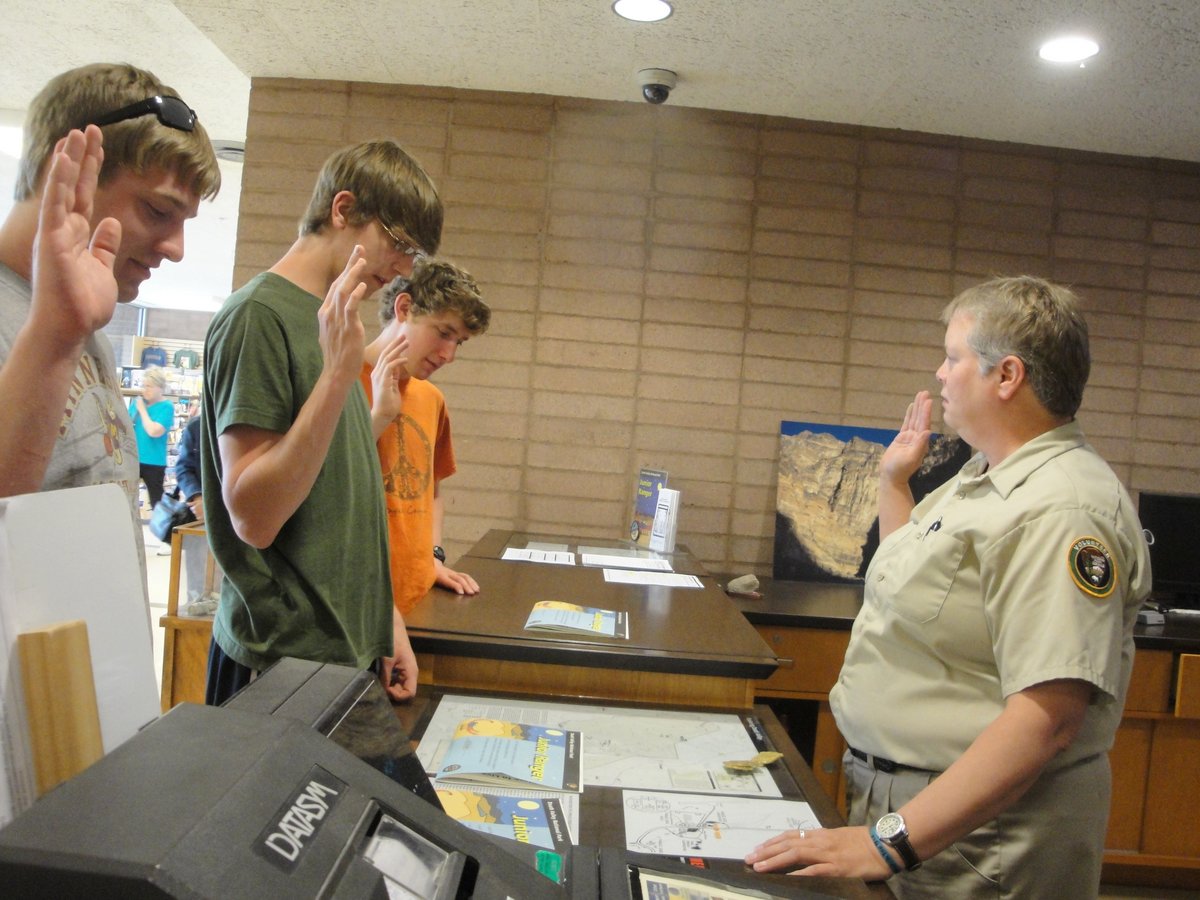 Death Valley is an amazing park!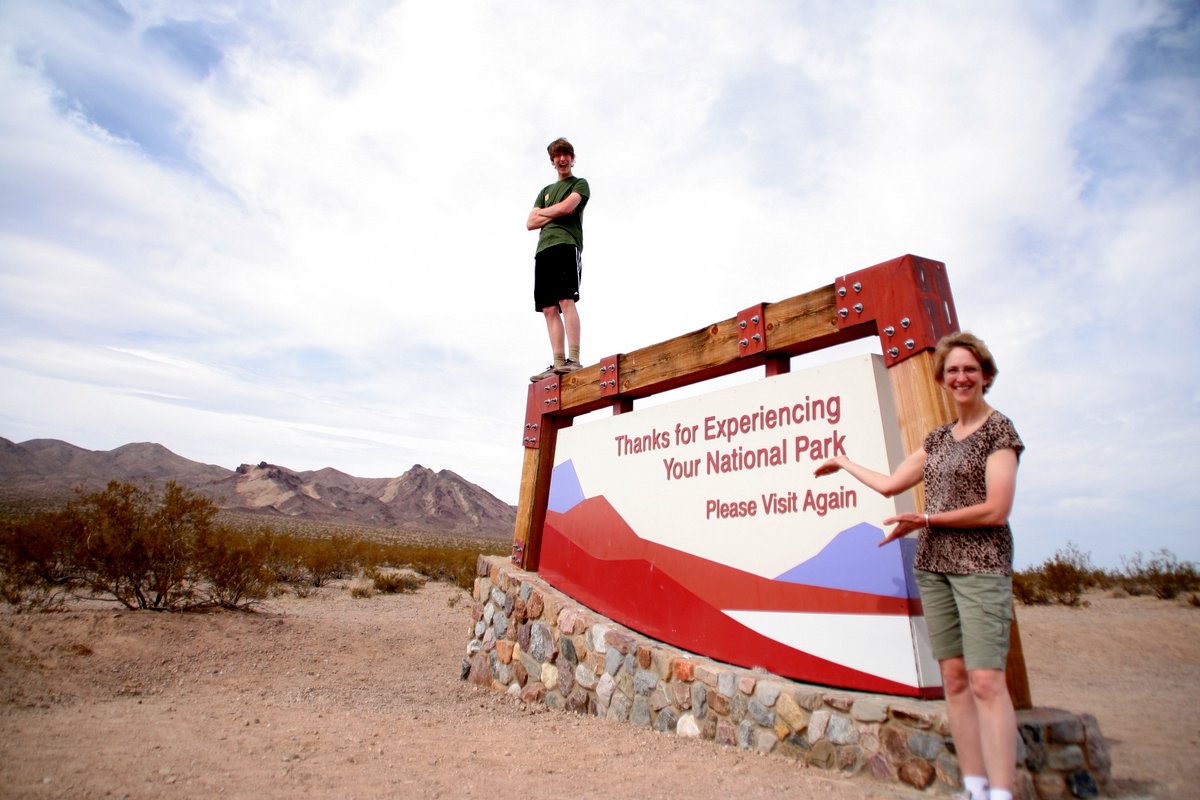 The beautiful scenery along Jubilee Pass on our way back to Vegas.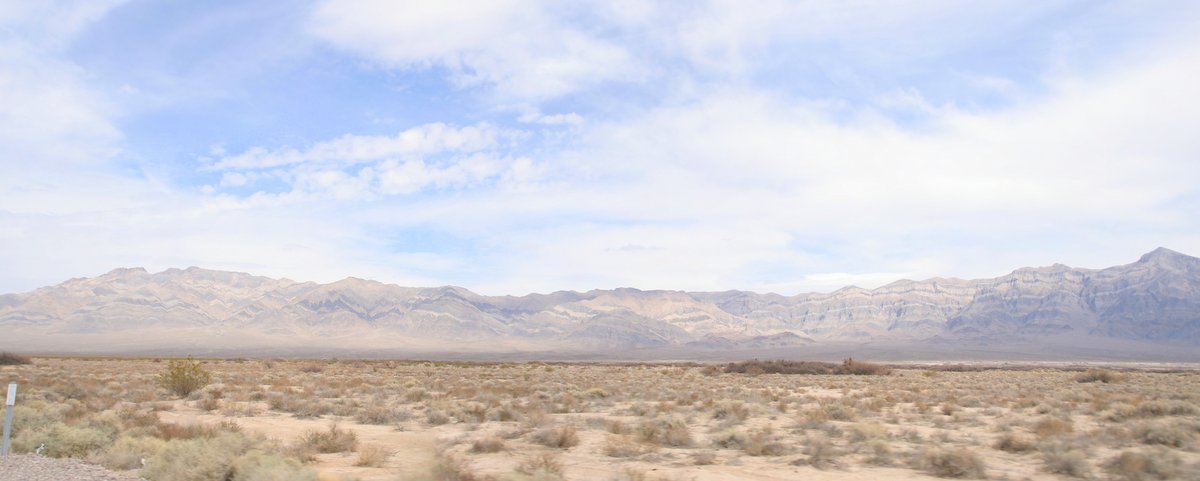 We weave our way out of the mountains.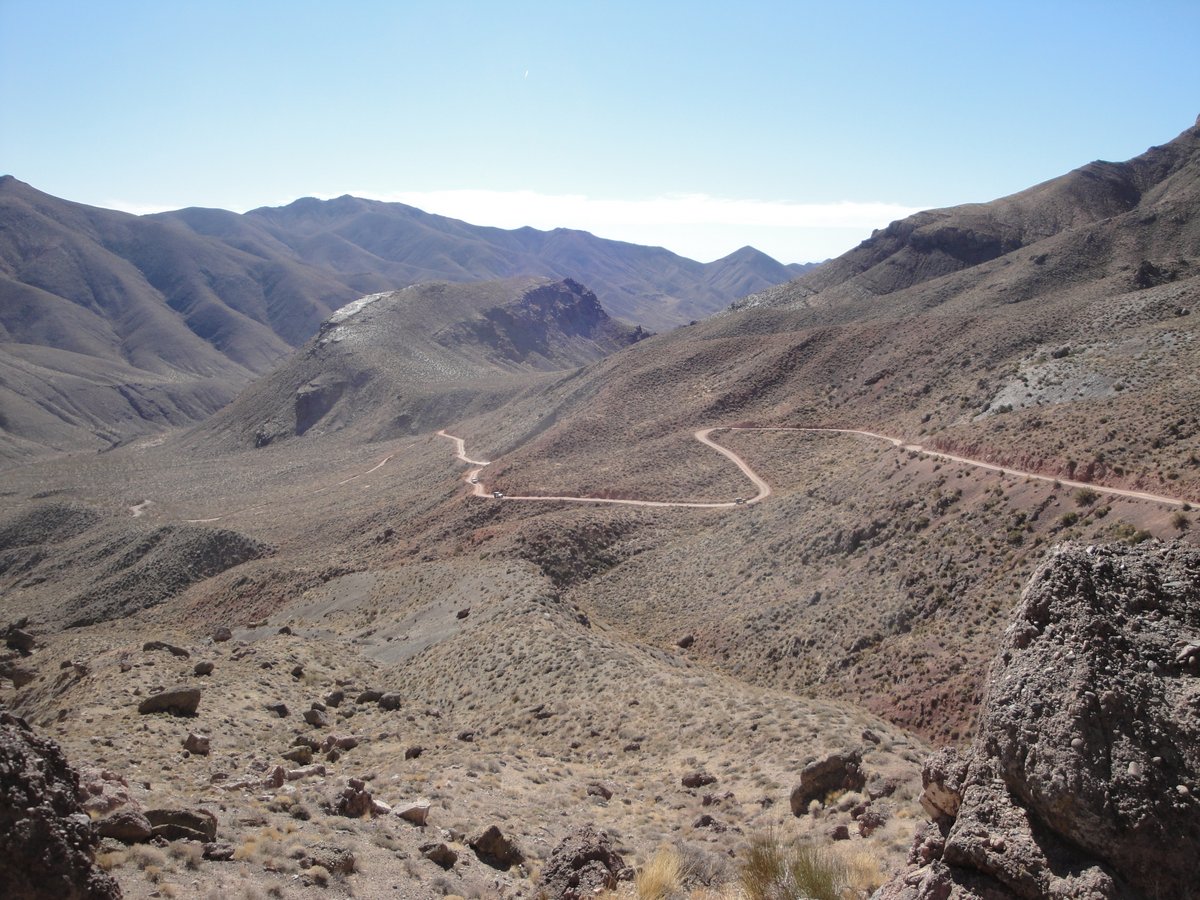 We stop to enjoy the view!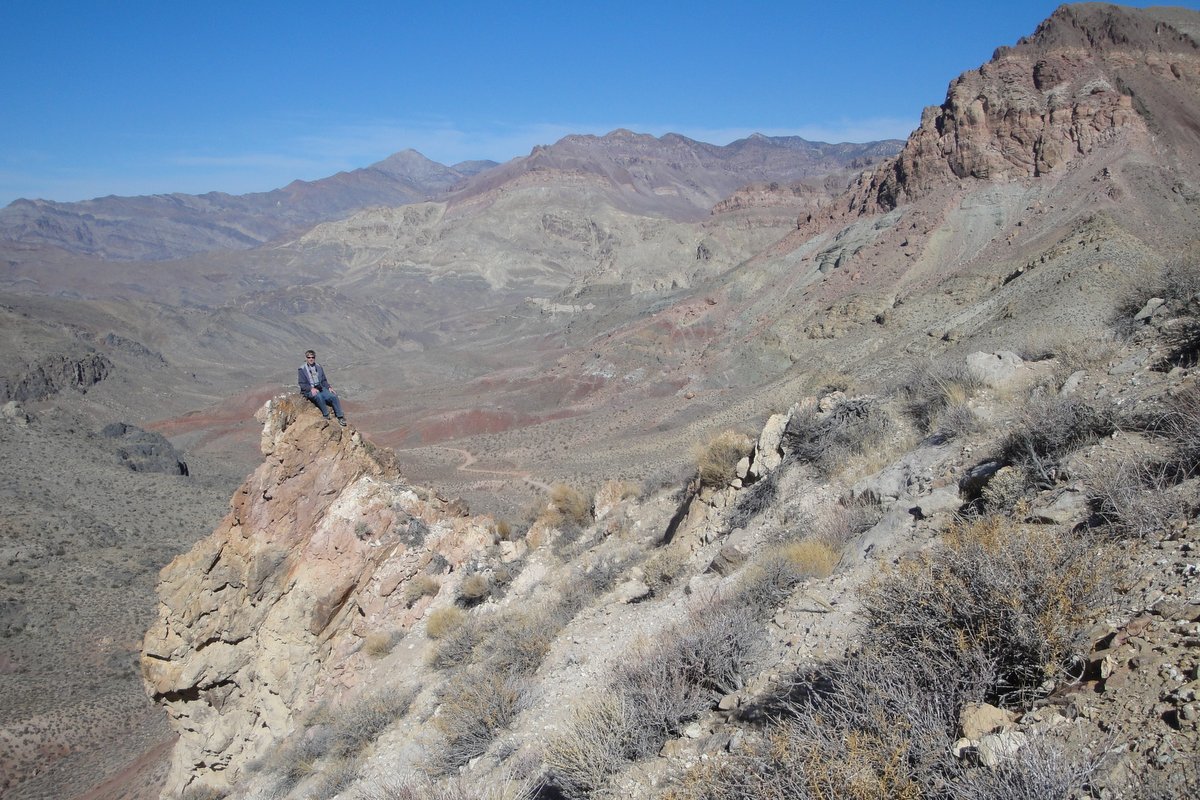 Got to love those hairpin turns!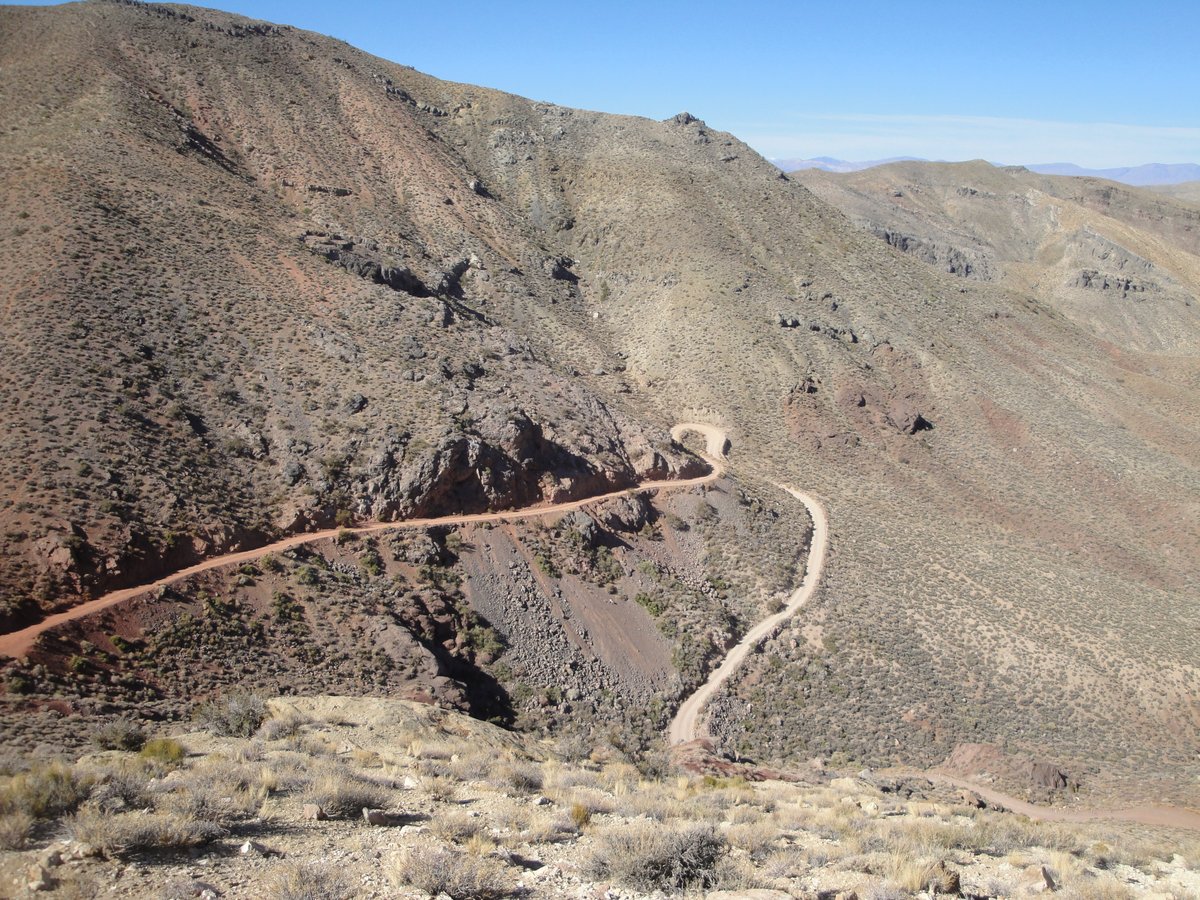 We're back in Las Vegas.  We saw the Phantom of the Opera, and David tried his luck at the penny machine.  He won 15 cents and lost $3.85!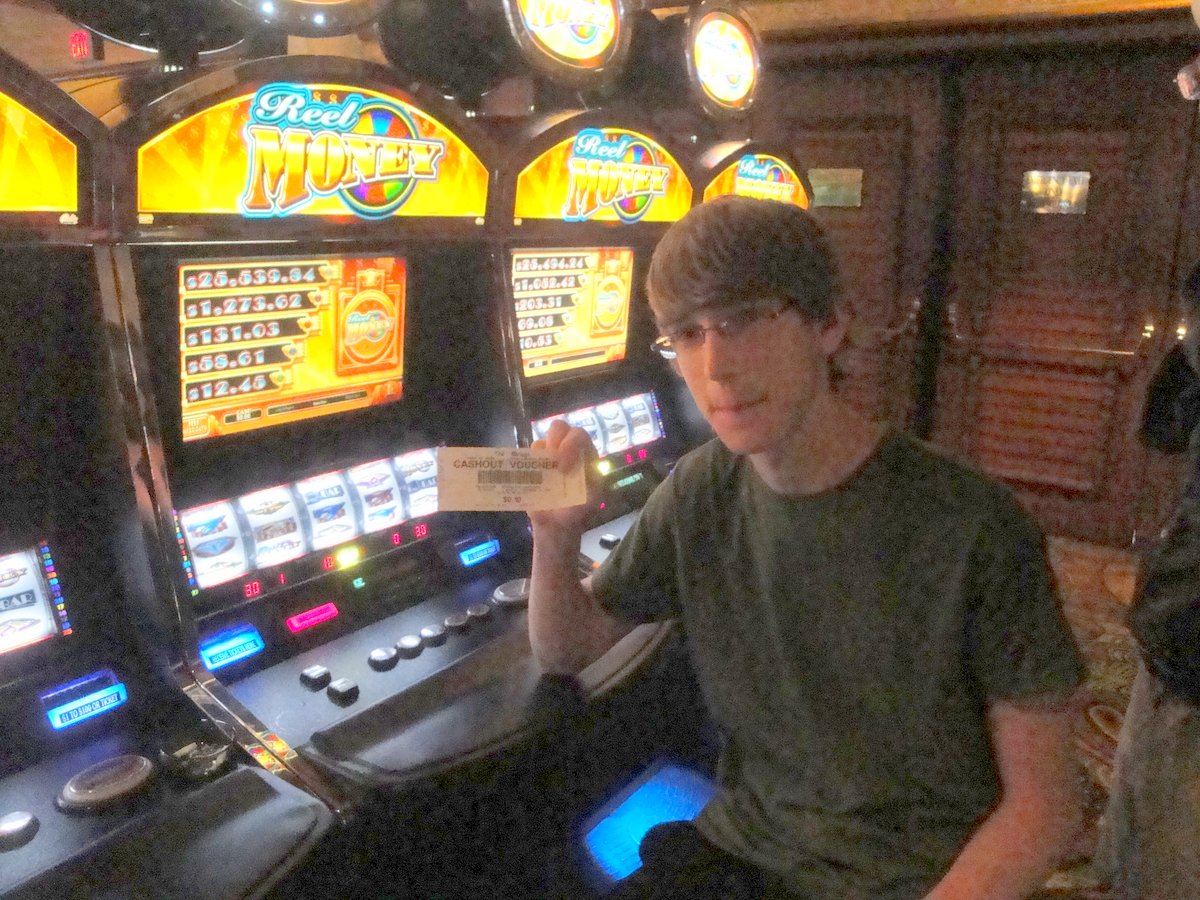 Beautiful glass flowers on the ceiling of the Bellagio.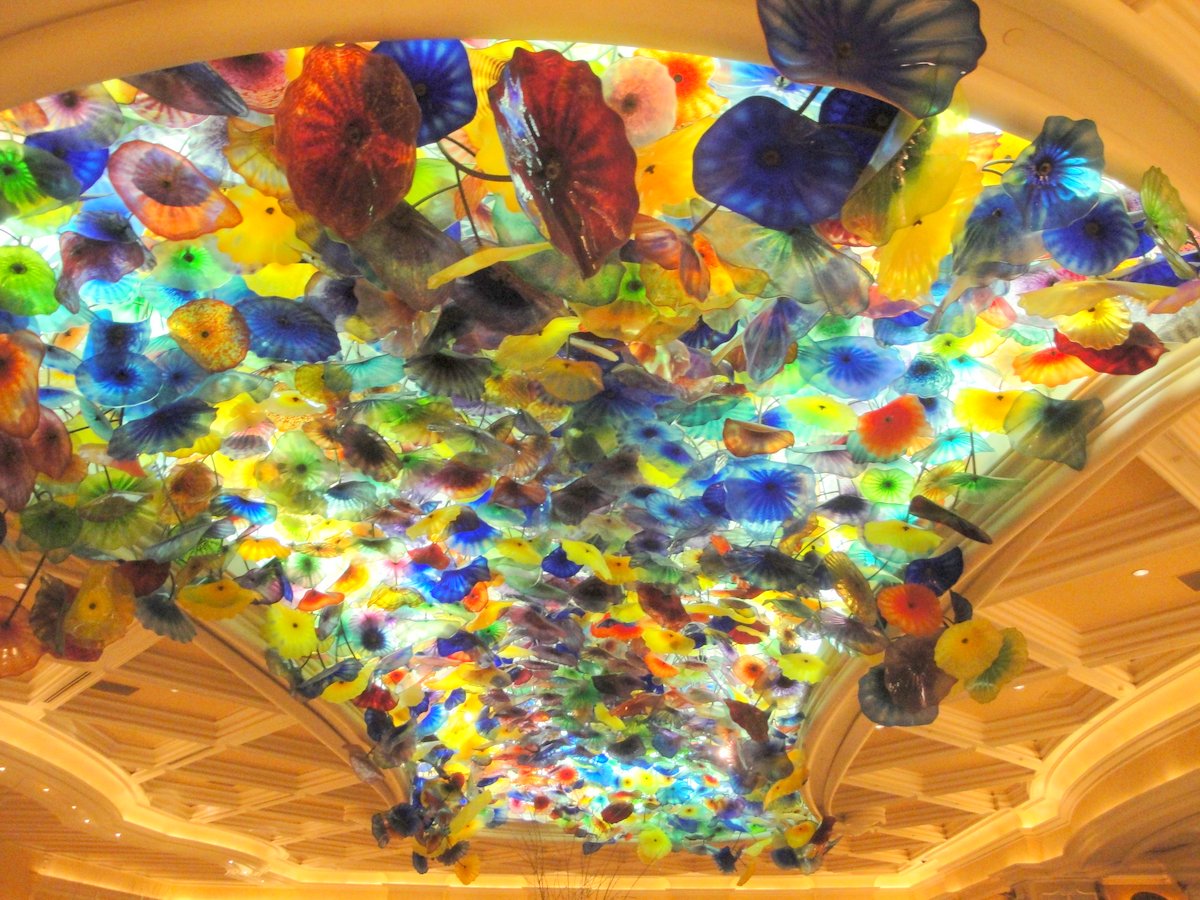 The Bellagio flower displays are always awesome!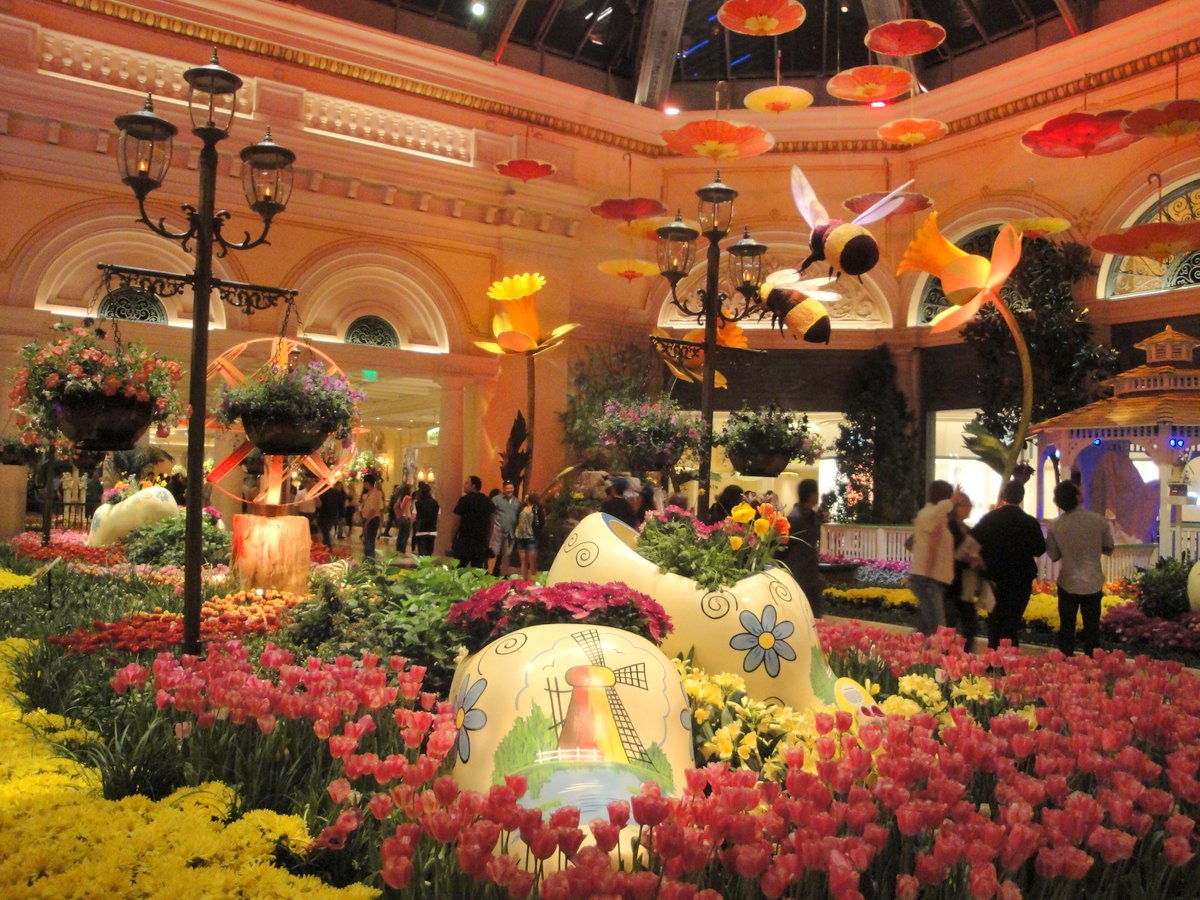 These were the post card that I never got sent, so I asked each boy to summarize the trip.  Joe writes…..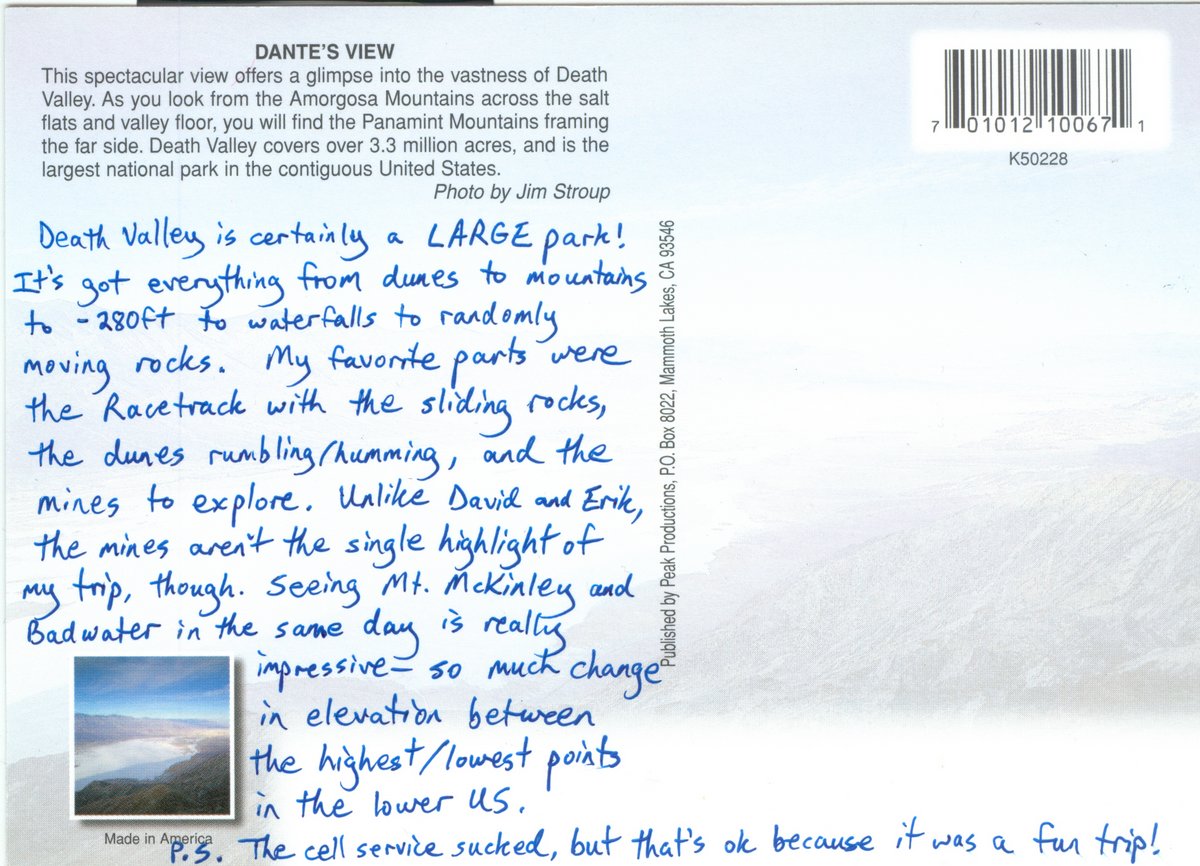 David writes…..  By the way, the chicken spread was awful, looked like cat food, and got tossed 🙁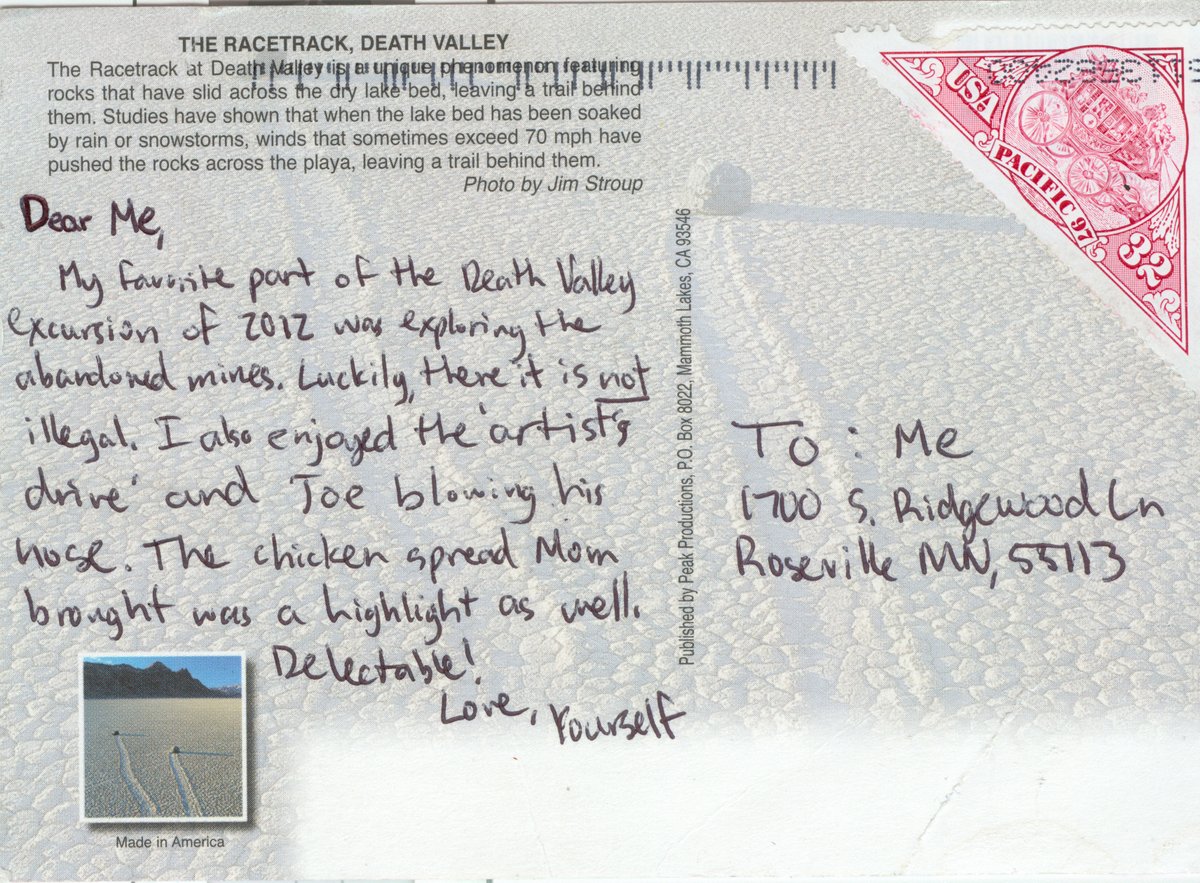 And Erik writes….  and yes, Joe did find $120 in the parking ramp in Las Vegas.  Dad strategically parked on the 7th floor.  I told Dad what space to park in, and Joe got out of the car first and finds one 20 dollar bill, and then 5 more 20's folded together.  What a lucky find!  Of course he didn't spend a dime of it at the casinos!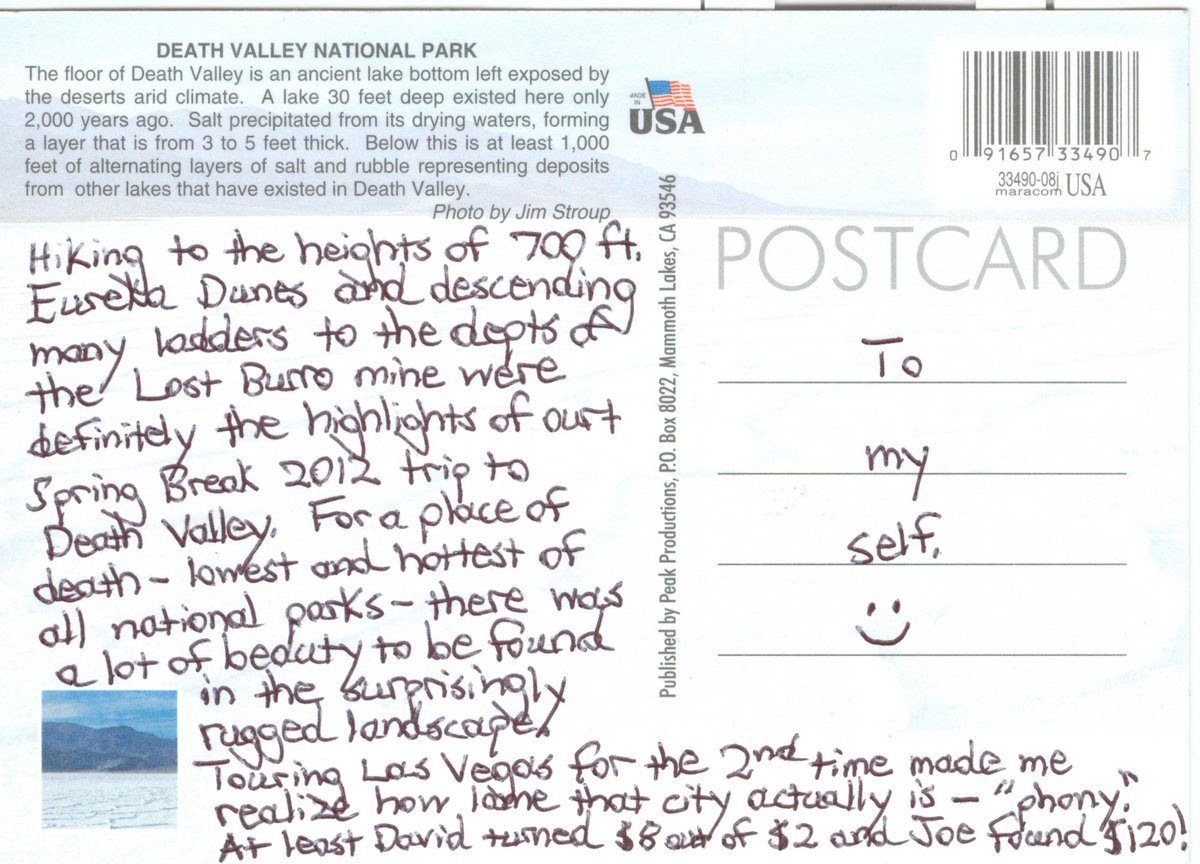 In summary, Death Valley is this and MUCH MORE!!!!